FEATURES
The Prescient Afrofuturism of 10th Letter
By Christina Lee · April 26, 2017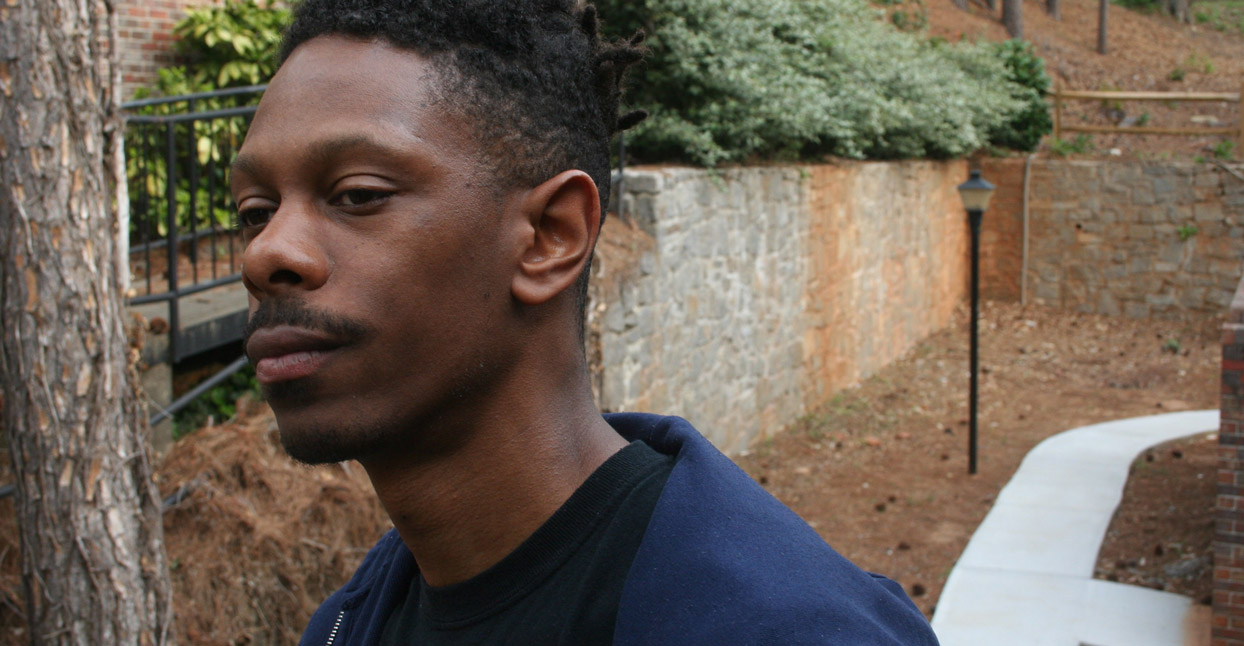 Not long ago, something strange happened to Jeremi Johnson's seven-year-old MacBook. He was finishing his latest album as producer 10th Letter when his screen display short-circuited. Johnson could actually fix this himself; he just needed to remove the back cover and blast compressed air to clear off the dust. The computer still works, but his desktop—a portrait of Shotaro Kaneda, the cocky bike gang leader from cyberpunk manga Akira—glitches and glows neon green in spots that were originally shaded black.
"I smoke a lot of weed in front of my computer when I'm making music, and I have a lot of records, so dust collects," Johnson says. "But hey, I like it."
Johnson's MacBook sits on a desk covered with equipment: There's two controllers he uses for live shows, two keyboards, an MPC that he'd wanted since elementary school, and a dual cassette deck he inherited from his father, an electrical engineer who dabbled in music as a hobby. In this crammed setup—in his apartment bedroom in the Atlanta suburb of Decatur—the former film school student churns out electronic music largely inspired by his childhood interests, which means his music is equally indebted to ambitious producers like Madlib as well as SyFy's cutting-edge Saturday anime block from the '90s.
Though he releases albums at the same pace as local rap hero Future, music is only a part of what Johnson hopes to accomplish overall. His desktop image from Akira serves as a handy reminder. "I learned this from Bjork: I become a character," he says. "I go to work, and I'm like Jeremi in society. I didn't graduate from college, and I get fucking sucky jobs. I'm part of the workforce. But I can come in here" —his bedroom—"and I'm building these worlds."
.
00:10 / 00:58
Growing up in Anderson, South Carolina, Johnson's cousins listened to hard-hitting groups like Geto Boys. But Johnson, who got his start as a rapper in the group Sugar Water Purple, was more drawn to the dank worlds of Wu-Tang Clan and Dungeon Family. Only by signing up for MySpace, where he saw producer Flying Lotus gain momentum, did he first learn that the experimental hip-hop he wanted to hear was being made.
After several three-hour drives to Atlanta, initially to see acts like those on the Definitive Jux label in a live setting, Johnson felt ready to find his own voice as a producer. Among his early fans were curator and promoter Brannon Boyle, who featured 10th Letter during his now-defunct experimental beat night, The Left Field Experiment. Another was Ryan Parks, known as producer Fit of Body and founder of cassette label Harsh Riddims.
Johnson studied film for two years at the Art Institute of Atlanta, only to drop out and move back to Anderson to work in retail. Soon after, he released three albums in 2013, including Weapons and Yesterday's Dreams//Tomorrow's Paths, each one blending delicate electronica with sounds like warbling birds and babbling brooks, conveying a sense of awe. By comparison, his recent music—as in, the four albums he's released since last June—is characterized by restlessness, even during the quieter moments.
"I have a very overactive imagination; I suffer from insomnia because of it," Johnson says. "I think my music is a direct representation of the way my synapses are firing off."
Last summer's Escape from ATL was set in bourgeois neighborhood Buckhead—which seemed like a novel decision at the time. But, with its reworkings of synths from John Carpenter and Alan Howarth soundtracks, its dystopian bent feels appropriate for today's Atlanta, where Interstate 85 has collapsed, exacerbating the city's infrastructure problems. September's The Revenge was inspired by both Johnson's grandfather, who fought in Japan during World War II, and Yasuke, the first black samurai to serve as a Japanese warlord during the 16th century. Its eerie mix of organic and electronic instrumentation help to convey this collision of eras (composer and multi-instrumentalist Saira Raza, also Johnson's girlfriend, is a big proponent of that kind of genre-crosshatching).
Loosely-defined concept albums are nothing new to producers like RJD2. But 10th Letter albums are the end result of a compelling writing exercise Johnson developed: For each record that he makes, he pens a corresponding screenplay. "I'm not rapping right now, so how can I communicate my ideas with people with these sonic landscapes?" he says. "How can an instrumental record affect you the way that a modern art piece affects you, or the way a beautifully-written song by Bob Dylan affects you? It all came to a head with cinema, once I realized I can make scores to things—to movies that don't exist."
With some 10th Letter albums, listeners can only learn of the backstories by reading the Bandcamp album notes. But Johnson is eager to expand these ideas into other mediums. He envisions a side-scroller game to correspond with a B-sides EP, Blade of Yasuke. He's also toyed with the idea of making trading cards. Before Lionsgate tapped Highlander creator Gregory Widen to script Black Samurai, which would be the first theatrical retelling of Yasuke's story, Johnson worked on a short film for The Revenge with staff from The Walking Dead. He still hopes to complete it, calling Yasuke, "some real Hidden Figures shit."
"Girls that did African studies have never heard about Yasuke," he says. "This story had to be told. I'm just me, I'm 10th Letter—I don't have the loudest voice. But if I can use the internet and my imagination to tell the story, maybe something can happen."
.
00:10 / 00:58
Despite the lack of a studio or label budget, Johnson has already made strides in bringing his ideas to life, at his own pace. In March, he premiered an original short and accompanying soundtrack, titled Nature in Singularity, at the Atlanta Film Festival. This month he launched Hyper Eye, an audio/visual concert series that will provide a similar platform for other experimental artists, especially women and people of color.
Johnson is eager to talk diversity, or lack thereof, in the arts. He admits twice that he's hungover from the night before, but with every mention of the controversial Ghost in the Shell adaptation, he seems to sober right up. Johnson argues that casting Scarlett Johansson as the Major—a decision cosigned by the anime adaptation's director, Mamoru Oshii—wasn't necessarily surprising. It was just a deeply disappointing missed opportunity.
"Yes, [the Major] is a cyborg," he says. "Yes, she can be anybody. But she's fucking Major Kusanagi. I have homegirls who really fuck with that character—can see themselves in her. And you really took that shit from them. [Oshii] didn't really consider the bigger picture here, why it would have been important, what it would have been. It would have popped off. It would have been dope."
10th Letter exists so that Johnson can articulate his ideas for the future. On the desk in the background, his MacBook continues to flicker. Hopefully, it will be around long enough to help Johnson capture them all.
—Christina Lee