FEATURES
Teksti-TV 666 Prove That Five Guitars are Better than One
By JR Moores · October 07, 2016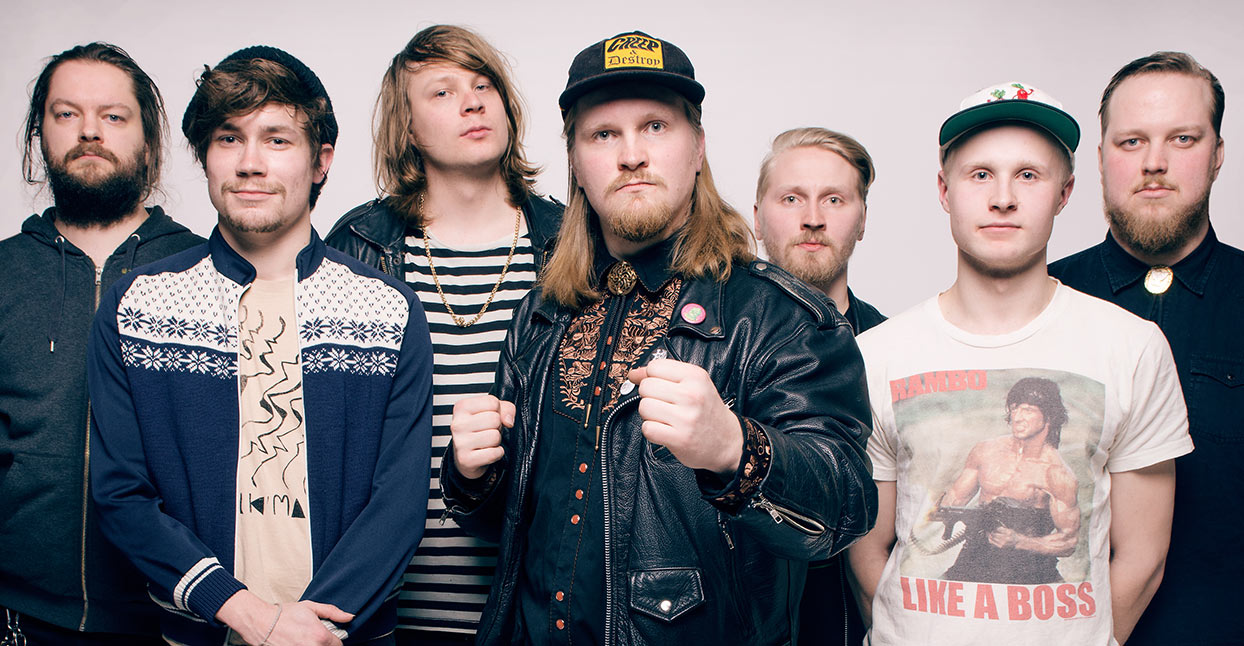 Teksti-TV 666 may not be the first band to boast five (at times even six) guitarists, but there's no need to brace yourself for some kind of deafeningly repetitive Glenn Branca-esque symphony nor, indeed, the next Eagles. While there are certain passages where the sheer number of Teksti-TV 666's guitars are exploited to full effect—the Sonic Youth-ish "Hautakivi" being one of them—it's not their multi-axed walls of noise that make them stand out. The Finnish seven-piece's principal talent lies in their compositional fusion of krautrock and shoegaze with catchy, classic garage-punk songwriting. The net effect is like having Germany's Neu! blasting through one headphone earbud and Sweden's The Hellacopters through the other.
Psych rock meets garage punk is no easy synthesis to manage but Teksti-TV 666's tunes are blessed with both indulgent expansiveness and anthemic immediacy. Unlike its members' previous projects, Teksti-TV 666's lyrics are sung in their native tongue. But even if you're not fluent in Finnish, you won't struggle to sing along to their many hooks—thanks, in no small part, to their use of the universal "Whoa whoa."
They have already been likened to artists as disparate as Diarrhea Planet, Explosions In The Sky and King Gizzard & The Lizard Wizard. Such a broad range of comparisons illustrates just how hard it is to pin the band down—all the more impressive, given that they formed just three years ago. Since then, they've released a trio of 12″ EPs, the first of which sold out within a month, and the next two selling out in pre-order. Fortunately, Svart Records have compiled all three EPs into one tidy package. As 1,2,3 gets its Bandcamp release, Teksti-TV 666's Timo Huotari, Tero Huotari and Johannes Leppänen told us how their seven-headed project operates.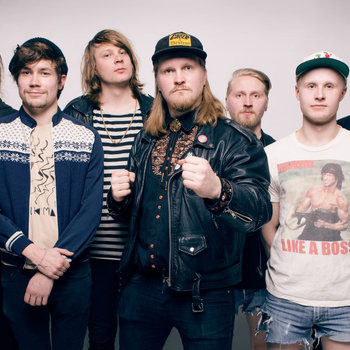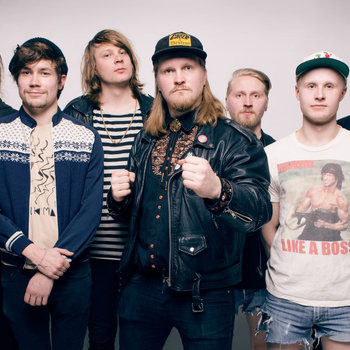 Forgive me, for I am yet to learn Finnish. Can you explain what some of your lyrics are about?
The lyrics are simply about some local characters, and what's been happening around here. They're mostly in the first-person perspective. It just felt right to sing in Finnish with this band. We'd always sang in English in our previous bands, so we just figured we'd try out Finnish this time.
Apparently your song "Piritorilta Taivaaseen" translates as "From Amphetamine Square to Heaven," and is inspired by an infamous plaza in Helsinki where drugs are dealt semi-openly, which attracts various rascals and rogues.
Yeah, but it sounds worse than it really is. It's a pretty basic place most of the time. You can tell by the price of the rent these days.
So tell me: Why do you have so many guitarists?
The way we see it, more is more. And it's good to have friends around when it all goes down. People think that having more than two or three guitarists is somehow complicated. Not everyone in the band has to play at full blast for every second of every song.
Are you tempted to recruit even more musicians?
Not at this point, but you never know. This time next year, we might have another drummer, another bass player, and tons of guitars.
Seven members is a lot of people to keep happy. How do you avoid falling out with each other and disbanding due to "musical and personal differences?"
We play in other bands too, which helps us to not take every little detail too seriously. Obviously, it can be hard to agree sometimes, but we always talk it through. All in all, we're a happy band.
How easy is it for Teksti-TV 666 to tour? Do all seven members ride together in one tiny van?
Yes. Most of the time. We just did a few shows with a band called Hopeajärvi, who are friends of ours, traveling together in one van. Again, the more the merrier.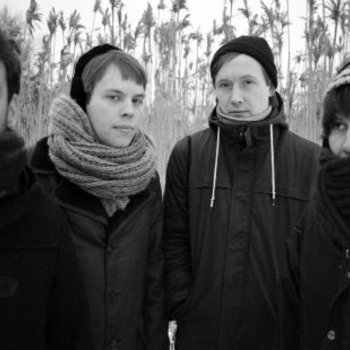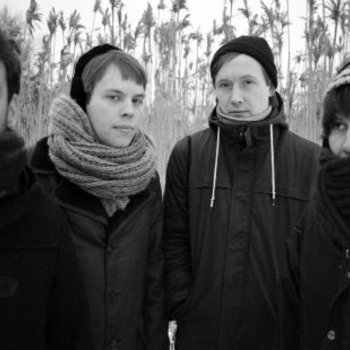 There's a clear Scandinavian punk element to your sound. How important to you were bands like The Hellacopters when you were growing up?
Many of us used to listen to The Hellacopters way back when we were kids. There was a lot going on with Swedish guitar bands at that time. It seems to us like that scene has been dead for some time now, though.
The three EPs have been very successful. Were you surprised that they sold out so quickly?
Yeah, it was a surprise. We're pretty pleased with all that. Big thanks to everyone who has been buying our records!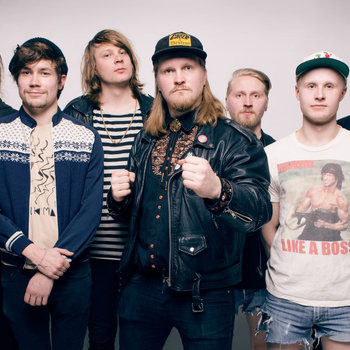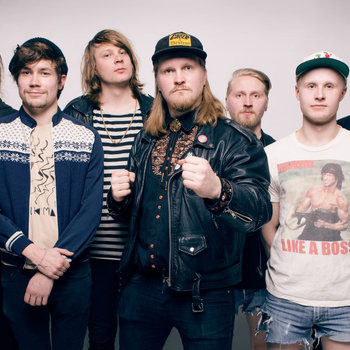 Presumably this compilation draws a line under the first phase of Teksti-TV 666's career. What do you have in store for us next?
We're going to tour a bit first and then go back to studio to record something new, hopefully getting new tracks out in the spring. That would be fun. We might even do a tour in Europe. We'll see. As we always say, 'more is more'!
And which other Finnish bands should we be listening to?
There are so many good bands active in Finland right now: Circle, Räjäyttäjät, Risto, Black Twig, Oranssi Pazuzu, Plastic Tones, Hopeajärvi, Merries, Itä-Hollola Installaatio, Seksihullut, Lähtevät Kaukojunat, Soft Power, Lasten Hautausmaa, Kivesveto Go-Go, Juice Normaali… To mention only a few!
—JR Moores