FEATURES
How Tanya Morgan Became A Rap Group and Sustained Itself Over The Years
By Jesse Fairfax · July 21, 2017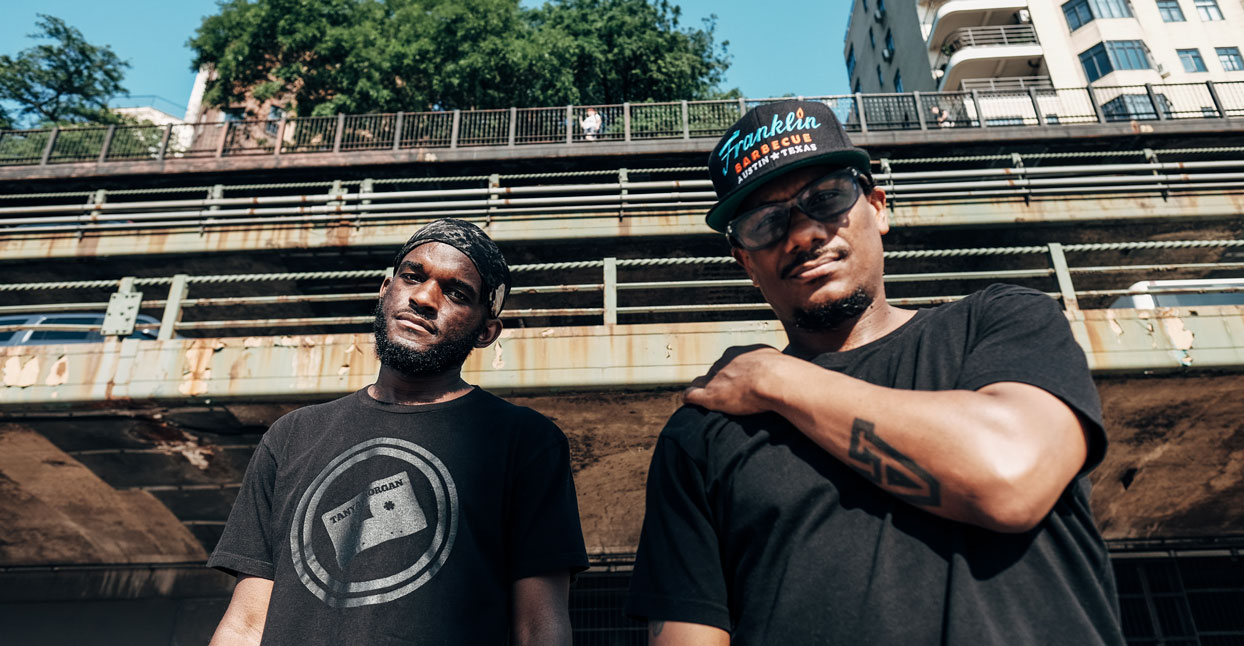 The first time you hear the name "Tanya Morgan," you may think someone is talking about an obscure '80s R&B singer. In fact, Tanya Morgan is a rap group, comprised of lyricists Von Pea and Donwill, who met through Okayplayer's message boards, and who then invited Don's old rhyming partner Ilyas to join the fold. When the time came to name the trio, Donwill simply typed the name into AOL Instant Messenger, and liked the way it looked. That's it. "We kept coming up with names, but I went back to that one," Von Pea says. Using the Internet as their entry point, TM crafted music through their computers, marketing themselves online long before the web shaped and redefined the way music is accessed.
By the group's own admission, their 2006 debut, Moonlighting, is essentially a collection of lo-fi first takes, but it showed enough potential to earn cosigns from esteemed tastemakers like The Roots' bandleader Ahmir "Questlove" Thompson. But just three years later, following the release of 2009's Brooklynati, Ilyas left the group, though the members say his departure didn't generate any bad blood.
Now, the group is gearing up to release their first full-length in nearly four years, YGWY$4. The album's acronym stands for "You Get What You Pay For," a tongue-in-cheek assessment of the way the music industry's turn towards streaming has affected consumer appreciation for the worse. We spoke with all three of Tanya Morgan's original members—as well as Dominic Del Bene, a close associate who worked with TM behind the scenes—about building their professional careers from the ground up, unorthodox ways of getting known, struggling as a unit through the hardships of the indie tour circuit, why Ilyas left the group, and the brotherhood that binds them to this day.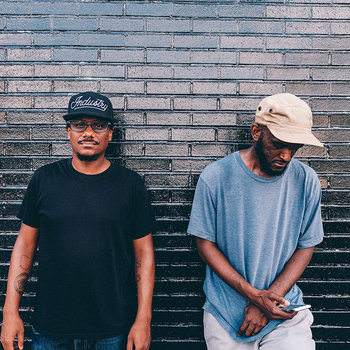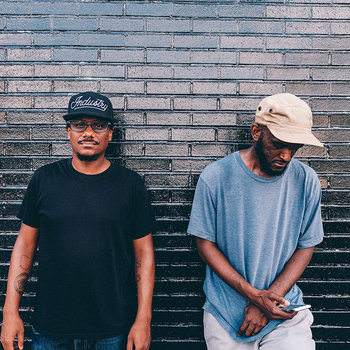 The Warm Up: Tanya Morgan's Humble Beginnings
Von Pea: From day one, I knew Don from the Okayplayer message boards, and I told him, 'Hey, I made these songs [on my computer], I'm gonna send them to you.' He liked them, and he had to mail me a CD with my music on it so I could listen to it outside. With that CD, he put in a cassette of his music with his college crew The Jurx.
Donwill: I was still living in North Carolina at the time and working with The Jurx. We didn't really have music online, which is why I mailed Von a tape [laughs].
Pea: On one of those songs, Ilyas was the first one to rap, and he just went off in a charismatic way. So when Don hit me up to do a whole album together, I was down to do it if Ilyas was a part of it.
Ilyas: I was down because I thought Von was dope. I was just happy to record thinking it was just another project, we had no idea how it would turn out.
Del Bene: Originally, I was the label guy. I founded an indie record company called Loud Minority Music, and Von was one of the first people I started working with. I didn't know exactly how to be helpful, so I did a lot of managerial and label services like touring, marketing, and helping to finance it all.
Pea: I think at the time I thought it was going to be a Ghostface Killah, Raekwon, and Cappadonna type of thing where Don and I were on most of the songs together, and Ilyas would be on a few. When we started working, we realized he needed to really be on all of them. We started working on Moonlighting in 2003. There was an AOL Instant Messenger conversation where we tossed around group names. We decided to become a person. Don wrote 'Tanya Morgan' and I loved how it looked. We kept coming up with names but I went back to that one.
Ilyas: The name Tanya Morgan was kind of a joke. It was just going to be a project that we did on the side. We named it something weird to throw people off, and when it took off we were like, 'Wow, OK, I guess this is what we're doing now.'
Donwill: After college, both me and Ilyas and were back in Cincinnati, and he had a studio set up in his basement. We had beats from Von and Brickbeats, and we were making stuff on the go to see what worked. Me and Brickbeats were childhood friends. When I came back from college, he came by and heard me playing beats, so he let me know he was working on music, too, and gave me a beat CD. Half of those beats were used for Moonlighting. It was magical.
Pea: Our process was sort of inspired by The Foreign Exchange, who did their first album Connected from two different countries. I didn't have money to go to Cincinnati, so I would record my verses as a demo and send it to them. We were sending songs through AIM before email attachment sizes were large enough.
The first time we all met in person, we listened to 'We Right Here' in a car with DJ Brainchild, aka Boss Bill, from the Questlove Supreme show, and he said it was a step up from whatever we did before Moonlighting. I give a lot of credit to Little Brother, because there was a time when nobody made music on a computer. [Little Brother producer] 9th Wonder showed me I could make a real album without a big studio.
Ilyas: I remember when I first heard 'We Right Here,' it felt energy I could only experience as a fan of other people. We were making the stuff that gave me the same feeling that inspired me to get started making music.
Pea: The first time people heard Moonlighting, Don had an art show in Los Angeles the summer of 2004 and he called me from the car with Dominic. They were excited that people loved the album.
Del Bene: I was at the art show in L.A. when I met Donwill for the first time. He was a photographer at the time. I didn't really connect that he and Von knew each other, he told me they were working on a project together. He played me most of Moonlighting and I said, 'We have to do this.'
Merch for this release:
Cassette, Sweater/Hoodie, , Compact Disc (CD), 2 x Vinyl LP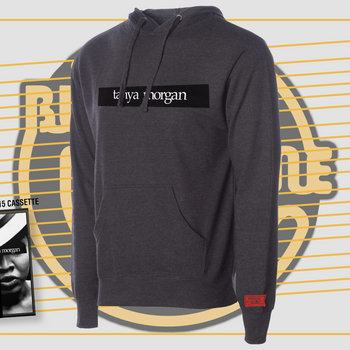 Boombox: The Mythological Moonlighting Cassette
For 'Boombox,' the group came up with a heady idea. They knew they wanted to produce a cassette version of the album, but couldn't figure out a way to justify it. Donwill came up with an idea: add skits to the CD version, featuring people listening to the cassette version of 'Moonlight'.
Pea: You start off imitating who you love. The cassette's theme was based on De La Soul Is Dead; in 1991, the format was a cassette. In 2004, the iPod has just come out, and we had to figure out a reason to make the album a cassette.
Donwill: One day I thought, 'What if we make a physical cassette of the album that's playing [on the CD version]?' I hit up Dominic with the idea—he loves all of the novelty ideas. I said the cassette had to be red because of Redman's Dare Iz A Darkside, it was one of the first tapes I bought with my own money.
Pea: I wasn't officially sold on the idea until Don said [the people who you hear in the interludes, who are listening to the tape] should sell the tape back to the store at the end of the album. That blew my mind. On all of the interludes, people hated it for different reasons. At the end, it was given back.
Del Bene: I don't think I ever fought them on a lot. I just kind of facilitated the creative and weird shit they wanted to do, and I had a blast doing it so it wasn't a struggle.
Donwill: From a marketing aspect, we had to get our name up before the Internet was a tool. We identified people we thought it would resonate with, we thought that, if push came to shove, even if people couldn't play the tape, they would become interested in the album. The skits weren't on the cassette tape at all, because the story [in the skits on the CD] revolved around people listening to the cassette version.
Del Bene: We sent the cassette tapes to radio and tastemakers like Gilles Peterson, Garth Trinidad, and Stretch & Bobbito. Early supporters and endorsers of Tanya Morgan got these weird cassette tapes that didn't indicate it was a rap album at all, the artwork was just a photograph of a woman who most people presumed was Tanya Morgan. We went off the deep end early.
Pea: Bobbito liked it, because in 2004, it was a lo-fi cassette with a lot of words and dudes rapping [laughs]. Questlove was into quirky novelty acts; he went and found a cassette player to hear it.
Del Bene: Bobbito thought our shit was dope. End of story, that's the coolest thing we could have imagined. As we started to do more, we locked down a publicist and got a Show & Prove feature in XXL magazine. But at the end of the day, they did the album because they wanted to do it, whether it ever got put out or not. To see that people were taking to it was a great thing. That time felt like we were at the beginning of something that could be really big.
We Be: Tanya Morgan's First Video
Del Bene: We were able to find a supporter in Interdependent Media who was also trying to get off the ground. They were able to kick up money for the 'We Be' music video, which was pretty high concept in terms of graphics and post-production.
Pea: Chance The Rapper may have made Coloring Book for less than what we paid for that video [laughs].
Donwill: It was a lot of fucking money. We spent at least $5,000 on plane tickets alone flying out friends.
Pea: We paid for hotel rooms, passenger vans, and the director Ethan Lader got paid what would be our whole budget for videos nowadays. I give credit to him, because Myspace wasn't big yet and he wanted to make our video a Myspace page.
Donwill: Back then, spending that much money on a video made sense to a certain extent, because it had to meet certain qualifications to air on TV. We weren't just making videos for YouTube, you had to have a certain grade of film and if you submitted it to MTV, you have to pay for a tape to put the video on, that adds up quick.
Pea: Keep in mind, in 2017 Moonlighting, is still not a mixed album. We spent money to master it, but we literally never mixed it. To this day, vocals and drums aren't compressed, it was an album of demos that came out. We could have paid Bob Power to mix it for what we spent on the video [laughs].
Donwill: You put a fur coat on a bum and a nigga still got a fur coat on. With the video being on MTV, the song didn't have to be mixed, it was looking like it was moving correctly. That was the way the game was back then, when you were trying to break in and you didn't have an in. When you're trying to get on, you're damn near interviewing for a job, so you put your best foot forward.
Ilyas: Our label spent half of our budget on one video, and it was so frustrating. Had I not experienced that frustration, I probably never would have started directing videos for the group and with my own projects.
Merch for this release:
Vinyl LP
Take The L: Early Tour Nightmares
Pea: I don't want to be the guy who claims to be the first to do anything, but I don't know if anyone was live blogging a disaster rap tour. What people do on Twitter now if they're on a date from hell, we were sitting in a tour van in Grand Rapids, and shit was falling apart. I was on a Sidekick phone blogging about how we didn't get paid and Ilyas was fighting with the promoter. The only thing that was helping was typing on the internet about what was happening.
The only reason I stopped doing it was—in 2009, we were on a Canadian tour and we got to Montreal, and two fans said they felt bad we weren't having a good time. That made me feel like I should stop talking about not having a good time, because I didn't want to come off like I was trashing my experience in anyone's town. But in the beginning we were like, 'There's four people at this show, this is the worst hotel you've ever seen in your life. We're in Murfreesboro, North Carolina and the show is so bad the soundman didn't show up.'
Donwill: That was a rude awakening. I walked away from a full-time job, I had a car note, and I had just bought a house. I had all kinds of financial shit going on where quitting a job to rap was probably the dumbest thing you could do. On that first tour, we were all heart and passion with very little business acumen.
Ilyas: That was the worst, it was almost dream-crushing. You're an amateur artist getting your first break and some attention, you think going on tour is going to be awesome. It was heartbreaking at times, the person that set up our tour had no contract signed for any of the shows. It was nightmarish, but it was a trial by fire learning experience.
Just Arrived: Tanya Morgan Hit Their Stride With Brooklynati
Donwill: Moonlighting was that warning shot, but Brooklynati was the vendetta album where we had people's ears and stepped it up lyrically and sonically.
Pea: We had a project called Welcome 2 Loud Minority that paid homage to Dilla's Welcome 2 Detroit. We put it out on a Monday, Tuesday Donuts came out, and Friday he died, so we took it off of the Internet out of respect. So technically it lasted four to five days. On that project, Don said the term 'Brooklynati.'
Del Bene: A lot of what we did that I'm proud of came out of shitty circumstances. Tanya Morgan got booked for a show in Portland, but they were working with a very suspicious or shady promoter. We were in Los Angeles and we got a call that the promoter disappeared, so I drove them up for the show. On the road trip up there, the best thing that happened was that we had nothing but time to conceptualize Brooklynati. It could have just been an album, but we turned it into a city.
Pea: Portland is a long drive from anywhere except Seattle, so we came up with the idea together, and I started mapping out this fictional city. We came up with Yancey Park to honor Dilla, and Brickbeats had an auto shop, because he's actually a mechanic, and everything took off from there.
Donwill: It's kind of a blur, because we were working on so many things at the same time.
Pea: Don started his solo album while we worked on Brooklynati. I definitely made my solo album, Pea's Gotta Have It at the same time. We did The Bridge EP and so many one-off songs while working on it. I sent a friend The Bridge and she hit me up laughing telling me to step it up. So all of the transitions, synth sounds, and beat change ups were my vendetta against her laughing at me.
We were hanging out with FWMJ, who's the hater of all haters, and when he heard a demo of 'So Damn Down' he was really pleased with it, so we knew we might have had something. Ilyas came up with the idea for the video with us wearing suits around women, so it just being a white background with his idea was an inside joke.
Donwill: On Moonlighting, I was just rapping and not paying attention to what I was doing. There were a lot of first takes that made the album. I wasn't focused on being the sharpest emcee. With Moonlighting, it was like I was trying to get the job, and on Brooklynati it felt like I had the job. I'm in the building, let me show these motherfuckers I can work.
In terms of improving my clarity and diction, it's one of the rules of emceeing. Mumble rap aside—if you subscribe to that being a thing—this is lyrical hip-hop, so I wanted to make sure people understood every last syllable that I was saying. Before that album, people were misquoting me in articles, and it was in print publications misquoted forever, because the writer didn't have a grasp on what I was saying. That kind of stung, because I don't want to be immortalized out of context.
Ilyas: I have a son, so I had to get my money in order because our business was a little out of order. So I was back in Cincinnati working this shitty warehouse job, every day listening to the beats, and writing verses for that album in my head. Then, when I got home, I would lay down my parts of the songs.
Donwill: No matter what song you were listening to, Ilyas and I were trying to one-up each other. Even if Ilyas or Von had a better verse, I set out to make sure there was no weak man in the group. I never thought there was a weak link, but I wanted to be damn sure nobody was going to call me the weak link in the group.
Plan B: Ilyas Leaves The Group
Pea: It initially started when Don and I were in New York, happy to have a foot in the industry at these different parties. We would end up meeting all of these writers and influencers who got to know the group as us two. Also, with the two of us being in New York, we could jump on shows at any moment. The label could justify flying Ilyas out for big shows like The Brooklyn Hip-Hop Festival, but with smaller shows, we got known as a duo unintentionally.
Donwill: Me and Ilyas have always been cool throughout everything, but in later years we've talked about the strain as dudes who never addressed it back then. He was a really passionate dude. Outside of that, we also ended up linking up with a new manager at the time. All of these things strained our relationship as a group and our relationship with the label. All of us had different relationships with that label, Ilyas had a more caustic relationship with the IM Records staff and he wasn't necessarily happy that we were still with them.
Ilyas: We had differences of opinion on who to align ourselves with at a certain point in our career. It never got heated or came to shouting, it was just like we had to agree to disagree. The label was telling me stuff like, 'Sign with us, we'll help you move so you can be closer to Don and Von.' When I saw none of that happening, I was so frustrated because you're messing with somebody's life. That wasn't on my group mates, that was on the people we aligned ourselves with.
As much good as the label did, there was a lot of stuff behind the scenes that just doesn't sit right with me to this day. You can see it through our personalities, Don and Von are two of the kindest dudes I've ever met and I felt like the label was kind of taking advantage of that. I was left to be the asshole when I was just keeping it 100 at the time, like, 'Y'all said XYZ and you're not doing XYZ, so what's up?' Von just wanted to fall back and focus on the music, Don was our coordinator and the functioning intermediary between us and the label.
Pea: Eventually Ilyas had responsibilities as a father that didn't make sense for him to be with us.
Ilyas: This was when the economy got weird. Typically if a tour was wack money-wise, I could come home and work a temp gig. But at that time temp gigs weren't as available because of what was happening with our country. We were on tour and my mama called, she left a message saying, 'I know you have a show tonight, make sure you call me in the morning.' I called the next morning and she was like, 'Your license has been suspended,' because in Ohio, if you fall behind on your child support, they'll suspend your license. At that point I felt like I couldn't win.
Donwill: His decision was never like 'Fuck this group!' It was more like, 'I guess I just need to quit because I can't be around.'
Pea: He eventually told us, 'Y'all are doing a lot without me, y'all should just keep doing that.' He was happy for us, but it became different. Not in a bad way, but it goes back to me saying Don and I were like Ghostface and Raekwon. If Wu-Tang was only three people, when you become Ghost and Rae you're leaving out Method Man unintentionally. We were in England five hours ahead when we got an email from Ilyas like, 'Y'all are in Europe and I'm not there. It doesn't make sense, no love lost but I'm gonna be out.'
Ilyas: That was one of the most painful decisions I've ever made. First we were just gonna have me stay in the group and just not tour with them so I could stay home and work.
Donwill: We booked all those Europe shows with the mind that Ilyas would be there. Promoters weren't happy with just two of us showing up.
Ilyas: Promoters were not cool with that, they were like, 'Y'all are a three-man group, I don't want 2/3 of y'all.' They were frustrated when I couldn't make shows. It was hurting business, so moving forward we decided it would be best if Tanya Morgan was branded as a two-man group. It was painful, but the one thing that worked out is I was able to take care of my responsibilities with my child.
Donwill: It was a delicate situation because me and Ilyas may as well be blood brothers. At the time I was in New York like, 'This shit has to work or I'm moving back home.' That wasn't an easy time for our relationship as friends, the silent rule of Tanya Morgan is we always put our personal relationships first and the business shit second. We didn't address the elephant in the room for a long time.
Gotta Get Over It: Dealing With The Aftermath Of Losing A Member
Pea: We recorded a skit where he left us during a road trip on the intro to the You & What Army EP. We didn't want it to be like Judy Winslow going upstairs on Family Matters and never coming back down.
Donwill: At that point, people start combing lyrics to see if you're talking shit about homeboy that you ain't mentioning no more. This conversation is making me realize that at the time, I hadn't fully processed that we lost a group member. The configuration was forever changed, and we were always on the road and there was so much going on that it was impossible for me to register making an album with just Von.
We had to figure out how to repackage and reframe this thing, so the intro to the You & What Army EP started with him getting out of the car and the intro to his album started with him getting into a car and everything linked up. But it was like a Band-Aid over a wound.
Pea: It wasn't just that Ilyas was gone. The label was gone, Dominic was gone, I was depressed as fuck because we worked so hard and everything changed. That wasn't our label, but it kind of was our label…
Donwill: That definitely was our label, we were the flagship artists. To do inventory, Ilyas was gone, which meant the group dynamic changed, the label and Dominic were gone which meant our longstanding relationship with our PR firm Audible Treats was gone. It was definitely a moment where you look up and everything around you is different, and you're trying to figure out how to cope. It was low-key traumatizing, I used to say I had abandonment issues from rap.
Del Bene: Those were pretty dark days. We had a lot that we had built and we had gone from a lot going on to very little going on. I wasn't going to sit around and not be able to put things out or work with people because the label didn't know where they were going as a company. If I wasn't going to be able to make those decisions, I had to go. It was very hard because I had been with them since the beginning. I didn't want to leave them, but I wasn't given a path to keep working on that stuff.
Things Have Changed: Tanya Morgan's Transition With Rubber Souls
Donwill: As Von likes to put it, that was our major label album [laughs]. Musically speaking, we had resources that we had never had before. There was the built in trauma with the safety net falling out of everything, hanging out with 6th Sense and doing songs felt good because we were friends before music. So I was able to get through the feeling of confusion by doing an album with him.
Pea: That album had a good number of streams, but it wasn't purchased heavily because it came out when streaming started to become big in the states.
Donwill: We were right on the cusp of that, and we didn't necessarily have the budget to have a bright and shiny PR campaign like we did before. For it to not have performed well because of the transitional period, I think it's up there with some of our best work, but we didn't have the power to align it with the correct audience.
Finish Line: The Long Road To Releasing YGWY$4
Pea: We were on tour driving, and Don was talking about how, when we were growing up, you would get a CD and you had to listen to it, and you ended up knowing every word because you paid for it. I had the idea to call it You Get What You Pay For and everyone I told had a reaction to it one way or another, so that had to be the title. As time went on, when R&B singers and rappers started having these weird ass names with no vowels, it became stylized as YGWY$4.
The title isn't a middle finger to fans, but we worked really hard on the album with the knowledge that most people don't pay for music anymore. You get the album we worked hard to make for your streaming subscription price. It's not so much about money, but your time is money.
Donwill: 'You get what you pay for' means it's all of our faults we have this short attention span for music that we would probably enjoy a whole lot more if we paid for it. You have a different relationship when you invest in something.
Pea: These songs haven't been done for years, they've been initiated and worked on over time. We stopped working on it in 2015, then I was in Europe for a long time unable to help sequence the record and arrange things.
Donwill: We've sat with these songs for a good long minute. We played YGWY$4 and the label thought it was dope, but they chose to put out what we did with 6th Sense instead, because live music meant there were no sample clearance issues. Luckily and thankfully, it still sounds recent and current. We're really fucking good at what we do. It's not an accident that there's longevity to it. For a while, I couldn't play it, because I would get frustrated that it wasn't coming out. Now when I play it, I get excited because people are finally able to hear it.
Pea: It's pretty close to perfect as far as what we wanted. I really mean it when I say this might be my favorite album that we've done. I didn't want to be super obvious but there are small callbacks like the telethon happening at the community center in Brooklynati.
Triangle Offense: Reuniting With Ilyas On YGWY$4
Donwill: It was fun to have my sparring partner back. I was recently having a conversation about who had the better verses on that song and I feel like I got him. I'll admit his last section was dope, but he didn't beat me the majority of times on that song, it wasn't a sweep. I remember writing that song like, 'I'm kicking his ass and it feels good' [laughs]. I'm not gonna sit here and admit he beat me, it was fun going back and forth with my brother.
Ilyas: I got that feeling again, it was fun. There's a camaraderie there, but there's also a rivalry. Next to them, I sounded better than I ever did because I was like, 'I'm not about to get slayed on the track, I'm going for the gold on this' [laughs]. I got that nostalgia back like, 'This is why I loved that shit so much.' We originally got on doing a project that we thought only us and a handful of our friends were gonna hear.
Pea: I know I'm in the group but it's fun to be a fan of those cats. That song is for Tanya Morgan fans.
Stay Tuned: Can Fans Expect More Work From All Three Members?
Pea: I just sent Ilyas a bunch of beats. In my mind, we may do Ilyas's Brooklynati by himself. The Tanya Morgan vibe in a Wu-Tang way where I might be the RZA of the album, Brick has a few beats, and Don and I jump on a few songs. I think Don may executive produce it, God willing there will be a "Tanya Morgan presents Ilyas" album next year.
Ilyas: I want to make music for people in the same headspace as I am at this stage in their lives. I ain't gonna make it super serious, it'll still be fun. I rarely hear music that resonates with the people that I'm around that are going through life raising kids. The majority of the population in this demographic is raising two or three kids, working 50 hour weeks, and you'll see them riding around listening to Rick Ross. That beat sounds hard, but that doesn't speak to you. [Laughs] When our parents were raising us, the music they were listening to resonated with what they were dealing with.
Pea: Shit is cool, we've been through a lot. But nothing was worth not being cool with each other.
—Jesse Fairfax