FEATURES
Talking Points on Math Jazz, Quantum Theory, and Waiting Six Years to Cry
By Jordannah Elizabeth · October 25, 2016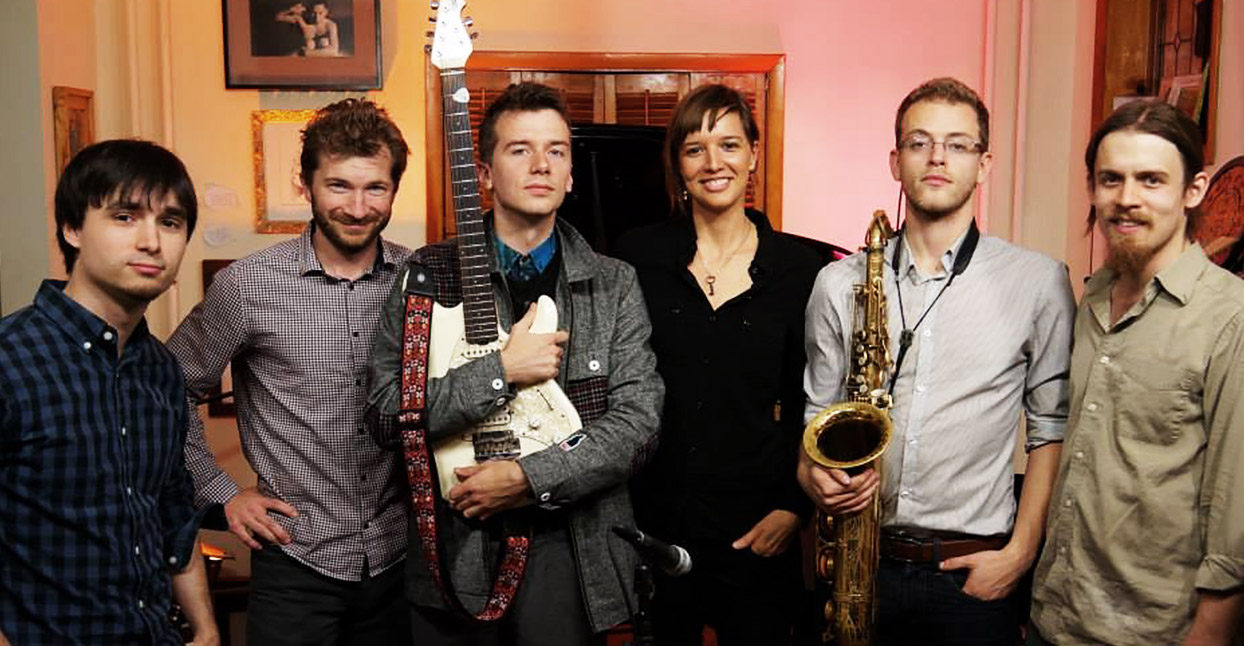 Based in Baltimore, Talking Points is a math jazz outfit that makes stellar, complex music while maintaining an earthy, relatable atmosphere—a real feat for such heady work. Composers Daniel A. Ryan and Savino Palumbo started the group with their own compositional ideas, then recruited friends and other musicians to execute them with precision. The band recently released two albums, Superposition and Leonard, simultaneously on Bandcamp. We spoke with Ryan about this ambitious feat, his personal musical influences, and the early days of Talking Points.
.
00:10 / 00:58
How long was it between the time you started Talking Points and when you completed your new releases?
I think our first show was a house show in 2012. So, four years! Savino [the group's pianist] and I both had a bunch of difficult ideas rattling around, and we wanted to get a group together with people who would be able to pull them off.
Why did you decide to release two albums at once?
Sometimes you just can't hold it in anymore.
You guitar playing is unique. Who are your influences?
Lately, I've been listening to stuff with synthesizers. I've been trying to sound like [a synthesizer] without relying too heavily on pedals. Jen Pague, of Vita and the Woolf, has one of my absolute favorite sounds on the instrument. One of the best things about synthesizers is the arpeggiator and the tape warble, so I've been trying to do those things manually—or to write so that a band can sound like that, because I can't afford a synthesizer right now. I think people become unique when a solution to their problem isn't immediately available.
I'm also really into saxophonists. Steve Lehman had a big impact on me and got me into bending my strings very slightly to get a little microtonality going. As far as guitar players, my teachers Steve Herberman and Kent Ashcraft were amazing. They gave me the tools to figure out every creative thing I wanted to do on the instrument. Dave Ballou is a big influence, because he's doing with the trumpet what I want to be doing with the guitar. Prince has been my favorite guitar player the past few years. I know he's famous and all, but he was still an underrated guitar player.
Did you start as a solo project and then bring in members on to become Talking Points, or was it collaborative from the beginning?
Definitely collaborative. We had all heard each other in many different contexts, and were all down for it at the beginning. I first heard Derrick at a house show, and the way he played melodies made me feel like he knew all my secrets. His improvising is also intriguing and powerful, and it feels so honest. Mike Kuhl is one of the most original and expressive drummers I've ever heard. Alex has a huge sound and amazing technique and can make every note sound so vital. Savino also has amazing technique, and is able to make beautiful music no matter how simple or complex [the playing] is. We had all been playing together before we formed the group. At first, it was just Savino and my tunes, and then Alex [the bassist] brought in "Unspoken." The whole rehearsal process is collaborative, and so is the way the members of the band interpret the music. I only gave Mike a little direction when we were rehearsing. Everyone knows how to interpret the music and make it sound beautiful. In the wrong hands, it would sound like shred bros.
What are the concepts behind Leonard and Superposition?
Superposition is a documentation of what we sound like when we play live. The name has to do with the way we play together. It comes from quantum theory, and Savino knows way more about this than I do.
Leonard I wrote on and off over a few years, and has very much to do with letting go of my insecurities over what is expected of me by my peers. It also makes me think of crying whenever I listen to it now, because the tension escalates more and more, and then the stress hormones leave. There was a good six years that I didn't cry, and one night I just exploded, and it was just great. The third track always makes me think of that.
.
00:10 / 00:58
What got you into jazz?
My dad is a trumpet player and was constantly showing me stuff. The first jazz album he put on where I thought, 'I wanna do that,' was Miles Davis' Live at the Fillmore, where they play Bitches Brew. I remember it sounded so rebellious to me—more rebellious than any punk rock I was listening to, because it didn't explain itself. And now, looking back, it was rebellious because of what people expected of Miles. Before that point, I had only met people who seemed to be striving to sound like the past (which is important, and which I admire heavily now), and who somehow thought that pop music was beneath them (which means you have shitty priorities).
How easy has it been for you to find an outlet to play your music? Is Baltimore a good place to start a band?
The Windup Space is a great place to grow.
Tell me about the recording processes for both albums.
Superposition, we did everything in one or two takes. It was very relaxing compared to Leonard, where we did one or two takes of everything, and then overdubbed strings and horns, and then Ben Frock [of Heartwood Sound Studio] and I mixed and slowly went insane for two years. Ben did the majority of the mixing.
Did you achieve the sonic goals you had in your head from the album's inception?
I'm really lucky to play with people who make real life sound better than what's in my head.
Do you consider yourself a musician, composer or artist?
All of the above.
—Jordannah Elizabeth