FEATURES
How Futurist Philosophy Inspired Yumiko Morioka's Ambient Masterpiece
By Martyn Pepperell · July 13, 2021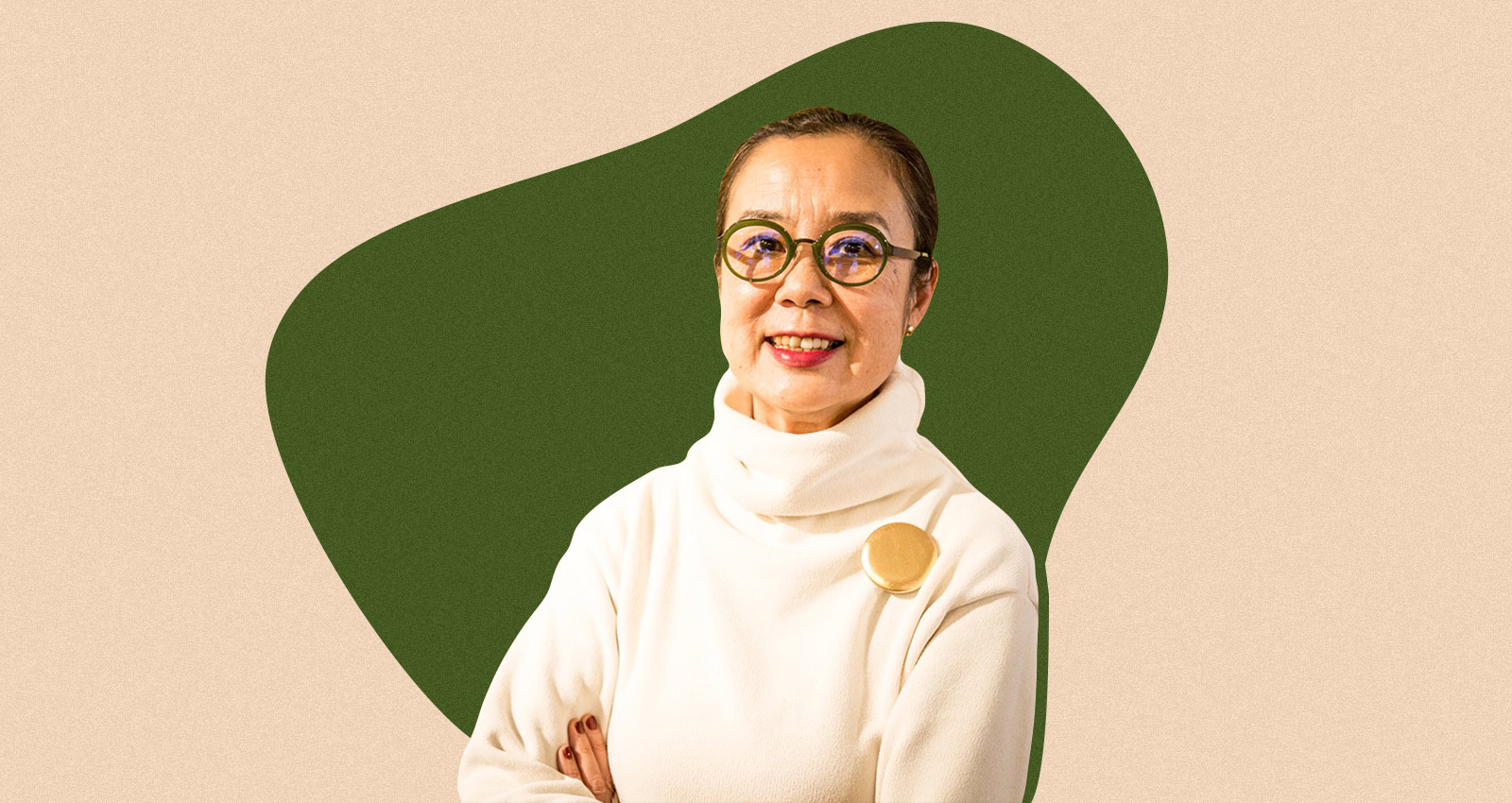 In the late '80s, the classically trained Japanese pianist, composer, and songwriter Yumiko Morioka spent an afternoon at an exhibition honoring the life and work of the American futurist architect and philosopher R. Buckminster Fuller. "He had this concept called synergetics," she recalls, speaking from her home in Tokyo. "It was about how individuals can come together to create something greater than the sum of the parts."
At the time, Morioka was working as a commercial songwriter in the burgeoning Japanese pop music industry. By night, however, the counterculture owned her heart. "The late '80s was the most interesting era, because there was a bubble economy in Japan," she remembers. "Everything was sparkling, and the club scene was in full bloom. Every night, I would go out to all these different nightclubs. We'd meet these cool groups of people and hang out together."
That was how she met the respected painter, poet, and record producer Shigeo Ohwa. "He knew a lot of very eccentric people from music and theatre back then," she recalls. Ohwa introduced her to the team behind Voice Records, a small label run by a couple of concert promoters from Kyushu, the third-largest island in the Japanese archipelago. Two years prior, Morioka had recorded a free-flowing ambient piano record titled Resonance for kankyō ongaku composer Akira Ito's Green & Water label. It was met with limited commercial success at the time, but Resonance found a niche in Japanese-made documentary television, maternity wards, and natural healing stores, before fading from view. Regardless, the experience gave Morioka a taste of the album recording process, and she was eager to create art for art's sake again. "They had money to spend," she remembers. "I asked them if I could do whatever I wanted, and they said yes." 
Merch for this release:
Vinyl LP, Compact Disc (CD)
Under the guidance of her friend Haruomi Hosono, Morioka had been exploring the rich folkloric musical histories of India, Ethiopia, Mali, Korea, China, and the Japanese island of Okinawa. Outside of Japan, Hosono is best known for his membership in Yellow Magic Orchestra and his considerable contributions to modern Japanese pop music's songwriting and production vernaculars. At home, however, his influence looms in different ways. 
"Haruomi Hosono was the main figure who introduced the Japanese audience to all these different types of ethnic music," says Morioka. "He used to play it on the radio, write about it, talk about it. He would tell me what he liked, and he also made a five-CD set of recordings of ethnic music from all over the world."
Morioka wasn't only interested in listening to music from around the world—she wanted to "do my own version, combining different musical cultures, all mixed together," she says. "But everyone kept saying things to me like, that's so hard. How do you combine them?" Over the course of the afternoon she spent at the Fuller exhibition, his synergetics ideas unlocked something in her. As a philosophy, synergetics concerns itself with identifying and understanding the methods nature uses to coordinate the universe. It encouraged her to look at fusion through the lens of lateral thinking. "I hoped that different musical elements could enhance each other and birth something more unexpected and bigger," she reflects. "Kind of like how cooking with completely different spices and ingredients can make something new and yummy." 
Morioka was able to test these ideas out with her next musical project, Synergetic Voice Orchestra. After she agreed to record for Voice Records, Ohwa came onboard as her producer. They had a conversation about music from different countries, and he offered to introduce her to several self-taught street musicians. There was a flute player who lived on a mountain and taught ninjutsu, a sitar player who'd spent time in India and would walk barefoot through the streets of Tokyo, and a drummer who practiced at night in a local cemetery. "Everyone in that band was a character that you could talk about," Morioka explains. "It was amazing."
Merch for this release:
Vinyl LP, Compact Disc (CD)
They travelled to Kyushu, where the label owned a studio, to record. "It's a beautiful place, but I got a lot of headaches from this project," Morioka admits. Working with a group of self-taught musicians posed problems for the classically-trained composer. "None of them could read music, so to do the recording with them was like hell…It was very stressful. I thought I was going to throw up a couple of times," she continues. Steadying herself, Morioka reflected on the holistic thinking inherent to Fuller's synergetics system and continued applying it to the studio sessions. Her collaborators used a different musical vocabulary than hers, but that was what Synergetic Voice Orchestra was all about: finding harmony between differences.
"They had very good ears," she explains. "I would play the tune, and they could just improvise on it immediately. They weren't polished, but their playing had more interesting character and energy than studio musicians. I remember one time, one of them didn't like the studio's energy, so he brought these spiritual objects out of his bag and started to pray to cleanse the energy of the studio. They were very eccentric people."  
After recording, Morioka completed the compositions through a process of subtraction during mixing sessions in Tokyo. "At the end, it became a lot more simple, but it took a long time to clarify things," she says. The result was MIOS, the first and only album from her Synergetic Voice Orchestra. A suite of nine open-eared fantasias, MIOS saw Morioka and her collaborators weaving flute, sitar, drums, percussion, keyboards, and traditional Japanese folkloric vocal styles and instruments like koto and shamisen into a rhythmic ambient dreamscape born from the limitless possibilities of the mind. 
"I simply wanted to imagine all the beauties of our planet," Morioka recalls. "This was way before globalization, the internet, or the speedy culture we are experiencing now. So, when I listen to MIOS, it takes me back to a time when things were slower and simpler." With MIOS' opener "Zebra," she sought to pay homage to the natural splendor of the African savanna. "Hari-Hari" was a found poem, rearranged in an Okinawan folkloric music style. On "Tangram," she used a boogie beat and loose-limbed percussion to depict Egypt's dusty, dry winds, pyramids, and deserts.
Sadly, as with her album Resonance, MIOS was only moderately successful, leading Morioka to call time on Synergetic Voice Orchestra. However, her synergetics story wasn't over. Three years later, she unveiled a new band, Culturemix. 
"I wanted to do more with the same concept," Morioka explains. At the time, the British guitarist Bill Nelson (of Be Bop Deluxe) was visiting Tokyo. While he was there, he fell in love with Morioka's friend Emiko. "They ended up occupying one of the rooms in my house," she remembers. Bill liked the idea of helping out with Culturemix, and from Morioka's perspective, he was a perfect collaborator. "Bill and I worked together beautifully," she remembers. "We didn't even have to talk, we just trusted each other completely. I've never met another musician I could do that with." Culturemix released two albums, 1993's Geography and 1995's Culturemix with Bill Nelson (recorded in the UK).
After Culturemix had run its course, Morioka moved to America and spent the next twenty-odd years living in Charlottesville, Virginia, and Marin County, California. She raised a daughter and discovered a passion for chocolate making. In 2017, she lost her house in the devastating California wildfires and returned to Tokyo, where she now runs a chocolate shop in the Setagaya ward. 
Merch for this release:
Vinyl LP, Compact Disc (CD)
Not long after moving back to Japan, Morioka received a Facebook message from Jack Hardwicke, the founder of the Berlin-based Métron Records, who expressed interest in reissuing her music. "There's often this incredibly universal quality to a lot of Yumiko [Morioka]'s compositions," Hardwick explains. She's somehow able to make tracks that both have a time and place yet also feel timeless—and that's always comforting to listen to in my opinion."
Métron reissued Resonance in 2020 and the discussion around the album kicked off a critical reassessment of Morioka's discography, a conversation which will continue with Métron's reissue of MIOS. "MIOS definitely expands the sonic palette displayed on Resonance, though her incredible piano playing remains at the heart of some of my favorite moments, and shows a different side to her as an artist and composer," elaborates Hardwick. "I'm really keen, and honored, to help shine a light on her work."
All of this renewed interest has had Morioka playing the piano again. She's planning to record a new album titled 64 Times. "I'm into sacred geometry, and sixty-four is a very important number," she explains. "With geometry, when you repeat the same circle sixty-four times, it becomes a flower of life. I want to express this geometry shape with the sound of repetition, repeating the same musical figure until it evolves into a beautiful form, but that can be endless, you know?"