FEATURES
Sufjan Stevens: Intimacy Unmoored
By Will Robin · March 30, 2015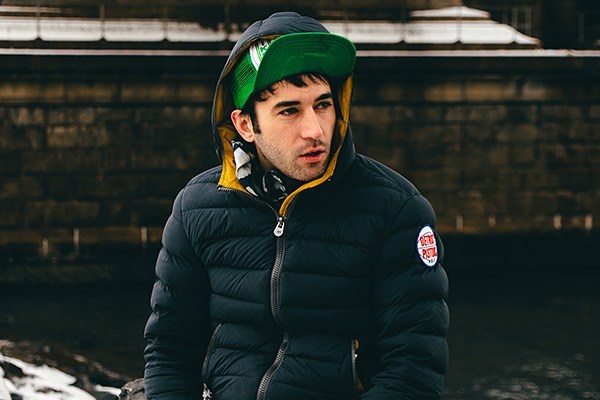 Merch for this release:
Vinyl LP
Seven of the 11 songs on Sufjan Stevens' new album, Carrie & Lowell—out now on Asthmatic Kitty—end with ethereal postludes, in which the singer-songwriter's vocals are subsumed into gorgeous, abstract textures. The wistful opening track, "Death with Dignity," concludes with an electronically manipulated, bending, wordless chorus—a brief and almost Bon Iver-like moment.
Merch for this release:
Vinyl LP
I bring up this bit of trivia not only to point out an intriguing continuity across Carrie & Lowell, but also to situate this release in its author's broader trajectory. The songs of earlier albums, such as Age of Adz, Illinoise, and even Seven Swans, might give way to a postlude, but it would be sprawling, a communal bacchanalia in which the giant band comes to the fore, complete with a gaggle of extra voices and the requisite smattering of strings, brass, and synths. Think of the ecstatic climax of "Chicago," the twitchy flutes and electronics of "Too Much," or even the slow burn of "Seven Swans" itself.
On Carrie & Lowell, though, songs close with a reticence in line with the album's deliberate intimacy. Sufjan is joined only by only a handful of collaborators, including Laura Veirs, Thomas Bartlett (of Doveman), and Bon Iver's S. Carey. The longest tracks are barely over five minutes. There isn't the sense of large-scale exploration that marked the past 12 years of Sufjan's development—the sonic arc traced from Michigan's "Detroit, Lift Up Your Weary Head!" to the Mahlerian heights of Adz's twenty-five minute "Impossible Soul" freak-out. Carrie & Lowell's outros, if anything, are fleetingly experimental flashes, harnessing Sufjan's production-heavy past toward the confessional seclusion at the core of the album. Those uncanny last fifty seconds of "Death with Dignity" balance out the rest of the tightly wound song: the way in which each verse terminates with a pregnant pause, the bare effortlessness of the lyrics ("I forgive you, mother, I can hear you/And I long to be near you"), the elegant ease of the piano solo.
Or take the dusky "All of Me Wants All of You," emblematic of Carrie & Lowell's careful attention to creating variety from simplicity. In the first chorus, Sufjan's singing winds upward, tailed by an echoing instrumental line. When the chorus returns, as Sufjan intones "Landscape changed my point of view," it is followed instead by layered backing vocals, Sufjan's voice chasing itself. Again, the music begins to become unmoored in its final moments, as the vocals and instruments quizzically blur together, suddenly snapping back into place before the next song.
Merch for this release:
Vinyl LP
That avoidance of vastness is guided by the album's autobiographical premise. Carrie & Lowell is a powerful meditation on the 2012 death of Sufjan's mother, Carrie, and her relationship with his stepfather, Lowell. Every Sufjan album has its own mythology—from the epic depiction of local lore in Illinoise and Michigan to the sci-fi trappings of Adz—but here, myth is turned inward. As Sufjan told Pitchfork in a definitive interview, "It's not really trying to say anything new, or prove anything, or innovate. It feels artless, which is a good thing. This is not my art project; this is my life."
We are not far from the realm of Björk's recent Vulnicura, in which personal trauma is projected outward into monumental musical offering (and attendant global media event). So despite what Sufjan says, we should take into account that Carrie & Lowell certainly represents an art product for its listeners, and that its intimacy can be considered not only in terms of its autobiographical content but also its creator's artistic evolution. After all, the interior turn here is likely appealing for longtime fans that ache for the folksy, banjo-inflected Sufjan of yore after the avant-garde of Adz (and that banjo is quite prominent on Carrie & Lowell, meticulously plucked but also meticulously layered into instrumental textures).
At the heart of the album is "Fourth of July," a song that if it appeared on Illinoise would probably depict a childhood summer night spent staring at the sky. But here, the title is posed as a question of significance to a departed loved one; its rejoinder is "We're all gonna die." The song is simple and bleak, with a wash of electronic murmurs in the backdrop of an unadorned chord progression, as Sufjan sings directly to his late mother of the rituals of death: "Such a funny thought to wrap you up in cloth/Do you find it all right, my dragonfly?" The song concludes with incessant reiterations of "We're all gonna die." It is perhaps a distinction from the earlier Sufjan: repetition as emotional burden rather than sonic splendor.
Merch for this release:
Vinyl LP
Listening again to those prior albums, one gets the sense of Sufjan not only embracing his own eclectic vision but also carving out a space for a new kind of musician, one who could harvest both the familiarity of indie-folk and the expanse of minimalism. More recently, that mantle has been taken up by composers like Nico Muhly and ensembles like yMusic, who have stamped minimalism's sonic print onto bands including the Dirty Projectors and The National (not to mention composer-songwriter Gabriel Kahane, who has further developed Sufjan's polyglot prototype). Perhaps in Carrie & Lowell Sufjan has happily ceded ground to that developed scene. After all, he has plenty of time to explore that world in side projects, whether the BQE symphonic suite, the Planetarium collaboration with Muhly and Bryce Dessner, or most recently a live score for a rodeo documentary. These other endeavors have percolated into the sound of the new album as well; those otherworldly postludes are a direct echo of "Alcohol," the final track of Sisyphus (with Serengeti and Son Lux), in which Sufjan screams "I am not my father" into an electronic maelstrom.
The intricacy of Carrie & Lowell's songwriting is best on display in "Should Have Known Better," at once breezy and dark. Atop layers of banjo and guitar, Sufjan describes how he should have grieved, were he not choked by his "black shroud." There is a humble beauty to the music, with plainspoken verses and a translucent gauze of backing vocals. At its exact midpoint, the song brightens and opens outward with an instrumental interlude. Sufjan declares that the past is the past, and looks instead toward the future ("My brother had a daughter/The beauty that she brings, illumination").
Merch for this release:
Vinyl LP
The unvoiced tragedy of this song, though, is how early it appears on the album; there is much more pain to come. I think of Schumann's Dichterliebe, a song cycle in which the narrator lingers on lost love, pretending to have moved past his heartbreak but still taking another 11 songs to fully process his anguish. The craft, too, is comparable: bold artistry in simple, sorrowful songs.
Photography by Emmanuel Afolabi