FEATURES
Recorded 20 Years Ago, "The Clouds" Drifts Back Into View
By Andy Beta · February 09, 2023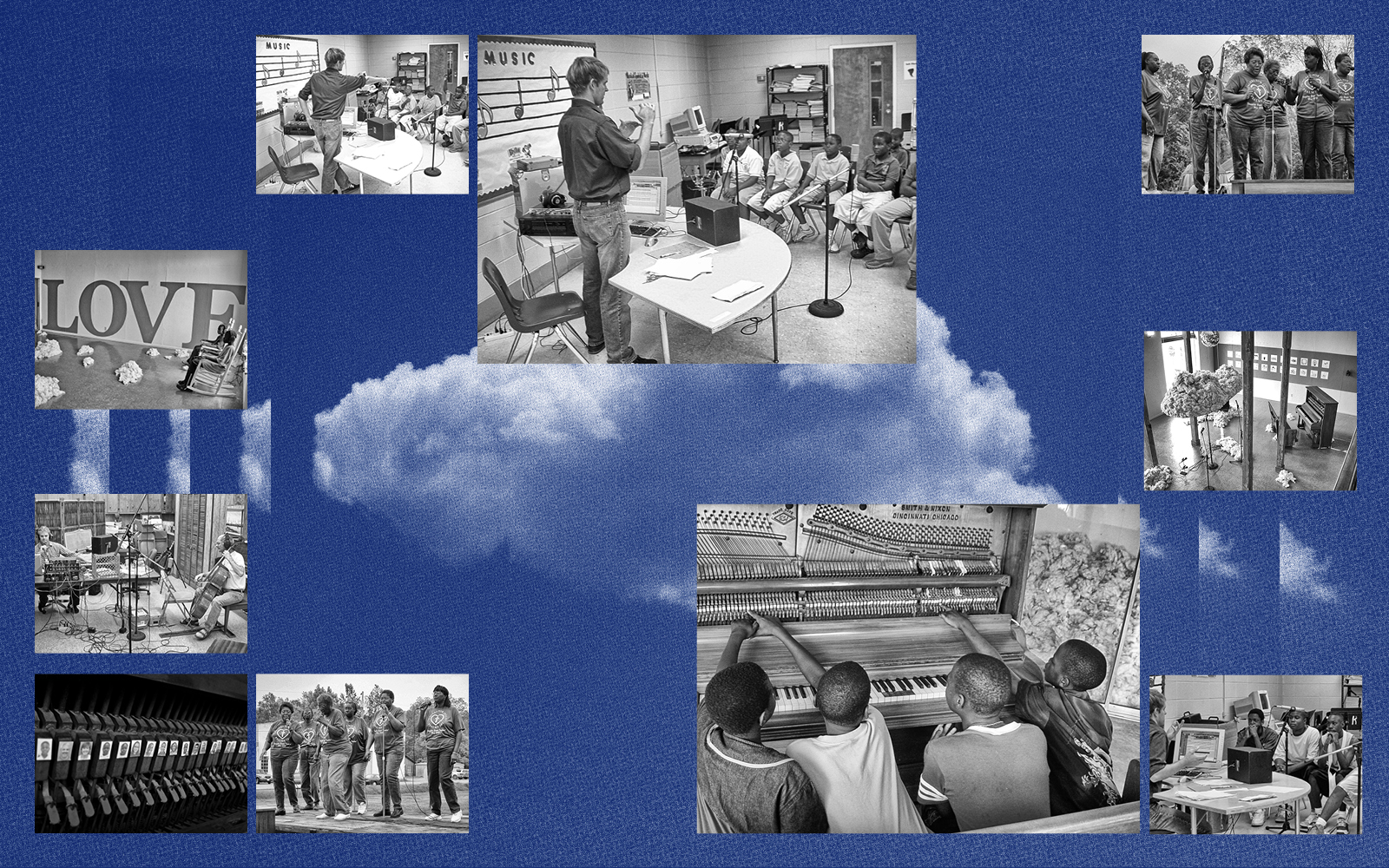 The pursuit of sound in all of its forms has led Stuart Hyatt as far as the top of Mount Nyiragongo in the Democratic Republic of the Congo—to record lava—as well as about a hundred yards from his childhood home, where he and his family currently live. Under the handle Field Works, he's made hundreds of field recordings that he then blends with instrumentation from a wide variety of artists. Guitarist Marisa Anderson, new age icon Laraaji, harpist Mary Lattimore, and Dan Deacon are just a few names who have turned up on Field Works albums.
But it's an album he made with the aptly-named group The Clouds that remains among his most endearing nearly two decades after it was first released, in an edition that featured hand-stamped handmade cardboard covers and burned CD-Rs. Search online and tags like "Piano Blues," "Soul," "Folk," and "Rhythm & Blues" are all applied to the music, but there's also something more elusive and disarming about the music, which can feel like jangly pop, outsider music, or the folk songs of Arthur Russell. Even the man most responsible for keeping the band's legacy alive, LCD Soundsystem frontman James Murphy, has a hard time describing it. He first encountered the CD in a stack of promos at the DFA offices, where its folky charms buffered hungover mornings at the office. It was "like a lost track…at the Loft or something, but new and vital" he wrote in the press release for the album's new reissue on DFA. "The entire record is filled with moments like this. It's impossible not to care about this music." Hyatt admits to being averse to "looking in the rearview mirror," but admits, "The Clouds has just sort of…endured in the most natural way."
.
00:10 / 00:58
Hyatt had spent a few years dabbling in various instruments until he happened upon a tool that would become crucial to his work: a 4-track cassette recorder. "Recording was a revelation and I knew I wanted to make music," he says. He studied art and architecture and hung out with the visual art students, but kept "circling back to sound—and by extension music—as a means of understanding and navigating the world."
A few months after graduating in 2003, Hyatt proposed an idea to a friend who had just started an Artist-in-Residence program at a small community arts space in York, Alabama. Called The Coleman Center for the Arts, the space had been seeking out projects that engaged local community members. "I proposed a simple idea," Hyatt says. "What if I made a record, and the whole town got to be in the band?"
It was already a heady time for Hyatt. "The day before I left for Alabama, I asked a girl to marry me," he says. (They remain happily married some 20 years later.) "So I was pretty full of this profound vulnerability and love, and I think that came pouring out in the songs I wrote for The Clouds." He set up a 4-track in a back room of the York Public Library and offered to record and burn CD-Rs for whoever wanted to stop by, sing, and play music. "Then, if the spirit moved us, they could play or sing on the album I was writing," he says. "Word spread, and I was invited into churches and schools and backyard cookouts. It all just happened really fast." He estimates that the "band" The Clouds features upwards of 88 local folks from around town.
.
00:10 / 00:58
Disarming in its sincerity and plainspoken insight, the songs on the album are as direct as any folk tune, as rapturous as the most exuberant gospel number. "Up in the Clouds" goes through all the kinfolk that the singer will see once more when they get to Heaven. A childrens' choir shouts out the chorus to "Darkness and Light" with total glee. The caffeinated "No, You Can't Take Them" features a group of young boys laundry-listing all the earthly items that they can't take with them into the great beyond, including a "cell phone," "sister," or "my chicken." Every resplendent high of the brief album teeters like it might collapse from sheer joy at any moment.
Early on, WFMU DJ and author of Songs in the Key of Z (a bible of homemade outsider music) Irwin Chusid became an instant convert when he first heard it in 2005. "It's not peculiar to me to see an album like this get rediscovered," he says. "Any timeless art can be rediscovered. Sun Ra is more popular now, 30 years after his death, than he was during his lifetime. All it takes is someone to preserve and champion the legacy." That year, it even received a Grammy nomination for Best Recording Package (though The Clouds ultimately lost to Aimee Mann).
When Murphy first fell for the album, he emailed Hyatt in January of 2008 and asked about doing a remix of "No, You Can't Take Them." Hyatt was a fan of Sound of Silver and replied enthusiastically. "Well, it took DFA 13 years to email me back," he says with a laugh. "No joke. In January 2021, I got the email response: 'Oh hey, sorry for the delay.' And it took two more years after that, but here we are. I'm incredibly grateful."