FEATURES
Striking Out on His Own
By Will Robin · January 29, 2016
"Having had that corporate experience, I just really wanted to go as far in the other direction as possible."—Gabriel Kahane
Gabriel Kahane's first album wasn't released in 2008. Well, it was, but not really. "I was so young and naïve," Kahane recalled recently over tea on a frigid day earlier this month. The tiny record label that the composer and singer-songwriter had signed with had set a street date for September 15, but inexplicably didn't print any actual albums for five months. "For all intents and purposes, that record didn't come out at all," he recalled.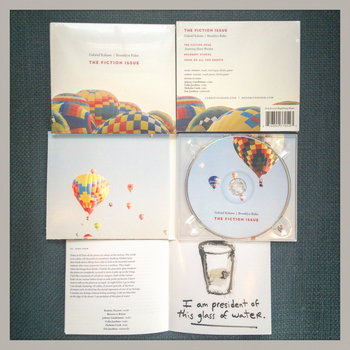 .
00:10 / 00:58
Merch for this release:
Compact Disc (CD)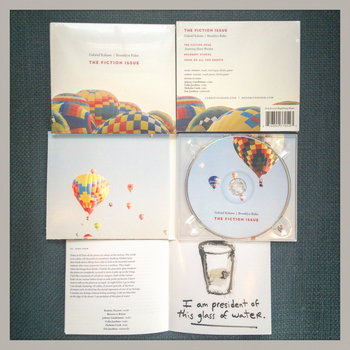 This time around, Kahane is taking matters into his own hands. On February 5 he will release The Fiction Issue, his fifth full-length album, for purchase on Bandcamp. When we met at a coffee shop in his Brooklyn neighborhood of Ditmas Park, he had just wrapped up a phone call with a fellow singer-songwriter, whom he had advised to avoid working with labels if possible. Kahane has learned a number of lessons about the industry since that first traumatic experience eight years ago, and is attempting to apply them all to this next phase in his career.
Though self-releasing is increasingly the norm these days, it's a striking move for The Fiction Issue. For one thing, Kahane is backed here by the string quartet Brooklyn Rider who, despite their hip reputation and youthful vigor, are well-established denizens of the highly institutionalized classical music ecosystem, spending much of their time playing in the company of Yo-Yo Ma. And trekking out on his own is even more unusual for Kahane right now, given this record was, in fact, originally to be distributed by Sony Masterworks.
That recent transition, from Sony to self-release, is a complex tale of politics and artistry in an age in which the major labels continue to undergo convulsive change. But before delving in, first a bit about the music that Kahane is issuing next week. For the past decade, he has worked comfortably in the rock and classical spheres, alternating between performing in the grandeur of Carnegie Hall and the intimacy of Rockwood Music Hall. He's written three-minute songs about breakups and fifty-minute orchestral works about the Great Depression. And he's grouched about journalists who focus too much on genre-hopping and not enough on craft. A few years back, he worked with Brooklyn Rider and singer-songwriter Shara Worden (of My Brightest Diamond) for a project at Carnegie, which became The Fiction Issue: a half-hour miniature drama, sung by Kahane and Worden and played by the string quartet. "Pop songs are spiritually related to short stories, as far as narrative economy is concerned," he told me. This work is more like a two-character play (or, as the title alludes, a compilation of stories in the manner of The New Yorker's annual magazine edition).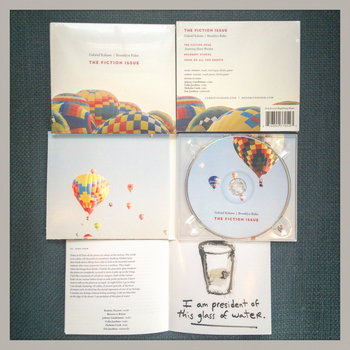 .
00:10 / 00:58
Merch for this release:
Compact Disc (CD)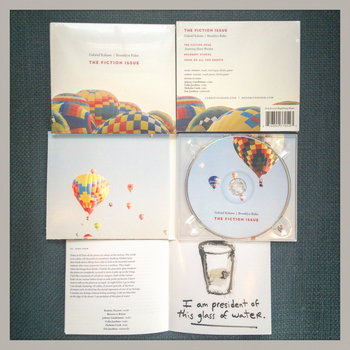 "If the main path of my creative life is as a songwriter, I feel like this is a slightly divergent, but not unrelated, body of work that expresses, in greater detail, certain aspects of what I do," Kahane said of the new release. Come On All You Ghosts, the other vocal work on the record, sets three poems written by Matthew Zapruder that alternate affectingly between the transcendent and the ordinary. To fill out the full-length, Kahane composed Bradbury Studies, a craggily lyrical quartet that expands, in the manner of a nineteenth-century fantasia, on one of the best songs of his previous album, The Ambassador.
The Ambassador is at the center of the Sony Masterworks drama, and the past several years of Kahane's musical life. When we met, he expressed deep gratitude to Sony for signing him and taking on a far-fetched pitch: a concept album focused on the city of Los Angeles, with each song telling the story of a specific building. "The fact that I was given the insane amount of money that I was given—in 2013, with no history of record sales—to make a carte blanche album, where the label didn't hear it before going to mastering, is extraordinary," he told me. But if the initial creative investment was strong, everything that came afterward was mired in difficulty. Fractures between art and commerce emerged, and Kahane found himself drowning in bureaucratic legalese as he tried to complete the record. "This is happening at a lot of big labels, where the business affairs people have a kind of stranglehold on the A&R people," he said.
With its author's strong profile in the orchestral world and his friends in indie rock—Sufjan Stevens played on Kahane's first album—The Ambassador had the potential to land strongly in the classical and rock press. But Sony wasn't able to garner the attention of major critics or market the album persuasively; it slipped by entirely unnoticed by Pitchfork. Sales were low but steady, mostly from word-of-mouth rather than the robust advertising campaign that one would expect from a major label. "The thing that was particularly frustrating was that they didn't ultimately have the courage of their convictions when it came to sticking behind the record, even though it was slow out of the gate," Kahane said. At the heart of the album is Empire Liquor Mart, a haunting account of the life and death of Latasha Harlins, an African-American girl shot in the days leading up to the Los Angeles riots. In a year of Black Lives Matter, it felt like the song could have landed as a significant part of the cultural conversation, but it was instead mostly overlooked.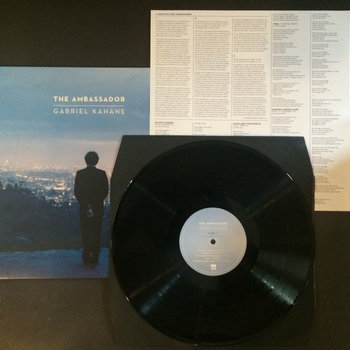 .
00:10 / 00:58
Merch for this release:
Vinyl LP, Compact Disc (CD), Sheet Music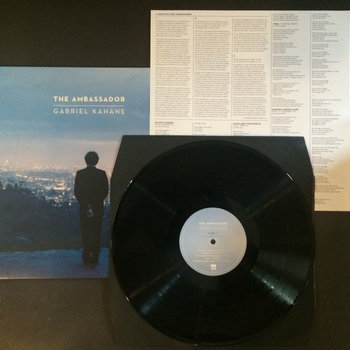 And though there were a number of subsequent opportunities for album sales to reignite—The Ambassador was transformed into a live theatrical show at the Brooklyn Academy of Music and received a strongly positive front-page review from the New York Times—Sony had already lost interest. "With something that was somewhat commercially viable, The Ambassador, their lack of commitment to that made it all the more clear that if I put out the Brooklyn Rider album with them, it would just be dead in the water," Kahane said. He asked to be released from his contract and bought back the full rights to The Fiction Issue, and struck out on his own. "Having had that corporate experience, I just really wanted to go as far in the other direction as possible," he explained.
Kahane isn't bitter, and is appreciative of the risks that institutions have taken on his behalf. But he also has a much clearer sense of what can and cannot be achieved by the industry. "If I were talking to a young artist, I would say, in as much as it doesn't make you tear your hair out from dealing with lots of logistical nonsense, do as much by yourself as you can," he said. "Because it's also really valuable to learn: learning how to book a tour, how to self-release an album, how to write a press release, so on and so forth. In the same way that if you work in any industry, and you work your way up from being the coffee boy to being the CEO, it will have been valuable that you did all of those tasks along the way. It's humbling and grounding to walk to the post office and put twenty vinyl records in the mail."
Brooklyn Rider, photo by Sarah Small
For The Fiction Issue, Kahane is eager to navigate the experience unfettered by bureaucracy; he will briefly tour the album with Brooklyn Rider over the next week, aided somewhat by the institutional clout of a major string quartet. But his fan base is small enough that anyone who buys a physical copy of the album will receive a handwritten thank-you note. "I'm as grateful as the amount of time it takes me to write that note, that people are still willing to pay for music," he said, "and perpetuate an industry that needs to exist, in some form, in order for us to persevere."