FEATURES
Strange, Splendorous Sounds
By Will Robin · April 28, 2015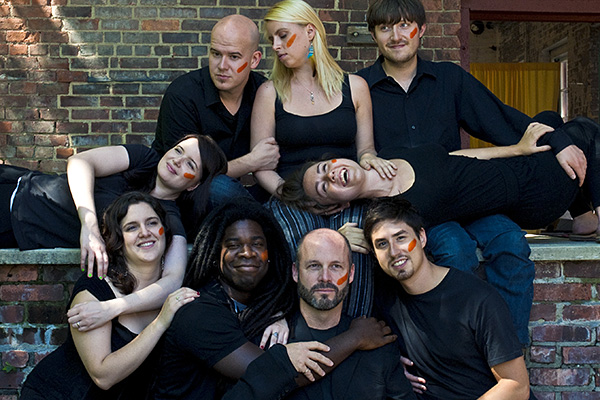 "With all of the different techniques and styles of singing that we're encountering and attempting to assimilate, ideas seem to spring up unavoidably and point in the direction of a new compositional path."
What happens when an experimental a cappella group suddenly finds itself at the center of the classical music universe?
In fall 2012, the vocal octet Roomful of Teeth released its first album on New Amsterdam—a well-reviewed debut that still managed to slip under the radar of many critics, myself included. Six months later, alto and ensemble member Caroline Shaw won the Pulitzer Prize in Music for her astonishing Partita, made up of four tracks that anchor the debut album. Nine months after that, Roomful of Teeth—known for its broad repertoire of new music that incorporates unusual vocal techniques from around the world—netted a Grammy for Best Chamber Music/Small Ensemble Performance.
"There's been something of a shift in perception from 'Hey, you guys are trying something kind of different and experimental. Fun! Let's see if it works' to 'Whoa, you guys are a thing! How are you going to keep it going?'" said Brad Wells, founder of the ensemble. Since the Pulitzer, Roomful of Teeth has embarked on numerous cross-country tours and been presented by major classical institutions, from Carnegie Hall to the Los Angeles Philharmonic. Shaw has gone from a relatively unknown PhD student—many had no idea she was even a composer—to being commissioned by world-class orchestras. And the ensemble has settled into its own. Teeth soprano Estelí Gomez told me, "I feel as though we're finally able to inhabit the concept of the group more fully now that we're performing together so much more often."
photo by Steve Spinelli
That Render, Roomful of Teeth's sophomore release on New Amsterdam, is absent any music composed by Shaw might be striking. But it shouldn't be. After all, one of the great achievements of Shaw's Partita is how beautifully it captured the range of sounds that Roomful of Teeth can create, from Tuvan throat singing to yodeling to belting old gospel hymns. It represented not a singular achievement from a genius composer, but instead the assembling of forces of a community of musicians. That community remains powerfully intact on Render, which highlights techniques that Teeth is known for, adds a few new ones, and—perhaps most of all—emphasizes the ensemble's crystalline sound, placing it in a category with the ethereal timbres of early music singers like Stile Antico and the Hilliard Ensemble. (It's no coincidence that many Teeth members perform in the acclaimed Choir of Trinity Wall Street.)
One of the strengths of Teeth's work is that they draw on the compositional talents of their members, and this is very much on display in Render. Tenor Eric Dudley sings in his own brief but captivating Suonare, in which the ensemble intones the phrase "sounds far and near" in closely harmonized canons with eerie glissandos, as sopranos vocalize in Italian. "The inspiration for writing comes easier from being a member of Teeth," Dudley said, "since the group is already dedicated to the exploration of a wide array of sonic resources and possibilities. With all of the different techniques and styles of singing that we're encountering and attempting to assimilate, ideas seem to spring up unavoidably and point in the direction of a new compositional path." The influence of the sonic splendor and wordplay of Renaissance madrigals on Suonare is palpable, and makes one wonder if the ensemble shouldn't slip a couple pieces of conventional early music into their repertory, just to see if anyone would notice.
That hewing to the past is also audible on one of Wells's own contributions. The album's textless title track features a drone in the bass and soprano, which create a cavern of continuous sound around inner parts that Wells indicates should sound "like wind." Surprisingly, no extended techniques are introduced; Wells instead simply luxuriates in the delicate, flowing counterpoint of the singers. "Render was composed when I was away from the group and was much more about landing in a particular emotional landscape," he noted.
Wells's visceral Otherwise is a more typical Teeth affair, combining drones, giant glissandos, belting, throat singing, and a bel canto-style operatic solo. Wells described two main goals in the work: "One, to begin to explore how radically different vocal timbres might coexist and what do they generate (musically and emotionally) when they rub against each other. And two, to feature Dashon Burton's beautiful and powerful singing." (Burton's sepulchral bass-baritone and massive range is a trademark of the New York scene; last spring, I heard him practically steal the show in Arvo Pärt's Passio.) Uncanny, quivering background gestures introduce a new technique picked up by the ensemble since their last album: Su cantu a tenòre, a method of folk singing from the island of Sardinia.
Just as the movements of Shaw's Partita were sprinkled through its first album, Teeth has spread another large-scale work across Render: Wally Gunn and Maria Zajkowski's The Ascendant. A colleague of Shaw at Princeton, Gunn composed the casually intense work for a 2013 ensemble university residency, with quizzical and evocative texts written by Zilkowski. "[Gunn] takes a subtler, less slashy approach to vocal timbre in The Ascendant than some other pieces from our repertoire," Wells said. "There are delicate uses of yodel breaks, percussive vocalizations (rooted in the Inuit work we've done), and a lean toward more pop-based singing quality."
With its slow-but-kinetic burn, The Ascendant is the opposite temperament of Partita's restless joy, and is accompanied by the intriguing addition of Sō Percussion's Jason Treuting playing tight drumkit patterns. "Surviving Death," the final movement, opens with a mysterious hush, as vocal lines cascade upward atop an omnipresent single C. Percussion and low voices set a thick groove as altos coolly intone a vague but apocalyptic line: "Every day, surviving death, we send out our horses." Spooky bends, throat singing, and other effects build to a climax that, for a moment, sounds like a wall of electric guitars. The music never loses its edge, concluding the album with a sneering counterpart to Wells's Render and Dudley's Suonare.
The release also includes strong contributions from New Amsterdam regulars Missy Mazzoli, Caleb Burhans, and William Brittelle. Where Roomful of Teeth's first album featured a stable of musicians wildly exploring the possibilities of a new ensemble, things feel more settled on Render; the composers appear comfortable simply exploring the beauty of the octet's voices. As Gomez put it, "There's still plenty of hard-hitting, angular, Teethy weirdness, but significantly more smooth, chill offerings, and more songs with words."