FEATURES
Straight Panic's Very Queer Power Electronics
By Jordan Reyes · July 18, 2018
What happens when the ethos of your upbringing is in direct opposition to the person you are? For much of his life, and all of his work as queer power electronics artist Straight Panic, New Orleans' Thomas Boettner has been exploring this existential crossroads. "I was born in Arkansas, but grew up in South Carolina," Boettner writes in an email. "[I was the] only child [of] upper middle class Republican parents; dad worked, mom volunteered or had cottage industry projects she'd run for six months before stopping… Growing up homo in the South to vaguely Protestant Republican parents absolutely was a source of friction."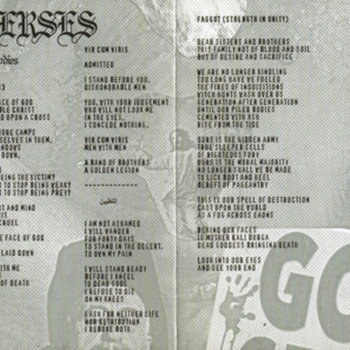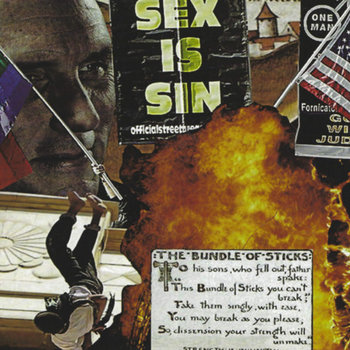 .
00:10 / 00:58
Merch for this release:
Compact Disc (CD)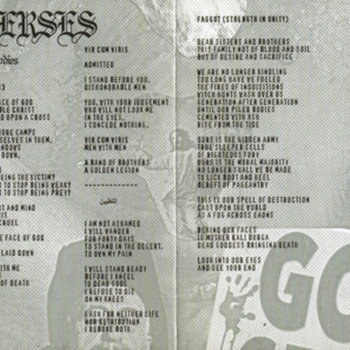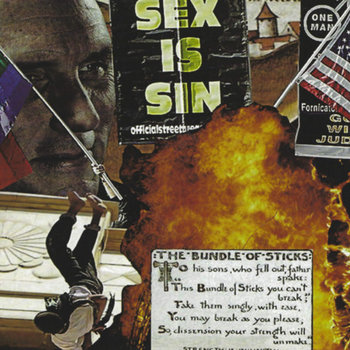 At 16, Boettner was forced to go to "Truth Ministries," a blanket term for anti-gay religious organizations focused on bringing LGBTQ+ people to Christ while dismantling their sexuality. For an idea of what kinds of organizations these are, the Southern Poverty Law Center describes "Abiding Truth Ministries," the especially loud outlet of Scott Lively (who you may remember as the man who accused homosexuals of running the Nazi party in his 1995 book The Pink Swastika), and other similar organizations as hate groups.

Boettner would consider the religious persecution of queer people in the Straight Panic releases The Satanic Verses and Homo Will Not Inherit, which both came out in 2017. Homo Will Not Inherit is a live affair, showcasing a 2016 set recorded in Minneapolis, featuring throbbing, and occasionally crushing, waves of feedback that provide the foundation for samples and words adapted from National Book Critics Circle Award-winning writer Mark Doty's poem "Homo Will Not Inherit," a profound piece that meditates on bathhouse culture, shame, and religion. The Satanic Verses, on the other hand, is a proper studio recording, but one that tackles homophobia and oppression from different religious and cultural standpoints.

.
00:10 / 00:58
It was through music that Boettner found "an outlet that not only kept [his] head above water, but introduced [him] to more exquisite weirdos." South Carolina wasn't exactly the paragon for subcultural education, but he discovered Godspeed You! Black Emperor in 10th grade. That project resonated because of "the intricate constellation of projects that everyone [in that band] was involved with." In college, which was still in South Carolina, Boettner embraced indie labels and projects like K Records and the Microphones, which prefigured what he writes in all-caps "VERY SERIOUS AND VERY EMOTIONAL years as a singer-songwriter." Towards the end of college, Boettner was introduced to Whitehouse, Prurient, Hanson Records, and Not Not Fun by his friend Ralph. "Our little crew would go catch shows out of state, go record shopping, drink beer, and listen to tapes and records. It's not that I wouldn't have gotten there eventually, but his friendship was instrumental in giving me a hard shift into deeper waters," Boettner says.

Boettner had toyed with noise and experimental music during his time as a singer-songwriter, including interludes, field recordings, and soundscapes, but after diving into the noise world headfirst, he began working more intensely with cassette decks, effects pedals, and guitar. His project Fire Island, AK, which ran from 2004 until 2014, but only became fully noise in 2008, prefigured Straight Panic, which began in 2014, and dealt with queerness through the lens of industrial music. "Straight Panic ​is all about Velvet Rage," he says, "which is, personal anxieties derived from living in a heteronormative society. Whether those tensions arise from harmful government legislation, to outspoken elected officials, to cultural trends, they all come from a place of conflict between my 'self' (even if that's a sort of strawman stand-in for Queerness in a general sense), and an outside force."

The decade since the start of Fire Island, AK has seen nearly 80 releases from Boettner, and moves to Anchorage, Alaska; Minneapolis, Minnesota; and his current residence in New Orleans. He's a prolific artist, but Cycle, Straight Panic's upcoming first vinyl LP, is a new high watermark in production, composition, and concept. While it's tough to make out all the words Boettner speaks, shrieks, and wails on the record, the ebb and flow of harsh textures with gentler synth washes makes for a cinematic listen. This is appropriate, as Cycle is so-named after Dennis Cooper's transgressive masterpiece The George Miles Cycle. "What I really had wanted to do with Cycle was try to put the George Miles cycle into audio form," says Boettner. "[I wanted to] take the overarching themes and break them down into motifs and textures, allowing the work to 'speak,' in a sense…. More than anything, I hope Dennis likes it—he gave me his blessing, after all!"