FEATURES
Story of a Song: Perhapsy, "Eyes"
By Max Savage Levenson · April 06, 2016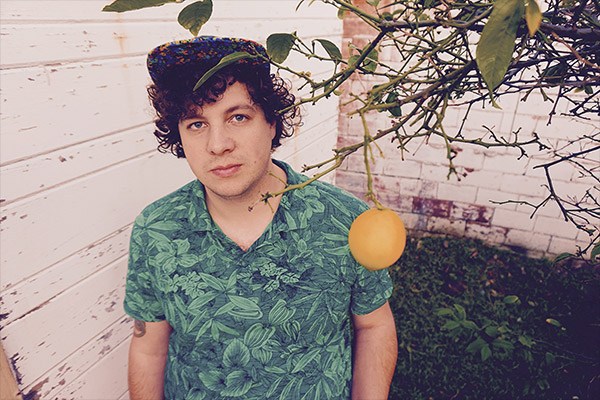 .
00:10 / 00:58
In Story of a Song, we take a close look at a single song by the artist, and chat with them about the process of creating it. In our first installment, we talk with Perhapsy about his stirring, strikingly vulnerable "Eyes."
In 2011, the guitarist Derek Barber, who writes music under the name Perhapsy, was diagnosed with bipolar disorder. Following his release from the hospital, he moved from Nashville to his mother's house in Marin County, California—just across the Golden Gate Bridge from San Francisco—and began writing music as a way to manage his illness. The new songs, which often took shape in rapid bursts of under 10 minutes, laid the groundwork for Perhapsy's sophomore LP, Me Tie Dough-ty Walker, which he self-released earlier this month. It was the first time that Barber, who studied jazz guitar at the University of Michigan and plays in Bay Area groups Bells Atlas and Astronauts, etc., was accompanying his guitar playing with vocals, and he felt exposed and vulnerable. "There was a moment where I wanted to scrap the whole album," he told me. In hindsight, however, the songs that "embarrassed" him the most are the ones of which he is proudest. One of those is "Eyes," an exquisite and deceptively simple piece of music that is both immediately striking and highly abstract.
"Eyes" works with a very limited palette; two acoustic guitars, Barber's voice, and at one point, a wavering keyboard line. The song has no chorus, and doesn't rely on a melodic hook. Instead, it draws its power and tension from shifts in its pacing, speeding up and slowing down to ensure that we never quite find level footing. Its dual guitars feel slightly out of time. Barber recorded the two guitar figures without a click track or metronome. "I sort of put myself in a corner," he explains with a laugh. The first guitar, a 12-string, was recorded live with his vocals. But when he went to record the second guitar, a nylon six string, he realized that the first was slightly out of sync, so he found the downbeats by staring at the waveforms on his computer screen.
Throughout "Eyes" Barber sounds like he's just inches away from us. We hear the squeak of his fingers moving on the guitar strings, his laugh as he talks to the engineer; his vocals hit with the insistence and proximity of a whisper. Yet the song's lyrics, written stream of consciousness, are hard to decode, conjuring images that float by untethered to a particular narrative—kites, soft kisses that "hardly feel soft," and a pair of eyes whose identity remains a mystery. It took Barber himself years, and "a relationship…that I never thought was possible," to realize he was channeling frustrations with past romances. "I hadn't found [the] right person yet, [and there was] always something kind of missing," he explains. "I'm really happy to say that I don't feel that way anymore."
Even though it's highly personal, "Eyes" isn't exactly a diary entry in the style of Barber's hero Elliott Smith. It operates more like a mirror, for both creator and audience alike: it allows us to interpret the song as we wish. Sometimes, Derek Barber is reminding us, we are compelled to make art even when, at first, we aren't entirely sure what we're saying.
—Max Savage Levenson