FEATURES
Story of a Song: Elucid, "MBTTS"
By Blake Gillespie · August 02, 2016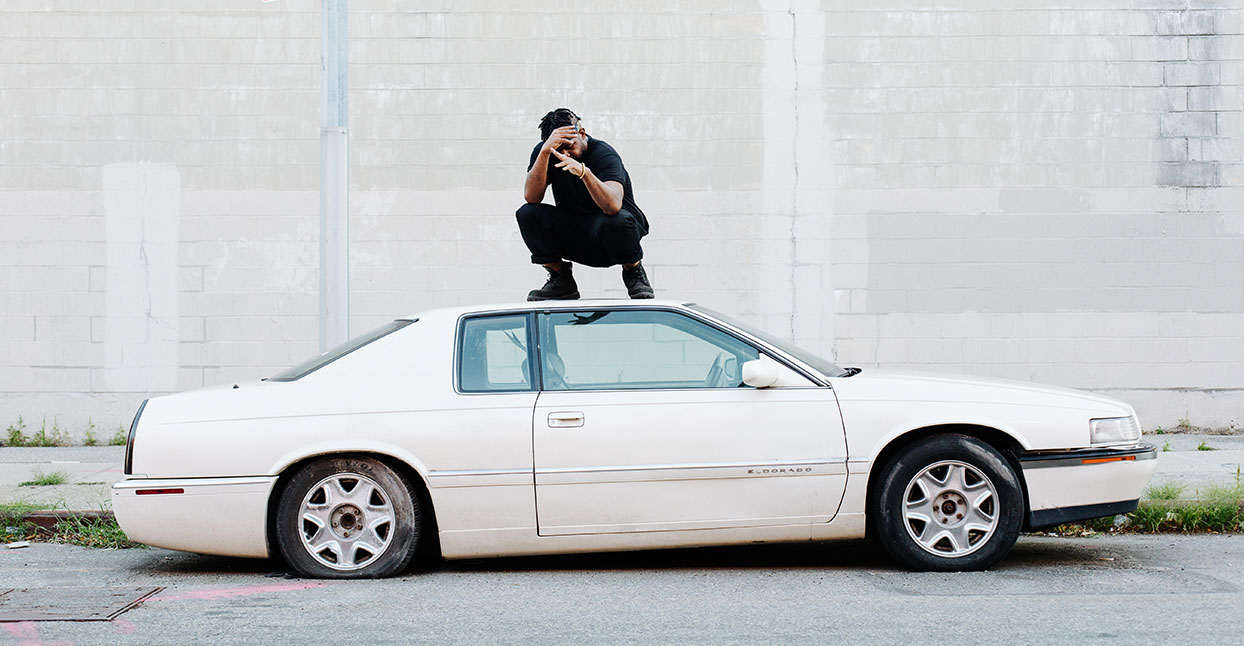 "Hip-hop is the natural progression. Without even knowing what afrofuturism was, we are afro-futurists."
The back sleeve of Elucid's Save Yourself LP shows the New York rapper in profile. His forehead is wrapped in a vibrant African bandana, his expression is zen and observant. He's facing a quote from Zora Neale Hurston's Their Eyes Were Watching God, which reads:
There are years that ask questions.
There are years that give answers.
"MBTTS," found near the end of of Save Yourself, is both an answer and an action. There's more than dividends at stake when Elucid raps, "let's get this money, black."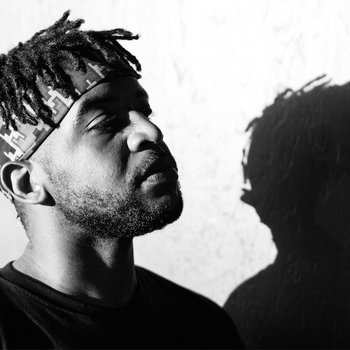 .
00:10 / 00:58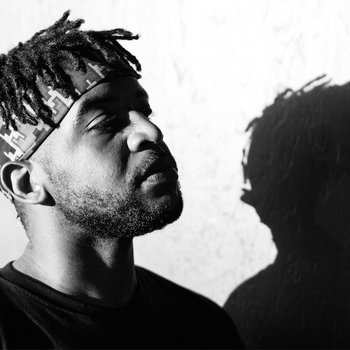 He began writing "MBTTS"—an acronym meaning "more brilliant than the sun"—three years ago before he knew its potential. Back then, he only had the refrain, which he lifted from author Kudwo Eshun's book of the same name. He thought the words sounded nice over producer A.M. Breakups' instrumental. "More brilliant than the sun," he mumbled in low in droning tones before setting the track aside for another day.
Elucid discovered Eshun's book as a PDF file on a hard drive of beats he'd received. He liked the poetic title as a beautiful combination of words. When he opened it up, he says he found out it was about rap and afrofuturism.
The term "afrofuturism" was first used in 1993 by Mark Dery in his essay "Black To The Future." Given the genre's close connection to space, Dery pushed for more black science fiction writers, questioning whether a community with an erased history can imagine possible futures. But black culture and sci-fi have been aligned since the Egyptians inscribed hieroglyphs of ancient astronauts.
Author W.E.B. DuBois wrote a sci-fi short story called "The Princess Steel" in the early 1900s. In the 1940s, Herman Poole Blount envisioned lifeforms on Saturn that instructed him to become Sun Ra in order to combat chaos on Earth. On Mothership Connection, George Clinton channeled Aristotle to develop space-age sciences known as funkentelechy. Afrika Bambaataa's "Planet Rock" envisioned a free world, and Public Enemy once conceptualized a black planet eclipsing Earth.
"When people talk about afrofuturism, they say 'Sun Ra,' the say 'Funkadelic,' they say 'Lee Perry,' and then it kinda stops," Elucid says. "Hip-hop is the natural progression. Without even knowing what afrofuturism was, we are afro-futurists."
For a month, the rapper listened to a recording of him murmuring Eshun's poetry over the beat. He started to hear a pep talk he could give to other black people and himself.
"It sounds a little pretentious, but I'm trying to tap into my God nature," Elucid says. "I'm trying to tap into the creator and leave the destroyer alone for a little bit. There are times for that as well, but I'm not really focused on that. We're in a crucial time in our world. We're really seeing … revolution being planted and sprouting right now."
Elucid raps of being in the shadow of Forest City Ratner, aka the Barclays Center in Brooklyn, where developers have yet to build the affordable housing they promised. It's just another in a long line of broken promises, societal decay and racial profiling that's spiraling out of control. "Slave code still in effect," as Elucid puts it.
On the third verse of "MBTTS," he closes by declaring he's neither creator nor destroyer, one of many juxtapositions Elucid works into the song. The refrain is layered with recordings of Brion Gyson, who applies the cut-up technique to Bible verses, and a brooding outro of his girlfriend reciting Audrey Lorde. "The master's tools can never dismantle the master's house," she says.
"There's nothing that can stop imagination, determination and practice," Elucid says. "We should continue to question what's placed in front of us. None of us are free until we're all free. I believe in respecting people. That's kind of all in there."
—Blake Gillespie