FEATURES
Steady Holiday's "Under the Influence" Pre-Order Sale
By Ally-Jane Grossan · Photos by Philip Cosores · April 19, 2016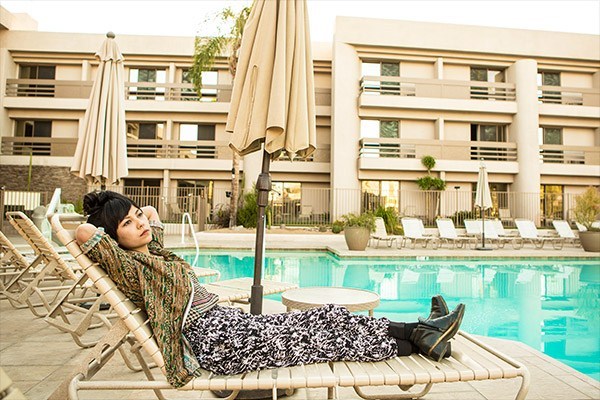 Steady Holiday's debut album Under the Influence is out June 24th but you can pre-order it exclusively on Bandcamp for just $5 through Monday, April 25th.
We caught up with Dre Babinski, the principal member of Steady Holiday, just after her first Coachella performance to discuss her forthcoming album, her influences and flower crowns. Under the Influence is the kind of record that catches you off guard with its confrontational beauty.
Your Coachella appearance reads like a modern-music industry fairytale. Can you walk us through how it happened?
More or less, yeah. I feel very fortunate. Paul Tollett who is the festival's founder, reached out to me via Facebook with an offer very matter-of-factly. He'd been casually following the project since I introduced it several months ago and took a chance, which I'm very grateful for.
What did you do during the day leading up to it? 
We played a 12:30 p.m. set, which meant getting to stage at 8 a.m. Prior to leaving the hotel, I had a 7 a.m. photoshoot for this interview (I love you, Bandcamp), so I was moving nonstop from about the moment I woke up. After getting ourselves and gear to the festival and stage, breakfast, then directly into soundcheck, we were left with about 40 minutes to decompress and get ready before heading back to the stage for our set. I didn't have time to assemble my flower crown or selfie, but I'll plan better next weekend.
What was that like, taking the stage?
It was a new and deeply satisfying feeling to take the stage for myself, as myself. The festival and stage itself, its implication and expanse—that's not something that intimidates me. I've done this many times before, and am finally starting to feel like I belong. The sound was absolutely top notch, and hearing it billow and fill such a large space felt very appropriate.
What was the most surprising thing about it?
I've known how globally recognized the festival is, but now I understand this in a new way. After our set aired on the livestream, I had an influx of people reaching out from all over the world. Pretty surreal.
How long have you been making and performing music? What were your previous projects?
I've played the violin since age 10; playing/collaborating on the instrument is essentially all I've done in music until very recently. Songwriting and learning the guitar have only come along in the past six or seven years. I was a member of Dusty Rhodes and the River Band for many years, and a touring member of a handful of projects, the most recent of which was Hunter Hunted.
What does the title of the album mean? Who is under the influence, and of what?
In the past, I have felt like I was constantly living under the influence of something negative—whether that was a person, a circumstance, or a substance. Many excuses and justifiers, always a victim—which is incredibly irresponsible and arrogant. These songs were written from that perspective; very true to what I felt at the time, but a bit unflattering in hindsight.
How long have you been making music as Steady Holiday? How is this project different from what you've done in the past?
Some of these songs are up to a few years old now. It's a 'classic first record' in that regard. There is a common thread that links this body of work in terms of mood, style and, particularly, lyrical content. Though it's written about different people and experiences over a long course of time, they're mostly coming from the fragile state of mind that I was stuck in. I suppose that made for a cohesive record in terms of perspective (bright side!), but I find it far away from the place that I am these days.
What other artists inspire you? 
Filmmaker/actors John Cassavetes and Gena Rowlands are big ones for me. They made films that were important to them, uncompromisingly, which usually meant self-funding, being very adaptable, and  surrounding themselves with only the most present and willing [collaborators]. I love and relate to that. They're both incredibly skilled actors too, it's so cool to witness such raw, stunning performances.
Did you meet any of the other artists at Coachella?
Not a one! I had so much to take care of, which translated into sinking exhaustion. Next week, I plan to enjoy more of the festival, since I'll have a better command of my schedule and Weekend One under my belt. I'm going to sleep until Friday. Goodnight and thank you!
Photos by Philip Cosores