FEATURES
Staying In The Rhythms
By Gabriel Szatan · December 24, 2013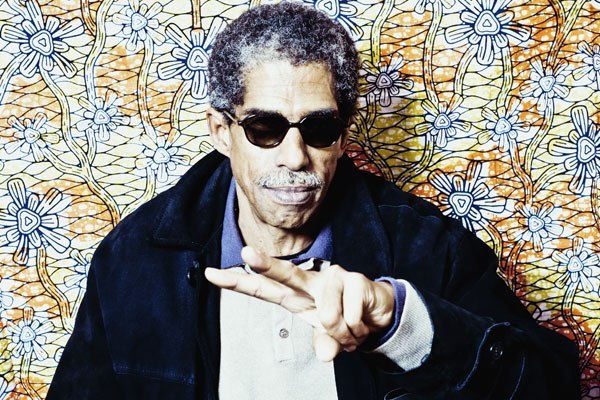 Steve Reid
"Steve Reid's influence continues to be keenly felt by generations new and old… his mantra of "stay in the rhythms" continues to echo."
.
00:10 / 00:58
Bronx-born drummer Steve Reid was a supremely talented, and immensely influential, polymath. The breadth and depth of his recorded output, and the overall ethos he adopted in crafting his art, is impressive by any standard.
Most commonly renowned for work within the field of avant-garde jazz, his arms-length list of collaborators reads like a who's who of all-time greats, including Miles Davis, Sun Ra, and Ornette Coleman. Reid also found time to lay down session work for artists like Fats Domino and James Brown, and he worked on an array of Motown classics, too. Apparently Motown boss Berry Gordy paid for a Greyhound ticket to bring the young virtuoso to Detroit to add cutting edge to Martha & the Vandelles' timeless "Dancing In The Streets." He broke down the divisions of jazz, soul, funk, Afrobeat, and a plethora of other styles, at a time when many musicians were more rigidly defined by a singular association.
Perhaps his most impressive musical journey was an impromptu three-year trip to Africa in the mid-1960s. As British electronic musician Four Tet (aka Kieran Hebden) attests, he simply loaded his drum kit onto a boat and departed for the continent, "honing his rhythmic technique and adopting new styles, playing with whomever he could find, including Fela Kuti." Reid's outward positivity and boundless enthusiasm left an indelible mark on Hebden, well in advance of their eventual friendship and fruitful working relationship. At the age of 19, Hebden's discovery of Reid's music on a Soul Jazz Records compilation (Various Artists – Universal Sounds of America, 2004,) was "an epiphany, opening a new musical realm," striking in part due to Reid's "different attitude." Gilles Peterson echoes the sentiment, citing his "incredible spirit" as a source of inspiration: "He lived life, and that's the one lesson we can all learn."
Steve Reid's life was abruptly cut short in April 2010 due to an under-serviced medical insurance program that left him without proper healthcare; a situation that left Peterson deeply upset. This was the motivational spur that led to the establishment of the Steve Reid Foundation. The charity provides financial assistance, in Peterson's words, "for musicians like Steve who've given so much and ended up not getting close to the support they deserved." A number of diverse initiatives have been undertaken in the interim years to raise awareness and money. Many actions have involved trustees of the Foundation including notable artists such as Theo Parrish, Floating Points, Koreless and Rocketnumbernine, as well as Peterson and Hebden. They've organized and participated in pop-up record stores and run marathons. Parrish led a music production workshop in London, and several members of the foundation DJ'd in Berlin to raise money for jazz saxophonist Arthur Blythe who is struggling with Parkinson's disease and recently underwent a serious kidney operation.
.
00:10 / 00:58
Until the forthcoming album, due in 2014, the tracks "Love In Outer Space" and "Lions of Judah" (Four Tet Remix)" represent the inaugural releases from the Steve Reid Foundation." The tracks come from Nick Woodmansey, another of the key trustees, who records under the moniker Emanative. It is fitting that "Love In Outer Space" is an extended re-interpretation of a Sun Ra number, not only given Reid's personal connection to the jazz pioneer, but also because one of the musicians on the tracks is veteran trumpeter and composer Ahmed Abdullah, a longstanding member of Sun Ra's Arkestra.

Ahmed Abdullah and Emanative in the studio for Love in Outerspace
The dense 11-minute lead cut proves deceptively easy to get lost in, carrying a strong tribal influence that provides a bed atop which modal bass, Vox organ and Afrobeat-tinged horns can interplay. It's backed by stirring voices rising from the depths – a "celestial chorus," as Woodmansey notes, made up of both his and Abdullah's wives. The spirituality present in Reid's own recordings is purposefully retained here; Woodmansey admits he chose to reject over-zealous studio scrubbing in favor of a raw, and ultimately more human quality brought about, quite simply, by "a tribe of like-minded, spiritual, creative musicians all rocking together."
Additionally, Gene Pendon's track artwork, and the chalked stop-motion animated video to "Love In Outer Space," (a bonus download item with purchase of the single) pay homage to Reid and Ra respectively. It is a testament to the impact that Steve Reid had upon not merely those that knew him, who praise a remarkable energy and warmth, but those who derive inspiration from what Woodmansey outlines as a "consciously rebellious, kind of punk attitude towards jazz." That a multitude of artists and admirers have put themselves forward to help contribute to the Foundation's overarching goal throws weight behind Peterson's statement that Steve Reid's influence continues to be keenly felt by generations new and old; that his mantra of "stay in the rhythms" continues to echo. Ultimately, he says, "this is, in a wider sense, a reason why we do this; why we do all of this."