FEATURES
"D&D" Goes "DIY" On Kill Rock Stars' Latest Compilation
By Brad Sanders · Illustration by Jo Minor · October 11, 2022
What does Dungeons & Dragons sound like?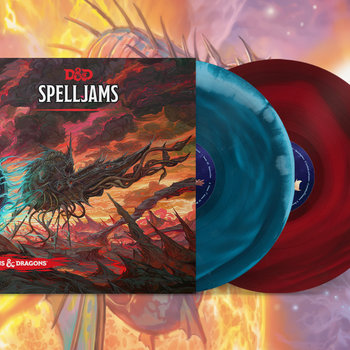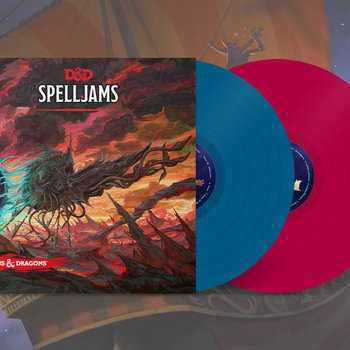 .
00:10 / 00:58
Merch for this release:
2 x Vinyl LP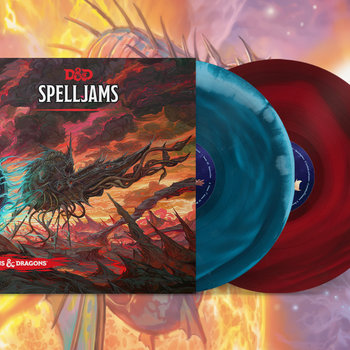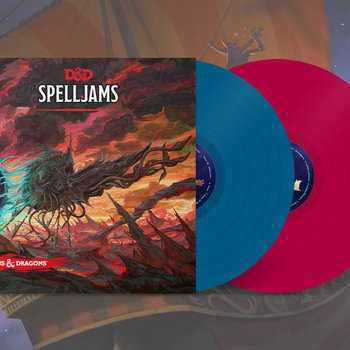 That's the fundamental question at the heart of SPELLJAMS, a new compilation album curated and produced by Chris Funk. The Decemberists guitarist wasn't tasked with soundtracking just any old D&D campaign: SPELLJAMS is a companion piece to the newly rebooted Spelljammer setting, an outer-space-set oddity that's become a cult favorite since its introduction in 1989. Spelljammer is a bit of an outlier within the broader D&D lore, which made it ripe for the kind of freewheeling, adventurous track listing Funk assembled for the album.
"Originally, we were going to do it with another module-slash-storyline, The Dungeon of the Mad Mage, and it just didn't pan out," Funk says. "And then [Wizards of the Coast creative director] Chris Perkins wrote Spelljammer, and he was listening to a lot of Queen in the background—Queen from the 1980s Flash Gordon movie. And he was like, 'Maybe this is the one.'"
With Perkins' blessing, Funk started reaching out to artists to ask them to participate in the SPELLJAMS project. Originally, he wanted 12 songs, one for each chapter of the Spelljammer module. The interest was so strong that he ended up with 19. Once an artist was on the hook to contribute, Funk and D&D product manager Chris Lindsay would jump on a call with them to explain the chapter of Spelljammer that they'd be using as a jumping-off point. Beyond that, Funk stayed out of the way. The resulting album defies any preconceived notion of what a Dungeons & Dragons soundtrack might look like.
"I was really trying to think about it as musically diverse," Funk says. "D&D is a diverse game, both the people who play it and also the worlds it encompasses. I was thinking about different genres of music, to step outside of the straight-up nerd rock, Game of Thrones soundtrack, and try to go a little bit further and just let people do what they do."
The album begins with a burbling, atmospheric synthwave tune by the Boise trio Magic Sword. ("The Stranger Things sound," Funk muses.) That's followed by "Arena of Blood," a bloodthirsty garage-thrash ripper by Osees, the long-running band led by D&D obsessive John Dwyer. After that, SPELLJAMS goes off the rails, in the best way possible. Reggie Watts crashes the party with a ridiculous, impressive William Shatner impression, embodying the role of Captain-Kirk-as-dungeon-master over a spacey funk groove. The remainder of SPELLJAMS delivers folk songs and experimental electronic tracks; heartbreaking ballads and geeked-out psych freakouts. Shabazz Palaces, initially tapped by Funk to deliver "a straight-up hip-hop banger," instead contributed a Hans Zimmer-inspired, 11-minute slow burner called "The Door to Endlessness." Musically, SPELLJAMS is all over the map, but it's easy to tell that every artist is authentically channeling the imagery that their chapter put in their mind's eye.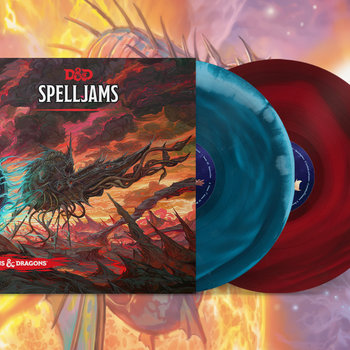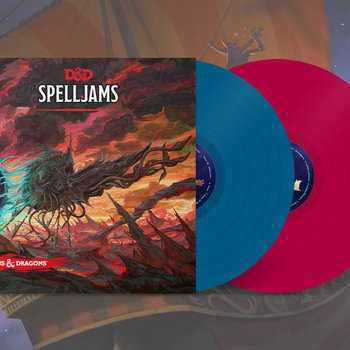 .
00:10 / 00:58
Merch for this release:
2 x Vinyl LP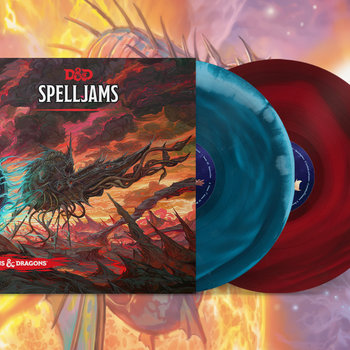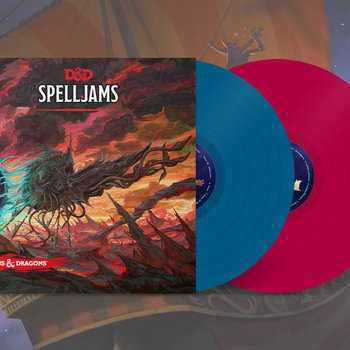 "That's what I like about D&D," Funk says. "The best dungeon masters don't have a prescribed outcome. It's group storytelling, so therefore everyone's got their own image in their mind of what this place might look like. Sure, there's some art in the books, but it really can take on any form. And I think that's the fun part about music too is when you hear lyrics, like that Lucius song ["love is the disaster"], for example. It's kind of a love song, but really it was inspired by a couple characters, and that's what they came up with. So that's very D&D to me. It has its own life, and people assign their own images to it, and it goes just all over the place."
It's certainly possible to imagine a less all-over-the-place D&D soundtrack. Numero Group's excellent Warfaring Strangers: Darkscorch Canticles—a compilation of thumping proto-metal made by stoned, white, male, D&D-obsessed teens—leaps to both our minds.
"That's the world I grew up in," Funk says. "I'm 50 years old. I grew up in the white, cis male world of D&D. But D&D has gone so far beyond that, which I think is great. But I love that record. It's amazing [laughs]."
"I think that record would have been really fun, and really easy to make," he continues. "I can call up Relapse Records and get like 10 bands in about five seconds right now who would be lining up to do this. And we did have one Relapse band, Red Fang. But it was fun to stretch it and push it and see where else it could go. There's bands that are heavily nerd-identified, like John Darnielle from the Mountain Goats. People were like, 'Why isn't he on this?' And I'm like, 'Because that's the obvious person to have on this.' I wanted to try and push it out a little further."
The majority of the artists on SPELLJAMS don't even play D&D, but their perspectives as outsiders were just as valuable to the record. Songwriters are storytellers, after all, and a role-playing game like D&D thrives on new storytelling ideas. Funk points to the album's downtempo songs, like the soulful, Bon Iver-style folk of Penny and Sparrow's "Xedalli," as a particularly powerful illustration of that dynamic.
"With D&D, some people might think there's a barbarian and a dragon, and they're just, like, fighting, and that's it," Funk says. "But really, D&D, now more than ever, is about storytelling and narrative, so I think having those beautiful down moments with some of those songs can maybe inform a game in a different way, or just make you think outside the box a little bit of what this music could be."
Funk, a longtime D&D player himself, recently started his first Spelljammer campaign. ("I'm playing a plasmoid monk, so I'm like a blob, basically.") There aren't any Decemberists songs on SPELLJAMS, but simply playing the game allows Funk to scratch the same itch. Since the dawn of D&D back in 1974, players have built on the work of the game's writers by playing out their own adventures. The musicians who contributed to SPELLJAMS are a part of that same tradition.
"I said that to [Perkins]," Funk recalls. "It just dawned on me that you create this story and this world, and the outcome can go a million different ways. But you're a great writer, and you have to have some sort of narrative arc to write these modules, and then you're letting go of it, and millions of people are writing their own version of your story.' How cool! How weird!"