FEATURES
The Otherworldly Beats of Producer Spectacular Diagnostics
By Phillip Mlynar · April 08, 2020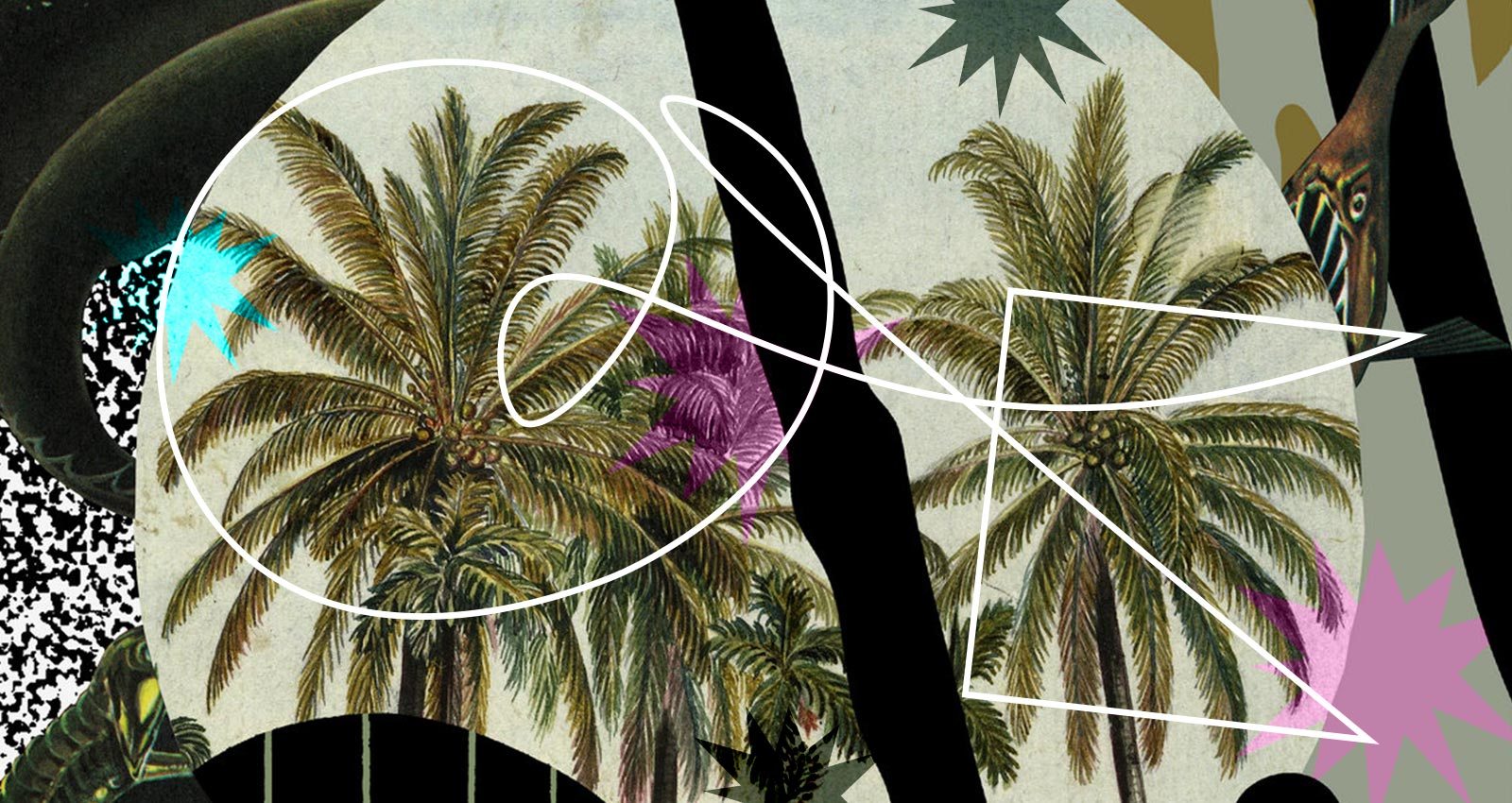 "I like the idea of floating hip-hop production that still bangs, but it has that ethereal element," says Chicago-based beatmaker Robert Krums, describing the style of music he records as Spectacular Diagnostics. Since 2015's Raw Game, Krums has earned a reputation for combining rugged, crunchy drums with lush, spacey jazz samples and atmospheric synth effects—a blend that's become known among his inner circle of collaborators as "moon-bap." Krums's latest album, RAW UNKNOWN, showcases this infectious production style alongside a revered roster of rappers, including Quelle Chris, billy woods, Vic Spencer, and fellow producer Sadhugold. "As a producer, I appreciate his ability to stay gritty but still remain polished," says Sadhugold, who likens the otherworldly "CODON" beat over which he raps, to "a TV static acid trip."
In the early days of his career, Krums was intrigued by, "the idea of machine music—one person doing it all, rather than being a guitar-based band. Making music out of found sounds and samples has always appealed to me." He toyed with drum machines and experimented with a rack-mounted sampler connected to his brother's computer that, he admits with a laugh, "I couldn't figure out. I've always been way behind the curve in terms of technology. Early on, I was using this program called Studio Vision Pro that I used forever, even when it was out of date. Even now, I use Logic and it's the free one from 2003."
.
00:10 / 00:58
Originally, Krums recorded as Earmint and was heavily influenced by DJ Shadow and the Mo' Wax roster. His goal was to craft "super elaborate soundscapes." But after changing his alias to Spectacular Diagnostics in 2015—a name he picked because it sounded like something Ghostface might say in a rhyme—he vowed to focus on "more rap-based production, and not trying to overdo it." He found value in restraint. "It can be hard, because you've got an effect in front of you—like I can put a space echo on that! But it can go on forever—so just leave it. I'm the furthest thing from a straight loop producer, 'cause I get all OCD about it and want to keep adding, like, laser sounds, but now I'm comfortable not littering the song with sounds that aren't accomplishing anything."
Krums has also skillfully overcome his modest budget by developing a knack for spotlighting upcoming talent. Raw Game (2015) featured a track with Griselda phenomenons WESTSIDEGUNN and Conway The Machine ("Tommy Snort"), which was recorded long before the Buffalo rappers flipped their buzz into a deal with Eminem's major label Shady Records. During the Earmint era, Krums remembers being in a recording studio and seeing the checks De La Soul and Royce Da 5'9″ received for guest verses. "For me, I was not going to spend that sort of money, which is why I try to keep working with people that are more underground," he says. "I'm always trying to find someone where I hear the potential in what they're doing. I want to work with them before they blow up—and when they do, it's fun to write yourself into that history, because you worked with someone you think is special."
Recently, the Sheffield, UK-based graffiti artist and MC Kid Acne has become a regular Krums collaborator. Acne was initially approached to contribute art to the cover of 2016's Avant Raw, and the two quickly bonded over their shared hip-hop influences—like the rambunctious funk of early Public Enemy and the Beastie Boys. A few years later, Kid Acne enlisted Krums to produce the entirety of 2019's HAVE A WORD. "Moon-bap is that perfect blend of Spec's rugged, infectious beats with his signature sci-fi and psychedelic seasoning sprinkled on top," he says. "Unlike other producers I've worked with, Spec's willing to experiment with ideas and layouts before settling on the final version of a track, which makes for a more interesting record, rather than just putting a bunch of raps over a bunch of beats and calling it a day."
.
00:10 / 00:58
Nosaj from '90s rap mavericks, New Kingdom, also appears on HAVE A WORD, and has signed on to provide vocals for an updated version of Krums's soulful SUNDAY BLEND mini-beat tape. "The train from the 'Tommy Snort' joint with Conway and WESTSIDEGUNN to Sunday Blend has been roaring full speed ahead, and I'm just a hobo riding the rails," Nosaj says. "So when that forward momentum came my way I had to jump on. He started sending me these voice messages where he was playing the beat over and over on his phone and rapping along to it," says Krums. "It was so crazy sounding."
As Krums' stock rises, he's happy to embrace the behind-the-scenes element of being a producer. His next project will be a synth-heavy beat tape titled SEAGRAVE that journeys deeper into the moon-bap zone, but he maintains that keeping his musical radar alert to upcoming MC talent is key to his creative mentality. "Even though I have a big obnoxious name like Spectacular Diagnostics, I prefer to be in the background," Krums admits. "It's still like if I put these things out and people think the beats are really good, then great—but ultimately it's more about curating art that I like."