FEATURES
The Folkloric Frights of Sopa de Pedra
By Pedro João Santos · June 07, 2022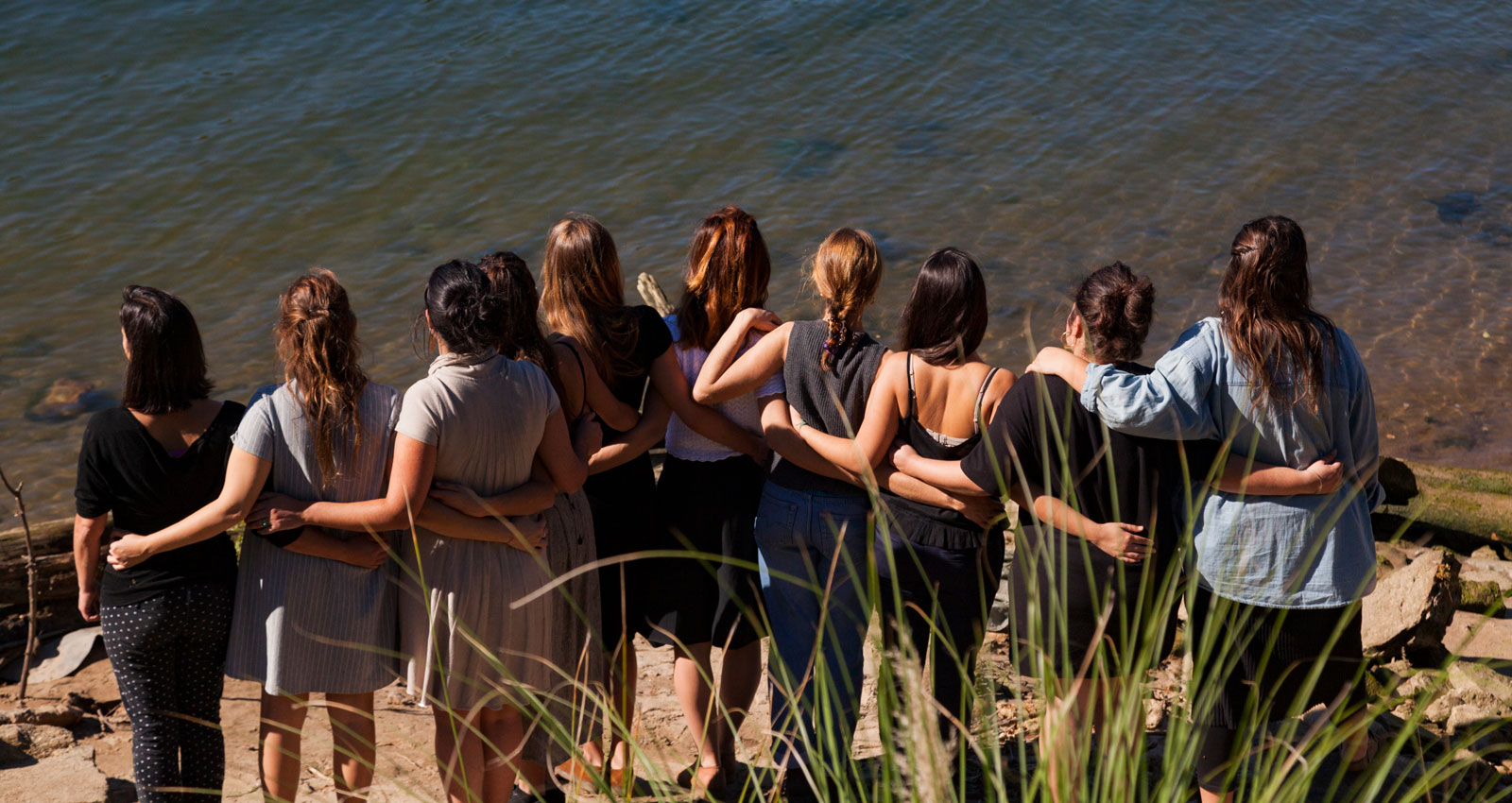 Sopa de Pedra isn't just a band name—it's a folktale (and a recipe). A disingenuous monk offers to make broth from water and one stone—call it primordial soup—and winds up outsourcing the actual ingredients from townspeople. It's sustenance produced in a piecemeal rhythm, a warm metaphor for how oral tradition develops, and also how this Portuguese vocal group got their ethos. But as their new album Do Claro ao Breu makes clear, they have grown interested in the darker nooks of folklore.
"This is something sweet, but it won't take long to scare you." So says Inês Campos, before bandmate Sara Yasmine draws an impressionist scene: a full frame of wheat surrounding a lonely shepherd. "From behind, the landscape looks wonderful. You think you hear his herding call," she says, but his words, once used to beckon cattle, are now commands of exorcism. "When you take a peek at his face, he's turned into a skeleton." Yasmine's laughter brings the vignette to a halt—she'll keep the rest to herself.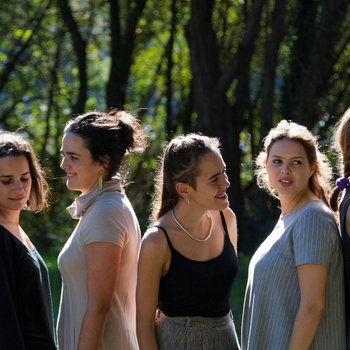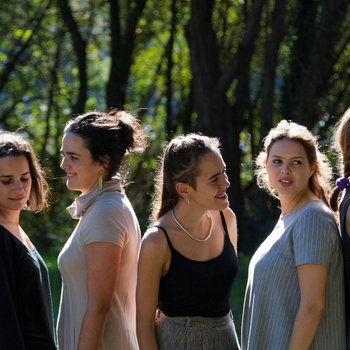 Merch for this release:
Vinyl LP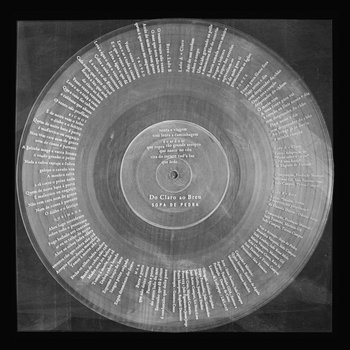 If some would keep that shepherd at a distance, then Sopa de Pedra reject that tradition—they want to dissect its underbelly. This happens during "Mar," part of the "Breu" suite (adapted from Oficina Arara's research on popular superstition). Dispensing with any orthodox rules of polyphony, they build a mille-feuille out of voices that are at once figurative, celestial, and dissonant; some layers are also sacrificed for musique concrète-like manipulation. Enveloping the entire album is a superhuman sense of macro-texture, similar to the sounds explored by Cocanha, Tarta Relena, or Medúlla-era Björk.
To those who know their 2017 debut, this might suggest a sea change. But however comforting Ao Longe Já Se Ouvia was, collecting rural meditations old and new, its bucolic familiarity was deceptive: a channel for intricate vocal geometry, like a meeting point between Bulgarian polyphony and composer Fernando Lopes-Graça (who extensively harmonized Portuguese folk songs in the 20th century). The themes—immigration, pains of childbirth, severe fieldwork—weren't light, either. Such is the project of these 10 friends, sisters, and cousins, from companionship to an unflinching vision.
Merch for this release:
Vinyl LP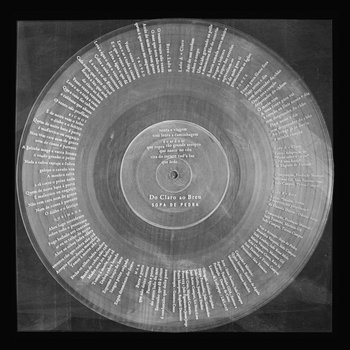 Yasmine and Campos are joined by Benedita Vasquez, Inês Loubet, Inês Rosa Melo, Maria Vasquez, Mariana Gil, Rita Costa, Rita Sá and Teresa Campos. Their on-stage gravitas evokes a scene of Portuguese foremothers singing together to carve out a social sense of belonging beyond the patriarchal boundaries of family—women have historically dominated Portuguese polyphony. But those specters don't follow the group around: "As a group [of women], we don't feel incapable of going anywhere," Campos says. "To dissociate from that language is also a form of resistance."
Sopa de Pedra formed in 2012, after Yasmine suggested they sign up to perform at a festival in Slovenia. That gig never materialized, but this new collective for musical investigation—following fellow Portuguese acts like Almanaque and Xarabanda—was under way. Work songs from the whole of Portugal and beyond—like the Castilian ritmo de panaderas—make up most of their repertoire, compounded by covers of musical visionaries like José Afonso and Amélia Muge.
By 2013, they were already working on their debut—what Campos calls "a plot twist," as the concept for Do Claro Ao Breu came first. Only later was it put on hold, in favor of Ao Longe Já Se Ouvia. That explains the reference, throughout the recent single "Fonte," to that first album title—apparently a callback to their past, in reality a programmed insight into the future. "A promise to ourselves that we would return to this music," Yasmine adds.
Production duties were led by Yasmine, Campos, and Gil—respectively a full-time musician, multidisciplinary artist, and researcher in mathematics—with additional input from Teresa Campos. Their work process, already heavy on visual signage and notation, further relied on a cross-medium approach — which felt "wrong," but spurred them on. "Each of us started thinking in terms of cinema," Campos says, "holding an imaginary camera, zooming in, doing aerial shots."
Merch for this release:
Vinyl LP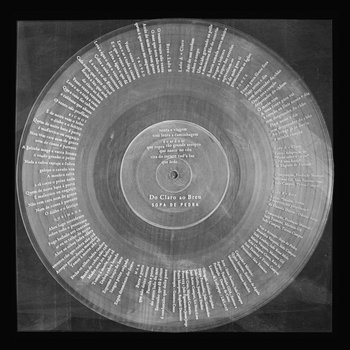 Accordingly, "Claro" started out as the score to a screendance (Meia de Leite by José Artur Campos). The tactile poetry of Eugénio de Andrade is acclimatized to harmonies that are gentle at first. But the group's voices bring oxygen and emulate the sun itself, until they scorch. The main melody grows weary, while others take to minimal percussion and staccato sighs (think Dirty Projectors). At the sight of a fountain, all signs of fatigue vanish, drowned by a fountain of abundance—which turns to terror on side B.
Back to our starting point: the nocturnal agony of "Breu," where lyrical characters sing themselves in and out of a feral state. Unlike "Claro," they aren't sure they'll ever reach catharsis, or even escape the nightmare. "We went too far sometimes, but it was to test our limits," Yasmine says.
Campos follows up, speaking to the group's profound attachment to one another and the material: "We could have gone for 10 more years. You start by feeding this creative matter…Soon enough, the matter starts feeding you."