FEATURES
Solace in Sound
By Will Robin · September 11, 2015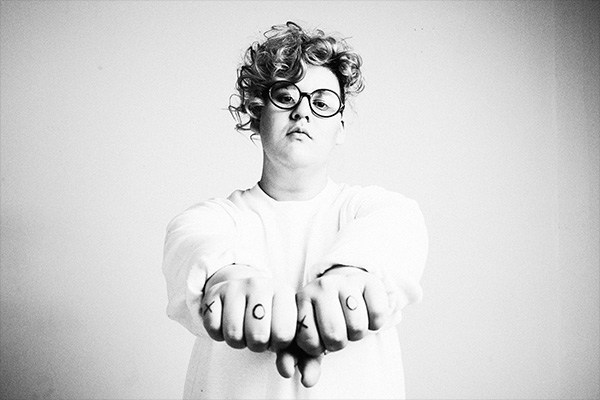 "When I'm really, completely sad—I guess it's stupid—but whenever I'm sad and I want to feel better, I try to write a song."
"This is so weird because I don't know what happens after that," said Safia Nolin, with a hint of anxiety in her voice. I had asked the French-Canadian singer-songwriter about her plans following the release of her debut album, Limoilou, out today on Bonsound. "I feel like it's the end of the world right now," she added. "I'm going to, like, die soon—I guess?" Nolin chuckled, bleakly.
It was not the reaction one might expect from an artist who has recently experienced a biopic-worthy rise to semi-stardom in the Quebecois music scene. As a teenager, Nolin dropped out of high school and decided she wanted to learn to play guitar. "I was kind of poor so my brother got me an old, fucking piece of shit that was the worst guitar ever," she told me. Nolin started off playing covers and uploading them to YouTube, gradually began writing her own material, and then decided to enter a talent competition in Quebec. She won best song, and one of the judges worked for Bonsound, which led to a meeting that eventually birthed Limoilou. Perhaps more importantly for Nolin, the contest opened a new world. "I had no friends, I had no life," she said with a laugh. "I went to this concert and I got a bunch of friends and a new guitar. I found what I wanted to do with my life."
Nolin's ambivalent response to her recording debut might be expected, though, if one has heard her music. The thirteen exquisite songs of Limoilou focus on death, isolation, and poverty—both fiscal and emotional. The French lyrics are laced with vivid and mythic metaphors for these austere sentiments, summoning strange realms. Limoilou opens with "Les excuses," in which Nolin sings, unaccompanied, a winding and broken melody: "I mistakenly learned that people disguise themselves/They wait for death under church roofs." Philippe Brault's piano enters in the background, but the focus remains on the voice; following a moment of silence, an ominous, explosive wail: "When desire burns our gods/When death breaks his vows/When reason cleaves in two/Swallow your bones, apologize to fire/Swallow your water, apologize to fire." The final lines are a homonymic play on words, between os (bones) and eaux (water). Closely miked in the studio, the production leaves air so that you can hear the crackle in Nolin's vocals and, in later tracks, the stiff tactile sounds of fingers sliding across guitar strings.
I asked Nolin about her songwriting process, and she offered a frank response. "When I'm really, completely sad—I guess it's stupid—but whenever I'm sad and I want to feel better, I try to write a song," she said. "Sometimes it works, sometimes it doesn't—it's mostly when I feel sad. I'm feeling really shitty…I go into my bedroom and try to write something. Really, it sucks; but sometimes, it works."
What has emerged from those private moments feels far from cursory on Limoilou. Each song is delicately woven, with words that wrap complex emotions in powerful poetry. On "La laideur," ("Ugliness") Nolin builds invisibility—"I took pleasure in disappearing," she intones—into a haunting groove.
And the studio has carefully enhanced Nolin's songs without distracting from them. "It was really simple," she said of the recording process. "I was sitting on a couch, without headphones, and we were all playing live…I wanted that vibe of Listen, these are my songs. I didn't want it to be overproduced, I wanted it to be super natural."
For Nolin, that naturalness comes with musical baggage—of both genre and nationality. Picking up a guitar and singing in a confessional style can quickly pigeonhole a young musician into the category of singer-songwriter; and even more so in Quebec, where the tradition of French chanson looms large. "You have to work really hard on your lyrics, but sometimes I wish I could just do music," she said. "It's more like the things that bands can do." Nolin seeks a balance between the language of bands—what she meant by "music"—and that of French song. Much of Limoilou succeeds in finding a voice within that dynamic, as in the interlaced instrumentals of "Technicolor" or the angst-ridden rock of "Si seulement."
A French lineage comes across in more lackadaisical songs like "Noël partout," which, with the title "Christmas everywhere," one might assume is festively cast. But instead, Nolin describes a desire to celebrate the holidays anywhere—on a boat, a plane, in Spain, on Saturn—but at home. "Valser à l'envers" ("Upside-Down Waltz") best embodies and pushes through any opposition between chanson and band, building from hushed confessional to the anthemic roar of the chorus, with spindly guitar as Nolin holds together the contradictions of intimacy: "Take me by the arm/Don't touch me."
"I'm twenty-two but I'm pretty sure I'm thirteen," Nolin told me. We had spoken for less than five minutes over a fuzzy phone connection, but she already seemed as ready to discuss her interior world as she is in her songs. "I don't feel like an adult, but I guess the thing that makes the album a narrative is the sense of being lost, and confused, and sad. And poor. I know it sucks. Being poor."
In the music video for "Igloo," the song for which Nolin won that life-changing competition in 2012, we see the songwriter shopping at a thrift store. She trudges through the empty, snow-ravaged streets of her hometown—"I wander like an amnesiac phantom/Through the cursed streets of Limoilou," she sings—and arrives home. She welds her purchase, a pair of speakers, to the top of a gigantic igloo constructed of discarded audio equipment. It's a poignant image, and a fitting one for an artist for whom music was a path away from isolation, but whose songs gaze intensely upon it.