FEATURES
Soft Glas Pays Homage to His Native Florida on the Blissful "Orange Earth"
By Patrick Glynn · September 11, 2017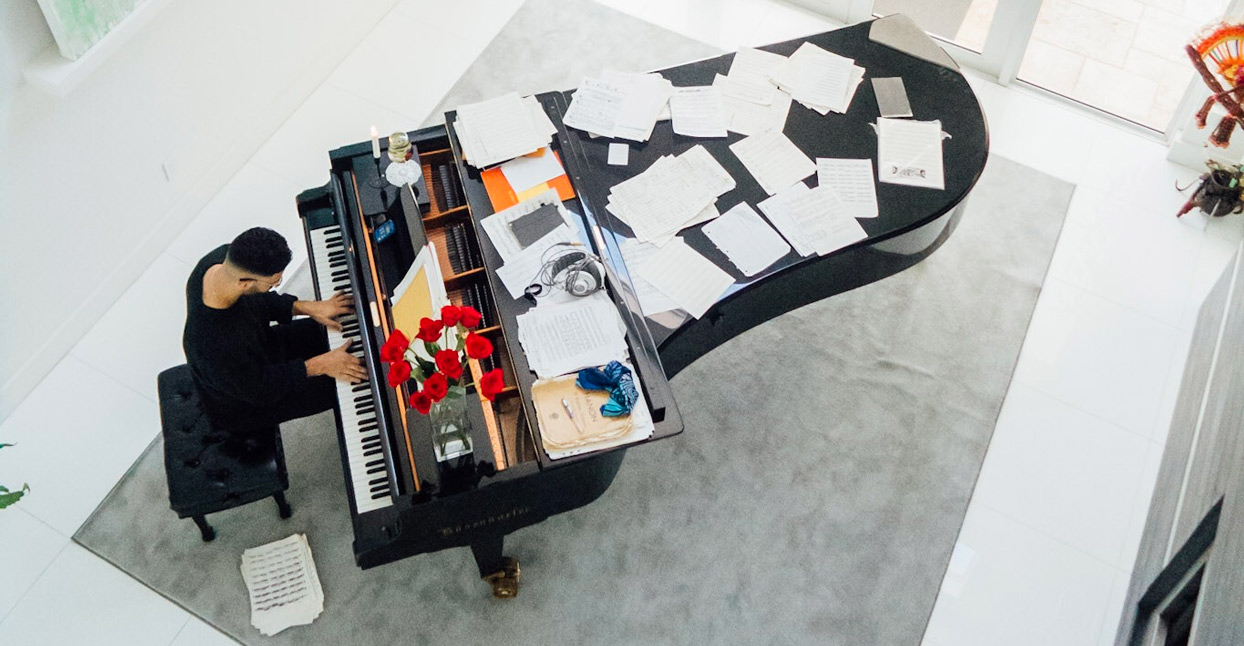 I'm sitting in the living room about to call Soft Glas—the architect of a blissful new album, Orange Earth—when I recognize his number has a "954" area code—the same one as mine. Sure, a couple million people have that area code, but it's a welcome sight after living away from South Florida for the last four years. When he picks up, the first thing he brings up is my area code, too—surely a welcome sight for him given how important the Broward County area has been for his upbringing and career.
A native of Coral Springs, FL, Soft Glas—née Joao Gonzalez—eventually made his way to Florida State University before moving to Brooklyn, where connections with other musicians helped launch his career. The conversation always comes back to Florida and his family, though, which hosts a long lineage of Cuban musicians, including his father, Gonzalo Rubalcaba, a Grammy Award-winning pianist with a career spanning more than three decades, who influenced Soft Glas to take an interest in drumming and producing.
The concept of home and all its nostalgic wonder is the root of Orange Earth. The production is bright and filled with lush string arrangements. We spoke with Soft Glas about the importance of family, why he quit playing drums for a while, and what actually goes on inside an orange planet.
.
00:10 / 00:58
Why'd you move to Brooklyn?
I moved to Brooklyn after I graduated college. I stayed in a college town [Tallahassee] for a year, and I noticed that nothing was happening as far as my music career and my production. I had a friend from college who's living in Brooklyn, and he said, 'Hey man, you should move here. I think you'll be able to do what you want to do and make the connections you want to make, and I have a couch if you want to move.' So I moved in with him and I've been in [Brooklyn] for four years now.
Since you've been in New York, what have you learned about yourself and as an artist?
I think [living in Brooklyn] really inspires you, just having other artists in such close proximity. For a long time, all of my collaborators—some are even on this album—they were living across the street from me, so it's conducive to collaboration. The biggest appeal of Brooklyn is how close everyone is and how creatives are just so supportive of each other. I didn't have that before I moved here at all, especially in college. It was very isolating.
What was the first instrument you picked up?
The drums—I was really, really young. My dad is a pianist, and he asked me—I think I was four or five. When I was in high school, I studied the instrument pretty intensely, and I actually applied to Florida State University's music school through the jazz drumming program. I got denied, and, for a little while, that shattered those dreams. I dropped the drums for a while. But as of late, I've been rediscovering my love for them.
Your family has a prolific musical background. Did that create any expectations or pressure for you as an artist?
Any pressure or expectations were solely from myself. It was never anything external. No one in my family ever pushed me or forced me, set any sort of standard or applied any sort of pressure. They've always been extremely supportive. But I'm very aware of the reality of who my father is, and how accomplished he is in his career. I want to make him proud, and I know there's a certain reference point—especially growing up around him and seeing his work ethic, seeing what goes into his greatness. My father and my family have always been extremely supportive.
Have you ever recorded music with anyone in your family?
Yes. This album is actually the first time I collaborated with my dad, which is super exciting. He was extremely involved in the whole process—as far as me showing him ideas, chord progressions, or song structures. We would talk about it a lot, and I was lucky enough to have him play keys on some songs. 'Woodside' and 'Riverside' both have him playing keys on it. He wanted to be understated. His fingerprints are all over the album.
The setting of South Florida is a big part of the album, with the oceanic sounds, and one song is named after your hometown, 'Coral Springs.' Did you want to make Orange Earth about the place you're from?
It kind of evolved into that. I actually started working on it in Brooklyn like a month after I released Late Bloom. Last year, in December 2016, I went home for an unusually long time. It was like a month and a half. While I was home, I had these vivid flashbacks growing up in that house, and my high school days. The town in general had this magic to it, which was then reflected in the music I was working on to that point. I wanted the album to embody those nostalgic episodes. As I wrote the lyrics and worked on what the album was about, it all revealed itself to me in this perfect storm of being home. And this was happening during a huge political shift in the country. My reaction was escapism. I wasn't too thrilled with the reality I lived in, so I let myself escape into simpler times. The nostalgia was my healing.
Can we talk about Pub subs for a second?
[laughs] Yes, please.
Describe Publix subs to someone who has no idea what Publix is.
So Publix is the greatest place on earth. It is something you didn't know was necessary in your life until you go, and then you realize you can't life without it. Publix is a grocery store, simply put, in most of the Southeast now. They have a deli area, and they make their own sub sandwiches. So they have this sub called a chicken tender sub (fried chicken on a footlong sub roll with whatever cheese, sauces and toppings you want), and it's the greatest thing ever. Pub subs are a staple in South Florida, and when I was working on ["Pub Sub"] with J'Von, he had that line basically about him falling in love with this girl while shopping in a store, and for whatever reason, I wanted the story to be about him falling in love with a girl while waiting for a Pub sub.
Not only was he falling in love with a person around him, he was falling in love with what he was about to eat.
Exactly, dude.
I was going to ask you what your go-to sub was, but you answered it there.
Yeah, man. The chicken tender sub, I still haven't found a sandwich I like as much here in New York. I tried ordering one one time in a bodega, and the guy was just super confused and it didn't taste anywhere near as good. He just threw some chicken breast on there that you'd usually use for a Caesar salad, it was rough.
Orange Earth feels happier than previous works.
I agree. My previous work wasn't necessarily dark, but it was more complex in its sound and aesthetic. The chord structures were thicker and influenced by jazz. With [Orange Earth], I tried to focus on melodies to make it a little sweeter and warmer.
.
00:10 / 00:58
What goes on in an 'Orange Earth'?
I think an Orange Earth is just a version of the world through the lens of memory. For me, Orange Earth is based in reality, but it's not necessarily true to reality. It's just a rose-colored version of the world. As time passes, memories start to evolve into fantasy, and an Orange Earth is a place that you romanticize, whether it's where you grew up or where you went to school or where you live now. That might be your Orange Earth, and years from now, you'll remember it just as fondly.
What do you want people to take from Orange Earth?
I want it to be an album that instils a sense of comfort, a sense of peace and warmth. I don't think I need people to relate to it, because I know it's an extremely personal story. I don't want to pretend like my experience is going to be everybody else's experience. But I do think the beauty in nostalgia, the beauty in whatever is in the rearview mirror and having an appreciation for that, I want people to take that from the album.
Do you see a day where you go back home for good?
I don't think so. Toward the end of working on the album, I realized the reason I have such a strong love and spiritual connection with those times in my life is because I was living in the moment. I was appreciating each and every day and enjoying life as it happened. So if I end up living anywhere else in the world, as long as I can focus on living in the moment and viewing each day as precious as I did when I was younger, I can create my own Orange Earth later in life—I don't have to go back that exact place physically.
—Patrick Glynn