FEATURES
Sir Babygirl's Absurdist Bubblegum Pop Perfection
By Eli Enis · January 07, 2019
Kelsie Hogue cycled through a number of artistic identities—actor, stand-up comedian, punk frontperson—before finding her voice as the self-proclaimed DIY pop diva Sir Babygirl. Her debut album, Crush on Me, contains nine colorful bubblegum pop songs that are rooted in Britney Spears worship, but embellished with the type of dramatic flair that can only come from being a "total fucking theater bastard" in high school.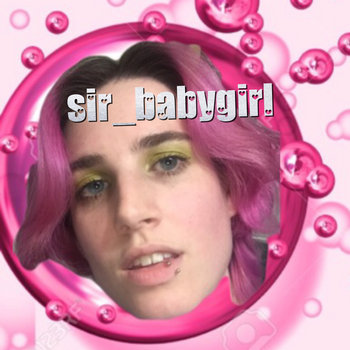 .
00:10 / 00:58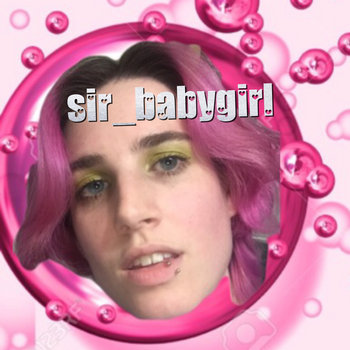 Merch for this release:
Compact Disc (CD), Cassette
"I was just that kid that did not speak at school and then would play the little comedic role. And people would be like, 'Who is this bitch?'" Hogue says. She had been writing and playing music her entire life, and intended to go to college for musical theater. However, a benevolent teacher urged her to choose Boston University's acting school instead, which Hogue emphasizes is very different than a musical theater program.
"Acting school is still horrific and oppressive," she says, recalling her four years of emotional abuse, sexual harassment, and women being pitted against one another for a false scarcity of roles. "There's just a bit more freedom to play, whereas musical theater school, all you're doing is a subsection of theater. You're doing one genre, basically. And also the culture is probably the most annoying culture of any possible entertainment industry," she says, pausing to laugh giddily between her breathless, animated words.
Hogue had been professionally voice-trained for over a decade at that point, and she prided herself on her exceptional vocal health. However, the demanding nature of acting school caused so much damage to her vocal cords that she was diagnosed with vocal nodules, calluses that form from overuse, immediately after graduation. Her sudden inability to sing to her full potential did a number on her psyche, and she spiraled into a post-grad breakdown that ultimately landed her in Chicago doing something entirely different: stand-up comedy.
"Stand-up is a great avenue to go when you're just completely broken and you've got nothing left to lose," she says. Her routines were inspired by her longtime love of Eric Andre's absurdism and Maria Bamford-style surrealism. One culminated with her pouring LaCroix all over her near-naked body and screaming the chorus of a My Chemical Romance/Justin Bieber mashup.
.
00:10 / 00:58
Merch for this release:
Compact Disc (CD), Cassette
"It was very freeing, and it was very much where my mind was at that point," she says. "A clear indication of a broken human that just desperately wants to create but does not know where to go."
After getting fired from a (spy-themed) restaurant, Hogue wrote "Heels," the first single off of Crush on Me, and enlisted a guy off of Tinder to help engineer it. Frustrated by his territorial behavior toward her music, she eventually took her brother's advice and moved home to New Hampshire with the intention of carrying out her specific musical vision on her own terms. However, she soon realized the difficulty in working on the album while simultaneously teaching herself how to be a sound engineer. "So it just kind of reached a point where I was like, 'All right, I could literally be working on this album for five years,'" she says. "Because I have such high expectations for the sound, and I can hear it in my head."
She was aided in the process by Lee Schuna of Human Nature Records, with whom she developed a healthy working relationship. "I never felt like he was trying to take ownership over the production," she says. "It's very important to me that people know that I produced this, because I, for so long, didn't know that women could fucking produce. I really didn't, all I saw was Grimes."
The result is an album that's so obviously Hogue's. It openly brings together her love for theatrical exaggeration, hysterical queer comedy, TRL-era pop imagery, and the structural experimentations of contemporary pop. There are two short reprises on Crush on Me, "Flirting With Her (Reprise)" and "Haunted House (Reprise)," that were directly influenced by "Sober II (Melodrama)" and "Liability (Reprise)" on Lorde's Melodrama. "Because I write in hooks a lot, I have a lot of one minute, or 30-second songs that are just in the caverns of Sir Babygirl's vault. And so I was like, 'Why don't we play into that? Why does every song have to be [at] the pop 3:58 mark? Why can't a whole world exist in 40 seconds?'"
A recent inspiration of hers is Tierra Whack, who conceptualized her latest album, Whack World, as a series of music videos before the songs were even written. Hogue's process is similar, conceiving the visual sometimes before the song itself. "I just think pop music doesn't exist without imagery. It's just symbiotic. Where would we be without Britney Spears's imagery? And her videos?" Hogue asks.
For her, it's all one and the same, and pop is the art form where all of her ideas can coexist. "I always have been so torn between so many different mediums, until I fucking realized that you can do all of it in pop music," she says. "And I was like, 'Oh my god, pop music is the perfect place where I can direct my own show.' I get to write my show, and I get to be the star of my show. It's a narcissist's paradise. It's amazing."