FEATURES
To Find Himself, Brazilian Pop Star Siba Had To Explore His Country's Musical History
By GG Albuquerque · March 26, 2020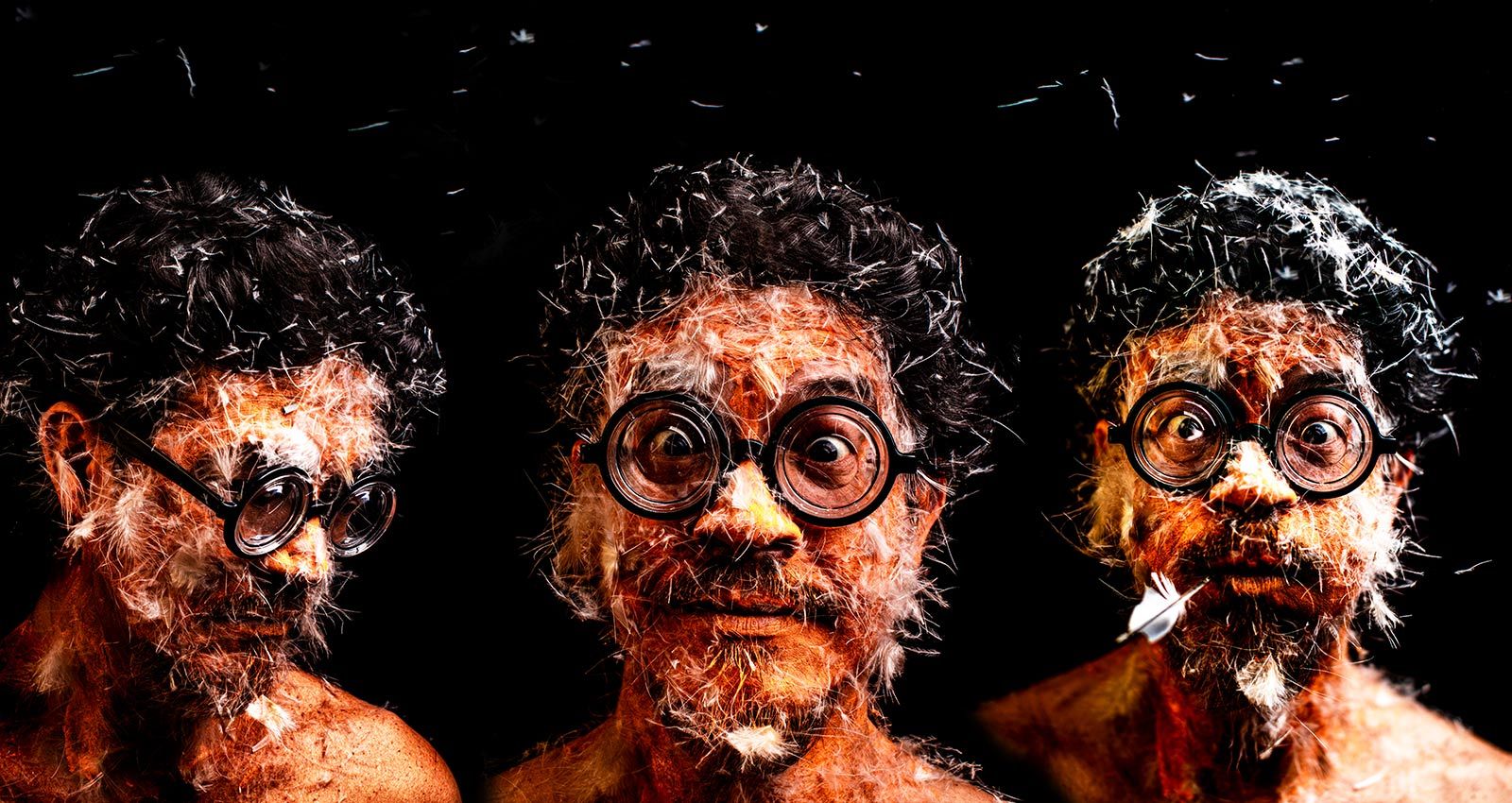 The Brazilian singer and composer Siba began his musical career as the vocalist for the band Mestre Ambrósio, whose music fused a host of musical styles and customs native to the northeastern part of the country, namely maracatu de baque solto, ciranda, forró and cavalo marinho. The group played traditional instruments—Siba, for example, played rabeca, an Arabic precursor to the violin—and found success on both the national and international pop music scene, eventually signing a three-album deal with Sony Music in 1997. But as the band's profile got bigger, playing popular television shows in their home country and touring Europe, Japan, and the United States, Siba found himself getting restless.
"I was unsatisfied with showbiz," he says, "and I was feeling that I was repeating myself. I was feeling an urge to improve my training as an artist, and I had an intuition that what I needed was in Pernambuco."
So, in 2002, Siba decided to move from São Paulo, where the group was based, to Nazaré da Mata, a small city in the countryside of Pernambuco. He hoped to explore the cultural traditions of the region—specifically, the traditional dance ciranda and the ritual performance of maracatu de baque solto. His plan was to stay for a couple of months, just long enough to absorb what he needed to of the local culture. He ended up living there for nine years.
"The decision was not very rational—it was intuitive," Siba says. "There was no logic in doing that. I had just settled in São Paulo, with a very rare opportunity for any artist. But I had to do it, because I knew I needed to build a fortress around who I was as an artist before taking any steps further into the future."
Living in Nazaré da Mata, Siba became what is called a mestre (master), a true poet of ciranda and maracatu. He joined in public parties with local artists, singing and improvising verses that follow the music's rigorous metric structure and complex rhymes for over three to four hours. "Maracatu is really special to me, because it's a living tradition shared by thousands of people who represent their region," he says. "It's also a type of art form that isn't controlled by market rules, it's almost non-capitalist."
Born at the end of the 19th century among rural workers, maracatu de baque solto is an Afro-indigenous tradition that involves dramatic, musical, and choreographed performances. The musical aspect of maracatu is usually performed with brass instruments and a small percussion orchestra. The mestres are an essential part of the movement—known for being skilled improvisers, they often confront each other in a kind of ancestral rap battle.
During his time in Nazaré, Siba recruited other local Maracatu masters to form the band Fuloresta; the group has released two albums, Fuloresta do Samba in 2003, and 2008's Toda Vez Que Eu Dou Um Passo o Mundo Sai do Lugar, both of which capture the musicality of the countryside of Pernambuco: the call-and-response verses, the steady and hypnotic rhythm of tarol, the brass attacks, and the heavy grooves. "Trincheira da Fuloresta," a track that was recorded live, offers a glimpse of the frenetic joy that's felt in the parties on the city streets.
In 2010, Siba returned to São Paulo to begin his solo career in earnest. To date, he has released three albums: 2012's Avante, De Baile Solto in 2015, and Coruja Muda four years later. The LPs mark Siba's return to the electric guitar, his first instrument, after playing rabeca and viola almost exclusively for years. Instead of mining the canons of blues or rock, Siba turned to African music for inspiration, hoping to decolonize the sound of the instrument and create a musical language of his own. "In Africa, musicians adapted the ways to play local stringed instruments and electrified them through the guitar. I took this method as a reference and tried to develop something viola-based," he explains, citing Congolese guitar player Franco as an inspiration.
The search for new sounds led him to develop some unique instrumental combinations on Avante, built around a base of guitar, drums, vibraphone, and tuba. On Coruja Muda, a trombone is paired with Lello Bezerra's guitar to perform bass lines. He also adds healthy amounts of distortion and fuzz, connecting rock & roll with Konono Nº.1's bristling, electric take on likembe.
The songs across all three records boast dazzlingly complex rhythms—which are an outgrowth of the way Siba writes lyrics. "I got rid of the notion of tempo a long time ago," he says. "When composing, I write verses that have their own time and their own mathematics to determine how the song will be. The rhythmic structures of my tracks always rely on the rhythm of the lyrics."
In a way, Siba's music is reflective of Brazil in the present moment, a place where traditional cultures are being rediscovered, renewed, and updated for a new generation. After five years spent fronting one of the country's most popular bands, Siba's new music—stationed at the intersection of past and future—makes him the ideal representative for the culture's ongoing change.