FEATURES
Premiere: Sat. Nite Duets' Bruising "Air Guitar" is Punk Attitude Plus Pop Hooks
By J. Edward Keyes · September 13, 2016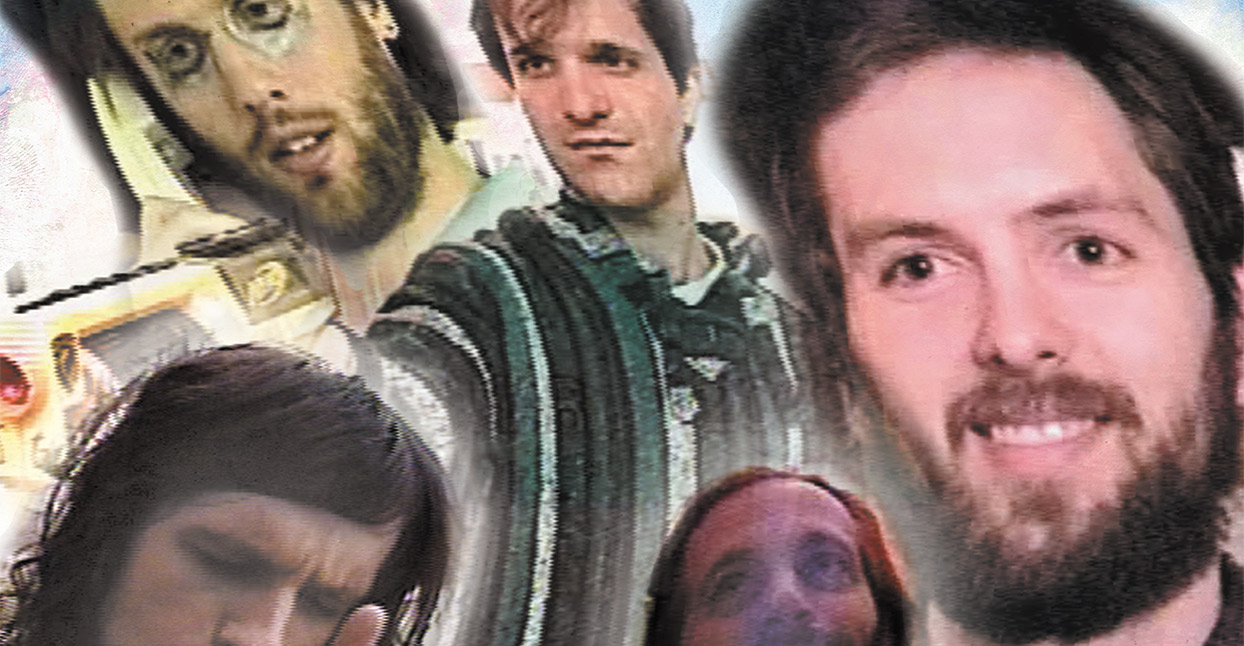 On their debut Air Guitar, Milwaukee group Sat. Nite Duets pull off the tricky combination of post-adolescent ennuui and agitated rock & roll, delivering sweaty, clawing songs that mirror the anxiety in the lyrics. There's also a healthy dose of self-awareness: "We've got Bob in the band/ we've got Spooky and Dan/ and we've got ourselves a motherfuckin' rock & roll band" goes "Attached to the Lamp," which functions as a kind of declaration of purpose for the music that follows. There are traces of bands who came before them—the lazy groan of Dinosaur Jr., the bug-eyed panic of Titus Andronicus—but Sat. Nite Duets are wryer and drier than both, and Air Guitar is is the perfect opening volley. But don't be fooled by the punchlines: beneath the winks and self-awareness lies some truly trenchant songwriting, full of lyrics that aren't afraid to hold a deep dark truthful mirror up to the rock & roll lifestyle and boldly reflect it back in the face of the listener. In light of this, we asked the members of Sat. Nite Duets to share the inspiration behind a few of the albums' songs.

Stream Sat. Nite Duets' Air Guitar in Full: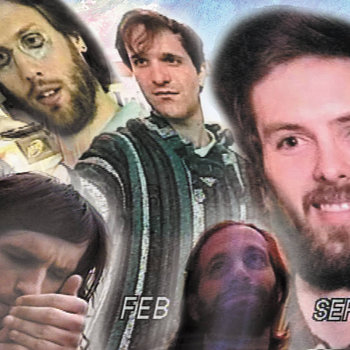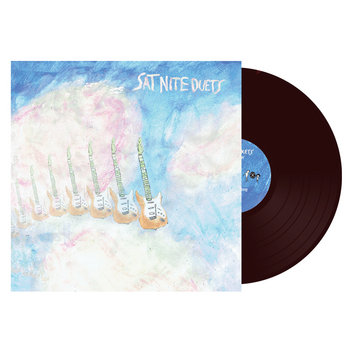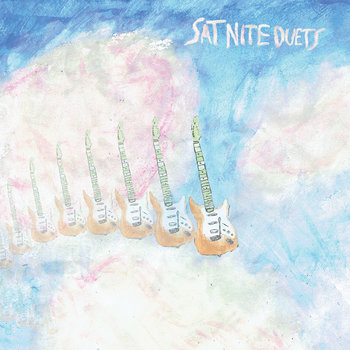 .
00:10 / 00:58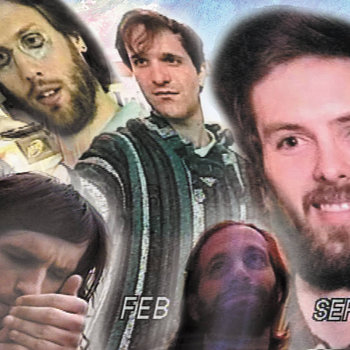 Merch for this release:
Vinyl LP, Compact Disc (CD)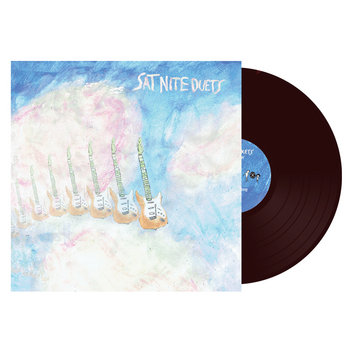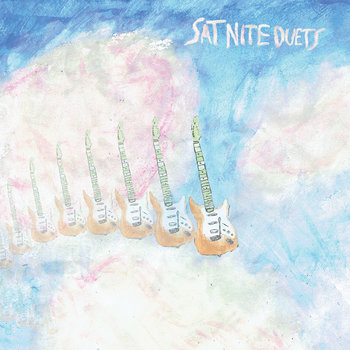 Chris Frahm, "Country Worm"
Country worms: Everyone's got a story about one, but has anyone tried to put into words exactly what one is? The surprising answer is, 'Yes.' Socrates, the great Greek thinker, attempted to parse out the complexities of the subject in his historic work The Republic, but fell short of creating a working definition. Now, for the first time in over a millennia, an astonishing group of young minds has picked up the conversation where the philosopher left off. The North American musical act Sat. Nite Duets posits that the country worm was, in fact, four separate entities: the mama, the daddy, the sister and the grandpa. This challenges the 2,000-year theory that the country worm is a singular being, which the band has called 'Yet another example of a Greek myth.' Take a listen to this catchy yet poignant song and see where you end up in the debate! It's one can of worms you'll be glad you opened up.
Andrew Jambura, "Two Birds"
In March of this year, two weeks before the album had to be submitted for mastering, I only half-jokingly told my bandmate Ben that 'Two Birds' was going to 'cost us' more than any other song on the record. This is because John, aka Spook, aka Jack (if you know him from North Carolina) wrote it. To give you some perspective, here's an approximation of how my last phone conversation with Spook went, before he flew in from Virginia to finish the track: 'We need to go to Delafield, WI to record a keyboard part on the piano I knew in my childhood. We also need to get Mr. Frahm to play a sax solo. And do you know my friend Brett from high school? He needs to do a verse in the middle that you can barely hear, but with tremolo on it. I also want Chris to sing, even though I know he won't.' But Jack was wrong about that last thing. Chris sang, and it was beautiful. 'Two Birds' is a song about duality, and there's no one better than my great friend John Anderson to write a song about that. He's a guy who walks the line—both sides of it.
Andrew Jambura, "The Last Beer of My Music Career"
I have often imagined what I will be doing, and where I might be, while enjoying the very last beer of my life. It could coincide with the end of my music career. I wouldn't be surprised. One thing I want to make sure of, though, is that every time I get out on stage with the boys, I am ready to Rock The Rock. I want every Sat. Nite Duets show to feel like how Levon Helm described the Midnight Rambles of his youth: 'The songs…[were] a little bit juicier…the prettiest dancer[s] would really get down and shake it a few times.' I aim to be the dancer, and I'm not joking. I intend to shake it a few times. 'The Last Beer of My Music Career' goes out to all my fellow Rock Dudes who put out records and play shows for The Love Of The Damn Game. Plug in your air guitar and be free.
Joe Guszkowski, "Deep Peace"
I'm not an overtly religious person, but I liked the sentiment of this Celtic blessing. I wanted to translate that into a song that was simple and positive, without any rhetoric or anything. Just a sincere message to the listener. Musically, I wanted something less poppy and more meditative—something you could zone out to. Despite the simple sentiment, it became one of our more complex recordings. There are three drum parts, two bass parts, and several layers of virtual mellotron—all of which are firsts for us.
Steve Strupp, "TAFKA Salieri"
This isn't the first song I've written that's been inspired by Milos Forman's 1984 epic. It's the second. I've read that Antonio Salieri's competition with Mozart was largely fictionalized for the film. But as a working artist who views his 'work' as his main source of credibility and appeal, I sympathize with his position—historically accurate or not. I like to think that if I continue to work hard, writing lots of songs, the songs will get better, and my work will pay off with some expanding audience and acclaim. It's hard to feel like that's the way things work with hip young artists coming up seemingly out of nowhere and making it to the top every week. That's how Antonio felt about Wolfy. It's not fair! Deep down, Salieri had nothing but admiration for Wolfgang, because he knew Mozart was better. But here's where I diverge from Mr. Salieri: Instead of poisoning the competition, I'll just keep on trying—even if I have to steal some riffs here and there.
Ben Gucciardi, "Manny D"
Once, when I was like 19, I met the bass player of this notorious indie rock band that I idolized. My roommates had invited him over to our house after a show in Milwaukee. I tried to make conversation with him about his band—he had just returned to the group after a lengthy separation—but he didn't seem like he was into it. So instead we just smoked cigarettes and talked vaguely about architecture.  When our drummer asked if he had any advice about being in a band, the bassist said 'Don't do drugs. Stay in school.'
Since I'm not old enough to have seen many of my favorite bands in their heyday, I end up seeing a lot of bands—like this bass player's—on reunion tours. Usually, these shows are great. Other times, especially when a band's been through Milwaukee three or four times without producing much in the way of new material, it's obvious what's going on. It takes a truly extraordinary, Bruce Springsteen-type of performer to convincingly play 20-year-old songs night after night after night. Most people in indie rock are not Bruce Springsteen-type of performers.
Anyway, I wanted to write a 'Sad Eyed Lady of the Lowlands' epic about an aging alt-rocker condemned to a life of never-ending revival,  so invented this character 'Manny D' and his old band 'The Libertines.' I only got about a quarter of the way there. It wasn't until I finished the song that I discovered The Libertines are a popular band who were just about to embark reunion tour.
Henry Chern, "Country Worm"
'Country Worm' is a member of a suite of three different worm-themed songs. Its worm siblings being 'Rock Worm,' which resembles a really weak Black Sabbath B-Side and was only played live once at a Halloween show in Milwaukee. Its other Worm-Brother is 'Guitar Center Worm,' which is a back-breaking, Red Hot Chili Peppers funk number. Our concept was to shoot a video in Guitar Center of us playing the ill-gotten groove together, as if it was the first time we'd ever met or heard the song. What the Worm Songs have in common are the members of the sometimes-rhythm-section Henry Chern and Chris Frahm on drums and bass-guitar. 'Country Worm' is an homage to the many warm-up jams and jokey riffs played at practices while guzzling Hamm's and abiding Andy's scoffing discontent. In many ways 'Country Worm' is a joke seen through to a very strange, kinetic and ultimately self-contained realization. We are as puzzled as you are.
—J. Edward Keyes