FEATURES
Sarathy Korwar Fuels Improv Jazz with Field Recordings
By Max Savage Levenson · July 20, 2016
"I think [the Sidis] feel rooted because of the things they do everyday, things that we as a culture look at as being very banal."
One mild day in January 2015, the London-based percussionist and composer Sarathy Korwar arrived in the central Indian town of Ratanpur with an idea that was as ambitious as it was uncertain. Accompanied by his close friend, the photographer Nikhil Roshan, Korwar intended to collect field recordings of a local ensemble called the Sidi Troupe of Ratanpur, using only a handheld Zoom H5 audio recorder. But that was just the first half of his loose plan: next, he would incorporate those recordings into a series of largely improvised sessions with friends from the London jazz community.
The result of these efforts, Day to Day, which Korwar created with support from the Steve Reid Foundation and the mentorship of artists like Four Tet and the longstanding tastemaker Gilles Peterson, rises above the novelty of "world music crossover" status by exploring what it means to be in two places at once with elegance, raw power and a sufficient dose of mystery.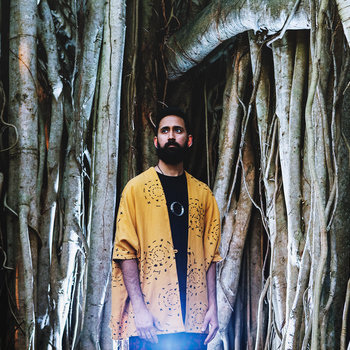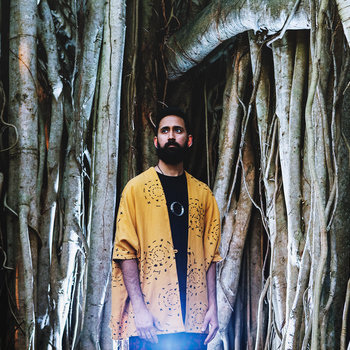 Merch for this release:
Vinyl LP, Compact Disc (CD)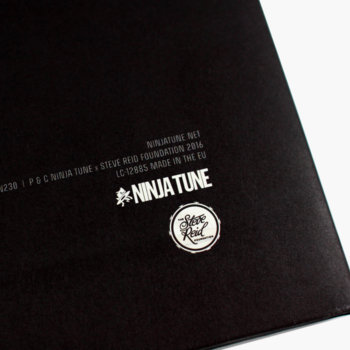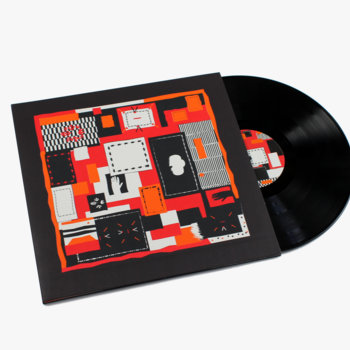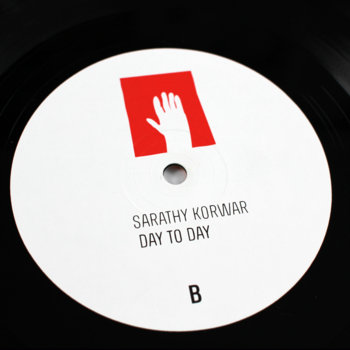 The trip to Ratanpur wasn't Korwar's first foray into experimental composition; his earlier work, centered around the Indian tabla, pushed the boundaries of traditionalism. "Waiting For First Contact" was created by running a tabla through digital effects processing, and on "Long Distance Relationship," Korwar translated tabla rhythms to a Western drum kit. When performed live, he was accompanied by a tap dancer; on the wall behind them, a Facebook feed flashed eerily. Those projects, along with Korwar's session work, left him yearning for something more. "I needed a project of my own that I could really invest myself in emotionally [and] completely," he says.
The journey that would culminate in Day to Day, Korwar's first full-length, began with a chance encounter with the ethnomusicologist Amy Catlin-Jairazbhoy, who told him about the Indian Sidis. Descended from the Bantu people of Southeastern Africa, the Sidis' music is rich with both the polyrhythmic percussion of their African roots and the vocal lilts and scales of traditional Indian folk music. "They kind of exist under the radar," Korwar told me. The Troupe of Ratanpur, who Catlin-Jairazbhoy put him in touch with, consists of around a dozen musicians: drummers, vocalists and people who played the malunga, a rare single-stringed instrument that simultaneously produces two tones, an octave apart. Hooked, Korwar found a week when the troupe would be home between legs of a tour, to come record.
Upon arriving in Ratanpur, Korwar quickly discovered two main obstacles to his plan. First, finding a quiet place to record was impossible, even in what he describes as a small village. "It's never quiet," Korwar said. "There's always stuff happening." The second challenge came from his minimal recording equipment; he had trouble achieving the desired balance of instruments in the mix. Instead of fighting it, Korwar embraced these limitations. "I didn't want it to be very clean. I wanted it to sound organic, which is why I chose to do [it with] one microphone," he explained. In the evenings, Korwar and Roshan would return to their hotel and listen to what they had recorded; the next day, he would make requests of the musicians. "I knew I wanted the vocals to stand out, so I'd ask, 'Could you please play your drums a little softer…as you would in a studio,'" he recounted. As for the ambient noise, alternately surging and edging its way into the songs, there wasn't much he could do. The cleanest sound, he told me gleefully, was gathered was on the banks of a nearby river.
By the end of the week-long session, Korwar hadn't merely heard the troupe's music; he had seen them, on their break from tour, reconnecting to the rhythms and routines of their daily lives in Ratanpur. "I think they feel rooted because of the things they do everyday," Korwar explained, "things that we as a culture look at as being very banal." He found himself transfixed, for example, by the quilts made by local women; little scraps of rags that together formed something beautiful (like the one that graces the album's cover) and the regular gatherings around the central Sufi shrine. "We don't celebrate [those things] as achievements unto themselves," he told me, but "it's those things that hold us together, regardless of where you're from." The tracking for Day to Day, just two weeks later, became a quest to celebrate those daily moments, through the lens of visceral jazz.
In a stroke of luck, three of Korwar's friends from London were in India at the same time that he was in Ratanpur: guitarist Giuliano Modarelli, pianist Al Macsween and bassist Domenico Angarano. The quartet met up in Pune, where they stayed at Korwar's family's home, and tracked the bulk of Day to Day in less than a week. "Everybody was really relaxed," Korwar says. "Doing it in London would have been a terrible idea – [we would have been] worried about studio time [and] the hassle of the big city." Korwar had rough sketches and melodic ideas for the songs, but he was also eager to let his friends explore the music on their own. "I trusted these guys a lot. I wanted it to be as democratic as possible, [for everyone to be] equally involved in the final product."
Merch for this release:
Vinyl LP, Compact Disc (CD)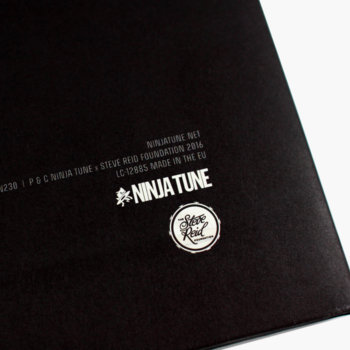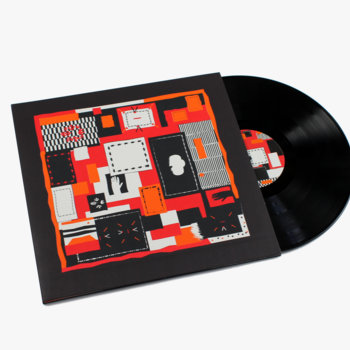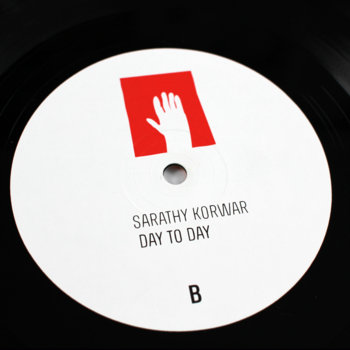 In the final mixes, the field recordings often serve as entry points to sonic explorations that venture far from where they begin. On opening track "Bhajan," a Sidi vocalist is overtaken by a flamenco guitar figure and Korwar's crashing cymbals, before the full band hits their vamp. The vocalist then re-enters and circles them, creating a surreal and disorienting contrast to the band's glimmering riffs. Later, "Bismillah" transforms from a plodding vocal collage to a full-speed stomp; the shift is effortless, bringing to mind the seamless morphing of Animal Collective's Strawberry Jam. Sometimes, the field recordings take center stage. On "Hail," vocalist Jaideep Vaidya remains in the foreground, accompanied primarily by Korwar's expressive percussion. At first, the two musicians are heard separately; when they intertwine, it sounds like they're in the same room at the same time.
Merch for this release:
Vinyl LP, Compact Disc (CD)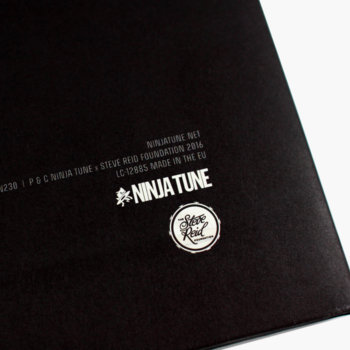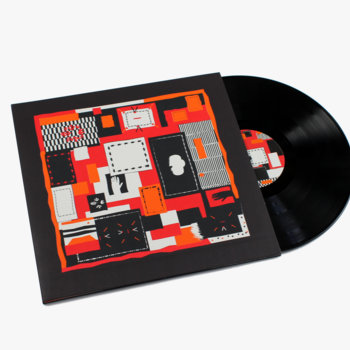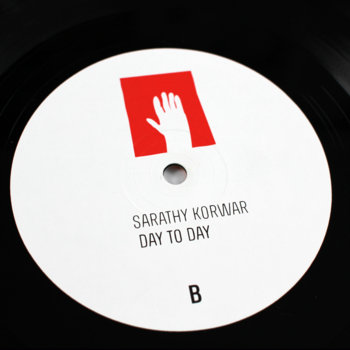 The album's closing track, "Mawra (Transcendence)" that brings the album's premise into sharp focus. It begins with a field recording of thundering drumming and gradually dissolves into one of the album's most visceral and dramatic moments, full of horn blasts and drumming, at times recalling Ornette Coleman's euphoric cacophony. By using such bold strokes, Korwar and his band become a magnifying glass, exuberantly re-interpreting the daily routines of the Sidis in a manner that reminds us that as long as we keep our eyes and ears open, there's always beauty around us, waiting to be discovered.
—Max Savage Levenson