FEATURES
Sixteen Years Since He First Appeared, Shackleton Remains a Mystery
By Andy Beta · September 17, 2021
Ever since he first appeared in 2005, British producer Sam Shackleton has been a disruptive force on the dancefloor. In the early days of dubstep, Shackleton and mate Appleblim released a string of mysterious 12"s on their imprint Skull Disco, taking the genre's cabinet-quaking bass frequencies and plunging them to cavernous, murky depths. Even in these early tracks, Shackleton's sound felt fully formed. It was decidedly slower than almost anything out there, as if a 45 were pitched down to 33⅓. As a result, the thick tones feel more methodical and deliberate, the hand drum rhythms take on the feeling of a forgotten ritual, the space filled with ghosts. That haunting effect was heightened by the instantly recognizable artwork of another friend, Zeke Clough, which pushed beyond the anonymity of dance music's blank sleeves to the iconography of metal and punk—the spirit of Pushead's early covers for Metallica and Rudimentary Peni's Nick Blinko invoked in the hand-drawn imagery.
Even as he shrugged off the dubstep descriptor and decamped to Berlin, Shackleton remains in pursuit of a psychedelic ideal of the highest (or, perhaps, most subterranean) order. "I hope that people understand the music I make as music you can dance to," he says. "It is how I see it, in any case." Each new release—either on his own label Woe to the Septic Heart! or in collaboration with other artists—startles, pushing a full understanding of his muse even further out of reach. This month, he releases Departing Like Rivers, his first solo album in nine years. It's also been almost as long since he last consented to an interview.
Merch for this release:
2 x Vinyl LP
Born in the small town of Nelson, in the north of England, Sam Shackleton says the region still informs most of his work. Growing up, Shackleton remembers it as a heavily industrialized area, yet not entirely left behind by the globalized world. He still found lots of things to do as a boy, even if it was just wandering around town. Still, he admits, "I do not want to look back with rose-tinted glasses, as it wasn't all better. Everyday violence was more common back then, for a start."
The first song he remembers hearing is Boney M's "Brown Girl in the Ring," but the first band he truly fell for were the Beatles. "I didn't really discriminate between the early 'Love Me Do'-type stuff and the more out-there 'A Day in The Life' or 'Within You Without You' or whatever. I suppose they were just good songwriters," he recalls. As a teenager, he discovered punk bands like the Sex Pistols and Buzzcocks, but it was when a friend from a record shop played him Big Black's Songs About Fucking and Suicide's first album that Shackleton's world changed: "It [was] pivotal for me just in their sheer otherness. Playing 'Frankie Teardrop' on that album was a kind of endurance test. I suppose it made me realize that music doesn't need to be just a form of entertainment, it runs deeper than that. Those records have a kind of primal urge and exist in their own cosmos. I couldn't compute it."
When Shackleton left school, he started working as a toolmaker for one of the big engineering factories, and his co-workers started going out raving. But he says it was only when he moved to London in his mid-20s, that he and friends from his hometown and Appleblim started going to FWD at Plastic People, "which was the original dubstep night, I guess." Shackleton had been making music on his four-track with drum machine and pedals and with another close friend, Vengeance Tenfold. They played squats as a duo, bludgeoning audiences with drum machine bass tones. Working with a computer, Shackleton began dabbling in 140 bpm fare, though he slowed down considerably by the time of the first Skull Disco recordings.
Those early sides also revealed Shackleton to be attuned to music emanating far from London clubs, a result of some travels at the time. "I spent a while in Morocco when I was 20, just messing around after I got paid off from my old job," he says. "I have lived in a few countries, among them Hungary and Turkey, so maybe that has been an influence. I don't want to claim I was some intrepid explorer or something, but I did get a load of those Gnawa cassettes back then which have definitely influenced me, especially the Mahmoud Gania stuff. It's just about stimulation and having your brain tickled in the right place when it comes to different sounds and timbres."
Around that time, he also encountered Terry Riley's mesmerizing 1972 minimalist classic Persian Surgery Dervishes while at someone's flat. "It was just on in the background, and it just started to draw me in, and though I was totally sober, I felt like it was hypnotizing me and tripping me out," he says. "That was a good example of being bewildered and then intrigued before just learning to really love his musical cosmos." As Shackleton grew bored with the confines of dubstep, Riley's example would help him unlock a new template for his music going forward.
Merch for this release:
Compact Disc (CD)
"I was just trying to do my own thing and never wanted to make a certain genre, and so maybe it has an odd sonic signature because of that," Shackleton says. "I really like complex beats that also have groove and odd time signatures. It sounds right to me in my head, in any case." And he admits that sometimes for fun, he'll just bash out Black Sabbath riffs on guitar as a form of release.
As he moved further away from dubstep, he began shifting his approach to his sound. "I generally like music that has different layers to it, that you can focus on different parts of it and find narratives within the narrative," he says. "It is the same with the text, where I like ambiguity, or you feel that there is an obscure meaning." Shackleton rekindled his duo with Vengeance Tenfold, updating their dynamic beyond the days of playing in UK squats to create something dense, and full of overlapping matrices.
The presence of Vengeance Tenfold and his lyrics also provide a throughline to a key influence of Shackleton's music: British folk. Despite now being hundreds of miles from his homeland, "I still feel a connection to the countryside where I come from," he says. "It is beautiful, but also dramatic, and not at all twee. You are always in view of Pendle Hill, which for me has almost has a supernatural presence." He's still drawn to certain types of British folk music, especially the kind where the lyrics feel timeless, mysterious, and unknowable, "conjuring up imagery that I can grasp and that fits with the surrounding countryside of my hometown."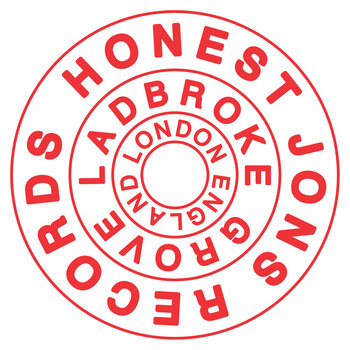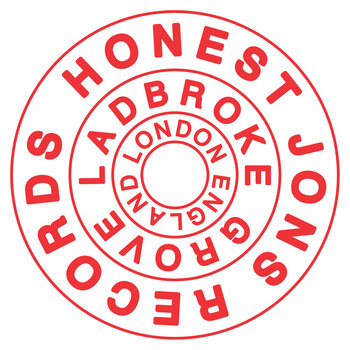 Merch for this release:
2 x Vinyl LP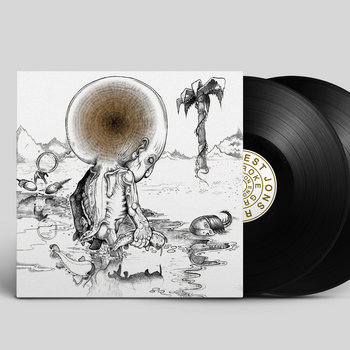 Keeping that same sense of mystery is a philosophy that continues to drive Shackleton's work. "I would hope my music has this ritualistic aspect to it," he says. "I remember once being with Appleblim at a club night back in London, standing in front of a proper nice sound system and Appleblim saying something like this was where he felt like he was at church, and I really understood what he meant by it. For me, music exists outside the realm of the consciously understood or the material world. Even when you break down the component parts and analyze it, it still remains in the realm of the abstract. Still, I find it can touch you directly in the soul and articulate your emotions so much better than anything else that I can think of."
In Shackleton's recent work, intricate layering creates a bewildering effect. But the fact it's impossible to grasp the elements at work within these sustained productions is by design, a reflection of his broader concerns. "We tend to deny the need for mystery and the need for something deeper or something outside of the realm of our material existence," he says. "This tendency can hold people back from understanding that music can have this ritual aspect and it is not only an important and necessary part of the musical experience, but also that this aspect can belong to everyday life and the common experience."
Integral to Shackleton's music over the years is the dialogue between himself and various other players. In the past few years, he's worked with vocalist Anika, collaborated with fellow dubstep veteran Pinch, and formed a live band, Tunes of Negation. For as often as he works with others, it's not something that comes easily to him. Despite years of close collaboration with Appleblim, they never worked on tracks together. "I have quite a strong sonic signature, but I also can be quite fixed in how I like to work," he says. "It is difficult letting go of this sometimes but it is necessary to get the best out of the person you are working with."
Merch for this release:
Vinyl LP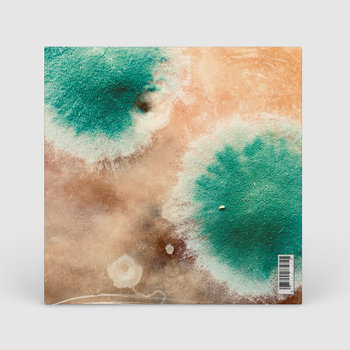 His most striking collaboration came in the form of a duo with Polish clarinetist Wacław Zimpel. "I don't understand a lot of the theory behind Waclaw's playing, especially what he has learned from the Carnatic musicians in India," he explains, "so I try to find a space for him to get the best out of this whilst complimenting his playing rather than asking him to play something simpler."
Departing Like Rivers, his first solo album in nearly a decade found him in unfamiliar company—himself. "One thing I started to find difficult was the lack of external input during the lockdown," he says. "I had finished the album pretty much by then, but I started to feel that not going out to hear music, or even going to the cinema and such, was having an effect. When you are not able to perform live, it can start to feel as though you are just making music that goes into an empty void. I'm sure a lot of people felt similarly during the lockdown though, so this is not something unique to me." What remains unique to Shackleton throughout the years is a quest to always push into unknown realms—getting deeper, darker, and closer to the mystery.