FEATURES
SALES Make the Personal Relatable
By Tess Duncan · April 25, 2016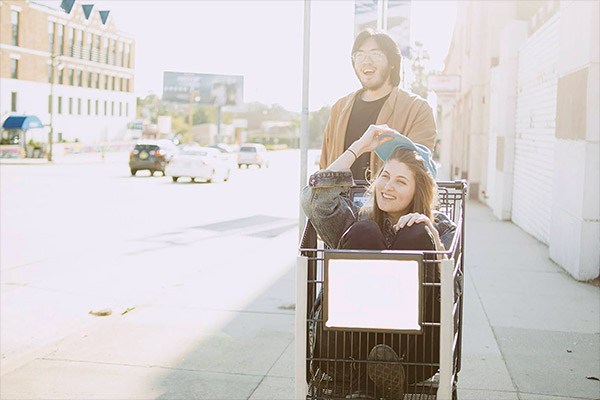 "All our songs are really just abstract words, going around an abstract emotion, trying to figure something out."—Lauren Morgan
Lauren Morgan was working as a slumlord at the now-defunct Blossom Park condos when she wrote one of SALES' first singles, "Chinese New Year." The development is notorious in the band's home base of Orlando, Florida, and Lauren was hired as a leasing manager not long after graduating college. Managing the building might seem like a fairly straightforward task, but Morgan ended up confronting issues as deep and perennial as addiction and mortality in her time there. "A tenant called and said, 'We haven't seen this guy in a couple of days but his car's outside. Can you check on him?'" says Morgan. "When no one answered his door, the maintenance man and I opened it with a key. His dog came out and his apartment smelled terrible." The middle-aged man had died of a cocaine overdose in his bathroom. "I had to call an ambulance. They kept asking me if he was really dead and they wanted me to do mouth-to-mouth." This was the environment in which Morgan wrote the melody for "Chinese New Year," a sweet, airy pop track.
Morgan never addressed her on-duty encounter with death in the song, but that's because she views music as an escape. "SALES as a project has been a total getaway for us from whatever we're doing," she says. Guitarist Jordan Shih, the other half of the duo, was working 6AM shifts at an AT&T call center during that same time. "For me, the Chinese New Year is a metaphor for that specific time period," he says. "I was working 40 hours a week at that call center. I would get home and Lauren would come over and we would work."
That's not to say SALES songs aren't personal. Morgan admits that the real story behind "Chinese New Year" is her temporary move to Tallahassee. "I decided I was going to move back to Tallahassee because I was in love with someone and I wanted to be closer to them, even though I wasn't sure where they were at with it," she says. "I was just like, 'I'm going to move up there and I'm going to make this person my person.'" The lyrics track Lauren's mental state before and after the move. Toward the beginning she intones, "It's time for us to make a change/ It's time for a Chinese new year/ It's time for me to make my way." The song concludes with her looking back on the past year ("Wept a lot/ oh, baby, you slept a lot/ I was left a lot last year").
One of Morgan's major strengths as a songwriter is how effortlessly she creates relatable stories out of specific experiences. She draws on her own life for the narratives of "Renee," a song about a mysterious stranger the band met at a bar, and "Big Sis," which addresses how gender roles affected her bond with a sibling. But there's room for listeners to see themselves in these stories, too. "All our songs are really just abstract words, going around an abstract emotion, trying to figure something out," she says. "They're things that I imagine everyone feels unless you're a psychopath."
This intentional ambiguity means that her bandmate usually has his own understanding of the songs as well. "We both have an idea of what the songs are about, and it doesn't necessarily have to be on the same page," says Lauren. The two have been playing music together since high school and share a connection they describe as a brother-sister relationship. "We say some of the dumbest and some of the smartest things to each other," she says. Their secure friendship is probably why they've been able to experiment and riff off of each other so comfortably. Shih had no qualms about learning to play guitar for the first time for SALES. Morgan, for her part, feels totally at ease to ad-lib lyrics with Shih as they practice until they settle on anything definite. This mutual vulnerability is part of why SALES has remained a two-piece, though they refer to their drum machine as the "third, uncredited member" of the band. "Sometimes it's limiting but I've come to really like the dynamic with just us two on stage with a drum machine," says Jordan. With the lithe timbre of Morgan's voice, interlocking riffs, and electronic backing tracks all working in tandem, a drummer would likely overpower SALES' nuances.
"With the album, I think I've taken more of a literal approach to songwriting as a discipline," says Morgan. Shih adds: "It's the Taylor Swift problem. Her songs are too obviously about people and things that have happened. Too many people are too caught up with what she's doing." (Swift is one of their favorite pop musicians.) Morgan laughs. "I think I'm safe from the Taylor Swift problem, no one knows who I am." I bring up the fan-created @NOTSALESFANS Twitter and point out that this may not be the case.
The account is exactly what it sounds like. The tweets consist of proclamations of love for the band, countdowns to the new album, SALES song lyrics, and retweets from the group's official account @WEARENOTSALES. Neither of the band members have been able to determine who's behind their Internet fan club, but speculate that they might be British. "They won't reveal themselves or their identity," says Morgan, "but one time we were really close to getting them to a show in London." Shih suspects that their secret admirer(s) might have just been trying to throw them off. Though they may never meet the owner or owners of their fan Twitter, both agree, with Swiftian graciousness: "It's probably the coolest thing that's ever happened to us."
—Tess Duncan