FEATURES
Trombonist Ryan Porter is For the Children
By Will Schube · September 25, 2017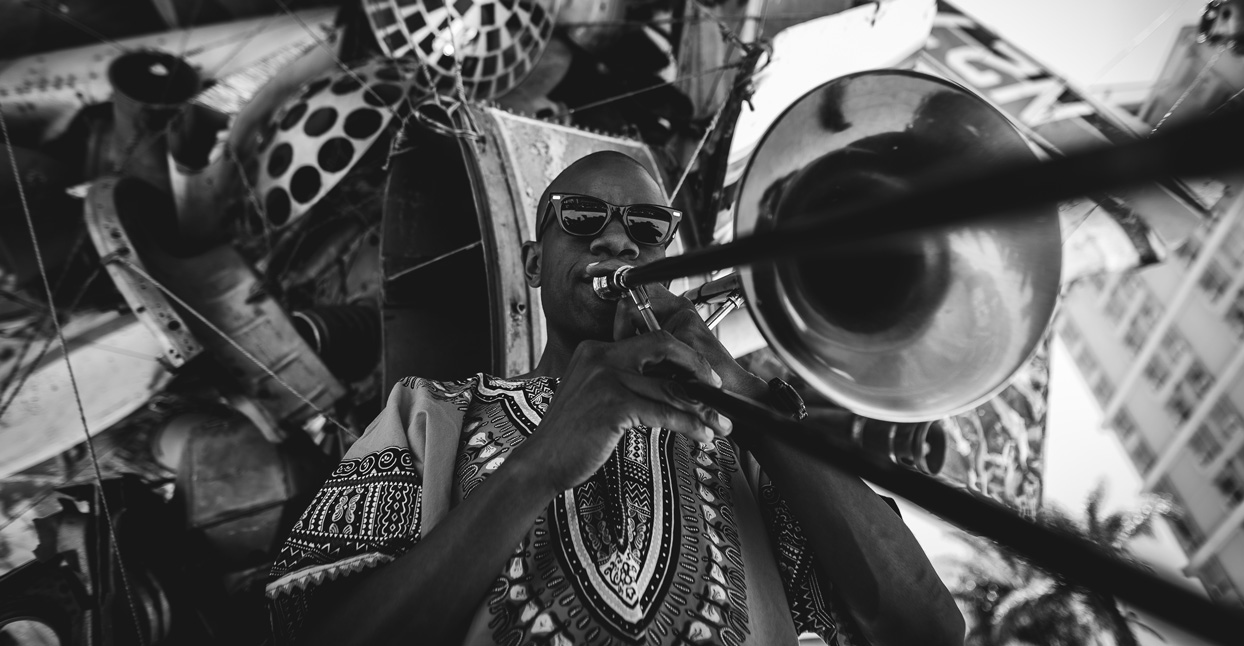 The West Coast Get Down's month-long recording session in 2012 is already the stuff of jazz legend. Inspired by their packed-house jam sessions at the Piano Bar in West Hollywood, California's premiere jazz ensemble pooled their money together and rented out a Los Angeles studio for 30 days. Some of the results became iconic jazz records (Kamasi Washington's The Epic), others more modest, still exhilarating additions to the canon (bassist Miles Mosley's Uprising). The latest album from Ryan Porter, trombonist in the West Coast Get Down, is also a result of that fruitful month. But when it came time for his contribution to the Get Down canon, Porter had something different in mind. Ryan Porter wanted to make a children's record.
"I have two daughters. They're eight and nine," Porter says, speaking by phone from his home in Los Angeles. "When they were growing up, we'd sit at home and watch TV together—Sesame Street, Yo Gabba Gabba, all that stuff. I could hear my own interpretation in the songs we were listening to." And thus the seed was planted for Porter's second album as arranger, Spangle-Lang Lane. Making a children's record in the middle of the healthiest resurrection of jazz music this century is a tricky proposition; but Porter and his bandmates didn't treat Spangle as an album for a new audience. Instead, Porter adapted his jazz background to fit classic children's nursery rhymes. The result is an album that's bewitching in its innocence, electric in its re-evaluation of jazz methods.
"I remember Ryan's songs being easier to record and easier to play because they sort of played themselves. You could only play those songs that certain way," West Coast Get Down drummer and engineer Tony Austin recalls. "It was a breath of fresh air. We didn't have to reinvent the wheel when it came to recording Ryan's album. The stuff was already there. We didn't have to think about it much. We just had to go into a room and play it." Part of this readiness comes from Porter's immersion in the world of children's music. Spangle-Lang Lane isn't a record, it's a fully realized universe, complete with videos, puppets, and an accompanying stage show.
"Once we finished recording at KSL [recording studio], the music came out way beyond my expectations," Porter remembers. "While I was at home listening to it, I could almost visually see how the videos were gonna lay out. I could see a lot of the characters. I got into making puppets. I looked online and checked out a few guys on there just making different things—heads, eyes, stuff like that." From there Porter surrounded himself in a world of felt and wires, becoming Jim Henson with world-class jazz chops. "I went out and got all of the tools, took some more classes and, many puppets later, I evolved as far as character-making. I started making videos to go with the record. I got a lot of help, a lot of guys who were actors and puppeteers. Through trial and error and my experiences with being an artist, I created a whole world of my own."
That world, to be slowly unveiled around the release of Spangle-Lang Lane, is a far cry from anything else Porter produced during the West Coast Get Down sessions. But as Tony Austin said, this left-turn wasn't frowned upon. Instead, Spangle-Lang Lane succeeds because the band approached Porter's compositions with the same level of seriousness as any project pitched during these sessions.
"I had a song I had written that had no words. Ryan took it and he put the 'ABC song' to that. And so, slowly, he started formulating what would be the beginnings of that TV show," says West Coast Get Down pianist Cameron Graves. "Eventually, he got around to making his own pilot. He showed it to me on his iPad one day at the Piano Bar. It was such a slow process that it wasn't any shock or any surprise that he came with a kids' TV show, because I saw it inch by inch the whole time," he continues. That deliberate approach is part of what's made the West Coast Get Down crew so successful: They take on every project, every iteration of the genre's history, with clarity and innovation. They're not setting out to change the landscape of jazz. Their albums do this naturally, because the group bends the genre toward their own will. Spangle-Lang Lane is the most imaginative example yet.
Sure, the initial shock of a ripping jazz version of the "ABC Song" takes some getting used to; the rapping is immediately awkward, clearly meant for children. But the album's compositions eventually transcend their source material, and Spangle-Lang Lane offers rich moments aplenty, from the subtle vocoder on "Itsy Bitsy Spider" to the rich horn layers of "Row Row Row Your Boat." Once you can blot out the kindergarten flashbacks, the record's rich originality takes over. Kamasi's horn sings, Austin's sharp, tight drum sound floods through the speakers. And while there is some concern that the listener might write the idea off as a gimmick, Porter uses the strength of his compositional skill and the West Coast Get Down's reputation to push past that.
"With things that are educational, a lot of times those are products that parents want to get for their kids. I feel like if you make it appealing to the parents, and they can relate to a lot of the feelings they grew up with, it's like they're giving their kids a piece of their childhood," Porter explains. "At the same time, we're the musicians of their generation, so they're getting the best of both worlds." It's that earnestness that pushes Spangle-Lang Lane past novelty, to a place where it can hold its own against many of the West Coast Get Down's stronger releases.
Porter approaches a children's record from the perspective of an '80s baby, when soundtracks were outsourced to world-class composers and TV shows were scored by jazz heroes. "A lot of the music that I listened to as a child came from classic movies, like Willy Wonka and the Chocolate Factory, The Wizard of Oz, The Wiz. The Wiz had a big influence on me, because of Quincy Jones," Porter says. "I grew up at a time when there were a lot of really good jazz composers working on TV. That's what helped me conceptualize this album, being able to reference those TV shows and movie soundtracks," he adds.
Spangle-Lang Lane fuses those classic scores with heavy doses of funk, soul, and R&B. In that sense, it's the least jazzy record this collection of players has made. Porter will return with an "adult jazz" record in 2018, but for now, he's more than content making one for the kids. "This was my attempt to do what I'm sure thousands of other parents want to do, give their kids a little musical upgrade—a facelift." Children's music will never be the same again.
—Will Schube