FEATURES
The Psychedelic Sound of Rüstəm Quliyev, King of Azerbaijani Guitar
By Megan Iacobini de Fazio · September 17, 2020
Rüstəm Quliyev's blazing, psychedelic guitar music sprang from one of the most tumultuous and transformative periods in Azerbaijan's history, capturing both the spirit and the contradictions of its time. In the years since, Quliyev has become the emblem of Azerbaijan's gitara music—a unique subculture that developed around the electric guitar. And while his life was cut short by lung cancer in 2005, his legacy endures. "He was really special," says Vasif Javadli, Quliyev's nephew. "Many people try and follow Rüstəm's way, but no one can replace him. And no one can play like him."
These days, Quliyev's popularity among Azerbaijanis is stronger than ever—multiple videos on the Rüstəm Quliyev Youtube Channel, which is carefully curated by Javadli, have racked up well over a million views. But few people outside the nation have ever heard his music. Now, the Swiss label Bongo Joe is hoping to change that, releasing a compilation that showcases Quiliyev's dextrous guitar playing, and his ability to weave together a diverse array of influences—Bollywood soundtracks, Afghan pop, Spanish flamenco, even Western psych. Curated and researched by ethnomusicologist Ben Wheeler and anthropologist Stefan Williamson Fa from Mountains of Tongues, Azerbaijani Gitara opens with the spacey synth chords, distorted guitar, and keyboard drums of "Ay Dili Dili," gathers steam with the breathless "Aman Tello," Quliyev's take on an Azerbaijani folk song, then turns left into bouncy pop songs like "Əfqan Musiqisi," which fuses Afghan dance music with the Azerbaijani gitara, and "Tancor Disco," Quilyev's interpretation of Bollywood classic song "Jimmy Jimmy Jimmy Aaja".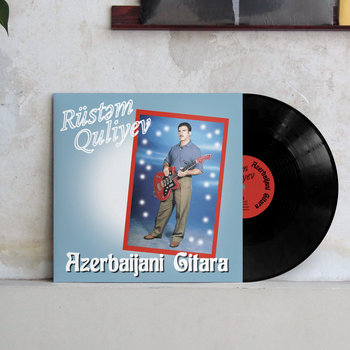 .
00:10 / 00:58
Merch for this release:
Compact Disc (CD), Vinyl LP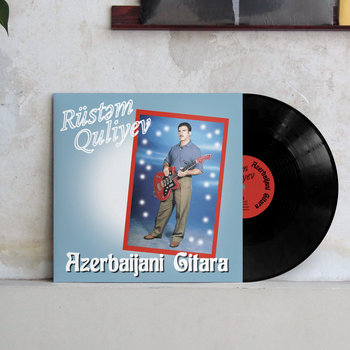 Rüstəm Quliyev's life as a musician started early. He was born in 1969 in the village of Kosalar in Nagorno-Karabakh, the disputed territory in western Azerbaijan. His was a musical family. By the time he was seven years old, he was playing the tar, a long-necked, lute-like instrument, and later taught himself how to play the saz, another string instrument commonly associated to Ottoman classical music. But it was his encounter with the electric guitar during military service for the USSR that would change his life forever.
The electric guitar had been popular in Azerbaijan since the 1960's, the culmination of a period of optimism surrounding the oil boom on the Caspian coast, and of cultural exchange under socialist rule. By the time the first Czechoslovakian-made "Jolana" electric guitars began to appear in Azerbaijan, musicians in Baku were freely mixing styles and traditions, adapting traditional folk songs to modern instruments, or playing Western genres with the tar and saz. But it wasn't until Rafiq Hüseynov, widely known as Rəmiş, entered the scene that gitara music took off. Like Quliyev, Rəmiş was from Nagorno-Karabakh, and started by playing folk music, like the local Mugham style, on the tar, before adapting the same sounds to the electric guitar.
"Rəmiş' style was about playing the guitar like a tar," says Javadli, who is also a musician. "In a guitar, the way of playing is you always change strings and make more finger movements on different octaves. But in tar it is different. He is considered the first person who introduced the electric guitar in Azerbaijan." Rəmiş paved the road for generations of guitarists, each of them drawing on their own regional sounds and styles. Quliyev, on the other hand, borrowed not only from local sounds, but music from all over the world. "Rustem's style was a mix," says Javadli. "He was using ingredients from Spanish guitar, the traditional [playing style] of the tar, and playing Indian melodies with a bender."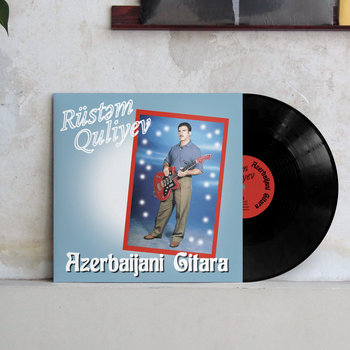 .
00:10 / 00:58
Merch for this release:
Compact Disc (CD), Vinyl LP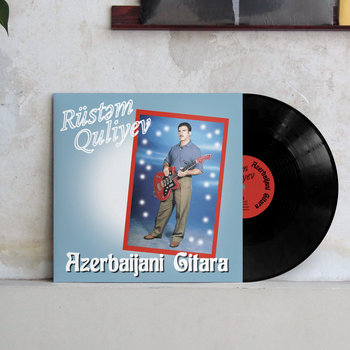 After completing his military service Quliyev returned to Nagorno-Karabakh, but the brutal conflict that had been raging for years over the disputed territory was reaching its apex, and he and his family fled to Baku. They lived in poverty, and Quliyev never truly recovered from the trauma of leaving his home behind. "All of this bad experience was a big injury for him" says Javadli.
Yet, it was in Baku that Quliyev's career took off. He began playing at weddings, recording cassette tapes, and became a regular on the city's biggest TV stations. "It was really hard for him because there was no money. Imagine you lost your home, your work, your everything, and you're new in another city, you have to build your life from zero," says Javadli. "But all the money he made playing at weddings, he would spend on cassettes." In cosmopolitan Baku, Quliyev was able to indulge his curiosity in other cultures and their music. According to Azerbaijani Gitara's detailed liner notes, the young musician would ask for musical recommendations whenever he met foreigners, picking up melodies from the foreign films he watched, and collect tapes from neighboring countries. Iran became a particular source of inspiration: "Iran Tereneleri," which translates simply as "Iranian Melody", is based on a song from the Azeri regions of Iran; it starts with an ethereal, sustained synth chord before quickly unfurling into a joyous dance track, Quliyev's nimble guitar-playing bounding over a layer of polyrhythmic drum-machine beats. "It was like he had many cultures in one body" says Javidli.
Despite his thirst for music from all over the world, Quliyev continued to adapt traditional Azerbaijanian songs for the electric guitar. He was trying to bring new life to Azerbaijani traditional songs, Javadil says, hoping he could usher them into the modern age and introduce them to a new audience. On "Neyçün Gəlməz," his guitar takes the place of vocals from a mugham piece, while "Baş Sarıtel" and "Yanıq Kərəmi" are both interpretations of classic saz pieces from the aşıq tradition. The latter is about a man who has been rejected in love, a slow-burner that eventually grows to frantic, dizzying track filled with powerful rhythms and fiery guitars, one that Quliyev hoped would, "express real pain"—not only the pain of a jilted man, but the pain of a people forcibly separated from their home. "This song is to remember the history that we have suffered, and even when you listen, for me as an Azerbaijani person I feel that pain," says Javadli. "It was like scream or message to the world for the sacrifices of Khogaly Genocide, and Nagorno-Karabakh."
Rüstəm Quliyev died in 2005, without ever having returned to his homeland. During his short career, he recorded hundreds of songs, and his cassettes were sold as far afield as Russia, Uzbekistan, Kazakhstan, Kyrgyzstan, Iran, and Turkey. He left an indelible mark on the region's music, and his influence is as prominent as ever. "He was showing his feelings with music," says Javadli, who says his uncle has had a great impact on his life. "He never did it for money. He wanted to catch people's hearts."