FEATURES
Russ Stedman's Vast World of Experimental Guitar Music
By Tobi Vail · June 21, 2016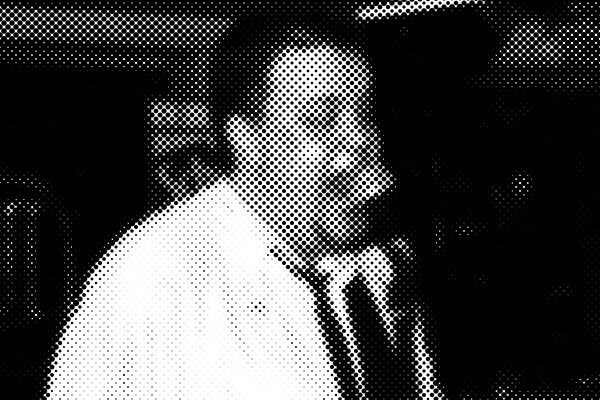 "I was growing up in a town of 14,000 at the time I pretty much was the punk scene." -Russ Stedman
Russ Stedman is a prolific home recording artist from Sioux Falls, South Dakota who has been crafting guitar-based, experimental solo work since the early '80s. Over the course of more than three decades, History of a Year and Other Assorted Songs, recorded in 1987, stands out as a devastatingly realistic portrayal of isolation and obsession that draws the listener in through its vivid, atmospheric sound and dark, yet earnest, lyrics.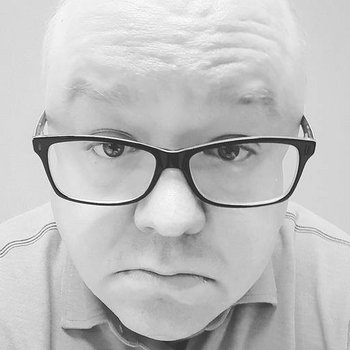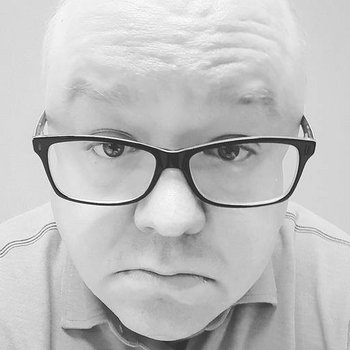 In a motif reminiscent of Gary Numan's Tubeway Army, the protagonist longs for human connection he is unable to manifest. The music itself, with its lo-fi, minimal electronic elements, sounds like a more emotionally raw, less pretentious version of early K Records' pioneers John Foster's Pop Philosophers — but the inclusion of a fierce disciple of Ace Frehley shredding on guitar also places the work alongside Screaming Trees and other SST bands of the era. The contrast between the overdriven sound of the fuzzed-out instruments and the knowledge that this effect is generally achieved quietly on a cassette 4-track, makes you feel like you are eavesdropping on an intimate secret. It's disturbing and uncomfortable, but also enigmatic and mysterious.
I was immediately captivated by this recording and spent several days listening to it on repeat. I've now heard it more times than anything else I've discovered on Bandcamp. It feels universal yet so specific, like the auto-fiction of Karl Ove Knausgaard or the work of film diarist, Caveh Zahedi. I couldn't help but wonder more about its context.  Late one Saturday night, I spoke to Russ Stedman through a series of rapid-fire emails that felt more like a sped up letter-writing marathon than a typical online exchange. Here is an excerpt from our conversation.
I used to work at Kill Rock Stars. My sister says we used to get demos from a guy from Sioux Falls and she was obsessed. Did you ever send us demos?
It's possible. I did used to occasionally do silly things like sending tapes to labels. As if they were just going to put out a record by some guy in South Dakota who doesn't tour and no one's ever heard of…
Can you give me some context for History of a Year and Other Assorted Songs?
I got my first 4-track in 1987. This was a big step up from the ping-pong recording between two tape decks I had been doing. These were my first 4-track songs. The tape was called History Of A Year & Other Assorted Songs to denote a two-sided concept. The first 9 songs (the History Of A Year part) are almost a sort of concept album of songs about the girl who was my first true love. We had a complicated relationship. We became incredibly close emotionally, but we were never really officially a couple.  I was 18, and she was the first girl to ever pay me any kind of attention. I was madly in love with her, but she just didn't feel the same romantic chemistry toward me, despite our deep friendship. So i guess these songs (any many others on following tapes) were my way of dealing with that.
The rest of the "Other Assorted Songs" are pretty much just the songs I was recording at the time that weren't about her. There were a lot of comedic elements in these, which offsets the depression of the first half. Comedy has always been an extremely important element in music for me. Most of my favorite bands all have a sense of humor. Lots of bands just take themselves too seriously. Not to say there's not a place for that, too. I mean, i cherish the memories of driving around in my VW Rabbit as a teen, blasting the Smiths and Bauhaus, chain-smoking and pouting about my unrequited love life.
Were you a part of the punk scene?
I "became punk" in 1986 after some new friends from a nearby town played me the first Butthole Surfers album. After hearing "The Shah Sleeps In Lee Harvey's Grave" for the first time, I was 17, and now discovering that my previous diet of the metal of the day was getting kind of stale. I got turned on to the usual suspects of the era, Black Flag, Dead Kennedys, Husker Du, Fear, et cetera.
I was growing up in a town of 14,000 at the time (Mitchell, SD, home of The World's Only Corn Palace!) I pretty much was the punk scene. I had been writing and recording songs as early as 1983 when i started playing guitar. In '86 I started releasing tapes under the band name Teenage Slots. I did all the things that I saw other people in larger cities doing, like making a fanzine, writing bitchy letters to MRR because they would never review my tapes, becoming interested in politics. After a couple of years, I started finding out about magazines that were more interested in the underground cassette culture—Sound Choice, Option, Factsheet Five. I continued to record and release tapes very quickly and made a ton of new mail friends who were doing the same. I got heavily involved in this mail scene. it was perfect for someone like me who lived in the nowhere land and had no access to any kind of local scene.
I feel like punk rock saved my life. I mean, bands like KISS, Judas Priest, Iron Maiden, et. al, were all getting really horrible and boring by the mid '80s.  I found something new at the perfect time.
Can you talk a little bit about the home-taping scene you were a part of in the '80s and '90s?
I found out about people releasing home-produced music on cassette and considering them to be "releases" from reading Maximum Rock And Roll. I had been writing and recording my own music for about four years, but would have never thought that there were people out there doing the same thing and then taking it a step further and creating album titles, artwork, and multiple copies of their recordings. No one heard my tapes other than myself and one friend It wasn't until finding out about punk rock that I "released" a real tape.
The first person I ever traded tapes with was Paul Caporino of M.O.T.O. I dug his stuff because it had a comedic flavor, and he seemed to like some of my stuff, too. We became pretty good mail friends, and have even met in person a couple of times. I traded tapes with tons of people, a handful of which became regular contacts. When the internet came along, we all initially thought it would be the greatest thing ever for the tape scene, but just the opposite happened.  As people got more and more attached to email, less and less "real" mail happened. i think we were all confused for a while. There was no way to share music in the early internet days. i think my method has evolved now into just putting stuff online, letting people know it's there, and they can check it out if they want.
Can you tell me about the current music scene you are a part of in Sioux Falls?
I moved to Sioux Falls in '94.  I was in a few bands here in the '90s, At the time, there really weren't any bands here that I considered weird enough for my tastes.
We have a very cool thriving scene here now thanks mostly to a new record store/all-ages venue called Total Drag that opened two years ago. For the first time in my life I feel like I live in a town that has a credible music scene, and it's only getting better. Total Drag literally created a brand new music scene in Sioux Falls that is very friendly and accepting. Plus, it's a new generation of kids now, and they are so much more inventive and musical than the previous cookie-cutter screamo generation. I am so happy to be here to see this.
Some of my current favorite local bands right now are Gordo Ji'Bang, Androgynous Squash, Somo, Angie Hosh, Th' Rattletrap, and Low Riding Moths.
What are you working on right now?
My new CD "Grumpy Lazy" is being pressed in a short-run of 50. I did a campaign to raise some money for cool artwork and such, and one of the perks for $25 donations is a bonus CD of unreleased stuff. This is going to be very limited. About 15 copies. There are a number of unused covers on this CD, one of which happens to be my version of "Rebel Girl".  That's weird, eh?
—Tobi Vail