FEATURES
Ros Bandt's Experimental "Soft & Fragile" Is Still Relevant 40 Years Later
By Martyn Pepperell · February 07, 2022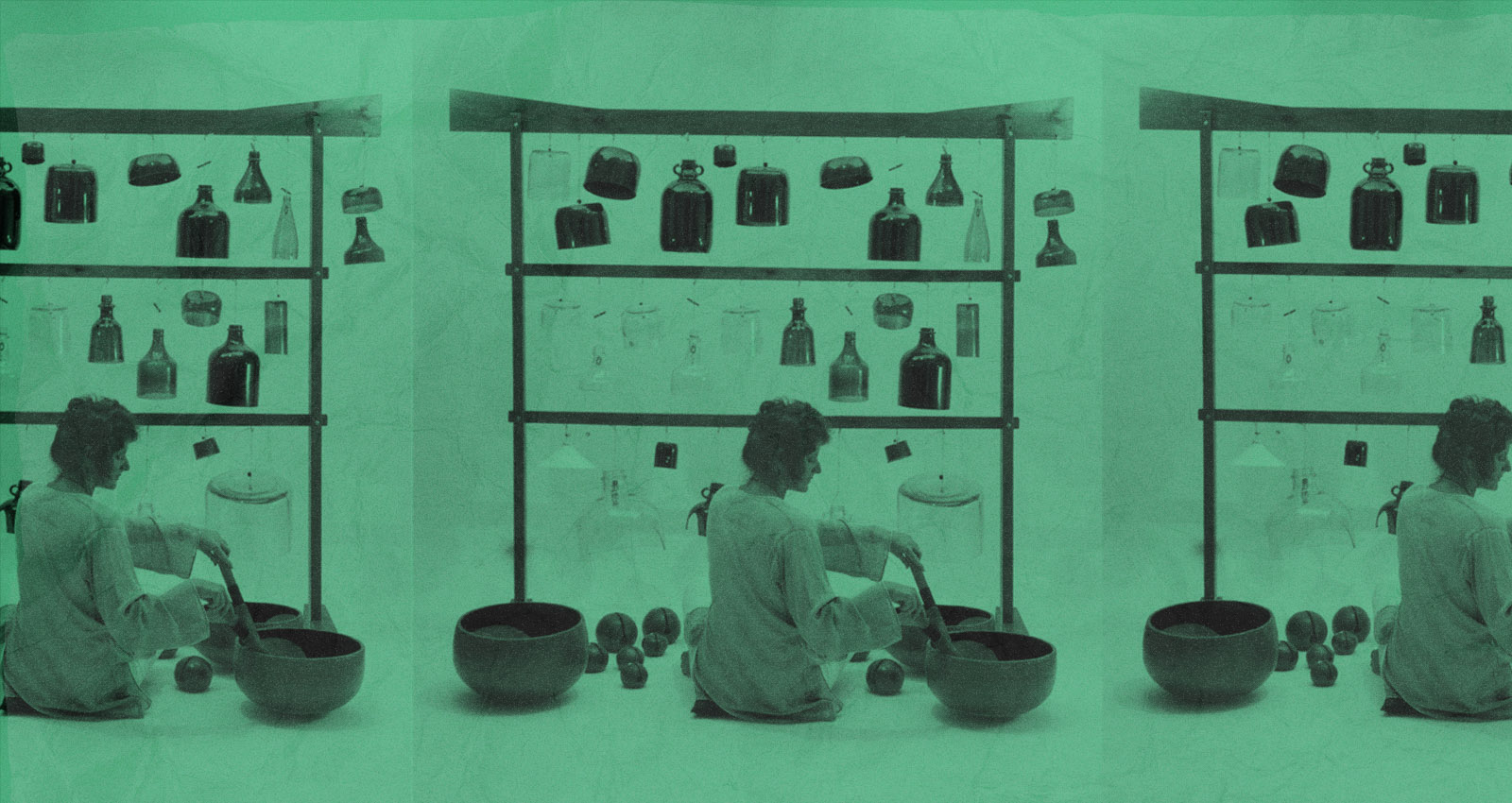 "I just wanted sound to have more clout, and I did everything in my whole life to achieve that," explains award-winning Australian sound artist, composer, musician, researcher, and scholar Dr. Ros Bandt. Over the last four decades, Bandt's interest in improvisation; collaboration; sound installations and sculptures; custom-made instruments; and acoustic ecology has taken her around the world. Her diverse engagement with sound has positioned her at the vanguard of Australian music and served as the bedrock of her academic career.
In 1983, Bandt and LIME (Live Improvised Music Event), a group of composer-performers who studied improvisation under her at Melbourne's La Trobe University in the late 1970s, released Soft & Fragile through Move Records, one of Australia's premier art music labels. A series of three stunningly textured long-form improvisations played with the flagong, a custom-made vertical glass marimba; clay and metal bells; and tape loops, Soft & Fragile was born out of a period of intensely focused creativity for Bandt and LIME. "Everyone in that band had a lot of spunk and joy, and we used to practice very hard," she says. Thirty-nine years on, Soft & Fragile has just been reissued through Michael Kucyk's Melbourne record label Efficient Space.
The youngest of three daughters, Bandt was born into a Christian family in Geelong, a relaxed coastal city forty miles southwest of Melbourne, in 1951. Her father Lewis was the Ford Australia car designer who developed the ute, Australia's now-ubiquitous answer to the pickup truck in the mid-1930s. He wanted to provide farmers with a multi-purpose vehicle that could take the family to church on Sundays and the pigs to market on Mondays, all without skimping on luxury. "That's what I've always wanted with my music as well," Bandt says. "For people to have a glorious ride of adaptability and to be in the sound and enjoy themselves."
.
00:10 / 00:58
Merch for this release:
Vinyl LP
Bandt's mother Nellie was an accomplished music teacher and pianist. From the age of four, she taught her daughter piano and music theory. On Sunday nights, her parents would bring most of the local church congregation back home to play the piano and sing songs into the early hours. "We used to hide behind the velvet curtains on the stairs and laugh because we thought it sucked," she says. "But you know, that's always next generation, isn't it?"
When she was 17, Bandt began studying at Melbourne's Monash University, where she completed a degree in musicology and education. All the while, she was constantly consuming the work of key avant-garde composers and sound workers such as Karlheinz Stockhausen, Harry Partch, and Pauline Oliveros. In her spare time, she played in the university gamelan orchestra, sang in an a cappella choir, and studied Japanese sumi-e ink painting.
Bandt's interest in sound led to her writing her honors thesis on chance operations and indeterminate procedures in the music of John Cage before heading to Europe in 1976 to study historical improvisation at the University of Basel. Her fascination with sound continued after she returned to Melbourne to complete a Masters of the Arts and, eventually, a PhD at Monash. In 1977, she assembled a two-room sound sculpture installation at the Clifton Hill Community Music Centre (formerly The Organ Factory). "I wanted to engage the audience, be playful with sound, have fun and get everyone involved," she says. For Bandt, that exhibition was the first of some 40 sound installations that she has constructed around the world over the last 45 years.
In 1978, she built the flagong, the vertical glass marimba seen on the cover of the Soft & Fragile reissue. The inspiration came from having spent a day in 1976 playing composer Harry Partch's custom-made instrument collection, then housed at California State University in San Diego. Bandt constructed the instrument to visually reference the traditional Japanese torii gates found at the entrance of Shinto shrines, and would play the flagong in the evenings to bid the day goodbye.
That same year, she helped found the early music quartet La Romanesca, and became the fourth member of LIME. Instrument-building quickly became a central part of LIME's practice. "When the instruments were all together, they looked like a sound playground," she says. "I thought, this is a great idea. We should make one for the world."
.
00:10 / 00:58
Merch for this release:
Vinyl LP
In 1981, Bandt realized her idea for a sound playground in a Melbourne public park and released her first album, Improvisations In Acoustic Chambers, through Move Records, laying the foundations for Soft & Fragile.
Bandt and LIME saw the flagong, clay gamelan bells, temple bells, and tape loops as a way to explore sound as spaces or environments. "I was interested in crawling in the sound and swimming in it," she says. "Some of my compositions are kind of like sculptural geometric constructs."
When they performed live, they'd dress up in costumes, surround themselves in exquisite set pieces, and ride the line between preparation and improvisation. "I always had this combination of a lot of thought, a lot of preparation, and a lot of trial and error," Bandt explains. "From that, I would get something that couldn't fail and have a party with it."
"Our process brought about all kinds of different ways of making sound, and really brilliant exchanges happened from these kinds of more atavist approaches," she says. "It was quite cerebral, but we'd have fun as we played." These qualities come through crystal clear across Soft & Fragile.
For Bandt, releasing that album was the continuation of a globally-minded, multidisciplinary journey that endures to this day. Thinking back, she observes that her objectives have stayed the same through the decades. "My modus operandi is to encourage everyone to listen to the world around them and make something great they can share. That's about it. That's what I was trying to do in 1983 and what I'm still trying to do now."