FEATURES
The "Tough Pop" of Australia's Rolling Blackouts Coastal Fever
By Zach Kelly · March 27, 2017
If you were one of the (too few) lucky people to be turned onto Australian guitar pop quintet Rolling Blackouts Coastal Fever's debut EP Talk Tight last year, there's a good chance it's still lingering in your consciousness. Taking cues from everyone from The Feelies to Real Estate to fellow Aussies the Go-Betweens, Talk Tight was one of 2016's cult classics, a crazy-hooky, impossibly-charming "mini-album" with infinite replay value. Thanks to their punk approach to writing and performing (every member but the drummer swaps instrumental and vocal duties), RBCF's self-described "tough pop" relies heavily on melodically-charged guitar work so addictive, it got them noticed by indie behemoth Sub Pop. With the arrival of their new EP French Press, fans can finally shelve Talk Tight (at least for a little while) and, thanks to the leg-up from their new partnership with the legendary Seattle label, the band can take off in search of much-deserved wider audiences. RBCF ringleader Fran Keaney took some time to Skype with us to talk failed videos, his native Melbourne's bustling rock scene, and the Clash.
This is a pretty obvious, cliché way to kick things off, but: I've looked, and I can't find anything about how you guys got your incredible name.
Aw, thanks! I'm glad you like it. A lot of our friends sort of think it's a bit silly. We used to be just Rolling Blackouts. When we started, we didn't take it very seriously. We knew that there were other bands called Rolling Blackouts in existence, but it really didn't matter for us because we were pretty much sort of a bedroom kind of band. Then, when we put the EP [2016's Talk Tight] out and we signed to Ivy League [Records], we had to take it a little bit more seriously. So we had to do something about the fact that we had exactly the same name as a few other bands, which was just causing a bit of confusion. So we expanded it, and yeah, it's sort of vague and melodramatic. That sort of fits with us—a bit chaotic, or something. I think it actually came from—well, one of the first songs we had was called "Rolling Blackouts," that was before we had a name, it was about [guitarist] Tom [Russo], when he was holed-up in Cambodia in a hostel, he had some sort of unknown virus. It actually kind of stuck with him, and he was bedridden for a while. So when we were trying names around, that one sort of came up—extensions for the name—and felt right, an extension on the earlier theme. That's where it came from. It's sort of nice to just have it unexplained as well. I just sort of like unexplained, melodramatic things [laughs].
Sorry, now it's explained. The mystery is gone.
[Laughs] It's not as good.
Thanks to Courtney Barnett, King Gizzard and the Lizard Wizard, Dick Diver, and now you guys, are we seeing yet another Melbourne rock renaissance?
I don't know? We were talking about this the other day. Certainly people are paying attention overseas. It's always been really strong here in Melbourne, the music scene here. So I don't know whether it's a Golden Age or business as usual. 'I don't really know,' is the answer to that [laughs]. Certainly the caliber of bands in the past few years is really strong—not necessarily including ourselves in that. But, week to week, the music coming out of Melbourne is just phenomenal. And there are plenty, plenty more great acts in Melbourne that haven't yet had that exposure. But I think that if people did a bit of digging, they'd see there are plenty of other bands in Melbourne kicking around that are of international standard, no doubt.
Any ones that come to mind that you're particularly into right now?
Yeah, well, Cable Ties, they were just on the community radio station two minutes ago. Cable Ties are this band that's sort of taken Melbourne by storm. They're pretty much the essence of a punk band, DIY driven. It's a boyfriend and girlfriend and their mate who used to play guitar but picked up the drums for this band. Within just a few months of getting started, they've really just clicked into this gear, and they're politically conscious, politically minded. It's just these huge, driving punk rhythms. And their lead singer, Jenny McKechnie, she's got it. So that's just one band that comes to mind. But there are any number of bands, from week to week, that are of good standard in Melbourne. It's hard for me to say, because I haven't grown up in any other city, so I'm obviously biased [laughs]. But what I'm saying is that the pool in Melbourne has always been pretty big, and the caliber is certainly there if you have a bit of a look.
It happens every other year, but it seems like the 'Is Rock Dead?' conversation has reared its ugly head again here in America for like the umpteenth time. Do Australian music fans have similar arguments, and do you think they have any value?
I think we do have similar arguments. The 'is rock dead' thing in terms of what's happening in the media, what's the overall social movement? Because, obviously, if you look back from decade to decade and from year to year, you saw what the overall trend might have been. Nü metal was the vibe of 1999, the salient genre of that year. I don't think there's any real value in charting what the salient genre was from year to year, because obviously there's gonna be subcultures that are bubbling along underneath it. The conversation about whether or not rock is dead is interesting in terms of looking at how a city is churning out rock bands. And I know Sydney sort of goes up and down in that regard, and I think it's really starting to hit its straps again as a rock city. For a number of years it was sort of dying out as a rock city because of the way the council laws were, and the state government laws were. Venues had it really difficult. It was expensive to get a license, and security requirements were so high. But I think those are sort of loosening. Also, I think Sydney is becoming more attuned to the fact that it's important to have a strong rock scene. So I think that's picking up again. So I think that the 'is rock dead?' thing is interesting in terms of looking at it city by city. But otherwise, the 'is rock dead?' thing is more an ivory tower sort of thing.
Your sound is kind of hard to define, but that's kind of part of the appeal. You're ostensibly a guitar pop band that approaches things like a punk band would, but with more focus on melody, rhythm. How would you define your sound?
I think you just said it better than I, actually. That's sort of been the idea though, the 'in the gutter, looking at the stars' theme. Try and make pop in a punk way. Or a punk band trying to write a pop song. That's what so great about the Clash. I love punk overall, I love all sorts of tunes anyways, but there's something about the Clash that was distinct from a lot of the other bands coming out at that point in time. They had this real… they had hooks coming out their ears. It wasn't done in a cheesy way, though. They were just jam-packed full of ideas on all their songs and all their albums. That's certainly something that we try and carry on. A punk band playing pop songs. It's a tricky one, because nobody wants to say "pop punk." It's a different imagination of what pop punk could be. It's rough pop. Or tough pop.
Just like on your debut seven-track EP Talk Tight from last year, the guitars really stand out on French Press. It feels like every song has ten memorable riffs. Who are some of your guitar heroes?
I play the acoustic guitar, which is not as exciting, so I don't really do any of the licking [laughs]. Certainly the Go-Betweens have been one of our biggest influences. It seems about 2006, I had just been on a heavy diet of the Go-Betweens, and I don't know, that just sort of—because we don't really consciously try and sound like them, but I think that there are just some bands that you just sort of take to—and from—whether consciously or not. I think this is part of our DNA. And I think that a lot of our leads are influenced by listening to the Go-Betweens. I think that [Grant] McLennan and [Robert] Forster would be some of the guitarists that are sort of lurking in the background of some of our leads.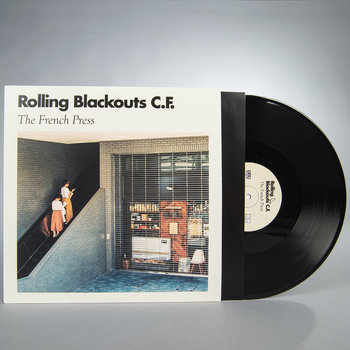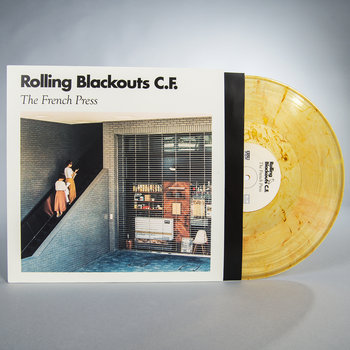 .
00:10 / 00:58
Merch for this release:
Vinyl LP, Compact Disc (CD)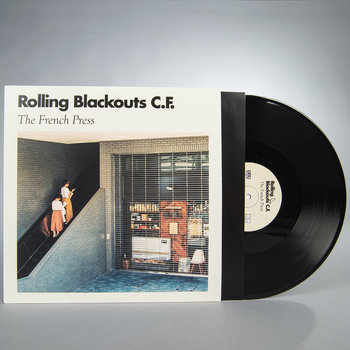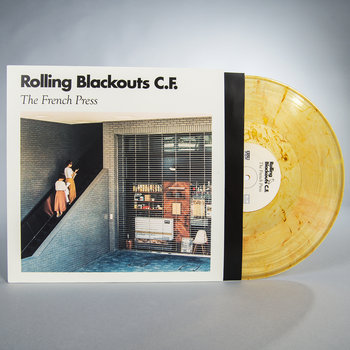 I think when Tom started playing guitar, he was listening to—or learning—a lot of the Shadows. I think he's got a bit of Hank Marvin in his style. That sort of twangy, little bit off-kilter, sort of spout-out, but really nice leads. Tom and Joe have distinct styles, and Tom has more of a sort of speedy sort of twangy sound, whereas Joe… he sort of moves more up and down the neck, more of an ethereal, wide-ranging kind of sound. Tom's a bit more regimented, whereas Joe is a bit more expansive. Joe doesn't really sound like anybody. I've heard people say that before. He plays in another band, Cash Savage and the Last Drinks, they're another really good band coming out of Melbourne, he plays guitar in them, and he used to be a bassist when he played in [our earlier] band. He wasn't really an electric guitarist, and he sort of learnt electric guitar while he was playing in this other band Cash Savage, and he's got this self-taught style that really doesn't sound like anyone else. A good mate of mine said how much he likes watching Joe because he just sort of plays it in a weird way. It's just sort of intuitive for Joe.
Aside from the first two leadoff singles, French Press seems more melancholy than Talk Tight. What informed that?
Well, it was recorded in winter, not summer, which is one thing. It was recorded in the same place we recorded Talk Tight. But yeah, it was in the depths of winter rather than the height of summer.
Where's that?
In the place where we rehearse. On Sydney Road, in Brunswick. In Melbourne. And we did it with our mate who has done all of our recordings to date. So it was that same sort of 'keep it simple' approach for this EP. I think we might change things for the album.
I don't know, it's hard to say what shaped the mood for it. Two of [the songs] were mine, two of them were Joe's, two of them were Tom's on this EP, so I can only speak for my two. My two were probably a bit more on the sunny side, more on the Talk Tight side. "Colours Run" and "Julie's Place." Whereas Tom's were—well, Tom and I co-wrote "French Press," but he sort of came up with the initial idea for it, and he wrote most of the lyrics. "French Press" and "Dig Up" [are the] ones Tom did. And then yeah, I suppose "Dig Up" is sunnier, just a bit more subdued. And Joe wrote "Sick Bug," which is a bit more angst-y. And he wrote "Fountain of Good Fortune," which is a bit more of a circumspect jam, circumspect wig-out. But I don't know, really. I think when we started the songs were a bit more shambolic or something. I think we're refining it a bit. We don't want to totally neuter the songs and have them devoid of little odd bits happening here and there.
But a little more streamlined?
Yeah, a little more streamlined. And I wouldn't want that to be too much the case, but I think that happened subconsciously. We might've just streamlined them a little bit more. But I don't know [laughs], I'm sorry. I haven't really thought about it that much.
The video for French Press' ft single "Julie's Place" just features you doing lawn work. Rumor has it that's because you blew your video budget. What happened?
It's a stress doing videos, particularly for young bands, I think, because you might not have that much money at your disposal, and you certainly don't have much experience making videos. We don't, anyway. We're good at writing songs and playing songs, but when it comes to making video clips, it's an art we're still refining [laughs]. With this one, Joe was overseas with his other band, so we couldn't have him in the clip, so we needed to come up with a different idea. And I came up with the idea that we should do like a stop-motion collage sort of a thing. We took photos of us and did this stop-motion thing. Turns out that's a lot more complex than we thought [laughs]. There was a friend of ours who helped with it— it just couldn't quite get there. And so we gave it another go where we— when Joe was home for a few days— we filmed some of us playing somewhere, but again that didn't quite get there. We learned a few lessons there, but still, we were without a video clip and a budget. So we came up with the idea of me mowing the lawn. I learned how to edit, I edited that clip. So we didn't pay…
Anyone.
We got a little bit of help from this guy Dirk Jonker. But it was edited by me on this computer in this room the day after we filmed it. I'm really proud of it, because we got it over the line. I really like the clip, actually. It certainly was not our first plan to do it that way [laughs].
You mentioned an upcoming full-length. French Press is roughly the same length as Talk Tight— they're both these EPs or "mini-albums." I guess I'm just wondering what the plans are for the LP.
It's really fun. We're looking at that at the moment. We've almost got an album's worth of songs at the moment, but we're just trying to write and write and write and write at the moment, to just make a really nice album that we'll be happy with for all our lives, really. We just want to write a really, really nice album. What happens after that, I don't know. You never really know. But as long as we can hang our hat on what—in our estimation—is a classic, I hope we can do that. Then we'll be all stoked. We've got this vision for the album which is really taking shape, a lot of the songs we're writing are fitting within this overall theme. Not that it would be a concept album, but it's got a vision to it, which is really exciting. So I think that we'll look to record in the middle of the year, maybe have a song out—or two songs out, I'm not sure— towards the back half of the year. All being well, a release at the end of the year, or early next year. But we're hoping to go and record that out of the rehearsal room, and we're just looking at a few places at the moment. If we're going to be doing it in the middle of the year, I'd like to go somewhere a bit sunny because I think that the sunlight is… that's what we all sort of need to feel good. I don't know if we'd be able to write the kind of album we're trying to write in the depths of winter in Melbourne. I think we'd need to be somewhere where it's a bit warmer.
Or you could just blow your budget on a bunch of those sunshine therapy lamps.
Yeah! [Laughs]
Getting picked up by Sub Pop Records must have been a trip. How did that happen?
They came across [Talk Tight] online, I think it was a Pitchfork review. They stumbled upon it, upon us, and they really liked it. They got in contact and asked what we were working on. We sent them a few songs and… I don't know, they were just really keen. It didn't take us very long to think about it. But having said that, it still hasn't really computed. So yeah, you don't really know… what that is, what it all means. But yeah, it's great. But as I say, it hasn't… I don't know, I'm still living here at home, it hasn't like, changed our lives, but it's so nice to have [French Press] put out on such a nice label, and put out all over the place. But it hasn't really sunk in, to be honest.
—Zach Kelly