FEATURES
Chilean Folklore Gets the Andean Electronic Treatment on "El Origen"
By Amaya Garcia · August 09, 2017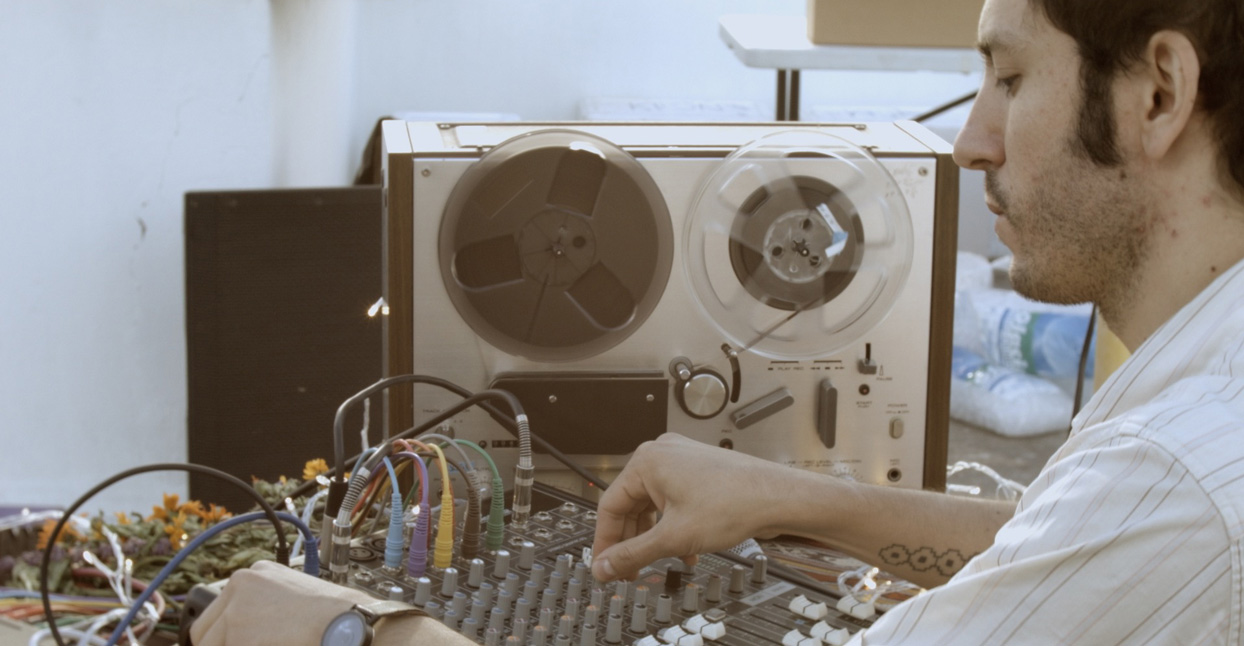 Rodrigo Gallardo and Nicola Cruz have spent years searching for and rediscovering their musical heritage, albeit on opposite sides of South America. Cruz, a French-Ecuadorian percussionist, has been bending the sounds of Andean instruments like the pan flute and the bombo into elastic, percussion-driven, minimalist electronica. He's been wildly successful in putting Ecuador on the map as a new music hub, paving the way for artists like Mateo Kingman and Río Mira.
Gallardo has been doing the same thing in Chile, with his band Matanza. For the past seven years, they've been exploring the possibilities of mixing Andean instrumentation with styles like dub and tech house, but always firmly grounding their sound in Chilean folkloric traditions. They mix styles for a heady brew; sometimes it's closer to tribal, sometimes house, techno, or bass. Like Cruz, they've managed to export their sound to European dancefloors, exposing distant audiences to the autochthonous sounds of the Chilean Andes.
Merch for this release:
Vinyl LP
Their trajectories are very similar, so it's no surprise that after meeting in 2014, they decided to pool their talents and make El Origen, a shared EP that features four of Gallardo's original compositions and Cruz's remixes in his particular style, often labeled as "Andean step." Gallardo's approach is closer to tradition, creating unique compositions that incorporate elements from genres like the Chilean nueva canción and the traditional chacarera. His sound is more acoustic, emphasizing the winds and strings, like the charango, giving Cruz the opportunity to deconstruct Gallardo's songs into their bare components and transform them into trance-inducing tracks.
We spoke to Gallardo and Cruz about the inspiration for the record and the importance both musicians place in nature, spirituality, and a return to their roots.  
El Origen is a peculiar album. Rodrigo Gallardo takes over the first half and gives us a window into his search for meaning and the value of going back to the roots. In the second half, Nicola Cruz turns around the semi-acoustic quality of Gallardo's tracks and turns them into minimalistic, percussion-led electronic music. Both parts complement each other but are wildly different in their approaches. How did you guys reconcile both of your aesthetics?
Rodrigo Gallardo: Nicola and I met a few years ago when he came to Chile to play with my band Matanza, and that's where our musical and personal relationship started. We just let that connection flow and evolve. […] I don't think 'reconciling our aesthetics' has ever been too complex because, while Nicola's sound is very tight and defined, it connects perfectly with what I do musically. They both meet harmoniously. It's a meeting between the organic and the modern.
Nicola Cruz: The tracks on El Origen are all Rodrigo's original compositions, which I reinterpreted for the B-side of the EP. I think we both had the freedom to shape the compositions however we wanted. Rodrigo and I don't need that much communication to understand each other, at least verbal communication. We just let the music speak for both of us.       
Merch for this release:
Vinyl LP
'El Origen' is also the name of the opening track, where you set the tone, musically and lyrically, for the rest of the record. Over a bed of acoustic guitars and the hypnotizing sound of the zampoña [pan flute], you talk about looking towards nature for answers concerning time, space, and place. Rodrigo, what was your inspiration for the track?
Gallardo: 'El Origen' was born out of a song my cousin Gustavo Muñoz composed. We've been making music together since we were children, and I decided to expand on his ideas and write my own version. I talk about the necessity of going back to our origins. Right now, existence in the modern world has become so sad and nefarious. The land, our land, is crying because of so much war and misery.
Merch for this release:
Vinyl LP
That's a deep statement to make at the beginning of a record. In your return to those origins, you also explore other themes like death and renaissance. Why did you decide to explore these themes? What stories did you want to tell?
Gallardo: Yeah, I got a little bit existential on the record. I explore these themes in a bid to represent my restlessness—trying to understand the inherent weirdness of being alive on Earth and our purpose or mission in life. They're all very personal questions, but these are necessary questions for humanity as a whole. We go through life so fast. We rarely stop and reflect on why we're here, where we come from and where we're going.
Seeing as these songs were extremely personal for Rodrigo, did you have a hard time reinterpreting them into your own style, Nicola?
Cruz: Reinterpreting them came very natural to me, I would say. I feel very comfortable working with Rodrigo's material. I always have. I like to think that this work fuses both of our knowledge concerning electronic music and our taste for the music of the mountains.
Nicola, one of the most notable aspects of your remixes is how airy the production sounds. The bass, the percussion, the charango and Rodrigo's voice all have this echo that overwhelms in a good way. Why did you decide to take that approach, in terms of production? Which elements of Rodrigo's music did you want to highlight in your remixes?
Cruz: I wanted to find this symbiosis between the main motifs of the EP. Percussion always plays a fundamental role in my production style, and [across the EP] there was this rhythm present that varied in origins—sometimes a little bit more African, sometimes more South American. I wanted to focus on that.
Merch for this release:
Vinyl LP
Aside from Andean music, were there other environments, sounds, or music that inspired you guys during the making of El Origen?
Cruz: [For the remixes] I tried new Andean drums to shape these compositions in a different manner.
Gallardo: For me, [the influences] go further than what you can hear in this record—they go hand in hand with my evolution as a composer and a musician. I've been listening to and playing folkloric music since I was a child. I grew up hearing Víctor Jara and Violeta Parra sing. They were the pillars of this amazing movement in Chile called nueva canción that was squashed during the dictatorship in the 1970s and remained silent for a very long time. That's my musical flag right there. With the passing of time, I've incorporated more modern elements, like electronic music. But, with El Origen, I wanted to make clear that, even if the music has all these modern elements, the basic structure is and will always be a huayno or a chacarera. The rhythms will always be closer to the music of [Chile].
When it comes to talking about Chile, we always hear about it as South America's pop music factory. Interest in other genres—like electronic music or fusions of folkloric sounds—has spiked in recent years, bringing back into the spotlight genres like nueva canción, which you mentioned. Rodrigo, are there other elements of Chilean culture that you would like to highlight? 
Gallardo: As I mentioned before, this fusion of electronica and folklore isn't new to me. In fact, I think my band Matanza is part of the class of musicians that pioneered this sound. We've been doing this for more than seven years. Of course, all around the world there is definitely a renewed interest and necessity to go back to our respective roots, not only musically, but spiritually as well. When it comes to my music, what I want to do is rescue that local sound that comes from Víctor [Jara] and Violeta [Parra], just like they did back in their day. But, I also want to put an emphasis back into lyricism. I consider lyrics super important because we as artists have an obligation to represent the thoughts and feelings of those who don't have a voice.
—Amaya Garcia