FEATURES
Robert Wyatt: Inner Visions
By Paul Brad · October 08, 2013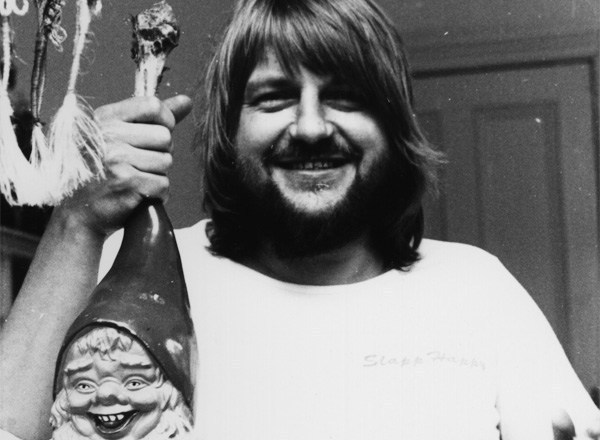 "I'm just so incredibly relieved when I get enough coherent material to do an album. I am always amazed I get that far."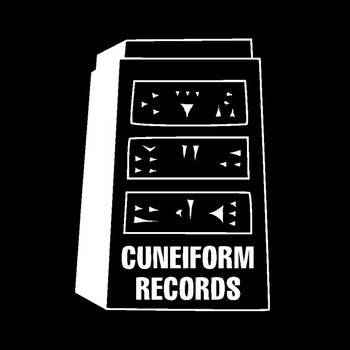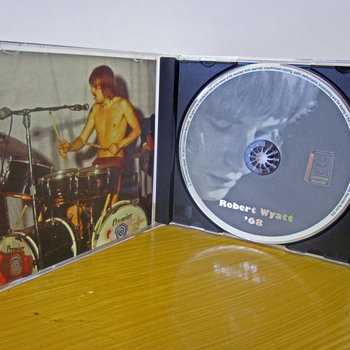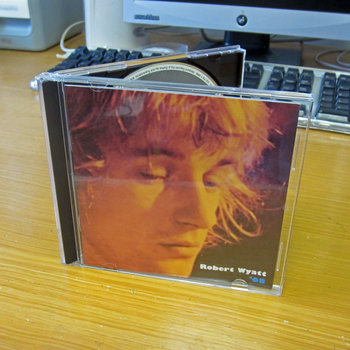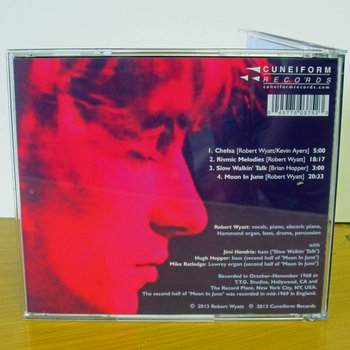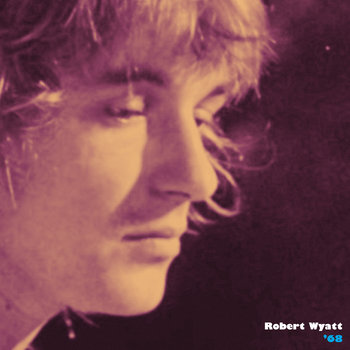 .
00:10 / 00:58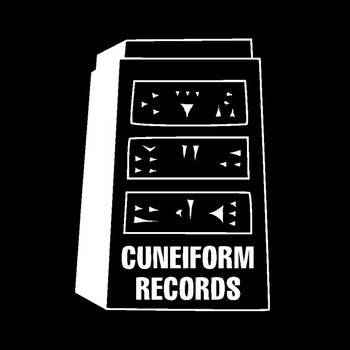 Merch for this release:
Compact Disc (CD), Vinyl LP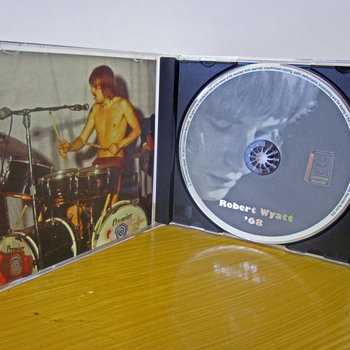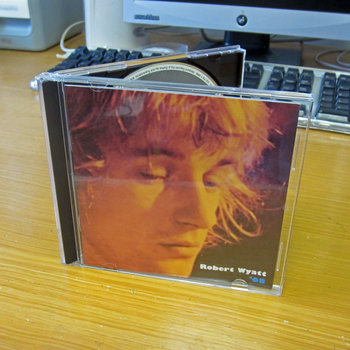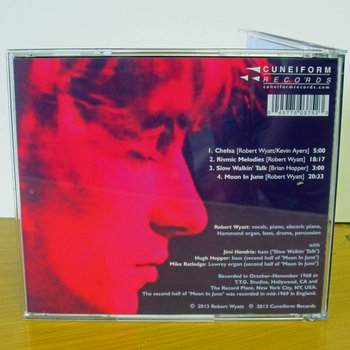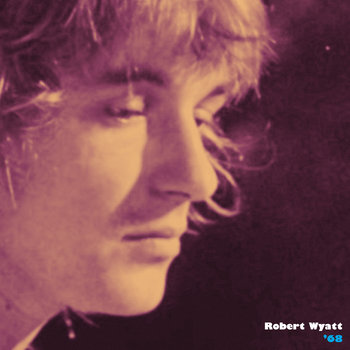 The latest episode in a musical career that spans almost five decades is Robert Wyatt-'68 – a collection of "lost" but recently unearthed demos that deliver an immersive surge of creative ideas and energy, and blur free jazz with arts lab experimentalism. The demos illuminate the unique songwriting process of Soft Machine's then 21 year old drummer/vocalist, Robert Wyatt – a wayward and consistently original artist who continues to generate admiration from artists and collaborators as diverse as Bjork, Paul Weller, Brian Eno and Hot Chip.
Robert Wyatt was one of a generation who threw off the shackles of British post-World War 2 austerity and cold war nuclear angst to forge a dynamic underground musical culture. Soft Machine, regarded as part of the Canterbury Sound (a loosely connected avant-garde music scene featuring prog rock and jazz musicians, mostly from Canterbury, England) was at the heart of this cultural revolution. Formed in 1966, the band uniquely featured two distinctive vocalists – Kevin Ayers and Robert Wyatt – and their extended performances at LSD-fuelled experimental sessions like UFO remain the stuff of legend.
Soft Machine shared the same management as Jimi Hendrix, and in 1968 this relationship resulted in a US tour with the Experience. Wyatt's band also recorded their now classic psychedelic-proto-prog-rock self-titled debut LP while in New York City. Upon culmination of that tour, a weary Kevin Ayers threw in the towel, sold his white Fender Jazz bass to the Experience's Noel Redding, and retreated to Ibiza, Spain. Wyatt, on the other hand, stayed in LA to take advantage of free downtime at the TTG Studio in LA. It was there, and later in New York, that Wyatt crafted the "lost" demos, the compositions that were that were to re-appear on Soft Machine Vol. 2 and Third.
On Volume 2 the unique combination of eccentric wordplay and largely instrumental pre-jazz fusion created by the trio of Wyatt, keys player Mike Ratledge, and bassist Hugh Hopper sat comfortably alongside the Mothers Of Invention's Uncle Meat, Captain Beefheart's Trout Mask Replica,  Roland Kirk's Volunteered Slavery and Miles Davis' Bitches Brew.  This classic art school fare was the first Soft Machine LP that I bought, and it initiated me into a lifelong relationship with the work of Robert Wyatt.
Tragically, in 1973, during the period of Matching Mole (a pun on machine molle – French for Soft Machine) Wyatt fell from the fourth floor of a building and was paralyzed from the waist down. Fortunately, the trauma of being restricted to a wheelchair failed to diminish his passion, intellectual vision or his approach to rhythm. The following year he famously appeared on BBC television singing his hit version of the Monkees "I'm A Believer" from his wheelchair, despite resistance from a bigoted and truculent producer claiming it "'was not suitable for family viewing." Wyatt's performance paved the way for a post punk kindred spirit, Ian Dury, whose "Spasticus Autisticus"  was also deemed by BBC to be offensive to polite sensibilities.
Over the years Robert Wyatt has battled self-doubt, depression and alcoholism. He doesn't do hope and despair, optimism and pessimism. But with his wife, kindred spirit and artist Alfreda Benge (aka Alfie), he has channeled a resolutely political and internationalist perspective into restless creativity. "In a sense the politics came out of the music," maintains Wyatt. "Mingus and Max Roach were involved in making political records… Sonny Rollins Freedom Suite is wonderful. My allegiance to the music gave me an allegiance to what they were saying. I knew which side I was on."
However, the abstract became concrete when he was confronted with apartheid. In 1974, a group of exiled South African master musicians were blazing a fiery trail through the London jazz scene. Both Robert and stellar alto saxophonist Dudu Pukwana were signed to Virgin, and on Ruth Is Stranger Than Richard joined forces with the irrepressible trumpeter Mongezi Fezi to deliver a jubilant version of Pukwana's "Sonia."
"It was so absurd, it was an outrage," maintains Wyatt. "For me it wasn't just a problem for South Africa. As long as apartheid existed and the South African government was dealt with seriously, and not as a gangster terrorist tyranny, we were all dirtied by it. That's what got me into politics – defense of my culture."
For many, Thatcher's Britain of the late Seventies and Eighties was dark; punk sparked moral panic while disillusioned Afro Caribbean youth set the inner cities alight. In 1982, Rough Trade released Wyatt's singles collection, Nothing Can Stop Us, which included great covers of Chic's "At Last I am Free," "Red Flag" and "Stalin Wasn't Stallin'" (an American classic!) and it struck a resounding chord with the NME. The influential music weekly was fearlessly engaged with the politics of the day, and its support undoubtedly contributed to Wyatt's ethereal version of Elvis Costello's anti Falkland War masterpiece "Shipbuilding" entering the UK Top 40.
On the home front, bitter class struggle prevailed and the clash between the miners and Margaret Thatcher would change the face of Britain forever. Simultaneously, in '84 the international struggle against apartheid gathered momentum, propelled along by Jerry Dammers' Special AKA anthem "Free Nelson Mandela." Adding his voice to the cause, Robert Wyatt joined forces with the SWAPO choir to herald the "Winds Of Change" which, in reality, would take another decade to come to fruition.
I first met Robert in 1988 at a small jazz festival in North London. I was selling copies of issue No 1 of a magazine I'd co-founded – Straight No Chaser – and undeterred by his sage-like presence I stepped up to offer him a gratis copy. It was a small token in exchange for many years of inspirational and enlightening  music, and through Chaser we kept in touch. A decade later, we met again, this time to talk about Shleep – a refreshing, collaborative recording that featured his long-time friend Brian Eno.
Joe Boyd's Hannibal label had re-released Nothing Can Stop Us and two reworked solo albums – Dondestan (Revisited) and Old Rottenhat – both of which reflect the toll that the Thatcher years took on many. Shleep, however, was different. At the heart of the album resided the poetry and artwork of his wife Alfie and their life on the edge of a cold north sea beneath expansive Lincolnshire skies. Add the odd science text, Conan Doyle's "quite mad but quite wonderful" pro Fenian father, a touch of Mingus where "the spoken word is simply a kind of atonal note set off in a harmonic context," and you'll get the picture.
A new millennia arrived, and in 2004 and it was a joy to see Robert Wyatt curate the annual Meltdown (an annual festival of music, art, performance and film) on London's South Bank. He joins a roster of globally renowned artists like Laurie Anderson, Ornette Coleman, Lee 'Scratch' Perry , Yoko Ono, Jarvis Cocker, Nick Cave and Scott Walker who have also curated the Meltdown. It's testimony to the innovative nature of Wyatt's  music that subsequent generations keep discovering him and feel drawn to engage.
While Paul Weller plays on Wyatt's Comicopera (2007), their initial collaboration goes back to Shleep. They were working in the same studios and Weller heard that Robert was covering the Style Council's "The Whole Point of No Return." To offer his services on guitar he simply left him a note saying, "What about it then?"  As for Hot Chip in late 2008 – after they'd remixed Wyatt and Bertrand Burgalat's  "This Summer Night" into a minimal electro bubbler, they asked him if he'd like to cover any of their songs. Robert chose four. The rest is history.
Robert Wyatt is a reader, a thinker, a wordsmith. He's self-effacing and funny. He's a craftsman who has built on those Robert Wyatt- '68 recordings, layer upon layer, over decades. As a drummer, he's gradually abandoned the bass drum, opting for drums that are gaseous and smoky, that lift the tune while allowing him to fill the track with air. That said, it's his voice – and more recently his trumpet – that defines Robert Wyatt's soul piercing sound. Though he doesn't play live very often, he loves to play.  "I love playing. I do play… I improvise a lot at home. But I'm just so incredibly relieved when I get enough coherent material to do an album. I am always amazed I get that far." A luta continua!
*Robert Wyatt Quotes – Straight No Chaser Issue 44
*Top Sixties Read: Joe Boyd's White Bicycles: Making Music In The Sixties (Serpents Tail)