FEATURES
Rhyton's Interstellar, No-Wave Cop Show Music
By JR Moores · July 28, 2016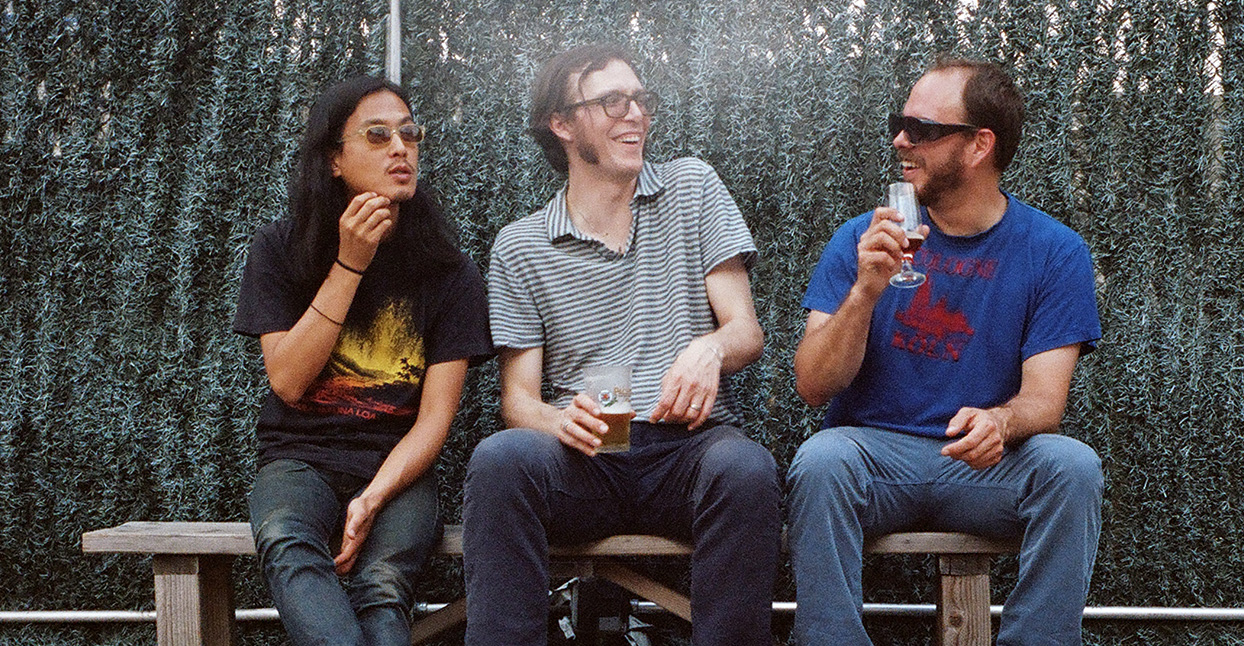 Dave Shuford isn't joking when he says he loves to "upend preconceptions and expectations as often as possible." He cut his teeth playing in New York's premier weirdo improvisers The No-Neck Blues Band, as well as their various offshoots. When the activity of that freestyle collective wound down, he reinvented himself as an outlaw country songwriter under the D. Charles Speer alias for a string of releases between 2006 and 2014. Toward the end of that run, Shuford decided to shake things up yet, and formed the "ethnic rock power trio" Rhyton. It's a supergroup of sorts, featuring drummer Rob Smith of Pigeons and Stygian Stride's Jimy SeiTang on bass, clarinet and keyboards. Shuford handles guitar, bouzouki, mandolin, and other stringed instruments, and the new album is a consistently playful and surprising collection.
On Redshift, Rhyton dip in and out of Sun City Girls-esque avant-rock, laid back raga-like bluegrass, and spidery psychedelia. There's even a section that sounds like the theme song for the trippiest vintage cop show imaginable.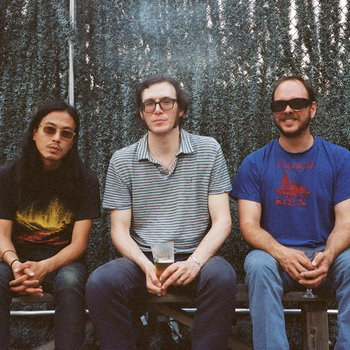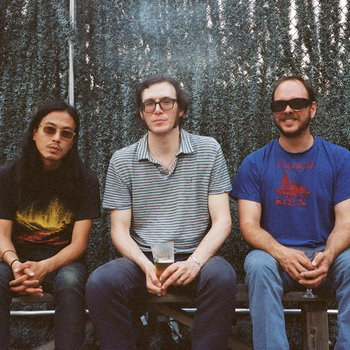 Where previous releases were essentially instrumental affairs, two of Redshift's numbers feature lead vocals from Shuford, suggesting that his D. Charles Speer persona is starting to seep into the sound of his current group. His first vocal appearance occurs on the album's 9-minute title track which, for the majority of its running time, takes the form of a jolly, southern-fried stoner shuffle. After its accessible, boogieing beginnings however, the final three minutes of "Redshift" mutate into an arty, ambient drone piece. Shuford describes this track as, "the pivot point, where the record goes from this vibrant song with layers of human heat into this removal from the world as we know it, exploding off the Earth and sent into a cold vacuum of expanse. The transmissions from the inorganic beyond—the realm of matter and energy—coalesce into this flickering signal."
From there, he says, the album begins reconstructing itself in real-time. "The rebirth is made as the LP rebuilds from that void to singularity in the solo track 'Concentric Village'," he says, "Then it builds to trinity in 'The End Of Ambivalence,' which is a trio track with no overdubs; then to multiplicity, in the heavily layered songs that follow." Needless to say, Redshift is a ride.
Rhyton is named after an ancient drinking vessel, though the term also acts as a handy homophone for "right on." The group's previous album, Kykeon, took its inspiration from a psychoactive drink enjoyed by the Ancient Greeks. A "redshift," on the other hand, is a more modern astronomical term. "You've got to know your roots to build toward a viable and open future, which is ever becoming the present," explains Shuford. "Although the term 'redshift' is a recent concept, it can be thought of as a result of peering into the past, and how our viewing position affects our perception. [We're] thinking of the continuum of space/time as an available resource to tap into and resonate with—a way to break out of our all-consuming societal micro-obsessions of the 'hot now.'"
Nestling within this ancient odyssey-turned-astronomical expedition is the album's other vocal-led track. For someone whose name is synonymous with experimental music, the moment Shuford launches into an earnest cover of Joe Walsh's "Turn to Stone" is, to say the least, surprising. He says he is obsessed with Walsh's 1972 original and, after indulging in various renditions recorded by Walsh and others, Shuford realized it would be an enjoyable way for Rhyton to explore different guitar tones, interlocking keyboard grooves and "serious 70s sounds." It shares its harmonic progression with another of Shuford's favorites, "Astronomy," by Blue Öyster Cult, and offered him endless opportunities for solo exploration. "I thought of this LP as a journey through various guitar approaches and Joe Walsh is certainly a kind of apex of singing tone and tasteful playing from that era of rock," he says. "I hope our version is a fitting tribute to an under-appreciated rock maniac."
It's a political song, too. Walsh's lyrics refer to the Nixon administration, the Vietnam War and the protest movement, although they still hold relevance today. Shuford doesn't see Rhyton's cover version as a political statement "per se," even if he does lament the "culture war shenanigans, false flags, red herrings and various media spectacles that hijack decent dialogue from occurring." He thinks, "we need new leadership in many cases, but the trends are disturbing to say the least, in terms of the political choices made by the populace and leaders alike."
Don't expect Shuford to run for office, though, like his 70s rock hero once did. (Walsh ran for President in 1980 and for Vice President in 1993, but the sometime-Eagle's pledge to make "Life's Been Good" the new national anthem and his promise of "free gas for everyone" did not secure him the keys to the White House.) Seeing little prospect of any "nice ideas" getting through what he calls the "fetid hell-swamp of congressional gridlock," Shuford says he prefers to reserve his idealism for artistic pursuits. And who can blame him for sticking to where his prodigious talents lie? Besides, the United States probably isn't quite ready to replace "The Star-Spangled Banner" with "Brain Soaked Hide" by The No-Neck Blues Band.
—JR Moores