FEATURES
Return of the Colossus: Mr. Lif
By Oliver Wang · November 04, 2014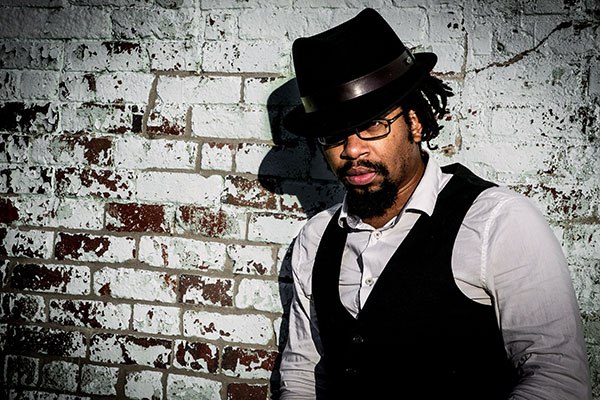 Photo by Amanda Macchia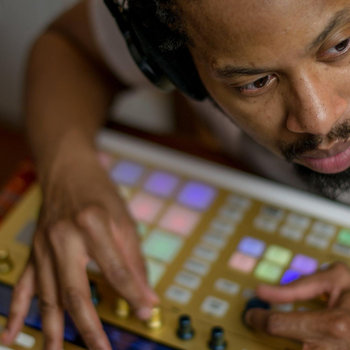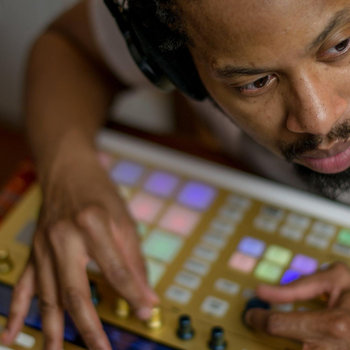 Keep your sunny days, Mr. Lif likes it moody. Since leaving his native Boston in the mid-1990s, the veteran MC has bounced between the Bay Area, Philadelphia, and of late, the Pacific Northwest. As it turns out, that region's drizzly climate is good for his creativity. "Once it's late fall, you get constant gray skies and that haziness. It gets me into a zone for writing and making beats, just crafting songs," Lif says. Considering that he had been on a self-imposed, solo recording hiatus for several years, Lif fans should be happy that stormy weather is proving to be the catalyst for some new releases.
Since first emerging in the late 1990s, Mr. Lif has always cut a memorable figure: a slim, bookish dread head that somehow produced a booming, guttural voice you'd expect from someone twice his size. It was a flow he began to develop as a college student in Upstate New York, not exactly a hip-hop hotbed at the time. When he and his cipher partners first started freestyling, the local stores stocked so few rap records that they had to resort to rhyming over Portishead. "The Dummy album was out and we would just rhyme over 'Sour Times,' you know, because [singer Beth Gibbons] wasn't rhyming, so we would rhyme over her," Lif laughs.
Photo by Amanda Macchia
When Lif returned to Boston, he found a cohort of hungry compatriots, including 7L & Esoteric, Truth Elemental and Virtuoso. All were eager to lift the city out of New York's shadow and they collaborated to record the Rebel Alliance compilation in 1997. Lif followed that with a series of profile-raising releases, including his solo debut 12-inch, "Electro," and a single for the Beastie Boys' Grand Royal imprint, "Farmhand." (All of Lif's early releases are available through his anthology, Sleepyheads.)
Around this time, Lif crossed paths with El-P, rapper/producer for Company Flow. They became friends and as Lif was prepping a debut EP, Enter the Colossus, El-P approached him with an offer to release the record through his new label, Definitive Jux. "I had no idea he was going to build Def Jux into what it became," says Lif. "I felt like I was just taking a shot, a leap of faith with a friend. And, wow, did he ever hit a home run."
In Lif's prolific time with Def Jux — a dozen releases over six years — his identity solidified as a politically engaged artist: nice with the flow, but also incisive in his messaging. "I think that really comes from me being the child of two immigrants from Barbados, and just watching them try to give me the best life possible, but struggle," he explains. Through his parents, he saw the callousness of capitalism. "When the home phone rang," he says, "you didn't know if you wanted to answer it because it could be a bill collector…hassling my folks." He also came of age through two different Gulf Wars, which informed his skepticism of U.S. militarism (see the cover of 2002's Emergency Rations).
Photo by Amanda Macchia
For all of his success at the time, Lif admits that, "bottom line, I got spoiled." When he first started, it was a mark of pride for Lif to produce his own material. "In the very beginning, I was working my humble little day job, dreaming of beats all day; I couldn't wait to go home. It was just 'attack the EPS-16+' at that point." As his career took off, however, he had heavyweights like El-P, Edan, Fakts One and Insight backing him. "I got away from my own philosophy of self-sufficiency and I was able to get away with it for a while because I was surrounded by all these talented producers who were in their own period of high output."
However, when the mid-2000s rolled around and the bottom dropped out of the record industry, Lif felt unmoored and dissatisfied in his own music-making process. After recording his second LP with Def Jux, Mo' Mega in 2006, he parted ways with the label and then laid low for three years until popping back up in 2009 to self-release I Heard It Today, which he describes as "a very humble, independent release — intentionally humble." It was, as much as anything, a way to prove to himself that he could still do this on his own.
Photo by Amanda Macchia

Since 2009, Lif has chosen to focus more on collaborative work than his own material. He's always had a long history of working with other artists (his Sleepyheads 2 is devoted just to his collaborations), but what's distinguished his partnerships over the last few years is how eclectic they've been. For a while, he was living and recording with the Balkan brass band, Brass Menazeri. "I found a lot of natural pockets to rhyme in with Balkan brass music," Lif explains.
He's also been a preferred guest with Washington D.C.'s Thievery Corporation, who were introduced to Lif through a photographer. "I didn't see it coming at all, but what a game changer! I've been touring with Thievery Corporation since 2011," he says. One of the songs they recorded together, "Culture of Fear," was remixed by Oakland's Polish Ambassador. "My jaw dropped. It was just as professional as the original, and just an amazing spin on the song," says Lif, and he sought out Polish Ambassador to work with more directly. Lif, Polish Ambassador, and singer/songwriter Ayla Nereo have now formed a new group: Terra Bella.
Lif explains that his penchant for collaborations comes from a feeling of liberation he gets from working with other people's expectations instead of his own. "When you're doing your own record…your own expectations are probably the hardest things to get out from under. But when someone hits you up, and they're like — 'Hey man, drop a verse on my record!' — that's freedom right there. For those 16 bars or whatever, you get to cut loose and have reckless abandon."
Mr. Lif with Thievery Corporation, Photo by Lacey Terrell
Looking forward, Lif is finally ready to get back to his own work. He's been brainstorming on Return of the Colossus, an EP featuring Q-Bert on the cuts and Lif exclusively on both the mic and the production boards. As he sees it, he's finally coming back full circle to his beginnings as a self-sufficient rapper/producer. "It's been a beautiful adventure, getting back to my roots as a beat maker, making more of that uncompromising filth that got me noticed in the first place." Just hope for gray skies to keep his creativity in focus.