FEATURES
Resistenzia: A Voice from the Cuban Metal Underground
By Philip Freeman · February 02, 2017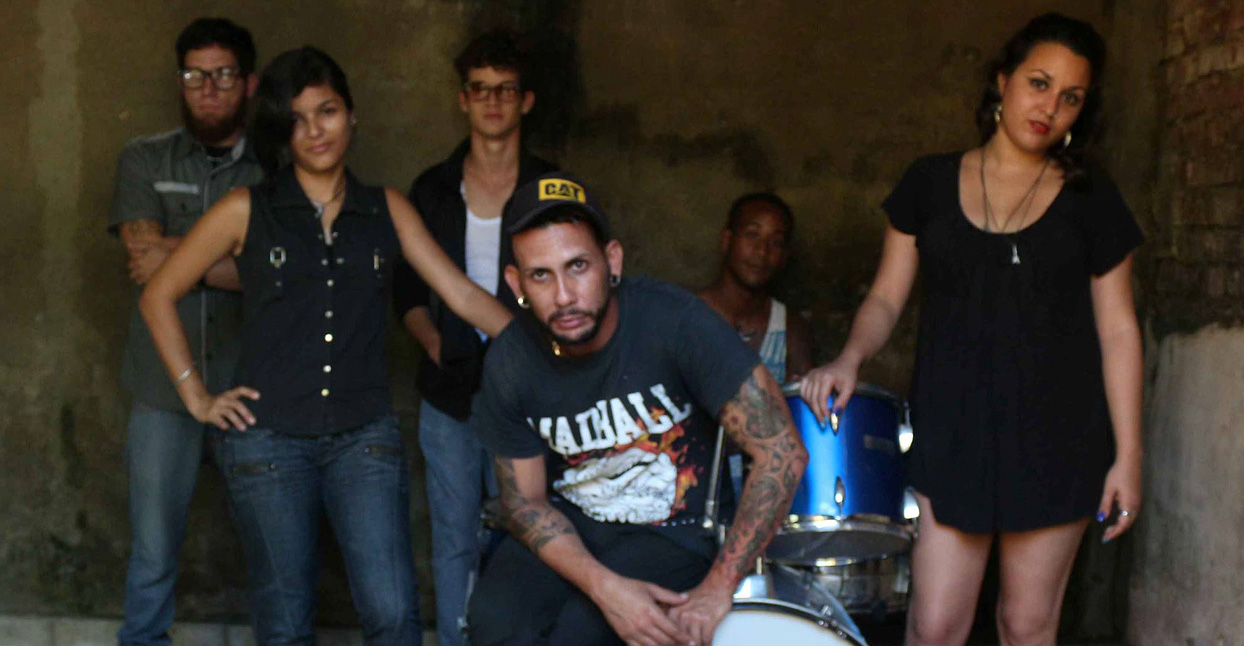 Given the recently-broken cultural isolation of the long-standing American embargo of Cuba, coming across a band like Resistenzia from outside the country might feel like a pleasant shock—but the band has been going for a solid decade. In 2012, they recorded Guerra Avisada (War Warned), and have subsequently released a single, "Quisiera." They're currently demoing tracks for their second album (including a Pantera cover), but finding a studio—never mind the money to use it—remains a challenge.
Their sound is a forceful blend of hardcore and thrash, with occasional atmospheric keyboards; if Resistenzia were from an American city, it would be easy to imagine them on the Victory roster. Though the lineup has fluctuated over the years, particularly when it comes to drummers and keyboardists, vocalist Amaury Trimiño, rhythm guitarist Lianna Teruel, and bassist Delvis Díaz have been constant presences. They regularly play shows around the island, and even host their own annual festival called Festival de la Resistenzia, a day-long affair with support from local musicians, and they hope to celebrate their 10th anniversary this year with a larger tour around the country.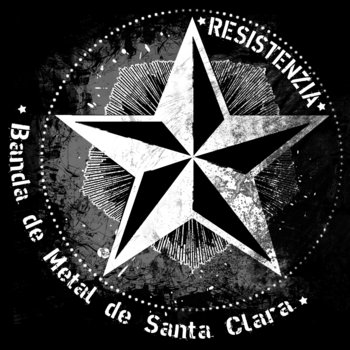 .
00:10 / 00:58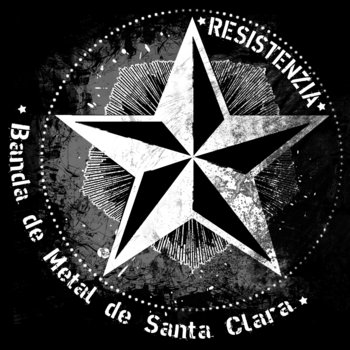 Díaz answered questions by email, in Spanish. His original answers, and our translations, are below.
Your album Guerra Avisada is from 2012-2013, but you are currently recording new material. Do you know when that will be ready?
El álbum Guerra Avisada efectívamente fue grabado en el 2012. Posteriormente en el 2013, grabamos un sencillo titulado "Mis Demonios" que también pueden escucharlo en Bandcamp. Hemos seguido creando temas, pero debido a constantes cambios en la alineación y a que el estudio donde grabamos — el único existente en nuestra provincia — dejó de funcionar. Así es que no hemos grabado material nuevo. La proyección de la banda es comenzar una nueva grabación es este año. El demo, según lo que tenemos pensado hasta ahora, se llamará Guajiros Infernales y contendrá cerca de ocho temas más un tema tributo a Pantera.
The album Guerra Avisada was actually recorded in 2012. Later in 2013, we recorded a single entitled "My Demons," which you can also listen to on Bandcamp. We have continued to write songs, but [the album was delayed] due to constant lineup changes, and the studio where we recorded—the only one in our province—stopped working. So we have not recorded new material. The goal of the band is to start a new recording this year. The demo, according to what we have in mind so far, will be called Guajiros Infernales and will contain about eight tracks, plus a Pantera cover song.
Your single "Quisiera" features some lyrics in English. Do you plan to sing more in English in the future?
Efectivamente "Quisiera" posee algunas estrofas en inglés, y no solo ese tema, sino otros dentro de Guerra Avisada como "Más Vivo Que Nunca" y "Simple Proletario." Esa siempre es una opción que se puede explorar para de esa forma enviar un mensaje a un posible público angloparlante. En la próxima grabación, solo el tributo a Pantera será en inglés, pero no descartamos volver a mezclar las letras en inglés y en español, e incluso crear letras totalmente en inglés. Eso dependerá precisamente del público al que nos enfrentemos.
Indeed, "Quisiera" has some verses in English, and not only that song, but also others on Guerra Avisada like "Más Vivo Que Nunca" and "Simple Proletario." Sending a message to a possible English-speaking audience is always an option that can be explored. In the next recording, only the Pantera tribute will be in English, but we don't rule out mixing lyrics in both English and Spanish, or even creating lyrics in English entirely. That will precisely depend on the audience we face.
The band is celebrating its 10th anniversary in January 2017. Do you have any special shows planned?
Nosotros comenzamos en Enero del 2007, pero consideramos nuestra creación real el 5 de Mayo del 2007, que fue nuestro primer concierto oficial. Y sí, tenemos pensado varias actividades. Intentaremos incluirnos en el mayor número de festivales de nuestro país y presentarnos en bastantes provincias posibles como una especie de gira. En mayo — como ya viene siendo costumbre — vamos a realizar un mini festival de un día con varias bandas cubanas. Este evento, al que llamamos El Festival de la Resistenzia, se planea que comience desde temprano con una convención de tatuajes. A partir de las 2:00 pm, comenzarán los conciertos de manera ininterrumpida y donde cerraremos nosotros a las 11:00 pm. Además, tenemos planificado terminar la grabación y realizar un videoclip. Todo eso con la intención, por supuesto, de que no pase el 10 Aniversario desapercibido.
We started in January 2007 but consider our actual formation [to be] May 5, 2007, which was our first official concert. So yes, we have several activities in mind. We aim to enlist in plenty of Cuban festivals and to tour in as many provinces as possible. In May—as is customary for us—we are going to [hold] a day-long mini festival with several Cuban bands. This event, which we call Festival de la Resistenzia, is slated to start early with a tattoo convention. From 2 PM on, the concert will begin, and we will close at 11 PM. We also plan to finish the recording and make a video. All this with the intention, of course, to not let the 10th anniversary go unnoticed.
Have you ever performed outside Cuba? Do you think you will be able to, now that relations with the U.S. have opened up?
Nunca hemos tenido la posibilidad de presentarnos fuera del país. Deseos no nos han faltado porque creemos que nuestra música sería bien recibida en países con más cultura metalera. Es posible que con esta "apertura" algo se pueda lograr, pero todo depende del futuro. Por lo pronto no tenemos posibilidad por nosotros mismos para lograr una presentación en otro país. Si apareciera un productor extranjero con la intención de invertir en nosotros, entonces sí es posible. Pero mientras tanto hay que esperar.
We have never had the possibility to present ourselves outside the country. We haven't lacked the desire, because we believe that our music would be well received in other countries that have more of a metal culture. It is possible that with this new "openness" that something can be achieved, but everything depends on the future. But by ourselves, we don't have the possibility to get a gig in another country. If a foreign producer appears with the intention of investing in us, then it is possible. In the meantime, we have to wait.
.
00:10 / 00:58
What is the state of the metal scene in Cuba? Are there a lot of bands? Is it easy to buy records, or do you mostly stream or download music?
La escena metalera del país se está depauperando, debido en gran medida a la migración que está desangrando nuestro movimiento — bueno, realmente está desangrando al país entero. Lo otro es que bandas establecidas han empezado a crear temas más comerciales, más ligado a la discoteca con la idea de lograr una mayor audiencia. Pero en detrimento del género, la mayoría de la música [metalera] que se escucha es descargada de Internet por unos pocos y después compartida entre los conocidos.
The metal scene of the country is being depleted, due largely to the migration that is bleeding our movement—well, it's really bleeding the whole country. The other thing is that established bands have begun to create more mainstream songs, mainly linked to the club scene, with the idea of achieving a greater audience. But to the detriment of the genre, most of the [metal] music you hear is downloaded from the Internet by a few and then shared among acquaintances.
Is the government tolerant of metal, or do you get harassed for your music? 
Al gobierno no le importa un comino el metal, les da lo mismo. Si no existiera el metal sería mejor para ellos; no lo apoyan y ponen trabas para que alguien lo apoye. Todo se logra a cojones, con más deseos que posibilidades. Hacen algo para mantener tranquilo pero nada más.
The government does not give a damn about metal, they don't care. If metal didn't exist, it would be better for them; they don't support it and hinder someone supporting it. Everything is achieved with balls and more desires than possibilities. They do things to keep the peace, but nothing else.
How would you classify yourselves, politically? Are you communists, or capitalists, or somewhere in between? And what message are you including in your lyrics?
Todos los cubanos somos políticos por obligación. Nadie que vive en Cuba puede escaparse de la política. El gobierno, desdichadamente, sitúa la política por sobre la economía. Nosotros lo que somos es patriotas. Personalmente, no me considero comunista, o por lo menos no el comunista que se pregona acá, ni tampoco capitalista porque no tenemos capital. Alguno así que solo somos cubanos tratado de salir adelante, y estamos conscientes que nadie nos va a regalar nada. Nuestras letras están cargadas de críticas sociales, y atacamos lo que desde nuestra posición creemos que debe ser cambiado. Ejemplo de ello es "Devaluada" que trata sobre la devaluación de la moneda; "Simple Proletario" toca el tema de los bajos salarios; y "No Hay Horizonte" que trata precisamente sobre el inmovilismo reinante, por solo citar tres temas. En general, Guerra Avisada toca temas sociales que nos preocupan a todos, que nos duele.
All Cubans are political out of obligation; nobody living in Cuba can escape politics. The government, unfortunately, places politics above the economy. We are patriots. Personally, I do not consider myself communist, or at least not the communism that is preached here, nor capitalist because we do not have any capital. We are only Cubans trying to get ahead, and we're aware that nobody is going to hand us anything. Our lyrics are loaded with social criticism and attack what we believe must be changed, from our point of view. An example is "Devaluada," which is about the devaluation of currency; "Simple Proletario" touches on the subject of low wages; and "No Hay Horizonte" deals with the prevailing immobility, just to mention three tracks. In general, Guerra Avisada touches social issues that concern us all, which hurt us.
.
00:10 / 00:58
In many Latin music genres like salsa and norteño, female musicians are very rare, but you have a female keyboard player and a female guitarist. Is the metal scene in Cuba more open to female musicians than more traditional music?
Existen las músicos metaleras en Cuba, pero realmente son una minoría. Lo que más existen son las cantantes y tecladistas. De hecho, solo conozco dos bajistas [mujeres] y en la guitarra solo a la nuestra.
There are female metal musicians in Cuba, but they really are a minority. There are a few more [women] singers and keyboardists. In fact, I only know two [female] bass players, and on the guitar, only ours.
How do you reach an audience outside of Cuba? Are there any other Cuban metal bands that you think people should know about?
Realmente desde que subimos nuestra música en Bandcamp, varias personas nos han contactado que se han fijado en nosotros. Nos han hecho varias propuestas y estamos estudiando algunas, de hecho. Estamos muy contentos con el desempeño de su sitio. No tengo conocimiento de otras bandas cubanas que estén actualmente en Bandcamp, pero he hablado con varios amigos con bandas acerca de ustedes. Así que es muy probable que dentro de poco haya algunas bandas cubanas más en Bandcamp.
Actually, since we uploaded our music to Bandcamp, we've been contacted by several people who have noticed us. We've been given several proposals, and we are actually reviewing some. We are very happy with the performance of the site. I am not aware of other Cuban bands that are currently on Bandcamp, but I have spoken with several friends with bands about it. It is very likely that soon there will be a few more Cuban bands on Bandcamp.
—Phil Freeman
Translation by Isabela Raygoza