FEATURES
Ray Volpe's Emotional Dubstep
By David Turner · January 11, 2017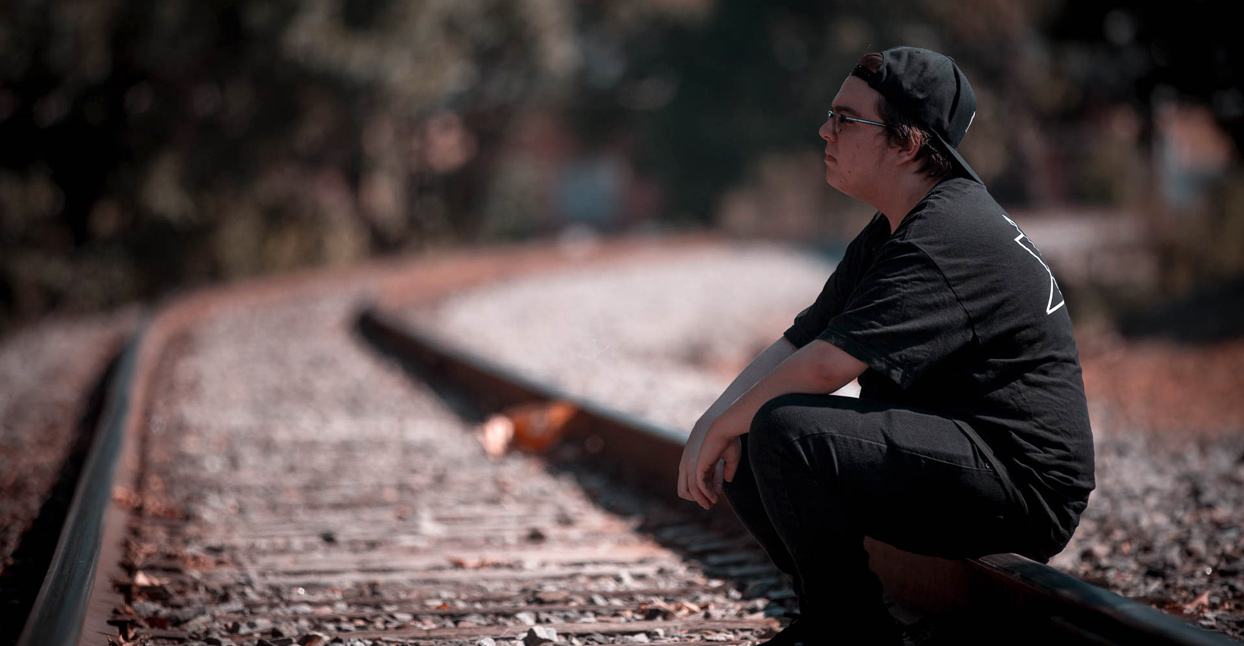 At a Guitar Center in Charlotte, North Carolina, Ray Volpe is scoping out equipment that he wants (a mini keyboard) and the items he'd rather skip (speakers with insufficient bass). Traditionally, Guitar Center is a prime location to witness wannabe guitar heroes flex their control over 16th notes. But the dubstep producer skips past the stringed instruments; he's listening for the electronic crunches made by kids using the store's equipment to stretch their production muscles. Volpe is only 19, but is already seven years deep as a producer—years beyond messing with a Guitar Center demo kiosk. Eventually, he makes his way over to a trio of younger teens he finds working on a demo, their beats far more rap-influenced than the emotional dubstep that is Volpe's specialty. He plays them some of his own music and strikes up a conversation, trying to assess how serious these kids are about production. As it turns out, they're serious enough to agree to exchange some beats with him.
Earlier in the day, Volpe explained what brought him to producing. "I used to edit Call of Duty montages," he says. "Which is really lame, thinking back—but that was my shit." It was through those YouTube gameplay compilations that Volpe discovered the music of dubstep producers like Big Chocolate, Dirtyphonics, and Skrillex. Eventually, the soundtracks began to speak to him more than the game.
He soon abandoned his childhood clarinet ("I'm not gonna be the David Guetta of clarinet players," he laughs) along with the guitar and piano once he discovered electronic music production. Born in the NYC borough of Queens, he moved to North Carolina in 2006 when his father got a new job; he's now comfortably settled in the southern suburbs of Charlotte. The city has recently become challenging terrain for young musicians—numerous local venues closed in 2016—but Volpe's gateway to the musical world was technological, not geographic.
Dubstep originated an ocean away from North Carolina—in South London, mutating from the darker corners of the generally upbeat U.K. Garage scene in the early 2000s. Bloated bass rumbles defined the early days of the genre, in the work of pioneer producers like Benga, Digital Mystikz, and Skream. But by the late '00s, dubstep was splintering into various genres like purple (Joker), wonky (Hudson Mohawke), and post-dubstep (James Blake). Eventually, the genre found British crossover success with Magnetic Men and Katy B, before international stars like Britney Spears and Katy Perry started incorporating it into their mainstream pop songs.
American dubstep lineage, however, has its foundations more firmly rooted in post-hardcore and metal than in underground electronic music. Skrillex famously left From First To Last, a post-hardcore band, to follow electronic music; even Big Chocolate's Cameron Argon, a teenager in the early 2010s, produced and provided death metal vocals for bands like Abominable Putridity and Disfiguring the Goddess. Derisively—and perhaps sarcastically—referred to as "brostep," dubstep in North America can skew heavy and hard versus London's more abstract and atmospheric sound; what is the "drop" if not an electronic outgrowth of a hardcore breakdown? Volpe's own personal tastes included post-hardcore bands like Asking Alexandria and Bring Me The Horizon, as well as heavier metal acts like Killswitch Engage. He still likes his music loud, emotional and vulnerable; he's just switched out the traditional guitar band setup for a laptop with Ableton.
Back in 2013, Volpe crafted a bootleg glitch-hop remix of Macklemore's "Thrift Shop" that amassed millions of plays online until he deleted it to protect himself from copyright issues. Working on the remix, and its success, inspired Volpe to continue down the production path.
.
00:10 / 00:58
"[I thought] if nothing happened within a year, I'll get my GED and go to college," he says, knowing the risk of leaving school so early. "But within a couple months, I had all of these other opportunities." Over the next year, he saw increased attention from well-known dubstep producers like Crizzly, Excision, Dirty Monkey, and Jantsen; the latter two took him on tour in 2015. At the same time, he could feel the quality of his music improving, with the bombastic single "On The Run" being a particularly personal breakthrough. The gamble to step away from school before his senior year of high was starting to pay off.
"I know I'm going to end up in L.A.," Volpe says with confidence. Over the last few years, as electronic music and EDM have gone fully mainstream, Los Angeles more than other American city has become the nexus point for dubstep talent, to a near-mythic level—it's where the 2015 film We Are Your Friends, which chronicles the fictional life of a struggling EDM producer, is set. "I was against the idea of moving to L.A. until I went. I was like 'There is no way I'm going,' and then I went and I understood more," Volpe says of a recent trip back in October. He opened for the meme-heavy producer Getter, met some of Big Chocolate and Skrillex's childhood heroes, and hung out with other scenesters who share the same musical passions. It was certainly a different world than the solitary wake-produce-eat-produce lifestyle he leads in the suburbs of Charlotte.
Back at Guitar Center, the younger producers start calling up their YouTube pages, and Volpe is impressed by what he hears. But when he presses play on his most recent EP, Bipolar, it's clear that Volpe is the professional. The aspiring beatmakers aren't intimidated. Instead, they quickly begin asking their peer questions: What programs does he use? How does he mix his tracks? Does he use samples? An opportunity to stunt quickly becomes a course in Production 101.

Stepping outside of the store, Volpe is still a bit taken aback by the kids' friendliness. Earlier in the afternoon, he mentioned struggling with bullying while in school; he experienced tremendous anxiety going to school some days. Once he left high school, he lost contact with many of his friends there, making a potential move to L.A. that much more appealing. Until that decision is made, Volpe—like the kids we met, although a few steps ahead—still approaches his laptop with the simple dream of making something he's proud of—something that'll make people dance, something that'll get him a step or two closer to the big leagues.
—David Turner