FEATURES
Ramesh's Painstaking Pop Craft
By Maura Johnston · July 21, 2017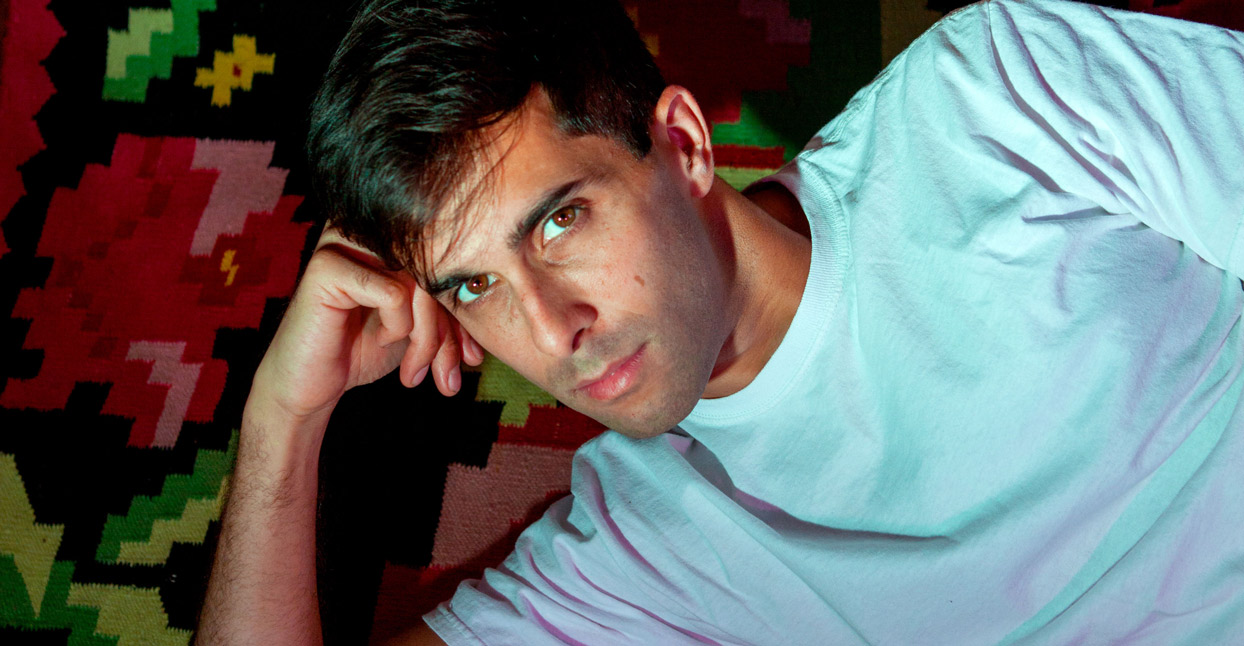 Last fall, Ramesh Srivastava released "The Fool," his first new recording since 2014's The King. It's a wrenching, heartbroken ballad with verses that recall '70s folk confessionals like Keith Carradine's "I'm Easy," and a swirling, dreamlike production that builds to a sweetly mournful guitar solo. Srivastava's vocal performance is uninhibited and arresting, his voice breaking on the chorus.
"The Fool" represents a new chapter for the former frontman of beloved music blog heroes Voxtrot, one that'll be more fully fleshed out by the album he's been working on in his hometown of Austin—although the origins of "The Fool" are about 1,400 miles west.
"I recorded a demo of 'The Fool,' and then I went to Los Angeles for a year," Srivastava recalls. "I started to write songs with other people and put my music in other places—just to try a new thing in the industry. It didn't really work the way I thought it would, but it really inspired me for my own album.
"I was living with a few other musicians, one of whom plays in the bluegrass band The HillBenders—they did a bluegrass cover of [The Who's rock opera] Tommy. I'd written a song but I couldn't figure out how to [get the guitar sound I wanted], so I sent it to him and asked if he could help me deconstruct it into that ticking pattern. He was really into it, and we did it in the course of one afternoon. That's most of what's on the recording. It was super magical."
Srivastava left the "creatively nurturing" environment of Los Angeles to return home to Austin, and he brought the recording of "The Fool" with him. His Texan bandmates—including guitarist Ryan Hall, Voxtrot's former tour manager and Srivastava's best friend since his teenage years—helped flesh out the song at Austin's Estuary Studios. "It all just kind of fell together in a really natural way," Srivastava said.
Srivastava's process for putting together songs is painstaking. "Each song is like a planet in the solar system, and it needs to reach its full development in order to be right—to be like a round, spherical, finished entity," he says. "I get closer and closer to that all the time. Sometimes I think I've got it. It's like this song may be good and the recording's good and the performance is good, but I'm like, 'That just hasn't reached its full planetness.'"
But when "The Fool" was done, Srivastava got starry-eyed. "I heard it played back in Jim [Eno]'s studio [Public Hi-Fi], where we mixed it," he recalls. "When I got home that night I listened to it, and I thought, 'Wow, I'm really proud of this. This really turned out the way I wanted to and I feel the full emotion of this song—I feel its essence.'"
"Revolution," the B-side of "The Fool," is newly and currently available for purchase exclusively on Bandcamp. "There is a Nan Goldin photograph called 'French Chris at the Drive-In, New Jersey,' taken in 1979, which shows a young man leaning centerfold-style across the trunk of a car, an ignored can of beer near his elbow and his face fixed firmly on the out-of-view screen. If there is any image I could attach to this song, it would be that one," he says. "Outside the world is still and humdrum; it beats on with barely any knowledge of our existence. Inside there are close-ups, fade-outs, sweeping '70s strings…and we sit, mouth agape, lost in our own movie."
The final details for Ramesh's second, as-yet-untitled album are still being hammered out. "The first half of the album will be more…I don't know if 'organic' is the word, but the opposite of electronic. The second half will be a little more electronic-driven. There will definitely be a marked difference between side A and side B."
In March he said that it had been "80% recorded," although his attention to detail means that last fifth will have lots of small, intricately designed pieces. "2017 has been such a funny piecemeal recording process. I'd record in great studios so that I can rhythm track everything strong, and then for these last days of overdubs, we work at our drummer's house, where we can do so much for basically nothing. For the vocals, I want to rent somewhere—maybe in the hill country of Texas—and do all of the vocals in one weekend. Make it very intensive, kind of emotional experience, so that it's all trapped within itself. It's an event that I'll remember in history, and it'll have a feeling attached to it.
"There's still a lot to do," he continues. "I need to get a string arranger. It's like I'm creating the pieces, like the Statue of Liberty—I hope it's that good, right? No, I'm creating the pieces and I have to eventually put all the pieces together to make the statue, or to make the Transformer. That's why this has taken me four years."
Srivastava's love of music is apparent in his devotion to craft—both in Voxtrot and on his own—as well as in the way he talks about songs that reframed the way he thinks. "The first songs that I remember distinctly were from one tape that my parents had in the car when I was growing up—I guess they made a mixtape from their record collection. I know it had a bunch of Beatles and Elvis Costello songs. 'Oliver's Army,' I just innately loved since I can remember having the ability to hear and remember a song.
"Yesterday, I was driving in the car; I hadn't heard 'Let It Be' by The Beatles in a really long time. The first time I heard it, I was like, 'This is everything I love about a song. It's so right.' When I heard it yesterday, it was so right again. It centered me and all my anxieties—it was a phenomenal unit of gravity that made me think, 'Oh yeah, this still has it. This is that ineffable thing.'"
—Maura Johnston