FEATURES
Rainbow Visions
By Lorne Behrman · January 15, 2016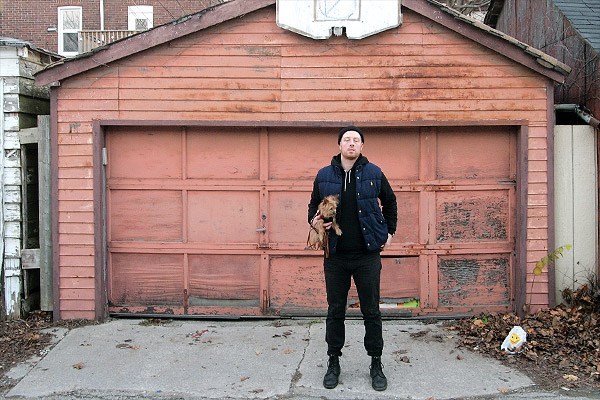 "I strive to create a space that people can live in—something that's hypnotic—and to create something that pulls an emotion out of me."
.
00:10 / 00:58
Experimental electronic artist Cameron Reed came up playing skronky guitar and promoting shows in the post-punk and no-wave Vancouver scene. But when a friend passed along a spare copy of Ableton recording software, Reed's whole world changed.
In just four years—under the moniker Babe Rainbow—Reed has released four very different, entrancing, and emotive albums; garnered accolades from genre gatekeepers; and emerged as a tastemaker of experimental electronic music. Currently, he's issuing a brace of challenging singles, beginning with Babe Rainbow's "Now Is Not The Time," out January 15 on his newly launched boutique label, Slow Release. Slow Release signals a new era of creativity for Reed. It will also reissue his entire back catalog, release all entries in his upcoming singles series, and issue new music by emerging electronic artists.
"When I sit down to create music, it's always something different. There is no template," the Toronto-based artist confides. "I strive to create a space that people can live in—something that's hypnotic—and to create something that pulls an emotion out of me. Every time I make something, I decide whether it should be displayed based on if it's effective in conveying my expression, not based on whether it's good or not."
Babe Rainbow is the outlet for a restlessly creative soul. Each release is a stand-alone work liberated from following any scripted genre or conceptual artistic arc. Reed cites hip-hop, noise, R&B, and minimalism as musical fodder for exploration, though his music is non-referential in a post-modern sense. The thread throughout Babe Reed's four albums is an immersive quality—an engrossing ambience with a strong pull of sentiments you can't quite name.
In a very short time, Babe Rainbow has left an impressive footprint on the experimental electronic scene and beyond. He's garnered accolades from The New Yorker, Pitchfork, The FADER, Exclaim, and CBC. His first two albums have the distinction of being released on the rarefied indie electro label Warp Records (home to Aphex Twin, Battles, Squarepusher, and Boards of Canada). Reed has toured extensively throughout Canada, the United States, and Europe, supporting a diverse array of artists such as Animal Collective, Battles, and Oneohtrix Point Never.
In addition to Babe Rainbow, Reed has built a robust profile through working with other artists creatively and within a business-oriented context. He's supplied remixes for artists such as Grimes, Midnight Juggernauts, and Jokers of the Scene. He's also offered his production talents to many upcoming MCs. In 2012, he joined the critically acclaimed R&B band How To Dress Well for a short stint. At this time, he's composing the score for a documentary by Austin Lynch (Interview Project, Making 'The New World,' and Inland Empire).
In the realm of the music business, Reed started as a DIY foot soldier promoting local punk, hard-core and no-wave shows, and soon garnered enough recognition to eventually become the Festival Director for the Vancouver indie culture festival, Music Waste. For the past three years, Reed has been the marketing and label manager for Arts & Crafts, a highly esteemed Canadian indie label with a roster that includes Deer Tick, Feist, Ra Ra Riot, and Broken Social Scene.
"For me, it all began with being a suburban kid into punk, hard-core, and no wave. That music was perfect for me because you didn't have to play very well," Reed says laughing. Receiving his own copy of Ableton software was a revelation, and shortly after, he began tinkering with analog synths and a drum machine. "I found it intuitive to mess around with this equipment. There was this feeling of naiveté about the music that reminded me of no-wave and punk. I began using moods and tones as forms of pure expression," he recalls.
Inspired by the second wave of dubstep like Benga, Skream, and Burial, he set out to create a singular soundscape. After sending his music to blogs like Gorilla Vs. Bear, Warp reached out. In 2010, about two years after his initial immersion into electronic music, Babe Rainbow issued its debut, Shaved. A year later, Warp released Reed's sophomore offering, Endless Path. In 2014, Babe Rainbow issued Falling Apart (Kinky Beggar), followed by the elegantly sparse Music For 1 Piano, 2 Pianos, & More Pianos (1080p).
.
00:10 / 00:58
Select standouts from Babe Rainbow's oeuvre are "Care" from Shaved, "Greed (feat. Yung Clova of G-Side)" from Endless Path, "Twin Peaks" from Falling Apart, and "Nova Scotian (Sketch)" from Music For 1 Piano, 2 Pianos, & More Pianos. "Care" began as a remix for the Canadian electro-clash band You Say Party. The track features many hallmarks of Babe Rainbow's aesthetic, including uncluttered and pristinely arranged melodic motifs, and an emotive quality that hits your soul like an opiate, with a sweet sensory paralysis. "Greed (feat. Yung Clova of G-Side)" puts forth the pliability of Babe Reed's vision by channeling his unmistakable artistic vision into something of an ambient hip-hop track with an MC.
The track "Twin Peaks" from Falling Apart has become noted for being a part of a trio of songs, the first three on the album of the same name, which also include "Dub Music" and the title track. This sonic trilogy was first noted in a Pitchfork review of the album, and Reed has come to embrace the concept. "They are so very different, but when put together, they tell a story," Reed admits. "'Dub Music' has that feeling of an almost Eno-esque ambient track, and evokes walking through a field. 'Twin Peaks' has a rougher edge, and evokes walking through a forest. And 'Falling Apart' has a warm and inviting quality; it's like stepping into a clearing."
The sublime minimalism of "Nova Scotian (Sketch)" from Music For 1 Piano, 2 Pianos, & More Pianos was inspired from touring Europe and North America twice as part of How To Dress Well. His role within the band, playing keyboards and piano, began a sideways music journey resulting in the quaintly refined melodicism inherent in the album.
The first installment in Babe Rainbow's upcoming singles series, "Now Is Not The Time," is a fascinating departure for Reed. "It was written last winter, and inspired by minimalistic classical music, and symphonic music. It's gritty, it conjures an atmosphere of icy winter and grey concrete," he explains. Keeping the singles collection stimulating, his follow-up single, "Can't Fly Away," will be something of an ambient house track in waltz time that recalls the blooming of spring.
"After putting out batches of songs together for albums for so long, I've decided to release music as singles with a video and a corresponding merch item," Reed explains. "This allows me more creative freedom, and I can explore different avenues like hip-hop and dancehall without thinking of how they will fit within a larger body of work like an LP or an EP."
Slow Release's name conjures its philosophy of strategic, well-timed releases from Reed and a small amount of handpicked artists that reflect his distinct sensibility. "It is a cheeky nod to the literal reference of releasing music slowly. But it also references the hypnotic feel the music evokes—the feeling of drugs slowly entering your system. That slow narcotic effect feels like getting absorbed by a song," Reed says.
Slow Release's first new artist is New Jersey-based dd elle, who specializes in winsome pop melodicism buried beneath a New Age, ambient aesthetic. Going forward, Reed plans to add one or two artists to the roster each year. "I'm inspired by my friends and peers—there is so much great music out there. For years I've thought about starting my own label, but after my three years at Arts & Crafts, I feel like I really understand the business," Reed explains. "Now, I want to help artists I care about with my industry knowledge."
Assessing his career thus far, and the unexpected ways it's branched out, Reed says: "I would rather have a life of multitudes and do tons of things than devote myself to one thing and hope like hell I'm incredible at it. I hope people connect with the music I make because that means more to me than becoming popular."