FEATURES
On His Latest, Proc Fiskal Fuses Dance Music With Gaelic Folk
By Michael Lawson · September 20, 2021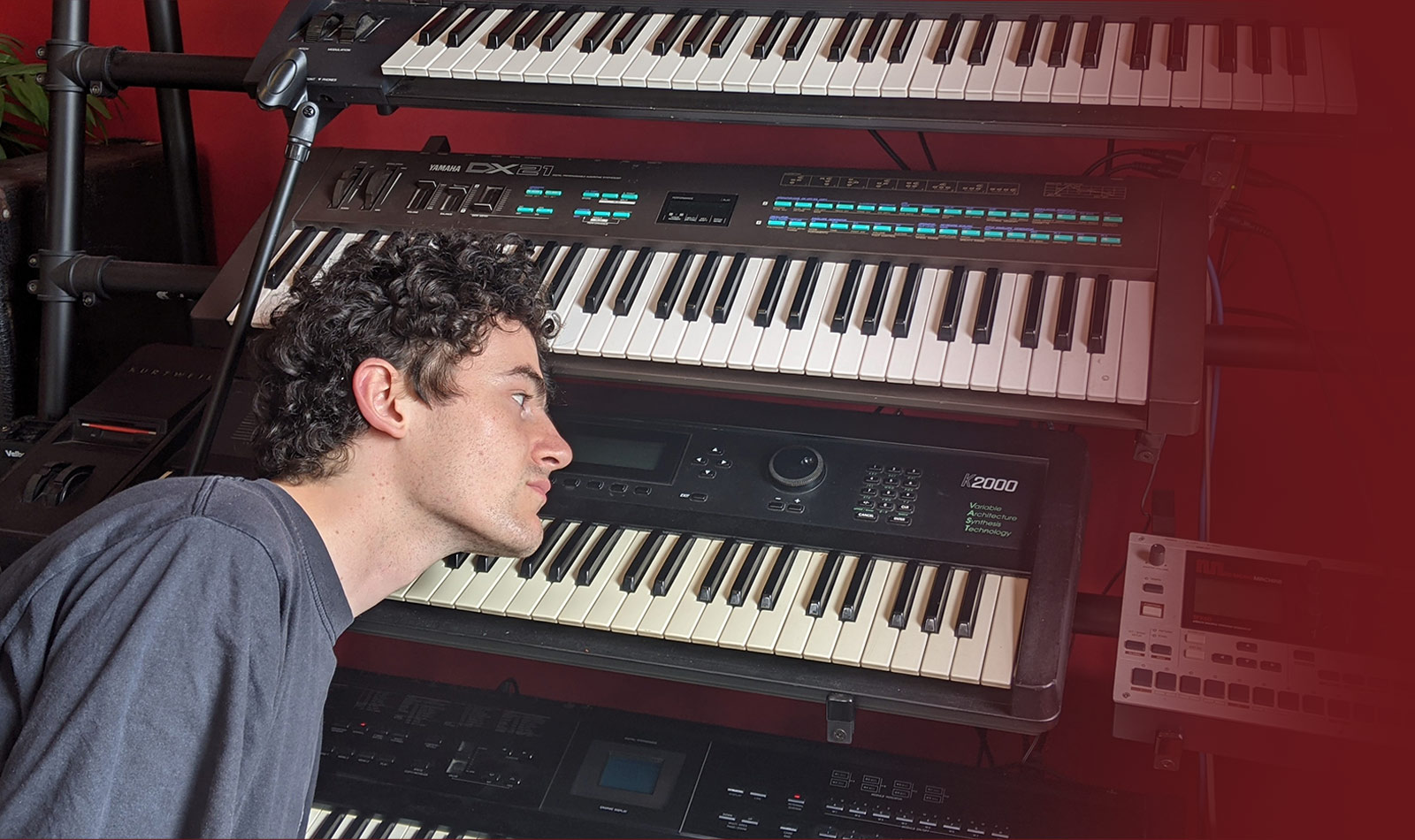 "Let's be honest, it's a horrible combination. I think I was attracted to the repulsiveness of it all," says Joe Powers, trying to unpack the rationale behind his decision to combine electronic dance music with Gaelic folk. The Edinburgh producer, who records as Proc Fiskal, acknowledges that this exact crossover has been responsible for some truly woeful music over the years. "There's definitely a lot of terrible Gaelic trance out there," he says, "but sometimes it's nice to be repulsed by something."
That unholy musical hybrid forms the basis of Powers's latest record Siren Spine Sysex, and while it may seem like a bold move, it's in some ways a natural follow-up to his 2018 LP Insula, which explored his Scottish heritage through the lens of idiosyncratic, sample-laden instrumental grime. "The last album sampled a lot of touristy slogans and things, which I tried to tie into this whole romantic image of Edinburgh and Scottishness in general," Powers explains. "People called it 'Scottish grime.' I guess in a weird way I felt like the logical progression was to do this Gaelic, folk-medieval thing next."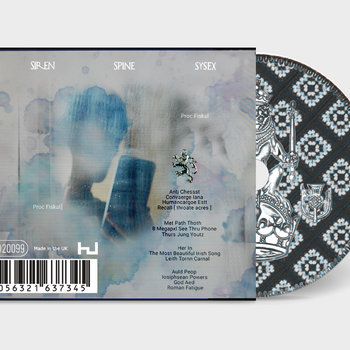 .
00:10 / 00:58
Merch for this release:
2 x Vinyl LP, Compact Disc (CD)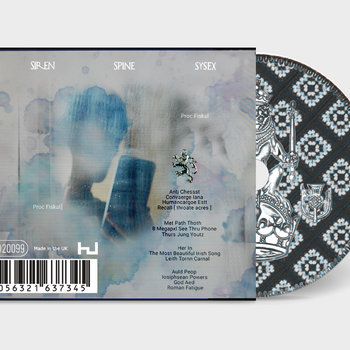 That "Gaelic folk-medieval thing" is something Powers ought to have a degree of familiarity with. His paternal grandfather Archie Fisher was a key figure in the Scottish folk revival of the 1960s. His grandfather Al Fraser was a bagpipe player, and his great aunt was a founding member of cult children's folk roadshow The Singing Kettle. Folk is "a specter that has always been hanging around," he says—though not everyone in the family is an enthusiast. "Ironically, both my mum and dad hate folk music quite powerfully," Powers laughs. "I'm half into it, half disgusted by the earnestness of it all."
Powers attributes that cognitive dissonance to the 'Caledonian antisyzygy,' the notion of dueling polarities that is considered a defining characteristic of the Scottish psyche. On the new album that idea presents itself in the way the purist folk traditions of his family are juxtaposed with the modernist dance music he built his reputation on. Siren Spine Sysex—"I wanted [the title] to sound like a bad Celtic tattoo"—is a 14-track sonic collage that pulls samples from the unlikeliest of sources, all of which are warped and cut-up until they barely resemble their original form.
Take "God Aed," a track that carves its glistening, restless melodies out of Gaelic metal, The Jets's '80s pop hit "Crush On You," and "Adam Curtis saying 'pessimism,' reversed so it sounds like 'what's to say.'" Then there's "Recall [Throate Achres]," which conjures something that recalls grime classic "Ghetto Kyote" from Celtic fiddles and fleeting snippets of a golden era PCDJ diss track, while "Convaerge Iana" melds Irish choral music and a Gaelic cover of Madonna into the kind of ethereal sino-grime Powers successfully mined on Insula.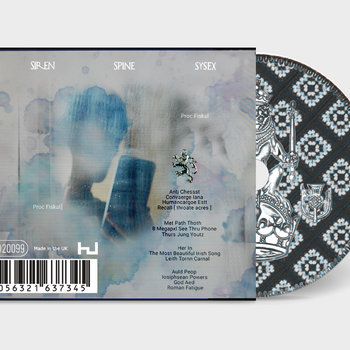 .
00:10 / 00:58
Merch for this release:
2 x Vinyl LP, Compact Disc (CD)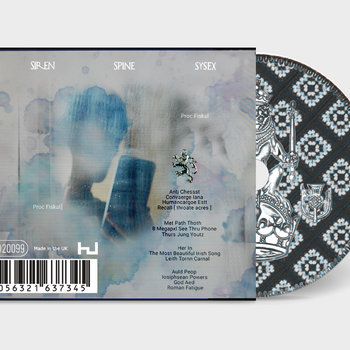 Even an excerpt of one of Grandad Archie's ballads turns up on "Iaosiphsean Powers," again chopped-and-screwed beyond recognition alongside various other warped samples. "My dad told him about it over Zoom," Powers laughs, "though I'm not entirely sure he grasped the concept."
But rather than simply being an exercise in subverting nostalgia, Siren Spine Sysex draws additional inspiration from the cyberpunk literature of Philip K. Dick and hauntology of Mark Fisher—particularly, the latter's notion of 'lost futures.' "I had this loose idea of a Roman guy being teleported to modern times and being depressed at the lack of progress," he explains. "I was imagining the regressiveness of folk culture from that viewpoint."
The hauntological influence is accentuated by the spectral female voice that floats through the album, delicately stitching its 14 tracks together. Perhaps most prominent on quasi-angelic lead single "Leith Tornn Canal," it's a detail Powers credits to binging on Kate Bush and Cocteau Twins during lockdown. "That female vocal-led pop definitely informed the new LP," he says. "I've not really thought about making music for a club environment at all during lockdown. Part of the joy of making that kind of music is imagining it getting played on a big system, which was obviously harder to do." It's no surprise that lockdown hasn't exactly been detrimental to Powers's creative process; he did call his debut album Insula, after all. "It sounds pretty fucked up but I really enjoyed it," he confesses, almost apologetically. "2020 was definitely one of the better years."
With its novel use of chopped-and-screwed folk samples, exploration of the Scottish psyche and willingness to eschew the club sensibilities of conventional grime, Siren Spine Sysex is a blisteringly unique sophomore album. But Powers admits that making something so abstract is not without its dangers. "In the same way that Autechre still consider their music to be hip-hop, I still feel like the stuff I make is grime," he says, adding: "If the album enters the folk charts, I'll have to fake my death."