FEATURES
On His New LP, Rapper PremRock Grapples With Getting Older
By Blake Gillespie · July 09, 2021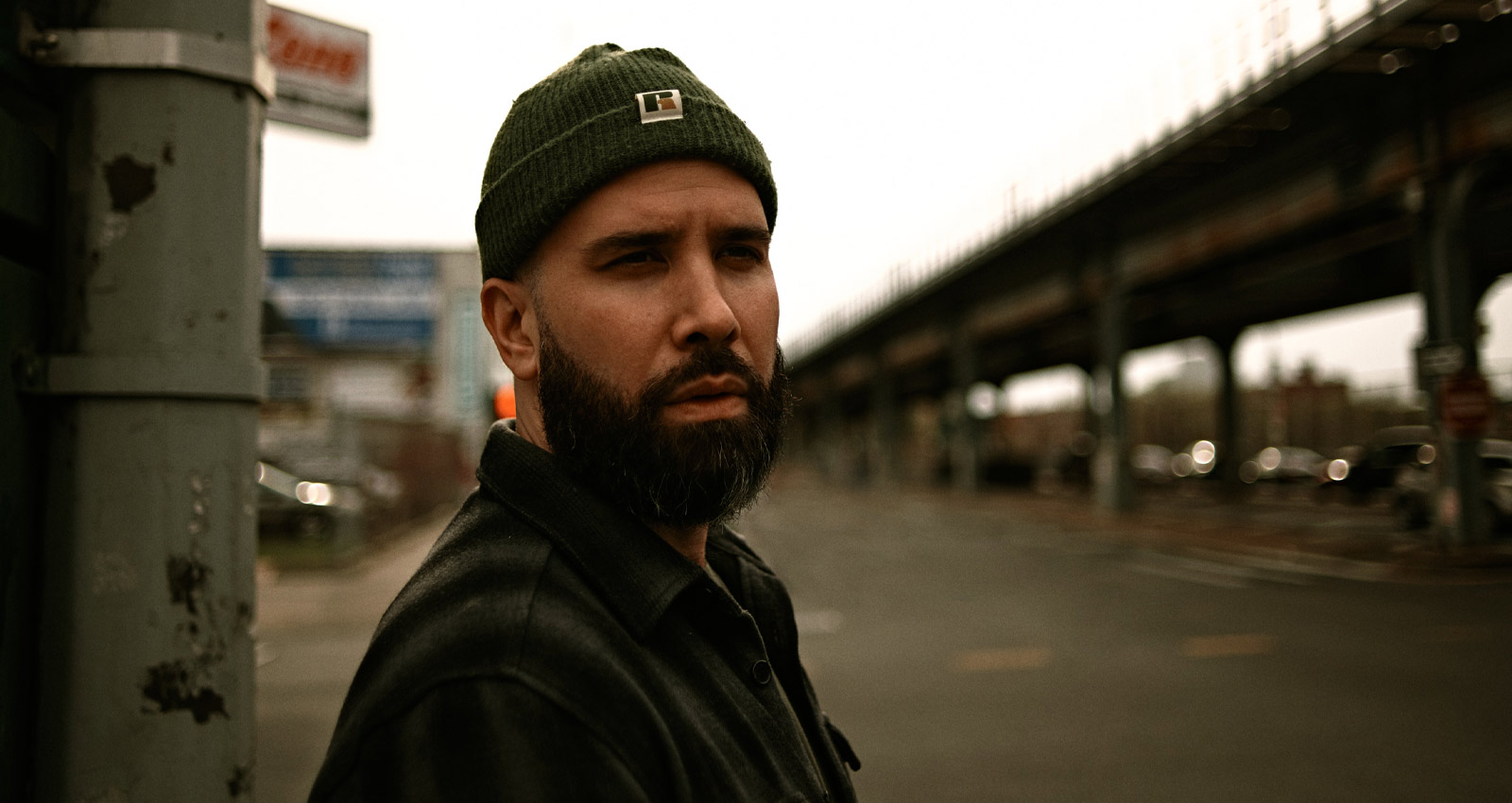 One day, the New York rapper PremRock came home to find that his girlfriend had hung up his first passport photo on the refrigerator—a relic she'd found and had posted there to tease him. Looking at the photo, he saw himself at 24, untethered by responsibility, about to embark on his first European tour. He'd had the photo re-taken eight years later, after customs refused his damaged passport. He decided to compare the two. He saw two men, both him; the difference was in the eyes. The 24-year-old was bright-eyed and optimistic; the other? "That guy's seen what the other guy hoped to see," PremRock says, "and it wasn't all it was cracked up to be." But when reflecting on the two photos—as well as the person he sees in the mirror at age 36—he is sanguine: "I became who I became."
Merch for this release:
Compact Disc (CD), Vinyl LP
It's a simple statement, but one that many artists don't have the luxury of making. Both the record-buying public and the industry in general have a fickleness that can make it difficult for artists to grow beyond their debut. So while he's spent over a decade far outside the mainstream, the fact that he's made it this far is an accomplishment in and of itself.
"When someone becomes the artist du jour the question is always, 'Well, where did they come from?'" he asks. "I never really thought it was possible to make a song and then blow up immediately." Instead, Prem saw past the allure of overnight success in favor of cultivating a sustainable career, citing fellow indie artists like Open Mike Eagle, Homeboy Sandman, and billy woods as examples. He only became aware of the toll that path takes in retrospect. And as the album title suggests, that cost shows up in the eyes.
It's an idea that's woven throughout his latest album, Load Bearing Crows Feet. Released a week shy of Prem's 36th birthday, the album ditches the romanticism of youth in favor of a general world-weariness, delivering truths learned from punching the clock and narrowly avoiding the seduction of bad narcotics and worse people. Crafted by producers BrainOrchestra, Small Professor, and Denmark Vessey, the album's sonic backdrop is in line with the moody framework that Backwoodz Studioz—the label to which Prem is signed—has become known for. Longtime fans will recognize Prem's familiar cryptic wordplay, but on Crows Feet, the sentimental barfly of previous records has stepped aside, replaced instead by acute observations on vice ("Designers of a crutch are always asking how you holdin' up.")
Merch for this release:
Compact Disc (CD), Vinyl LP
"There's some underlying, not-so-subtle nods to substance abuse," he says. "It's not been an easy road. I'm not in AA or NA, but that stuff is always around the corner for me. You can't let your guard down. You can find yourself in some unsavory situations if you follow that part of your personality."
The album is also a study in perseverance. Even when his peers began leaving the industry, Prem kept at it. He carved out a European tour route that few would brave, playing 20 shows in 30 days throughout Western Europe, primarily in countryside towns like Eindhoven and Angers; he did it so he could grow his international network. He's been a close collaborator with Willie Green ever since his debut album, which led to his relationship with Backwoodz Studioz. Last year, the label released Shrapknel, Prem's group with Curly Castro. He's toured the U.S. and Canada to marginal success; but even when he'd leave one sparsely attended show to drive a few cities over to play another one, he never thought about quitting.
"I could be the manager of a hotel somewhere," he says, considering alternate futures, "and at the Christmas party, I freestyle and all the younger people think it's crazy. Or, I could be married with kids and living off the grid somewhere. All of that could have happened. But it didn't. These songs are set up to reflect that."
Merch for this release:
Compact Disc (CD), Vinyl LP
Take "Prairie Burn." The track, which is self-produced—a rarity in his catalog—casts him as a down-and-out traveler, grumbling "c'est la vie" into the bottom of a bottle over wailing horns and a bleary guitar melody. At first, the character seems lost in self-loathing, until Prem drags him out of his malaise by inverting the beat into hypnotic, uptempo dub and his previous melancholy ruminations become, "not clairvoyant, but still buoyant." It's a tale of two personalities occupying the same body who must reconcile their differences. "I'm not going to hide behind characters in my songs," he says. "I'm splitting off pieces of what I am into the songs."
That's not to say the album is nakedly autobiographical. Prem comes from the Ghostface school of esotericism—to the point that you might miss the story of his sister finding his first rhyme, and the embarrassment it caused, in "Apollo Kids Meal." The track explores the devastation of "having something found that wasn't supposed to be shown," by reimagining Ghostface's "Apollo Kids" line "behind the La-Z-Boy where you hid your knife" as the stash spot for Prem's childhood rhyme book.
Every story, reference, and metaphor can be interpreted in countless ways on Crows Feet. A song about how love should be enough to make a relationship work also doubles as a song about his musical career. He explores the complications of following an elder's advice, realizing, "I did all the right things," and yet, "it got me here, dirt broke, and sleeping on people's couches."
But now, with opening dates booked on Armand Hammer's tour for HARAM—one of which is at New York's Central Park Summerstage—Prem feels things might be changing. And just like before, it's reflected in what he sees when he looks at himself in the mirror.
"I see acceptance, and a different type of hope," he says. "Not a rose-colored, foolish hope. If I stay the course and I do the things that I set out to do, I'll finally get the harvest of all this work. And I'm going to see my friends succeed too. I'm going to go back to these cities where no one cared about me, and it's going to be much better."