FEATURES
Prayer is Making the Dancefloor Think Differently About Classical Music
By Dave Jenkins · September 15, 2017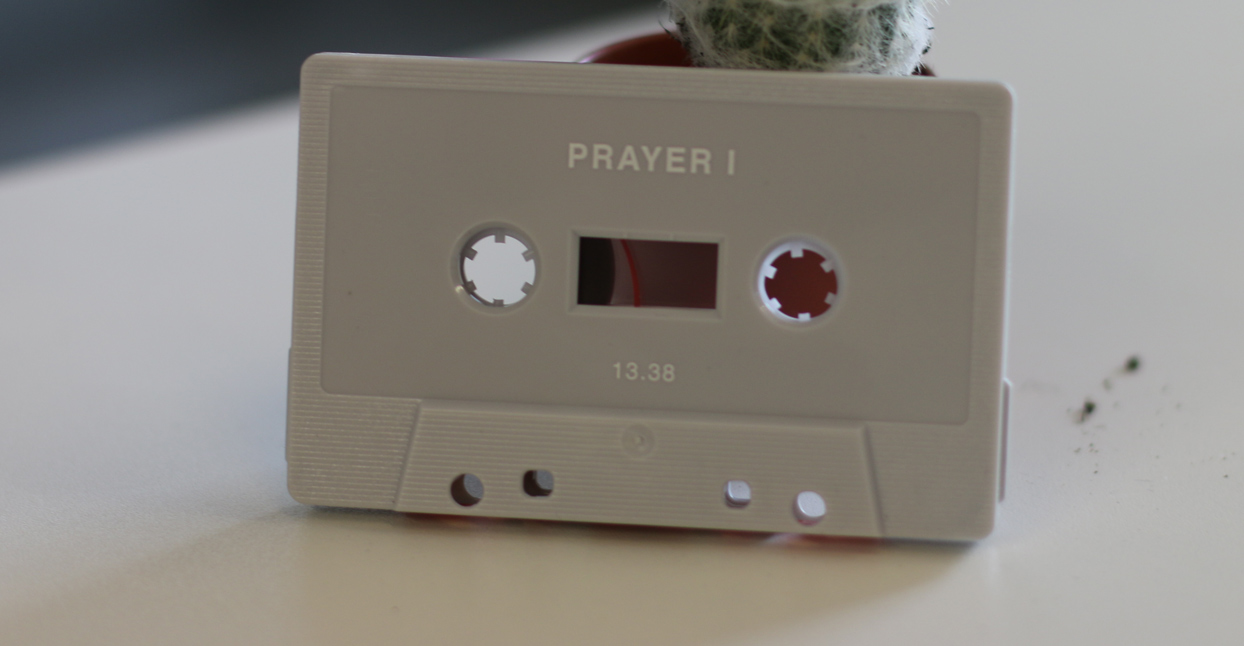 "I always thought all classical music would be twiddly Mozart stuff. Then I found a darker side that I never knew existed and things suddenly got a lot more interesting," explains the U.K. producer known simply as Prayer, a man whose demeanor is much more open and friendly than his brooding, pensive music and slightly mysterious profile might suggest.
Prayer's classical dark-side epiphany arrived with his first exposure to Michael Nyman and Philip Glass, both recommended to him at age 16 by his father. The composers derailed him from a guitar-based rock path to an intense extended period of music theory study, setting a firm foundation from which he's been building his unique discography of classical/electronic work.
"I want to open up ways for people who aren't necessarily into classical music to get into it and think about it in a different way, the same way Michael Nyman interested me when I was young," reflects Prayer, who taught himself the piano "by hammering around on it" as a kid. "There was something new in his compositions that blew away any preconceptions of what classical can be."
Merch for this release:
Vinyl LP
Prayer emerged in 2013 on Zomby's Cult Music compilation and is predominantly known as a key member of the U.K.'s forward-bound Grade 10 collective. His stunning June 2017 debut Seeing found a home on left-field bastion Black Acre; two months later, a limited-edition cassette simply titled PRAYER I / II was released, suggesting future work is to come on the Bristol label. Prayer is part of a growing movement of artists who explore classical/dance experimentation and teeter between two distinct and oft-disparate worlds—Berlin composer/producer Nils Frahm reimagines classical piano as ambient; Carl Craig and Francesco Tristano's Versus project weaves symphonic arrangements into their music; and techno producer Actress is releasing an EP with London Contemporary Orchestra this month.
Painting with dynamic classical colors on a predominantly U.K. bass-based canvas, Prayer explains how he relishes the genres' shared senses of dissonance, abrasiveness, and emotion-rich moments of resolution—a relationship he began to notice during his music theory and composition studies.
"I was fascinated by the obscure realm of electroacoustic music, where composers like [Jean-]Claude Risset and Denis Smalley would find sound objects and manipulate them," he explains. "Composing quite intense, dark atmospheric music like that, I guess it was only a matter of time before I found artists on the electronic side of that spectrum such as Burial or Holy Other."
That's what makes Prayer's juncture of the worlds of classical and electronic music so interesting: nothing about his journey seems typical, or directed from one defined context. He's neither a classically-trained musician or a classically-trained junglist. He didn't study at a conservatory or labor over lessons from a painfully young age, nor did he find himself lost in the lasers, experiencing a euphoric rave epiphany. He's not migrated from one world of music into another but rather, found himself magnetized to both at a similar period of his life through contrasts and parallels.
This is also evident in the way he writes and composes; he doesn't furrow over old-fashioned manuscripts—he feels "spending weeks writing something on paper for an orchestra to perform would be very limiting when you can make any sound possible on a computer." But neither does he slave over a DAW for days and months, polishing and endlessly refining tiny elements, because our attention should be "focused on the effectiveness of the music rather than the production and how polished it is."
These contrasts have been apparent in every Prayer release to date, and his output appears to be accelerating. 2017 began with compositions like the naked piano narrative "Fading" (which came with a moving video portrayal of London's unreported poverty) before he dropped a Kollaps album in the spring (his techno/ambient project with fellow Grade 10 classmate Coop). Most recently, he bookended the summer with two significant dispatches on Black Acre: the orchestral breakbeat hurricane of "Seeing" and the gothic grime of "Alone" on June's Seeing, followed by his ambitious classical/club compositions on Prayer I / II.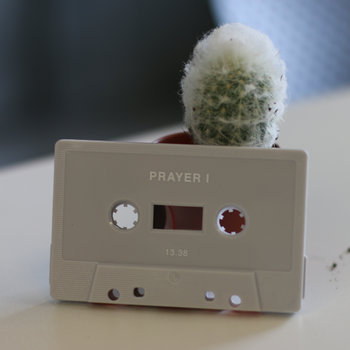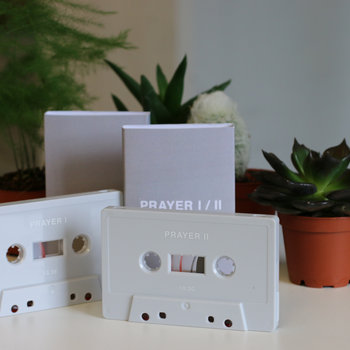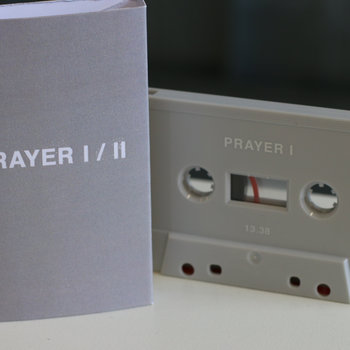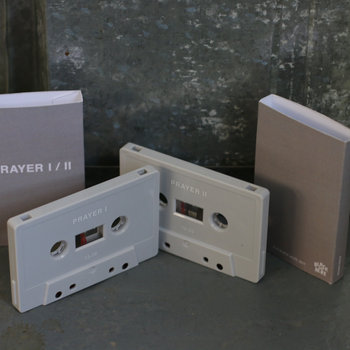 .
00:10 / 00:58
Merch for this release:
Cassette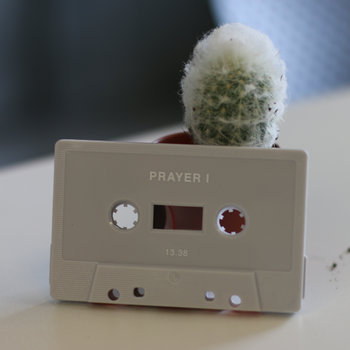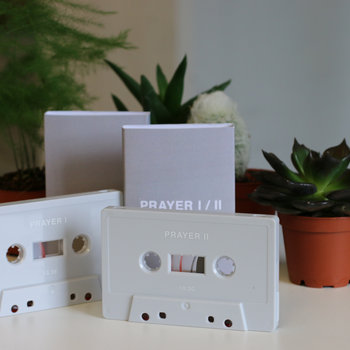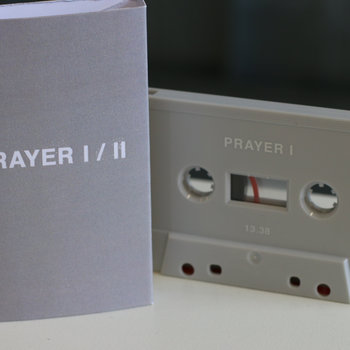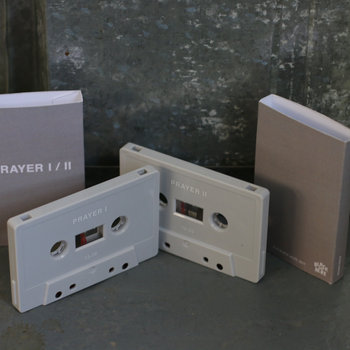 One tape, two tracks, 23 minutes: both compositions completely defy the rigid conventions of the 160 BPM tempo framework in which they've been written. Side A hurtles in on a wave of classic breakbeat exhilaration, swallowing the listener in a wash of dramatic post-rock theatre before settling into a bed of heavenly synths and strings. Side B sets a much more ominous tone, with clear cap-doffs to John Carpenter, before the entrance of a blindsiding fantastical synth line, and a baroque finale of cascading chords and a sense of triumph and poignancy Monteverdi would be proud of. Both extended escapades offer clear sections, variation and strong sense of narrative; consider them suites more than bangers.      
Whether it's an extended piece that uses compositional dynamics to challenge dance music's current standard four-minute formula or a sharp salvo that playfully subverts it, Prayer's creative approach remains consistent.
"I write as if it is classical music and don't worry about what's going to happen with the beats underneath," he explains. "It doesn't have to be a massive dancefloor track if that's not the natural way the song is developing. There's this idea that people judge the bass and drums as the forefront, and everything has to be built around them. But if you write the drums as the composition is developing as well—so they're not just standard with a little variation in the beat—then it can be just as effective."
In the world of breakbeat and jungle-based electronic music, where feverishly mixed down drums and perplexing low frequency sound design remain some of the most dominant characteristics, this approach is genuinely unheard of. And even if it doesn't make you stop and think about classical music directly, it makes an unavoidable artistic point. If he's writing it as classical music, it is classical music.
"Nothing is clear-cut classical anymore, which is a good thing. It can be what you want it to be," he suggests. "This trend of diversifying is a continuation from the mid-20th century when classical music opened up in this way. You had people like John Cage questioning things through modernism. Now you have guys like Hans Zimmer and maybe people like Nils Frahm opening it up, re-contextualizing it and challenging it."
Perhaps the best thing about his story so far—besides the fact he's only really warming up as an artist and the best is yet to come—isn't how he's bringing classical theory to the electronic music and jungle melting pot. It's how electronic music and club production have made him think differently about how he composes.
"It's made me look at the root of what I'm doing and asking myself how I can do it differently," he admits. "Before I knew how to program music, I would sit down at the piano with notes planned in my head. You're almost playing less elegantly because you've remembered there are no rules if you don't want them to be there. You can add notes that shouldn't be there. You can resolve suspension with strings on a jungle track in a new way. It's down to me as a musician to see what boundaries I can break within the structure that I been provided with."
—Dave Jenkins