FEATURES
Popper Burns Preach to the Punk Rock Choir
By Colin Atrophy Hagendorf · March 06, 2017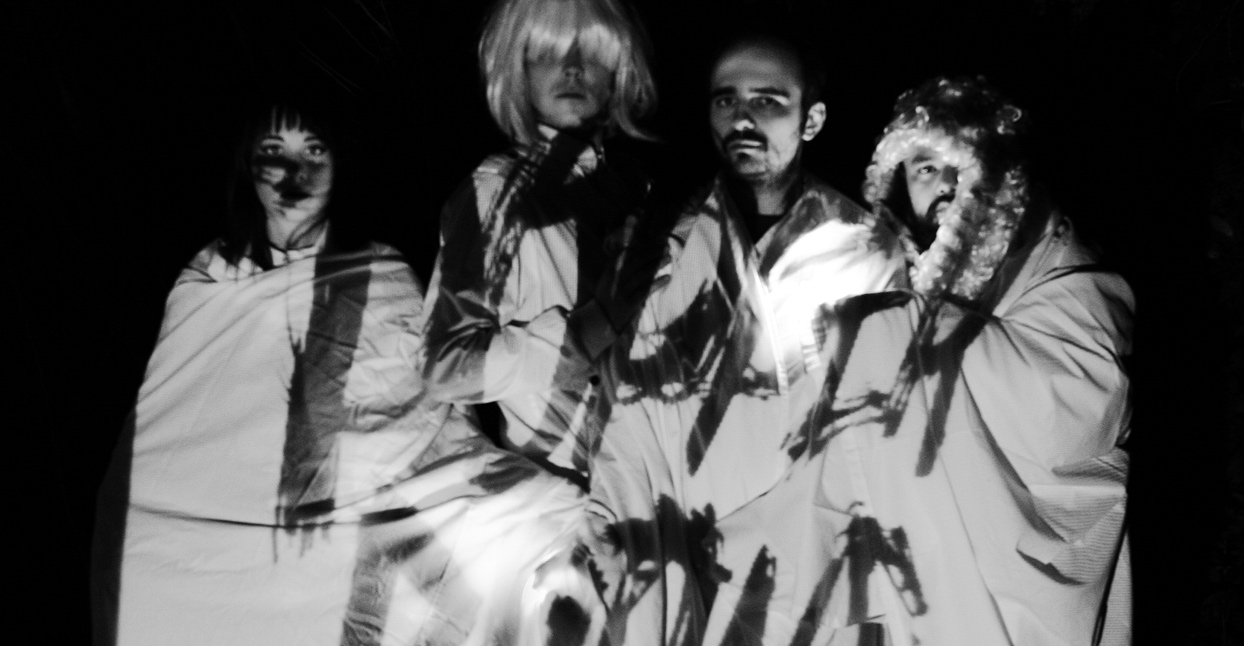 The first time I saw Austin's Popper Burns reminded me why I love punk. The band was already on stage by the time I got to the club. Guitarist Pink Lemonade was perhaps the most conventionally dressed, wearing a t-shirt and jeans and playing seemingly haphazard notes on his instrument. The staccato outbursts resembled a Bill Orcutt composition more than a punk song.
Sigourney Fever, looking like a latchkey teen experimenting with drag for the first time, was wearing a white slip, knockoff Oakley wraparounds, and a cheap, pink Halloween store wig. She matched Lemonade's cacophonous playing with swirling triplets on her bass that slowly cohered into a steady beat as Dixie Lixx, visible only as a just a shock of green hair behind the drum kit, began to pound out a furious rhythm. The melee was soon joined by a wailing human voice; its source was unknown, until the music began to take a more orthodox shape, and Patti Melt, the group's frontwoman, rose from the center of the stage, where she had been laying prone. Standing maybe 5'6" in motorcycle boots, with a purple That Girl bob and a handlebar mustache, Melt was wearing a sequined top, booty shorts and a pair of thigh-high secretary tights. She whipped the mic like a lasso, caught it, and launched into the lyrics to "Freak Out," the first track on their self-titled 2015 EP: "THIS SENTENCE HAS THIRTY-THREE LETTERS."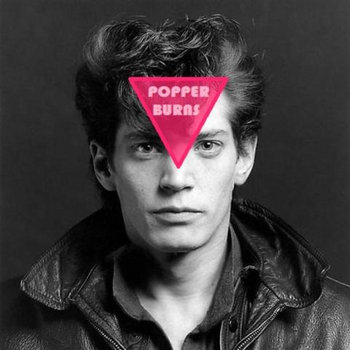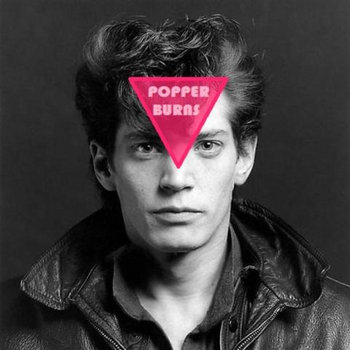 The banal, factual simplicity of the lyrics, along with the chaos of the music and the band's striking appearance—Melt and Fever's unruly, feral drag contrasting nicely with Lemonade's figurative, stylistic Straight Man—make the kind of spectacle that's been missing from punk. Where many contemporary bands seem to perform with a practiced disinterest—a spaced-out heroin pose cribbed from Sid Vicious or Johnny Thunders—watching Popper Burns, I felt like I was being performed for, like they were trying, actively, to entertain me. It worked. The show was complete chaos. By the end of set, the wigs were off, and Melt was rolling on the floor. I don't know if you've ever seen a Queen in full drag with her wig off, but it can be either disarmingly vulnerable or actively antagonistic—a visual challenge to gendered norms. With Melt it was both.
Like many great punk bands throughout history, Popper Burns met working in an ice cream shop. "I started working at Amy's Ice Cream when I was 16, and Patti was my manager," Pink Lemonade tells me when I meet up with the band at Patti and Lemonade's house. They started their first band, Guys And Ghouls, while Lemonade was still in high school. When asked what they sounded like, Patti said the band was "very Ramones influenced, but was softer than the Ramones…"
"TOUGH BUT SOFT," Lemonade interjects.
Eventually, Lemonade left for college. Patti stayed in Austin, "making a lot of pizza, scooping ice cream, and getting into drag." When Lemonade returned home after school, Patti suggested they start a new band, which at first consisted of just the two of them. "It was kind of piecemeal," Lemonade confesses. "At shows, I would loop up a guitar part, and then go play drums on top of that, while Patti sang."
They invited Fever, who had moved to Austin from Durant, Oklahoma and who also worked at Amy's, to play bass. She hadn't played a ton of music, but her short resume was stellar. "Me and my best friend had a very short-lived band when I was a sophomore in high school called the Pretty Baby Candies. We practiced a lot, and we were gonna play at this coffee house that was had just opened up in Durant, but she got suspended from school and her parents moved her away to Enid, [Oklahoma]."
Fever invited Lixx to the next practice.
"She just basically showed up and started playing all the parts I had already written without me telling her," Lemonade says.
The group happily checks off a short list of influences—DNA, James Chance, Throbbing Gristle/Psychic TV/Genesis P-Orridge—but are most excited talking about what they didn't want to sound like. "Everybody had just glommed onto this 'jean jacket' sound," Fever says.
"People can talk about pizzas and cheeseburgers if they wanna," Melt adds. "I just wanna talk about different things. Combining making music with my drag persona allows me to tap into a different person, a cartoon character if anything."
Lixx agrees. "That was one of the things that was most exciting to me when Sigourney invited me," she says, "I was like—what does it sound like? And she was like, 'cartoon punk, but harder than you'd think a cartoon would sound…'"
"Roger Rabbit Rock," Melt interrupts. "The idea is being bigger than an idea. Taking up a big amount of space with something that looks odd or doesn't seem natural. Something that isn't necessarily violent, it's just kind of in an odd place at an odd time. It isn't a conversation; it's a monologue or a soliloquy."
Popper Burns have spent the last year recording a new record, and they're currently shopping around for labels; today, they're releasing a single off the new project. "We've gotten more experimental with our songwriting on this album," Fever says.
Merch for this release:
Vinyl LP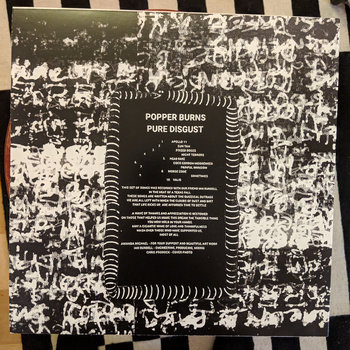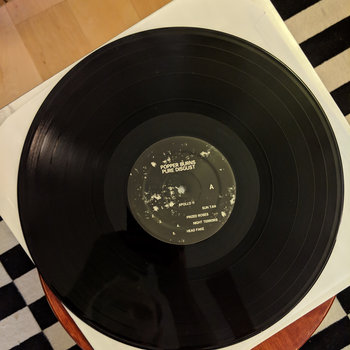 On "Prized Roses," Fever sets the stage with a loping bassline, and is soon joined by Dixie, who pounds out a deep, pulsing beat on her toms. Pink Lemonade picks out a few chords before falling into a sparkling pattern of harmonics. When Patti starts singing, Lemonade's melody-free strumming coalesces into a demented surf riff, taking a familiar musical reference point and perverting it into something new and disgusting. It's John Waters' Americana at its finest.
It's also the perfect accompaniment to Melt's vocal performance. At times restrained and unhinged, she describes the cycle of birth/death/decomposition/birth as a potential way out of the claustrophobia of prescribed patriarchal norms. Throughout the course of the song, the listener is shit out by a shrimp, a bird, a boar, before ending up as fertilizer for a suburban family's rose garden. At the song's climax, Melt screams, "I'm drowning in Mercedes-Benz/and prized fucking roses /and your 13 children /and your 20 dogs /and your beautiful wife /all prized possessions." By the time she gets to the last line, she sounds exhausted, and the music fades to disconcerting waves of feedback from Lemonade's guitar.
The next track, "Apollo 11," opens with a climbing riff that quickly falls to pieces. As the song progresses, the guitar shifts between frantic riffs, rung-out chords, and apoplectic noise, consistently anchored by Lixx and Fever's insistent and consistent rhythm section. Melt shifts between a deranged chant and a ferocious growl, describing a group of people watching the moon landing in a small town bar. "OH BUZZ, WHAT DID YOU SEE, WHAT DID YOU SEE?" she screams as the music crescendos.
Merch for this release:
Vinyl LP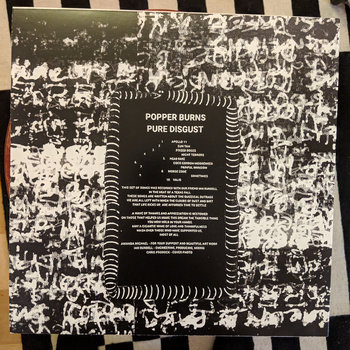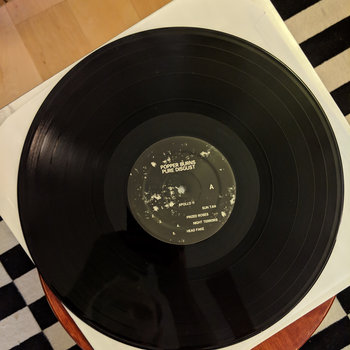 As our interview wraps up, I ask the band if, with the current administration, they felt a need to make their politics more explicit and overt. "In the places we play, that could be seen as preaching to the choir, to a certain extent…" Melt begins to answer.
"But that's what preachers do," Lemonade says. "They preach to the choir! And the choir gets incensed and they're speaking in tongues. That's what we wanna do. We wanna play music that makes people feel empowered."
—Colin Atrophy Hagendorf