FEATURES
The Outrageous Antics of Pigs Pigs Pigs Pigs Pigs Pigs Pigs
By JR Moores · February 23, 2023
Anyone who plays in a band will find themselves awkwardly describing their music to taxi drivers. Matt Baty, lead shouter in North England's Pigs Pigs Pigs Pigs Pigs Pigs Pigs, usually resorts to "hard rock." So far, the subsequent "What, like…?" responses have ranged from Judas Priest to Prefab Sprout and even notorious punk sicko GG Allin. "I had a little bit of diarrhea before a show in Bucharest once and had to take some Imodium tablets before we went on," notes Baty. "That's probably about as GG Allin as I get!"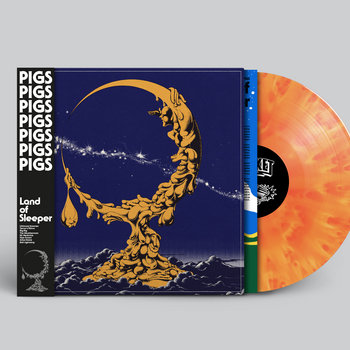 .
00:10 / 00:58
Merch for this release:
Vinyl LP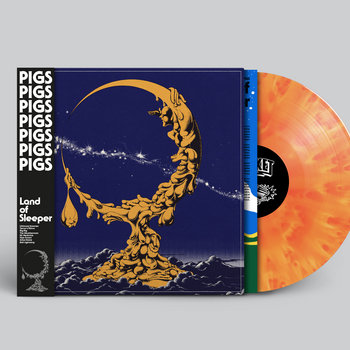 "Hard rock" doesn't tell the half of it. Formed in Newcastle by likeminded members of Ommadon, Blown Out, and Khünnt, the band's blueprint is more along these lines: Imagine if Lemmy had maintained a greater proportion of the sprawling Hawkwind swirl when forming Motörhead. Psychically predicting the whole Technical Ecstasy fiasco, he pinches Tony Iommi from Black Sabbath. Together they turn everything up to 11. 
With their third album, Pigs were set to take on the world. Slightly more of it, anyway. The raucous Viscerals was released on April 3, 2020, coinciding with the first significant lockdown. All gigs were canceled, including Pigs' debut trip to the States. "It's quite hard to grumble about it because it was happening to everyone," remembers Baty. "We ended up doing a daft launch party on Zoom where we basically got drunk for two hours and invited some guests on. If anything, it was a good time for it to come out because things like that didn't feel tired. Whereas for some poor band releasing an album seven or eight months into the pandemic…"
Baty emerged from lockdown as a mustachioed fitness freak. After practicing yoga at home, he joined a kickboxing gym. "If it was an ultra-competitive and really macho environment, I wouldn't have lasted long. It was much the opposite. I don't know if they're all like that, but the people there are very supportive and encouraging. They smile while they're punching you!" 
His bandmate, Adam Ian Sykes, is now sober. He used to be drunk every night on tour and was no stranger to the pub when not. Lockdown helped curb this habit. "It's really nice to wake up and not feel fucking awful," says the guitarist. "It is tough because it's so ingrained in the music industry, but not drinking makes it so much easier to tour. It's given me more appreciation for it, as well. Just going out and walking around a city you've never been to before instead of finding the nearest pub and sitting there." It took him a while to get used to performing without several pints of beer to steady the nerves.
A testament to taking outrageous metal-making seriously, Land Of Sleeper is Pigs' most powerful collection yet. Sam Grant, their other guitarist and resident producer, had exorcised his psych-pop tendencies with side-project Rubber Oh and wanted to write darker and heavier music than ever. Joining John-Michael Hedley in the rhythm section, drummer Ewan Mackenzie returned after a two-album sabbatical. "He allows a bit of selfishness for the rest of us," Sykes says of the drummer's key role. "Originally, 'Ultimate Hammer' was a fucking white-man blues-rock song. Just a ZZ Top derivative. It's good to know I can bring that to practice and go, 'Ewan, make this really interesting, will you?'" It turned into the album's all-important opening track, less ZZ Top than The Stooges scrapping with Sleep in a dusty hurricane.
Lyrically, Baty decided to go all-in on hollering about existential dread. Such feelings have never lurked far from his material. "The music allowed me to open the floodgates on that side of things and really push it, or at least try to find the limit," he explains. "It was really cathartic. I find so many facets of life confusing, not least my own emotional responses to it. Most of the lyrics I write are me trying to figure out what the fuck any of this means!"
Despite being two very different-sounding songs, "Big Rig" and "The Weatherman" act as joint centerpieces. With the assistance of Kate Smith from Bonnacons Of Doom and a choir including Richard Dawson, among others, "The Weatherman" has the ominous crawl of a folk-horror flick. Eventually, it explodes into anguished, distortion-swamped howls before receding to its initial creepiness. With its cascading riffs and structure patched together from the different guitarists' separate ideas, "Big Rig" pummels in the more traditionally Pigs-ian manner.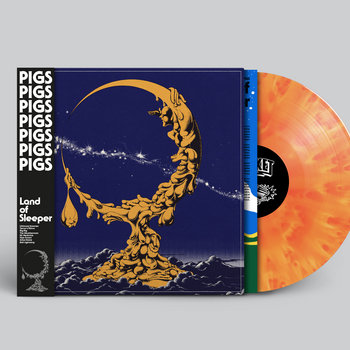 .
00:10 / 00:58
Merch for this release:
Vinyl LP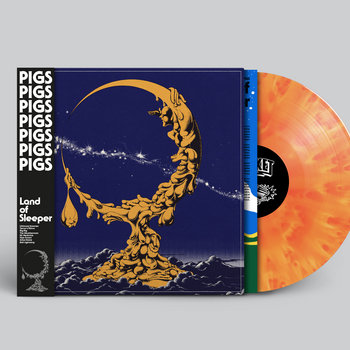 "I could see there was this picture emerging of cycles being referenced within the different songs," Baty recalls. "Obviously, the greatest cycle of them all is birth, growth, decay, and death. Right?" The growled lyrics on "Big Rig" pertain to a tree that long outlives the person who planted it but remains there for the enjoyment of other people. "It's a reminder, to myself as much as anyone else, to be mindful of the smaller and more pleasant things that can stack up throughout the day and, even in shit times, can make things a little more bearable. I like the notion that not everyone can be a superhero, but you can do little things for people that make their day more bearable as well."
Presuming no other lockdowns are lurking around the corner, American audiences will soon witness Pigs at their ferociously fittest. In the past, there were shows when band members had been so drunk they'd said to themselves, "That can't happen again," as Sykes remembers. "It was all fun and games at Brixton Windmill. I have fond memories. But it's a different ballgame now. We have a responsibility these days." Having also stopped drinking on tour, Baty agrees: "People are paying a lot of money to watch us, so we want to put on as good a performance as we can." Together they've stumbled on a new self-description to offer those curious taxi drivers. "Responsible rock?" laughs Baty. "That sells albums, doesn't it?"