FEATURES
Philipp Gorbachev Doesn't "Give a Snare" About Playing by the Rules
By Amy Benfer · August 02, 2017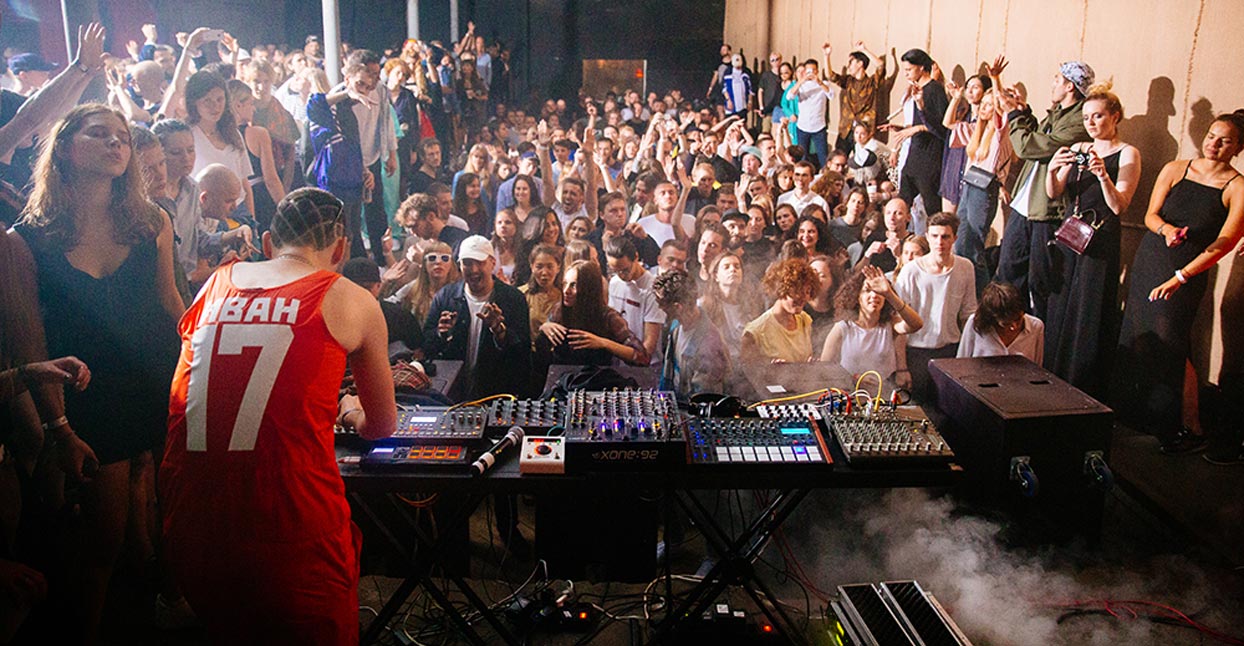 Phillipp Gorbachev was born in Moscow, is the son of a race car driver, and trained to become a diplomat. He became an international DJ, producer, and musician instead.
For the past decade, Gorbachev has counted himself as a "happy member" of Comeme, the international record label and DJ label founded by Chilean-born, German-raised Matias Aguayo. Gorbachev's third full-length LP, I Don't Give a Snare, features a French bassist and an Italian drummer, both of whom were recruited via Craigslist. It was financially supported by the funding program Musicboard Berlin, recorded live in a single take at Berlin's Nadel Eins Studio, then mixed by Paul Leary, of the Butthole Surfers, in Texas. Finally, it was released on the official label for Arma17—the underground club known as the Berghain of Moscow—which happens to be on indefinite hiatus right now; rumors swirl that it's got something to do with Russian government interference. (Sounds familiar).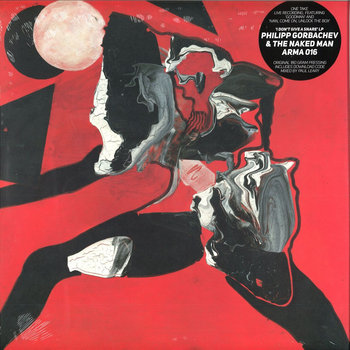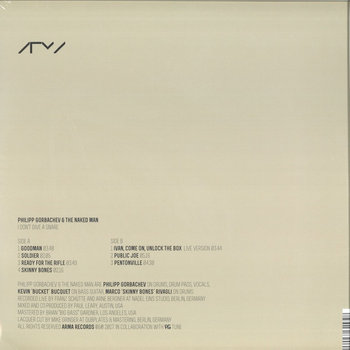 .
00:10 / 00:58
Merch for this release:
Vinyl LP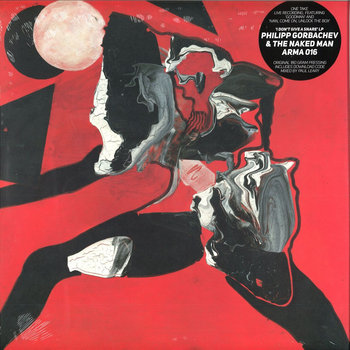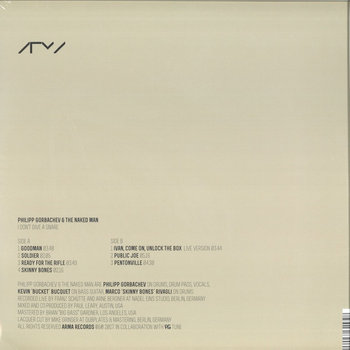 "It's been very tough," says Gorbachev, from an outpost in Berlin, where he has spent much of the spring. "I'm a resident of the club, so of course, this is an 'official' statement, right? Arma17 is taking a break in Moscow, with a focus on events outside of Russia."
Gorbachev, unfortunately, is used to this kind of thing. Last year, he was all set to debut his new album, Unlock the Box, on the main stage of the Outline festival, curated by Arma17. He had worked on the music and set design for six months. He had eight-foot-tall marionettes, designed by Oleg Glushkov, of the Bolshoi Theater and media company Sila Sveta. Instead, the show was shut down by military police in riot gear (a reporter for Vice, who had flown across the world to make the canceled festival, captured the alternative festivities).
We spoke to Gorbachev about 19th century Russian art, the beauty and danger of algorithms in art and politics, Berlin and Russian club culture, and of course, his new album.
You had a fairly international childhood. Is that correct?
I spent my childhood in West Berlin in the '90s, because my family didn't find it inspiring to live in Russia after perestroika. You had to stand for an hour in the queue to buy a sausage. Empty shops, nothing. We went back to Russia when I was seven or eight. I don't remember Berlin so much, but I do remember music being around; it was very international, very colorful. I remember some rave music on the radio. I remember some people dressed as ravers on the street, good-looking girls and boys, having some fun.
Tell me about the Russian music scene.
Russian people, most of them, who listen to cool music and are interested in the world, they speak different languages. I learned English in Russia. I'd never been to England before I went there to play shows. I hadn't been to England when I started to speak English. We have a lot of interest in the world around us. This gives us a big advantage, because we also speak our own language.
The Russian language is not really connected to English or German—it's a different sound, a different group of languages. We still have this possibility to contribute to the global culture, which I think is totally great, but it gives us a certain place where we can hide when we don't get the same understanding from people of our transatlantic civilization. That's our mystery, our Russian world, our Russian spiritual experience, which is one of the main reasons why I can make music. If I had not been raised in Russian culture, not given access to the Russian language, to literature, visual art, to read the Bible in Russian, to experience the Russian nature, the Russian people, my music would be different.
English is a global language. We can't deny that many people speak English. But my primary language is music. Imagine, just a few of us in a small village. Someone [owns] a cow, someone [owns] cats, someone is fishing, someone is collecting berries. And someone is doing music—not just because it sounds good, but it's making a statement with this music. You can live and express your feelings not only by being a politician or a film director or a military guy. With music you can also communicate and reach the hearts of the people, to express the fun and fantasy and the things that move us. When you cry onstage, or you make a noise, it resonates with the environment around you. It's not like, 'Oh, you're a musician, OK, cool. So you kind of play… kind of rock? Or kind of techno? Or kind of house?' It's not about being 'kind of.' It's about being real.
This is how I grew up. If you go onstage, it's because you have something to say. This city, this culture has this attitude that someone who is performing, or someone who is a DJ, is a storyteller.
Do you have a sense of what you are communicating, or what kinds of stories you are trying to tell in your music?
My new album with my band is called I Don't Give a Snare. This is our group statement to picture a stripped-down man, stripped down to the naked soul, based on improvisation and groove. Nothing to hide.
Your band, The Naked Man, originally came together over Craigslist, correct?
It's a very fun way we met. Craigslist was absolutely a blind date. The ad said something like: 'Musician, drummer needed for international touring dance music project. Please send five favorite YouTube videos.'
When I was a kid, I was as naive and stupid as I am today, and I thought if I were hiring someone to work in my company, or looking for people to join me, I would just ask them to name their five favorite songs to understand what kind of people they are, and if we can connect or not. I did it. And it worked.
Kevin 'Bucket', the French bass player, he's a genius on bass guitar, he's a professional, skilled jazz player who can play in a variety of different styles and modes and speed and intensity, he knows it all. I really like him personally and his groove is fantastic. Marco Rivagli is a showman on drums. He started to play drums when he was three, and comes from a very musically rich Italian family.
Of course, I had to have a couple of auditions to find people I could connect with. But it wasn't that hard, because some people, after two minutes of playing together, shut the door and ran away from me screaming. After I'd found the drummer, and we were looking for the bass player, we invited some person and asked him to play the most simple bass pattern for 10 minutes without switching to anything else. And all the people who failed this test, they ran away screaming, 'You are freaks! I don't want to work with you! This is not what I read in the description!'
OK, so this is a dance record, with lots of repeating beats. But the entire thing was recorded live, by people with instruments, not computers running algorithms, right?
This is a live album, which contains two drum kits, a bass guitar, and a microphone, and some drum pads, that's one-take live recording, no post-production, no overdubbing, it's just what it is. I was inspired to make a record like this because I had this experience playing at raves and house parties around the world and being a fan of some DJs who would play dance festivals regularly, or at Berghain in Berlin. I find the Berghain floor inspiring, because first of all, I like it when people play long sets. Secondly, I like situations when the ego of the artist is minimized and the atmosphere, the unity of the dancers is maximized.
I don't like long shows, sitting in a chair. The Ramones played their shows for 30 minutes, and it was over. But I can dance for hours in Berghain. I can't stand any band for more than 10 or 15 minutes—except maybe Battles, but that was at Berghain too. Our record is not of classic verse, then chorus, then intro, outro. We play, we go into the trance, we go into the loop, we feel that we're dancing together with the music.
My technological set-ups, some of which I developed with Matias and Isaac Johan, are based on the idea of playing music as if we were drum machines…but we are real people. We were inspired by this beautiful idea that we can give ourselves to this frame, but let's go back to the technology and see what you can do as a human, having this essential information, having the progress that machines and technology gave us. Because in the end, there is nothing new about someone making music with his computer, or his drum machine. It's really old, all the cybernetics, all the algorithms, it's '60s.
For me, the most fun stuff is the moment, today, because you can not program the future. God can come tomorrow and end us all. Tomorrow is not promised. This world around us shows how much we can get trapped in algorithms. I'm talking about some nasty campaigns to attract more customers, or more supporters for certain political parties. I'm feeling very, very good having an album that was created completely live, and supporting this live approach in life.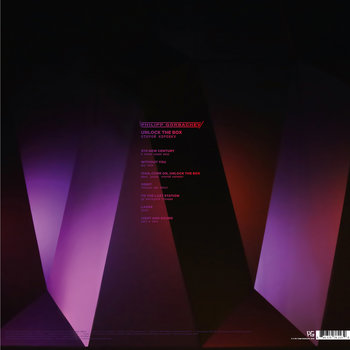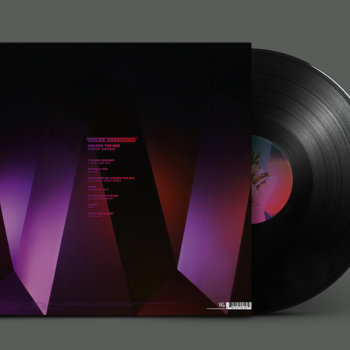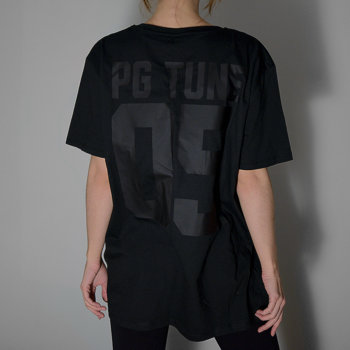 .
00:10 / 00:58
Merch for this release:
Vinyl LP, T-Shirt/Apparel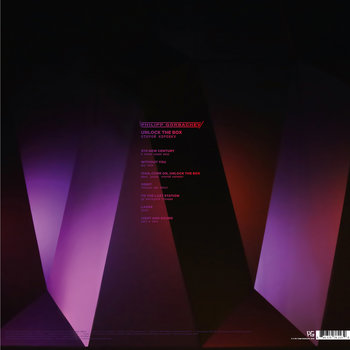 Tell me about the Moscow scene. What are some of the social and political tensions creating a thriving scene when the state seems to be against it? Why are these things getting shut down, and what's it like being in a community of musicians who are also fighting against this?
[Sighs] It's fucked. It sucks. But this is not interesting. It's just a lot of trouble… It's a reminder to people who are living in Western countries, and having a good time, having some social benefits, having some trust in a signed contract, or paper with other business partners, with the city officials. In some cities there is a lot of money invested in the night-time entertainment and music industry, which I think is great. These people should know and remember that they could also be in situations like the Russians are nowadays if they don't fight for their rights and create dialogue in their society—and of course, art is a great tool for making a dialogue in this society.
Apart from that, I think the scene is something, well, it's hype. I've never wanted to be part of any scene. I don't really believe that any scene exists. I believe in friendship. I believe in musical brotherhood. These things are international and don't depend on the nation, the race, the gender, and all these things that people try to use as tools for separating people from each other. The music scene in Moscow, because it has not been so industrialized, it doesn't dictate the professional behavior of musicians as merchandisers, but forces them to share more for less credit and money maybe. Anyway, [there isn't anything that] really [stops] people from creating.
Then there are countries like Germany, that actually give people money to fund underground art.
I really like the people in Germany. They have done so much work. Our record is the result of these good intentions because we got money from the Berlin government. They understood that supporting people who do their own stuff, giving public spaces to create clubs, and galleries and art centers is great. This is a sustainable concept of real politics.
The resources in bigger lands go to something big, but they forget about the close ones. Your neighbors, people in industries in your hometown. In order to really love someone you have to understand someone. When you love someone you might have to go deep into their everyday troubles and understand what is not okay and what can be better. What kind of records do they listen to at home? What sort of clothes do they prefer? What sort of flowers? What's more important, to share love with your close ones or to live like you have an abstract dream of becoming a 3D superhero? That's the role model of evil. To be idolized. Idols are shit. That's a good rule: 'I don't give a snare.' That's Kevin's expression, actually. Someone asked a question during the recording, and he said, 'I don't give a snare about that.' I love it.
—Amy Benfer