FEATURES
The Story of Phat Kat, "Carte Blanche," and The Gods of Detroit Hip-Hop
By Dean Van Nguyen · July 27, 2018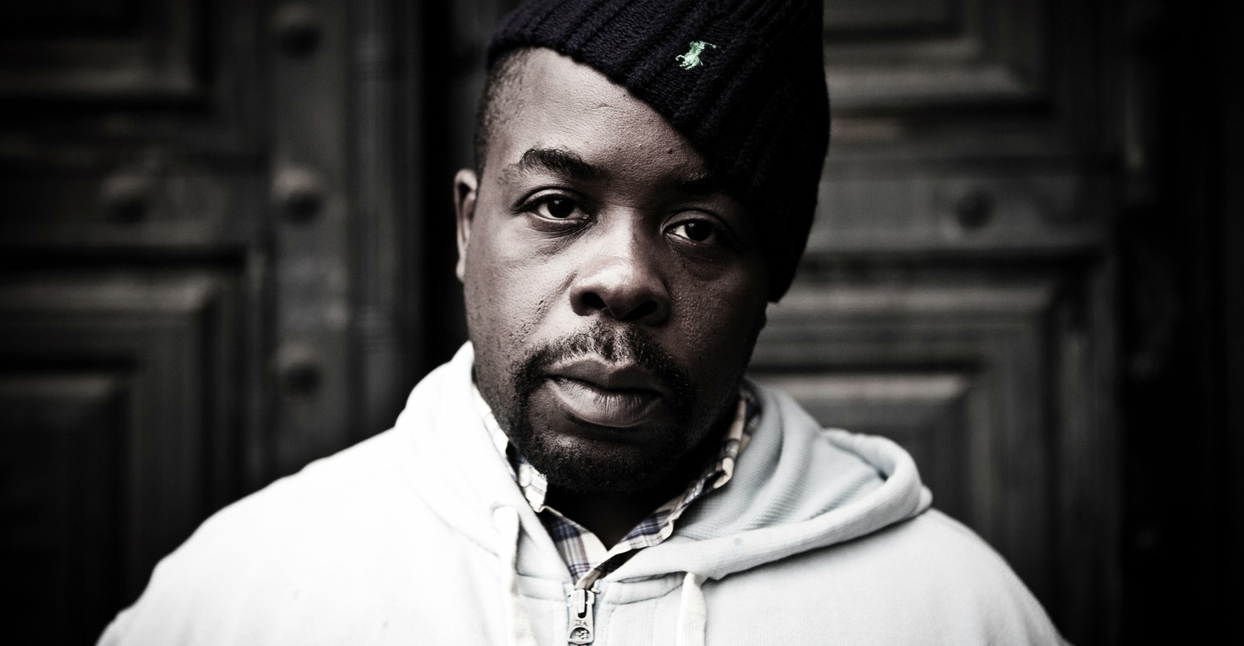 Phat Kat's legacy is unbreakably tethered to J Dilla's. Even as far back as the early 1990s, Dilla kept a tight crew of artists around him in Detroit. And nobody was a more important hero in the Dillaverse than Phat Kat, the streetwise MC with a swaggering flow, the "city of crooks"' most funky, one of the producer's most trusted warlocks.
It was under the name 1st Down—Kat on the rhymes, Jay Dee on the beats—that the pair inked a deal with Payday Records, one-time home of DJ Premier, Jeru the Damaja, and Jaÿ-Z when he was still rocking the umlaut and hyphen. More broadly speaking, Kat and Dilla's closeness encapsulated the intrinsic web of local Detroit artists prowling the Eastside of the city—Frank n Dank, Black Milk, Waajeed, Que D, and the Dilla-helmed group Slum Village.
The full breadth of Phat Kat's artistry reveals itself on his second studio album Carte Blanche. Dropped on Look Records back in 2007—and recently reissued on Below System—this was his chance to throw everything in his arsenal at a solo project. But it's also a record that embodied the distinct hip-hop that has rippled out of the Motor City, with collaborators drawn almost exclusively from Kat's cell phone contacts list. Detroit mixed East Coast producers' nuance for samples with their own brash, hustler etiquette, while mostly scrubbing the more hostile, steely gangster vibes popular in rap at the time. The result was a scene that was distinguishable from any other region of rap. "We created our own lane and we just perfected that," Kat says.
Carte Blanche also represents one of the final projects Dilla was involved in before his tragic death in 2006. The album features five Dilla cuts that bottle the chemistry he shared with Kat that went all the way back to Dilla's studio basement in his childhood home. Dilla demanded brevity from his collaborators. They had to be right there, willing to delve into the deepest caverns of his creativity in real time. It's easy to picture even seasoned vets struggling to find a route into Dilla's world.
"We recorded so fast, it used to put a lot of pressure on other people because Dilla would lose interest quickly," says Kat. "If you're not recording and the flow ain't right, he'd [ask you to] leave. We just had a crazy chemistry. I would come and we'd sit around, laughing and joking, he'd put the headphones on not really knowing what he's doing, and then he'd take them off and hit play on the speakers. 'Damn, you just did that?'"
It's impossible to trace the exact genesis of the umbrella of Detroit hip-hop that Phat Kat fell under. You can go all the way back to the hallways of Pershing High School, where guys like Dilla and his Slum Village comrade T3 once roamed. Then there's the holy ground of The Rhythm Kitchen. In a Chinese restaurant called Stanley's on 265 East Baltimore Street, Maurice Malone and MC Proof, who'd later make his name alongside the city's most famous son, Eminem, in D12, would hold an open mic on Tuesday nights. It's where Kat and a lot of other local talent sharpened their skills.
Recordings were cut to be sold locally and aired on college radio stations. Younger than Kat and his clique, Nick Speed would make his mom pull up to The Hip-Hop Shop, a Malone-owned Detroit rap epicenter, to pick up releases like Proof and DJ Head's W.E.G.O. mixtapes. To Speed, Phat Kat was a hometown hero.
"He's actually one of the reasons I fell in love with Detroit hip-hop," asserts Speed, who'd go on to produce for 50 Cent, Talib Kweli, and helm two Carte Blanche tracks. "I would hear him say stuff like, 'What up doe' in his music. That was the kind of stuff that I would hear in the streets—that was an everyday word for me at the time, but I'd never heard anybody actually say it in a rap song… I didn't hear anybody speak like we spoke on the block. So when I heard him say, 'What up doe. Earl Flynn. I'm known for crushing MCs…' I just thought that was amazing." It was in The Hip-Hop Shop that Slum Village's T3 first saw Phat Kit spit. His head turned immediately. "He has one of those voices. So his rhymes sounded better than most just on his voice alone. And he had lyrics as well," says T3. "So when I heard him at The Hip-Hop Shop for the first time I was like, 'Yeah Kat is dope. He crazy with it.'"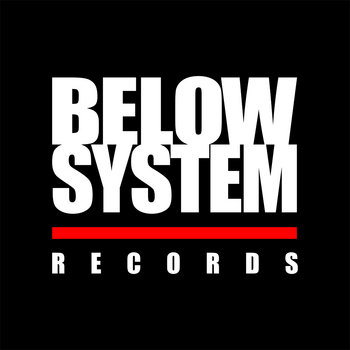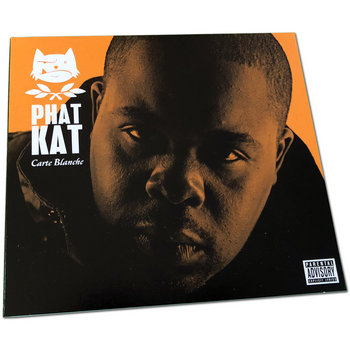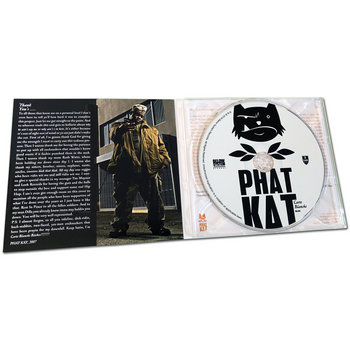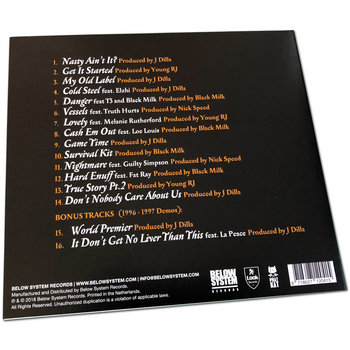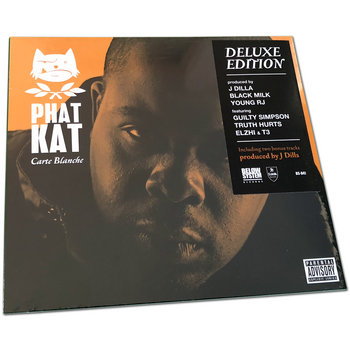 .
00:10 / 00:58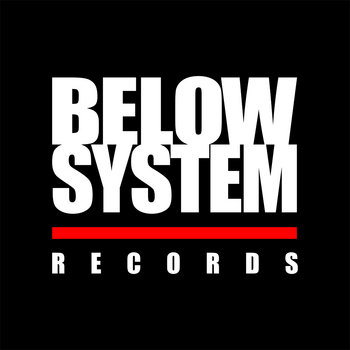 Merch for this release:
Compact Disc (CD)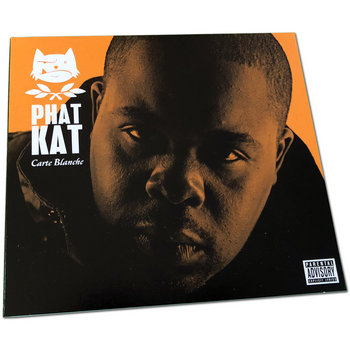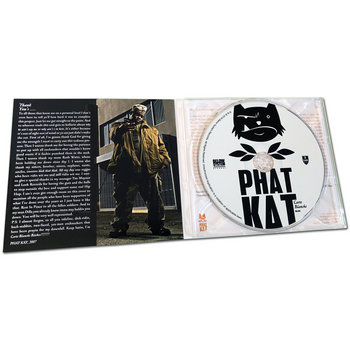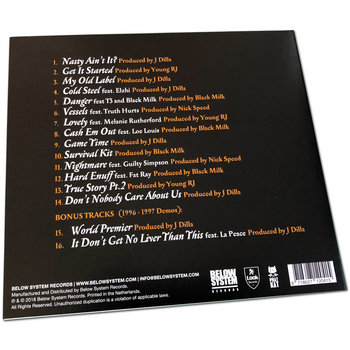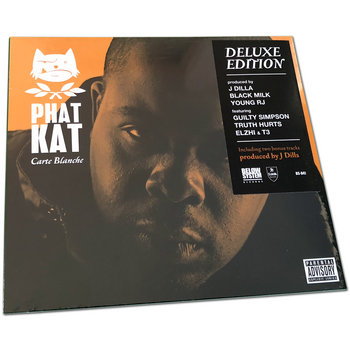 Slum Village's official lineup consisted of Dilla, T3, and Baatin, but Phat Kat functioned as a kind of fifth Beatle. Not everyone gets to drop their theme song on somebody else's project yet he's closely associated with SV's Fan-Tast-Tic Vol. 1 because of "Fat Cat Song." But that classic wouldn't receive a proper release for years (it's not easy to clear the myriad of samples Dilla deployed when he was bubbling in the underground with only a couple dollars in his pocket). So as fate have it, Phat Kat and Dilla were the first to secure a record deal after a meeting with two of the gods.
The Gang Starr duo of DJ Premier and Guru were in a record store on the Eastside of Detroit as part of their Hard to Earn promotional tour. Phat Kat remembers being the only person present, but found it difficult to salute himself when eye-to-eye with his heroes. In fact, Kat's burgeoning career wasn't mentioned until the store owner chimed in, asking Preemo and Guru: "Did he tell you he rapped?"
"I went and got a cassette and played it," remembers Kat. "Next thing you know, we ended up getting signed to Payday Records."
1st Down only managed to cut the 12-inch single "Front Street" and "A Day With The Homiez" before Payday dissolved, robbing Kat and Dilla of their momentum as a duo. But by then, Dilla was extending his reach beyond his circle. Even during the sessions for the single, his phone wouldn't stop buzzing. Kat remembers Dilla being interrupted by a call from Q-Tip, who'd become his spiritual kin.
During this period, Phat Kat and Dilla laid down two tracks that only now have been summoned up from the vault. "It Don't Get No Liver Than This" and "World Premiere" appear as bonus tracks on the reissue of Carte Blanche, despite being recorded a decade previous for a 1st Down album that never transpired.
Kat remembers "It Don't Get No Liver Than This" being typical of how they both worked: "He made the beat right there on the spot. We went in and laid it right there. That was a spontaneous song. Back then, I never got to rap over beats that were produced and people heard. Anything you heard me on from Dilla back then was stuff he made right there in my face. I don't know why, he just never liked me to rap over beats that were made to a beat tape."
Dilla spent the next few years working on Slum Village's music and producing for other artists. 1st Down, for all intents and purposes, simply faded away. But Kat never fell off the grid, constantly on the road with the likes of Slum and maintaining close relationships with the old crew. "We were all on each other's records," says DJ Dez, a long-time Kat ally who provided the scratches on Carte Blanche. "We were all a part of each other's magic in a way. So it was a great time."
Meanwhile, Kat continued to work on his solo catalog with Dilla by his side. Take his Dedication To The Suckers EP, which dropped in 2000. The whole EP was recorded in just hours. "'Dedication to the Suckers' was the first song we recorded for that EP and I laid all my verses that night and I left," Kat remembers. "Dilla called me at three or four in the morning. I'm thinking something's wrong, I answered the phone. All I heard was, 'This is dedicated…' He was playing 'Dedication to the Suckers!' Man, I heard those cuts man, it was crazy."
Dilla took those projects by the collar and Carte Blanche offered Phat Kat a moment to exert full control on his artistry. This was his statement, his time to stand up as a fully functioning solo artist.
"It just felt good to be hands-on like that and be in control," says Kat. "That's why I called the album Carte Blanche because I did whatever I wanted to do on the album without nobody or a label telling me, 'No, you can't do that song' or 'You gotta make this type of song.' There was none of that. It was all me. Whatever I wanted to do, I did it on that album."
"This was a statement album for him," adds Guilty Simpson, who appeared on the song "Nightmare." "In a sense separating himself from how he previously worked, just kind of spreading his wings to say, 'This is me and this is what I do.' That's the vibe I got for him."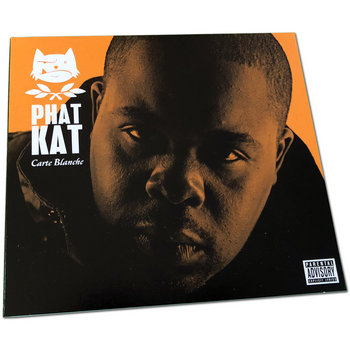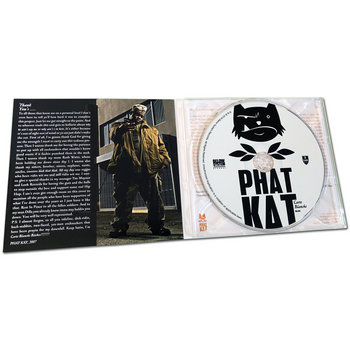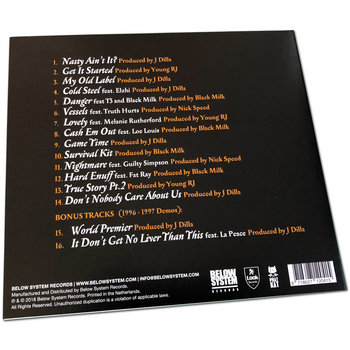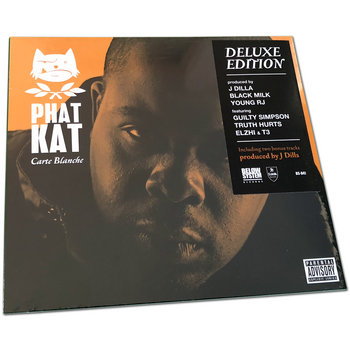 .
00:10 / 00:58
Merch for this release:
Compact Disc (CD)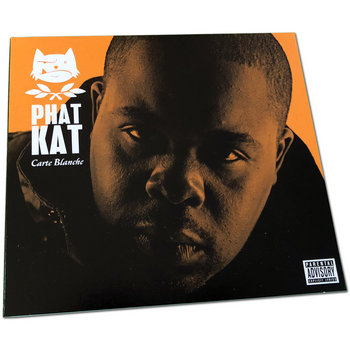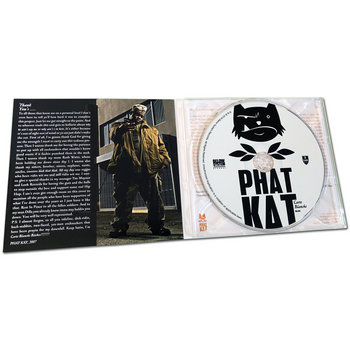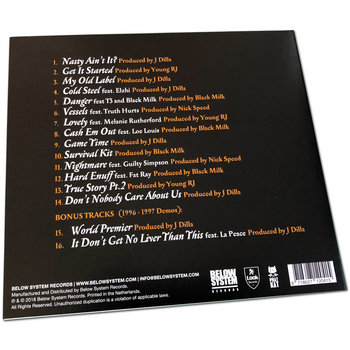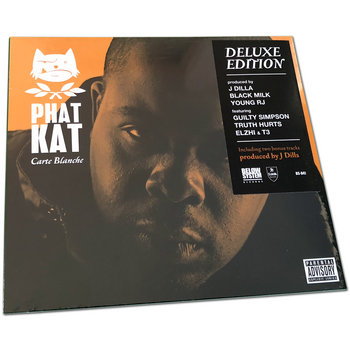 The bulk of recording took place at Look Records headquarters in San Francisco, where Phat Kat temporarily relocated and worked intermittently on Carte Blanche while maintaining a heavy touring scheduled. Pre-production, though, took place back in Michigan, where most of Kat's collaborators contributed their pieces. The album bottles chemistry that had long been brewing.
"These are people that I'd been knowing and working with from day one, so it was only right for me to do an album like Carte Blanche and have all of those guys included," says Kat. "That was my circle. Those were the people I dealt with. And they just happened to be [laughs] crazy producers and dope MCs. And that's what you got."
Make no mistake, though: Phat Kat was the project's overbearing overlord, right down to the scratches. "A lot of times Phat Kat would have ideas for the scratches and I'd add on or come up with the stuff, but a lot of the times he had ideas," says DJ Dez. "Probably most of the time he had ideas and he knew I could execute it. That was good for him to know, 'I know who can make this happen.' We had that kind of magic the same way he had the magic with Dilla as far as the beats. He also had a nice chemistry with [producers] Black Milk and Young RJ as well."
"Nightmares" encapsulates Phat Kat's assertiveness in crafting records that he wanted. The beat came from Nick Speed's achieves. So outrageous was the horror movie orchestration that while playing Kat some of his cuts, Speed skipped the track after about a second before being asked to hit repeat. Guilty Simpson eventually found his way onto the number and was happy to slide into Kat's vision of the song.
"He had the hook already and he had his verse, so I just fit in with the songs as it was," says Simpson. "He more or less had the concept already. I was able to get to the studio, vibe out a little bit, roll something up and it was smooth sailing from there."
Then, of course, there was Dilla—"one of the last pieces to the puzzle," as Kat calls him. Maybe it was Dilla's preoccupation with other projects but for the first time ever, Kat was granted permission to hijack pre-made instrumentals from Dilla's vast chronicles.
"I just went through different beats and he just told me to pick whatever I wanted," he remembers. "That was exciting for me because before then, everything we recorded, it was done from scratch right in my face. He never liked me to record over beats that he was letting other people hear. So that was like the first time for me to be able to pick stuff that I heard. I was like, 'Damn man, I wish I could rap over there.' And Dilla would be like, 'Nah, man, we're going to do your shit from scratch.' He never really liked for me to rap over beats that everybody else had heard. He was always big on the element of surprise. He didn't like people to hear stuff that we recorded until it came out and it was always made from scratch."
Dilla's songs are among the highlights. Take "Cold Steel"—his rumbling electronics and a heavily manipulated vocal loop sound as clean and metallic as the title suggests. It's a track that could score a motorcycle street drag racer movie set in Detroit. "If you're in a car, you're going to drive fast if you're listening to 'Cold Steel,'" says Kat. "That was just the [frame of mind] it put me in—just flying up the expressway with that beat on blast, just real aggressive."
Softer moments come in the form of the soulful "Lovely," which finds Kat discussing various stories of promiscuous living on the road. "All those songs that I recorded in the past, a lot of them were based on real life, tour life," he says. "A lot of that stuff was true. I was just talking about what was happening."
"Don't Nobody Care About Us" is perhaps the boldest standout, though. Here, Dilla mines a wandering electronic riff from The Camarata Contemporary Chamber Group. It's a cool, classic slice of hip-hop that would appease the fathers of the golden age as Kat kicks dope rhymes over the uncluttered, catchy orchestration.
Carte Blanche was well enough received, but it was released just over a year after Dilla's death and his final legacy album, Donuts. The unfortunate timing didn't rake in the kind of attention it could have. Eleven years later, Carte Blanche remains Phat Kat's most recently released LP.
Kat is still around, though. As are Guilty Simpson, Nick Speed, T3, Black Milk, and a lot of the other guys. Detroit has representation. And while there are old Phat Kat cuts to spin, their connection to the city's Eastside hip-hop scene remains unbroken.