FEATURES
Perpetual Improvisation
By Will Robin · January 27, 2015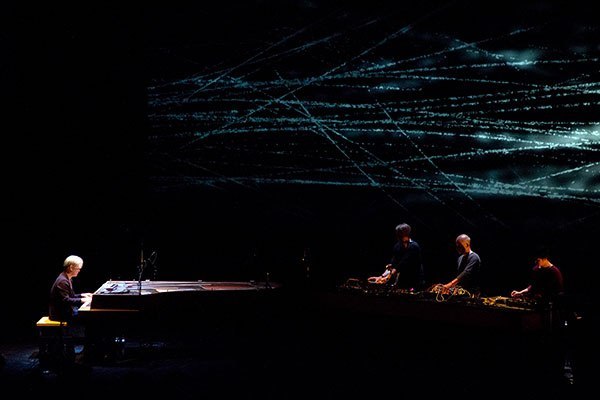 "It was 100% improvisation. We listened carefully to what everybody was doing and contributed with our own senses and skills to make music more interesting and beautiful."
The guitarist Derek Bailey used to say that musicians could only improvise on the first encounter—that after that initial spark of interaction, it's no longer improvisation.
But even in that explosive first contact, there's often a set of unspoken conventions that guide the performance and shape its aesthetics. To visit an experimental music venue in North Carolina—as I do on occasion—is to hear noisy improvisers raucously subverting the norms of their instruments, even if they have never met before or spoken about what they intend to play. It is spontaneity, but with tacit agreements, the overlapping of a particular set of sensibilities.
There is neither noise nor raucousness to be found in Perpetual, out today on 12k, a collaboration between Japanese polyglot composer/producer/pianist/activist Ryuichi Sakamoto, electronic musician Taylor Deupree, and the duo Iluha (comprised of Corey Fuller and Tomoyoshi Date). There is, instead, stillness and silence, tranquility occasionally disrupted by unidentified clamor. But Bailey's ethos of improvisation without preapproval, and the first musical encounter as the most genuine, is also present. Perpetual documents a 2013 performance at the Yamaguchi Center for Arts and Media (YCAM) in southern Japan, the first time the four musicians had performed together.
"I had known and played with Taylor for years, but it was the first time to meet the Illuha guys," Sakamoto wrote to me. "We immediately became friends right before the performance or maybe one day before."
"I think the nature of improvised music is really all about unexpected discoveries," Deupree said in an email. "Every concert I play is improvised and some turn out great and some not so great. There are always moments of unexpected discovery because the entire show is discovery."
YCAM invited Sakamoto to curate a 10th anniversary festival featuring a series of installations, including his own Forest Symphony. "The background concept for the Forest Symphony is that the digital technology is the 'window' of what we cannot sense, see or hear," he wrote. To draw attention to the drastic effects of nature—in response to the devastation of the Tōhoku earthquake—Sakamoto placed sensors on trees. The sensors transmitted sounds to YCAM so that audiences could listen to photosynthesis. "I wanted to make visible and audible the imperceptible electricity of trees located around the world."
The improvisation seems to flow naturally from this broader project. The first of the three movements features only Deupree and Iluha, who form a series of hushes; vaguely industrial sounds emerge, fade, and sometimes return. There is an eerily strong feeling of place in the twinkling music, an apparition of walking in a forest (distant speaking sounds recall the unnerving vocals of the electronics project No Lands).
"We all share a similar mindset when it comes to improvised music, yet we all bring different talents and instruments to the table," Deupree wrote. An album of improvisation is a natural fit for 12k, which regularly releases live recordings. "I really feel they are documents of singular moments and special times. I release them as much for audience consumption as I do for a record and memory of the event for ourselves. A physical memento we can hold, look at and listen to."
When Sakamoto joins the trio for Movement 2, the sound world shifts dramatically, punctured by what appear to be the rustles of a prepared piano. Retaining the sound of the live context while stripping it of visuals defamiliarizes the music—the quartet performs on piano, guitar, pump organ, and synthesizers, but individual sounds are rarely traceable. Perhaps Sakamoto is dropping pieces of metal onto piano strings; perhaps not. Electronic whirrs and submerged rolls form an alien sonic landscape.
"If it were jazz or rock or pops, you'd have to know the chords and melodies and structures of the songs and how to improvise according to the evolved forms in its history, especially for jazz," Sakamoto wrote. "But it was 100% improvisation. We listened carefully to what everybody was doing and contributed with our own senses and skills to make music more interesting and beautiful. That's all. There were no ego-fights nor technical competitions." Deupree concurred, citing the ease of collaboration with Sakamoto: "Despite his history and notoriety I never felt nervous or small next to him. When the music starts flowing I think we both feel on equal terms and let the music speak for us."
Movement 3 returns to the placidity of the opening, with the addition of Sakamoto's meandering, heartfelt piano. "I think this performance served to prove to all of us the level of love we share for sound and for the music and for creating something in the moment that can last and be relevant for long after," Deupree wrote.
Will Robin is a music critic, musicology graduate student, and occasional saxophonist; @seatedovation