FEATURES
Perera Elsewhere Does What She Wants, And You Can't Stop Her
By Claire Lobenfeld · June 02, 2017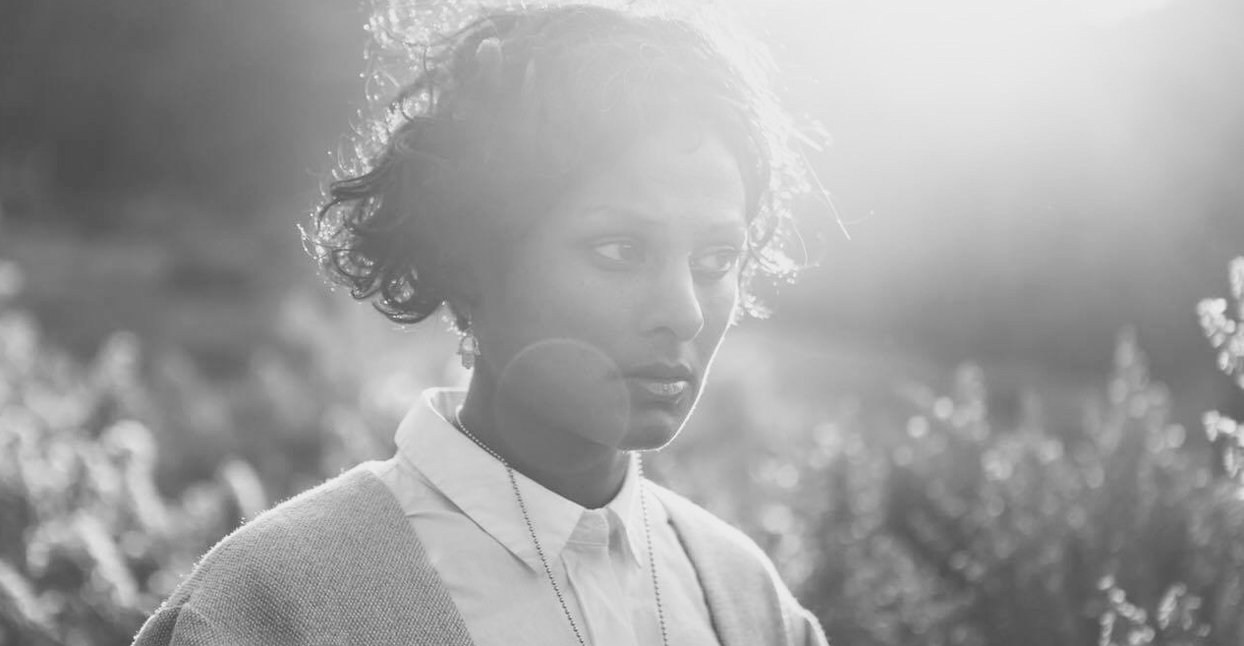 Sasha Perera, aka Perera Elsewhere, always has one ear tilted toward the future. As the vocalist in the Berlin trio Jahcoozi, Perera and her bandmates made forward-thinking bass music before the polyglot dance music boom of the last decade began. She describes the music on her latest solo album, All Of This, as "doom folk," teeming with dark pop, trip-hop, and R&B. Among other things, she sings about hopeful escapism ("Tomorrow South"), and the increasingly confounding idea that identity and corporate language—self-branding, as it were—are becoming one in the same ("All Of This"). Perera's palette is global, but not just as a producer and artist—she's an accomplished DJ and instructor as well.
When Perera spoke to us, she was in Abidjan for some DJ gigs following a trip to Burkina Faso. We talked about finding empowerment through technology, the best up-and-comers making club music, and the uncanny way a melancholy cover of 50 Cent's "Candy Shop" ended up on her new album.
Merch for this release:
Vinyl LP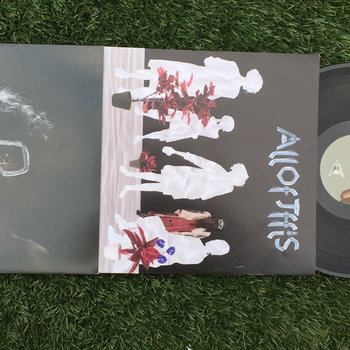 What were you doing in Burkina Faso?
I was DJing and giving production workshops with Ableton. I was sharing with MCs ways that they can make their own beats and do their own productions, and showing different musicians how to produce themselves. This is through the Goethe-Institut, the German cultural organization which has budget to exchange culture with other countries. I've used Ableton for a long time. The first record with my old band Jahcoozi was made on Ableton.
What do you like about teaching other people about music and production?
I feel like I'm in the same position as them. I used to be an MC and I used to write to other people's music. I had equipment, but I used to get all, 'Ugh, it takes so long to make stuff,' and it's just not true. I think if you're a vocalist or an instrumentalist, being able to develop your own ideas without other people, and not being dependent on a studio which you have to pay money for [is important]. I feel empowered through technology and I wanna share that with other people.
There was a recent controversy with a DJ school in New York, where students were paying nearly $5,000 for Ableton lessons and the classes never happened. I feel bad for them, but kind of 'ugh' about the whole thing.
'Ugh' is right. Get on the Internet, hang out with your friends, mess around, watch tutorials. Nobody would have paid for me to fucking study anything like that. I'm happy that other people can do that—if you can do that, good for you. Just use it. Don't go to Berghain, fucking spoiled bitches. I don't wanna sound like some war dad who's like, 'When I was a kid, we had to work for our money.' I don't want to sound like that, but everybody's gotta find their own journey. There are people who go to those schools and they also make amazing things. It's also OK.
You've stressed the importance of being able to do things on your own. How does it feel to be going into your second solo album?
It's similar to my second album with Jahcoozi. There was no pressure on my first album with Jahcoozi or my first solo album as Perera Elsewhere, because nobody knew about it. And then you start to get press and you have this weird form of expectation. You start to feel like, 'Oh shit, maybe it was a fluke.' At the beginning, I felt like I was making more tracks. In the middle I was like, 'Fuck man, why didn't I just get random 20-year-olds to do my beats? I could make an album in a week.' But obviously that was not my mission. I play trumpet on this album, I didn't on the first one but only because I didn't want to. Trumpet is actually the instrument I've played longest in my life, weirdly enough.
There is a very distinct progression from the first album to the second. This album is darker and more pop-infused than the first. The darkness feels a little bit more investigative than the first album, but there are discrete pop songs. Are there specific feelings you're looking to evoke with the music, or that you feel like you need to express for yourself? How do you know when something you're sketching is something you want to put in the world?
If I decide I'm going to write a song, then I tend to start with some kind of melodic progression. I get on keys, organ, synthesizer, guitar or bass, anything that gives me a small chord change, enough melody to write on it. I also have to put in a few weird sounds that transport me somewhere and make me want to write something. I'm not the kind of person that can just write and record my vocals on anything. I really feel funny to write stuff which doesn't move me to another place. There is much more experimentation on this album, a lot more elements. I always called the first album a sketchbook, it's like deconstructed pop. With this one, I've used those deconstructed elements, but added more things to it. I would say it's completely reconstructed as pop, but it's a sketchbook where I started to color in certain parts.
Merch for this release:
Vinyl LP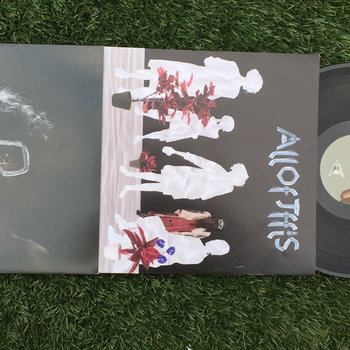 The weird elements or sounds you were talking about before, how do you find them?
I'll get some leaves from outside and shake them in a microphone. I'll get some kind of string instrument I bought in Bangladesh and start playing it badly on a microphone, and then I'll take that and manipulate it in Ableton—I'll pitch it, I'll stretch it, I'll repeat it, I'll loop it, I'll reverse it. Sometimes I use a weird shaker I've made with rice, or whatever, and I'll put a filter on it so it's moving. Once the melody feels transported somewhere, then I want to write on it. A chord progression is a chord progression. It can make you feel something. But, for me, sound aesthetics are so important. I DJ club music, right? The sound aesthetic is so important. I really hate cheap, shiny, over-compressed sounds.
When you're DJing, what do you play?
I actually play bass music, because I come from it. As a kid, I listened to a lot of jungle, drum & bass, U.K. bass music, garage. I think you can hear in my music as Perera Elsewhere that space and time is something that is very important to me. I put a lot of effects on things, and I kind of create this world by using stuff like reverb and different effects to create different dimensions within the sound. Because I come from club music, if I'm playing at 2am, I love that kind of music, I'm super happy to play it. There's so much amazing club music that is still coming out. I know a lot of DJs produce the same music that they DJ, but for me, it would be extremely boring to have to do that. I would feel bored in my creative process to have to think about people dancing. Maybe I'd be richer if I did it, but life's too short.
Who are the producers you're into right now?
In terms of club music, I listen to a lot of London and Bristol kind of sounds. There's a guy from China called Howie Lee, he's [making] really weird bass music, kind of like Aphex Twin. It's fucking good. There's this chick from London called SHYGIRL and someone called Video Salon who I like. I play a lot of grime, as well. In 2004, I was the first person in Berlin who booked people like Skepta, D Double E. I used to do a party called 'Grime Time' and I brought D Double, Lethal Bizzle, Wiley—but he had to cancel. Bruza came, Skepta, Jme, all of these people. I still fucking love grime, but I don't play a whole grime set—I mix it with footwork, juke, whatever!
You have a knack for mixing genres, but there is one track on the album that stands out, 'Karam,' which is a pretty dark cover of 50 Cent's 'Candy Shop.' How did that come to be?
Oh my God, that song I recorded in Istanbul. I had to live there for a bit, and it was fucking depressing. It was just when the world started falling apart and exactly the time of the refugee crisis, when [Turkey's president Recep Tayyip] Erdoğan started turning into a much bigger lunatic than he had been before that. Turkey was at the absolute center of the refugee crisis. It was a weird time to be there.
I also had to work on something I didn't want to work in. I was asked to play a really weird character in a period drama: an Ethiopian mute slave in 1510 during the Ottoman Empire. I'm not an actor, I haven't even got a TV. They heard of me through someone, said I looked the part, and asked me to audition. They offered me money! I'm a poor musician, so I did it and I had a bit of an identity crisis at the same time because who wants to work at McDonald's? Not me.
Merch for this release:
Vinyl LP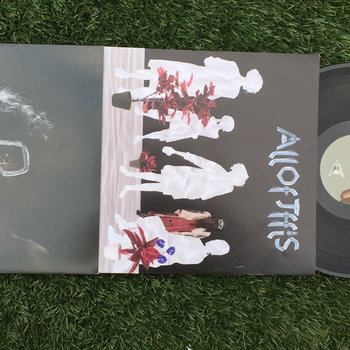 So, while I was working at McDonald's—I call it McDonald's, because it was like a Disney-style TV series called Magnificent Century—I recorded tracks backstage. I'd take my gear with me and ignore everyone. I was making tunes as a form of protest. Nobody ever asked me what I was doing, that's how uncommunicative it was. There was a language barrier, but I spoke Turkish by the end, enough Turkish to be told where to stand, when they're going to shoot, things like this.
There are some very cool people in Istanbul, just not working on a TV staff, I'll tell you that. There's some pretty cool TV in America, there's some funny things like True Detective. If somebody asked me to be a slave in that, I'd be like, 'cool,' instead of being in a cheesy pile of shit.
Anyway, I recorded this song—it's a very sad version of 'Candy Shop' to me. The only woman who spoke English on this whole set was a translator for another actress, and she used to sing this song all the time in the most depressing way because we were always on set. She kept on doing this and I was like, 'OK, this is my theme song.' I went backstage and recorded it on a MacBook mic. I played the bass line on the keyboard of the computer, then I went home and made the rest.
—Claire Lobenfeld