FEATURES
Pepe Deluxé Return With a "Phantom Cabinet" of Curiosities
By Max Pilley · October 20, 2021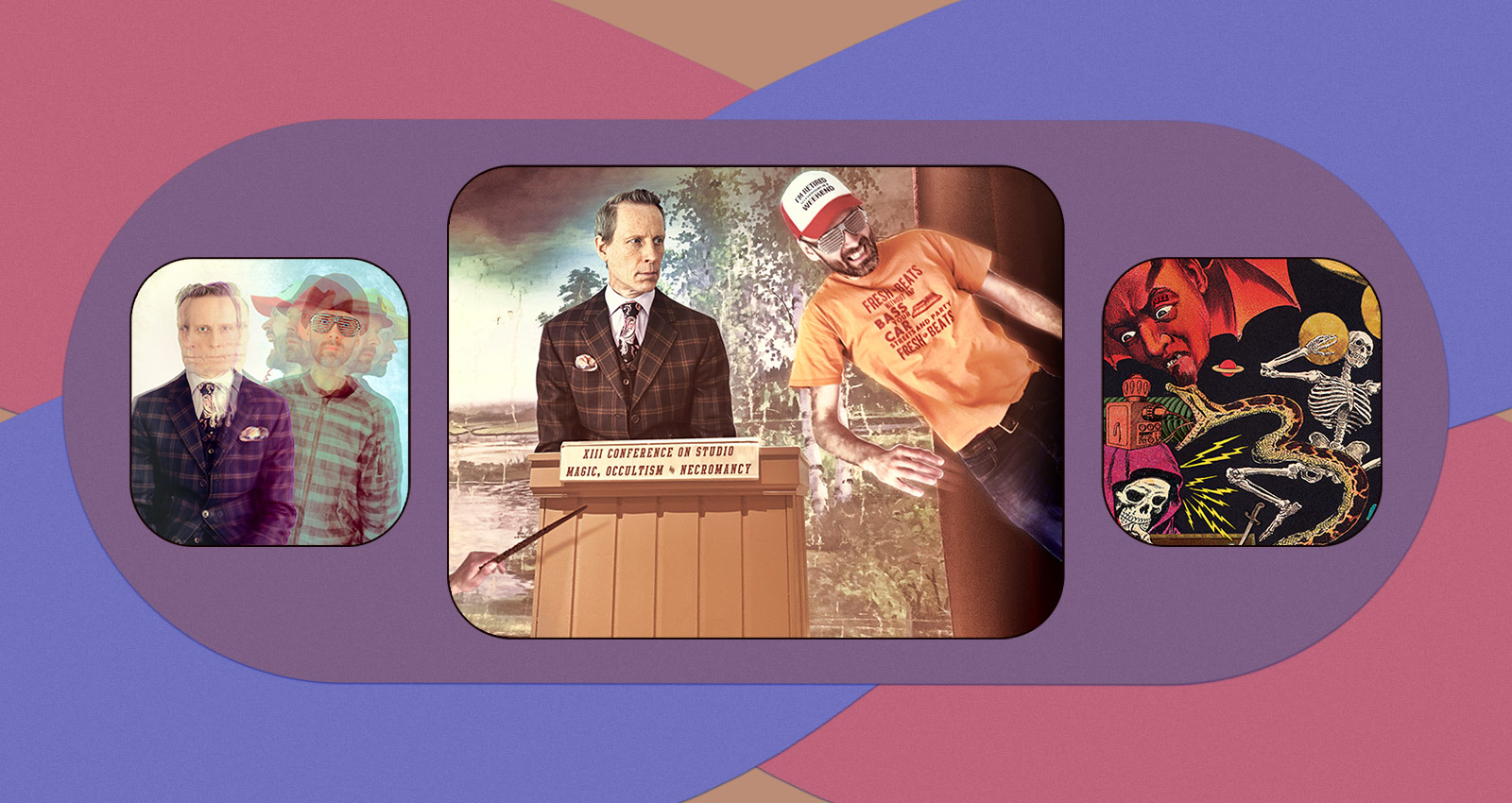 Where can you find the world's largest cowbell, an 18th Century wooden mannequin woman with a clavichord in her skirt, an Alexander Graham Bell-invented instrument containing real human ear cartilage, and a pyrophone, which creates music from real fire? Those items—among countless other curios—all feature on Phantom Cabinet, Vol. 1, an album of revelatory exploration from the Scandinavian duo Pepe Deluxé that is finally seeing the light of day after a 10-year incubation period.
Pepe Deluxé first found success as part of the breakbeat and big beat scenes in Europe in the late '90s; they were sampled multiple times by The Prodigy and scored hits in the UK with "Before You Leave" and "Woman in Blue," the latter of which was featured in a prominent Levi's ad. A number of line-up changes later, James Spectrum—the only remaining original member— and Paul Malmström, who joined in 2008, have a built dedicated following who have patiently waited out the last decade in anticipation of the group's fifth studio album. The delay is partially owed to the fact that the pair both becoming parents for the first time. With characteristic ingenuity, Spectrum recorded the birth screams of his youngest daughter—they too appear on Phantom Cabinet, Vol. 1.
.
00:10 / 00:58
The story of this wild album began when Spectrum and Malmström were putting the final touches on their last album, 2012's Queen of the Wave, which incorporated music they had written for the Great Stalacpipe Organ: a vast instrument built into a cave in Virginia that creates music by tapping tiny rubber hammers against ancient stalactites.
"Half a million people have been visiting it every year," explains Spectrum. "But nobody had composed a single song for it. People don't see it as a musical instrument. That gave us the idea: Are there other musical gems like this, other hidden musical jewels around the world? We decided to find a few of them—and it didn't stop at a few. Once you start knocking on one door, you get ideas about others, and it starts expanding and expanding. We could have gone on forever."
Through fiendish historical study, some extensive Googling, and exhausting their contacts (as well as reaching out to their fanbase for recommendations), the pair amassed a compendium of the world's rarest and most obscure instruments and set about finding ways to access them.
Unsurprisingly, the resulting album is a maximalist paradise of sound, overflowing with ideas and enthusiastically engineered to celebrate life's idiosyncrasies. The novel sounds collected from the museum objects add flavor to the tracks rather than dominate them; but a sudden left turn is never far away, whether it's in the form of maniacal psych-garage rocker "Big Fat Woodpecker," the eccentric exotica of "A Morning Beautiful," or the refreshing pastoral calm of "Sommarland."
Most of the universities and museums involved approved of the project, although In the case of the ANS Synthesizer, a 1930s Soviet invention housed at Moscow's Glinka Museum of Musical Culture, the duo found themselves having to circumvent the curator's demands to pay the equivalent of $10,000 to repair the instrument before using it. They knew they wanted to use the ANS because of its unique ability to turn images into sounds.
.
00:10 / 00:58
"We went back and forth when thinking about what image to record with," says Spectrum. "We thought of The Last Trumpet from the Book of Revelations and a lightbulb went on in my head." They decided ti use William Blake's 18th Century drawing of God's signal of the Apocalypse as the image and the results are heard on album opener "General Deluxé." "We might kickstart the end of the world, but you have to take risks for art, you know," jokes Malmström.
Perhaps their most audacious move was to take fragments of a melody composed by Leonardo Da Vinci and record them on mechanical drum machines also designed by Da Vinci, for the song "Fire Up the Crimson Lion." "You could absolutely say that he had written a melody that nobody has heard, probably including himself, and we have made it into a song," says Malmström. "It feels fun to do that!"
If all this sounds like a cavalier career gamble, then Pepe Deluxé are inclined to agree. Indeed, that's the part of it they love the most. "Instead of having this filter of 'What will people be thinking,'" says Spectrum. "It's more like, 'Let's add in these things because we love them so much.'"
Malmström agrees: "You spend years working on a little snippet of sound. Is it worth it? We think it is. It's like cooking a meal and taking a year to do it and then eating it in one bite. It's worth it if you really savor it."