FEATURES
PC Worship's "Buried Wish" Rises From a Watery Grave
By Zoe Camp · March 03, 2017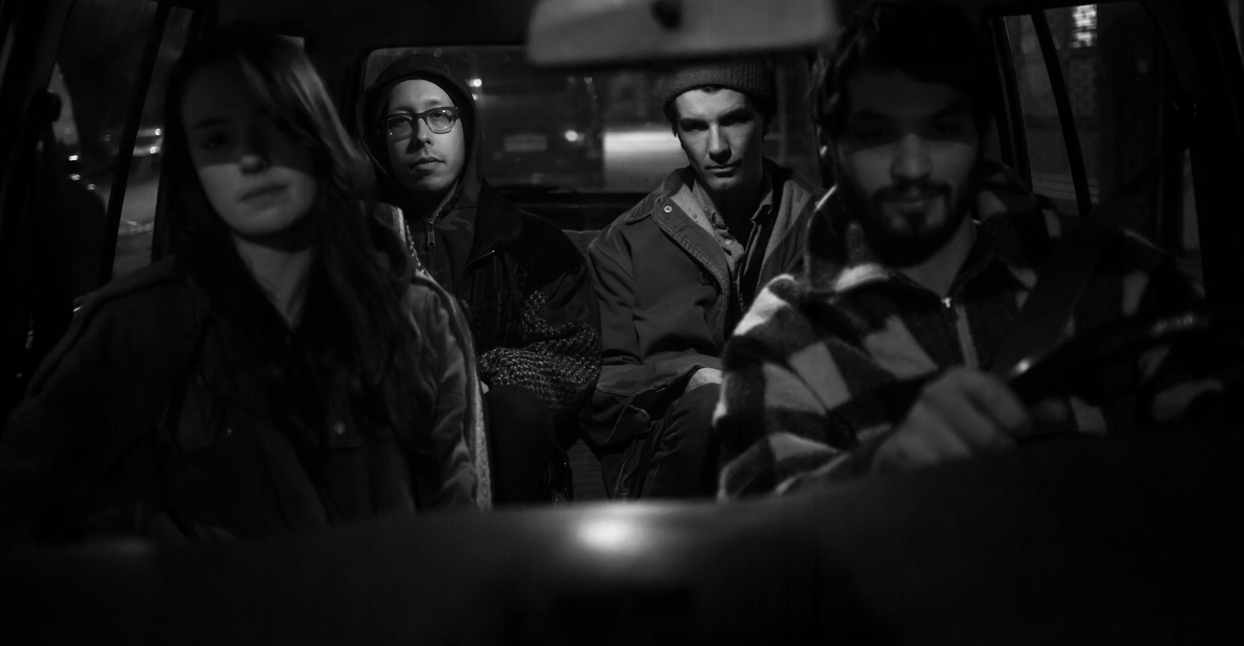 Buried Wish, the latest album from New York City avant-rock outfit PC Worship, owes its existence to the usual musical labor, but with an aqueous twist—in a sense, the album is the product of "flood, sweat and tears." Justin Frye, the group's leader and creative nexus, recorded the follow-up to 2015's Basement Hysteria LP last year beneath a decaying multi-use space in Bushwick, Brooklyn, in its windowless basement. A pipe burst halfway through the recording process, forcing him to take the album's construction elsewhere.
Fortunately, the Buried Wish sessions remained intact. Along with PC Worship's core roster (guitarist Michael Etten, drummer Shannon Sigley, bassist Jordan Bernstein) and usual heap of multi-instrumentalists and glitch slingers, on Wish Frye is joined by Liturgy drummer Greg Fox, harpist Marilu Donovan, and Guerilla Toss vocalist Kassie Carlson, and several other players.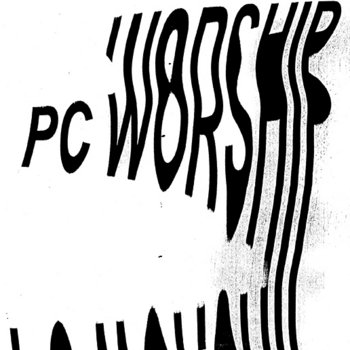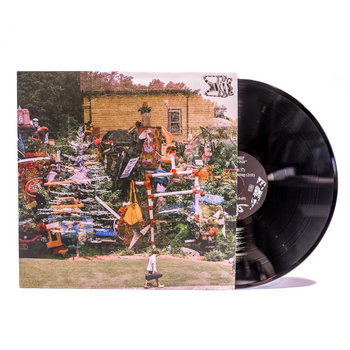 .
00:10 / 00:58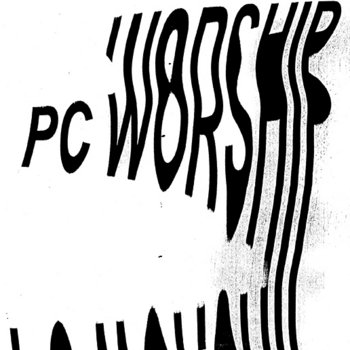 Merch for this release:
Vinyl LP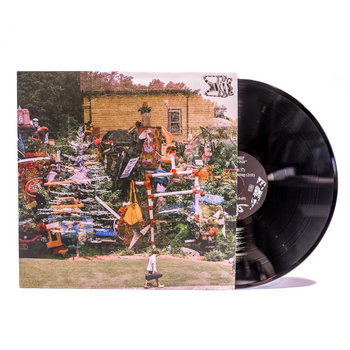 We caught up with Frye over the phone to discuss the album's waterlogged path to completion, its amorphous sonic and aesthetic cornerstones, and its mind-boggling cover art (which he designed).
Could you walk me through the sessions for this album? I understand there was some flooding.
Well, the building actually had a 'vacate' order from the city on it. It wasn't fully condemned, per se, but it was definitely in bad shape. Since the recordings happened, the people who own it have fixed it up and have raised the rent and are trying to turn it into a proper studio. But halfway through, a huge pipe burst, and the whole building flooded. There was about two inches of water in our room. We had to elevate all the amplifiers and throw away a lot of broken gear. The bottoms of a lot of my amps got water damage; A lot of my pedals got lost—a lot of pedals that I was using in the process. Most of the stuff that got water damaged was still playable afterwards, but now one of my guitars just has a soggy back end to it.
It was more damaging than totally annihilating. It made us resituate the space halfway through the process. Luckily, everything I was using to record was on a desk. The sessions themselves were very staggered and kind of involved a lot of isolated late nights, and also having friends come by and record whatever they felt on the songs.
Do you think any characteristics of that particular space had bearing on the music itself?
Yeah, I think the space always informs the process. I mean, when you're recording in a basement that doesn't have windows and you're kind of shut off from the outside world, it has a much larger impact than recording in your bedroom looking out your window, or going to a nice studio. I think just tonally, and in terms of the timbre of the instruments and microphones, the sounds on the album are dictated by the space itself. The actual aesthetic of the music definitely draws on that environment.
You wrote and recorded this album on your own, with the help of the usual players. What does the collaborative process mean for you?
For me, most importantly, the collaborative process is still very individualized and represents certain people's improvisational qualities—using this foundation of songwriting, or whatever recording we're working on, and letting people reinterpret or reappropriate the music in their own way.
Your album Social Rust was framed by many critics as a work that hewed closer to Western songwriting convention than your previous works. Basement Hysteria kind of edged away from that. But on Buried Wish, experimentalism again yields a little bit to these conventions. As an artist who spent so much of their career working from the fringes of the canon—and building your own canon through defiance of those foundations—what drew you to this approach?
When you talk about experimentalism versus songwriting…I mean, the notion, at least through the '60s and '70s, was that songwriting was sort of a 'more explored' medium—that it's less experimental. But [in terms of] the way that we experience music, I'd almost rather say that experimentalism is just as normal as an aesthetic and sound. Things that people deem experimental don't really feel like they're that experimental, it feels like it's more like a basic dialogue with music. I don't ever really think about the nature of experimentalism in the process. I grew up playing classical music on upright bass. My parents were in bar bands playing Top 40 music. I went to school to study contemporary music, jazz, and composition. Any nature of experimentalism comes from allowing freedom within the music, in terms of how different people approach it, what different people contribute to it, and the process of giving it the freedom to breathe and develop itself.
What art were you consuming while you were making the album?
There's a couple of tracks that are pretty directly correlated with Tony Conrad's death, and spending a lot of time with "Outside the Dream Syndicate." As a sound engineer, I've used one of the tracks from that album for years [to test] PAs because it's a comfortable piece of music. I think that heavily informed the title track; I mean, a couple of tracks are very related to direct influences. "Torch," the track that Greg [Fox] plays on, is like, sort of a memory exercise inspired by Torch of the Mystics, from Sun City Girls. A lot of the more structured songs are a culmination of things that i've been interested in for a long time, whether that be Neil Young or Black Sabbath or the Fugs. When it comes down to it, everything you've ever listened to kind of informs the process.
In terms of visual art, for the bulk of this record I was doing art handling in uptown galleries that were selling art for a lot of money. I was exposed to a lot of stuff I really like, like Rothko. In a way, that stuff works its way in there. You're almost inspired by their creative process, and how they've gotten to the point where their art is being handled by a random person so that the person who owns Wal-Mart can look at it.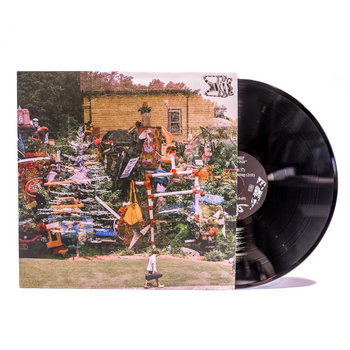 .
00:10 / 00:58
Merch for this release:
Vinyl LP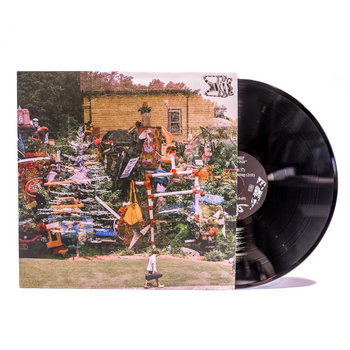 You did a zine with this release, as well as the cover art. How do you view the connection between your music and visual art. Do you consider them separate spheres of creative output for you, or are the two connected?
I see them as the same thing, really. If you look at the process for making the cover art for this record, it was very similar—it was a 35 mm picture double-exposure from two different locations, taken six month aparts from each other. So it's super randomized. There's no way I could've planned that cover image. There's no way I could've conceived that, and that's sort of an important part of this process. None of this music or art is conceivable ahead of time. The process informs the entire outcome.
The cover art is super fascinating: piles and piles of junk, just sitting there. It kind of goes back to your earlier point about how we carry all these things with us throughout our lives, whether we're conscious of it or not.
They [the items] were definitely placed, I'm not sure how specifically, but not by me. The cover art is one) a picture I took of my friend John walking with my violin when I was in Virginia, and when I finished the role I rewound it in my Olympus OM-1, which is my grandfather's old 35mm camera. Then I did another roll of shots on that same roll in Detroit at this place called The Heidelberg Project: it's this outdoor art environment created in 1986 by artist Tyree Guyton, which takes over multiple city blocks of Detroit. When the auto industry crashed in Detroit and banks started repossessing people's houses, people just started trying to make their houses uninhabitable because they were pissed of at the banks. So they started filling them up with crap, ripping the walls out and tearing them down inside out.
The Heidelberg Project, if you've never been there, it's incredible. You walk around this neighborhood and there's just, like, stuffed animals covering entire houses and weird sort of artifacts from eternity scattered around and placed accordingly. It's a really fun place to walk around and take pictures. The picture just came out perfect. I couldn't have planned for anything better than that.
—Zoe Camp