FEATURES
Paul Bowles in Morocco: The Lost Recordings
By Richard Gehr · March 28, 2016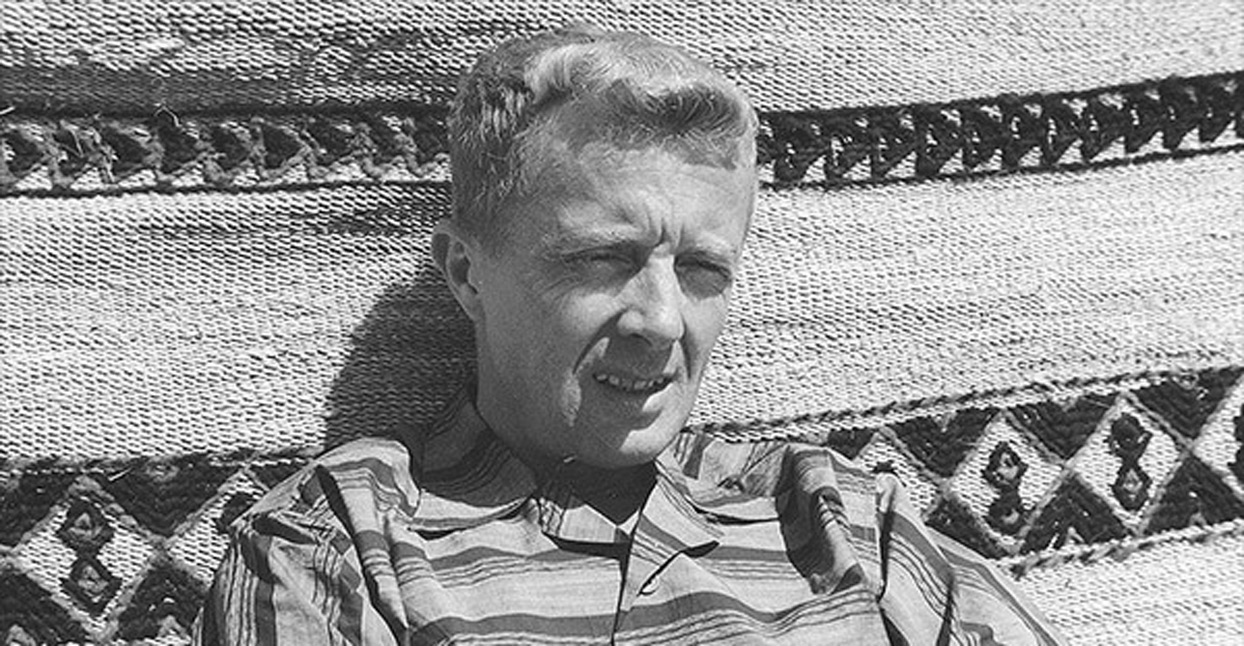 In 1959 the American author Paul Bowles, in self-imposed exile in Tangier, captured hundreds of hours of stunning Moroccan folk music. When the Library of Congress finally got around to pressing some of these field recordings as a double album in 1972, few imagined that the rest would ever be distributed to the listening world. Bowles himself imagined that a six-record set might do justice to his half-year expedition, financed by a $6,800 Rockefeller Foundation grant. In the late '90s, however, the ethnomusicologist Philip D. Schuyler seized the opportunity to revisit Bowles's recordings—some 250 musical examples recorded in 22 locations on an Ampex 601 tape recorder—for this revised and expanded edition Bowles approved only months before his death in November 1999. He had spent more than half his life in Tangier. Bowles's complete immersion in Moroccan culture is evident not only in these recordings, but in his fiction. His most famous novel, The Sheltering Sky, served to lure other American writers, such as William S. Burroughs and Tennessee Williams, to the country.
.
00:10 / 00:58
While ethnomusicologists might spend years studying the sounds of a single Moroccan village, Bowles approached his project as a connoisseur. Though trained as a composer, Bowles, "didn't have much patience for scholarship, didn't like music theory, didn't like to operate by the rules," Schuyler explains to me from his home in Washington state. "Going out and getting these samples was like a nineteenth-century hunting expedition." Still, after listening repeatedly to the entire Library of Congress collection, comparing and contrasting different examples of the same styles, Schuyler concluded that, "in almost every instance, Bowles had made the best choice, technically and musically."
Bowles claimed to have traveled 25,000 miles during the four musical expeditions he made from his home in Tangier. His mode of transport was a Volkswagen Beetle owned by a Canadian expatriate who joined him on his musical safaris, along with a Moroccan assistant with a fondness for hash. The trio drove far down Morocco's coastline, through the Rif mountains in the north, to Marrakech and its surroundings, and into the country's deep south. Some trips were more productive and/or difficult than others, but together they painted a hitherto unmatched portrait of Morocco's musical riches, with an emphasis on its substantial Berber population.
More than anything else, Bowles was attracted to Moroccan music's hypnotic, ecstatic, and transportive qualities. Thus Music of Morocco opens with a galvanizing example of an ahmeilou dance consisting of 13 men drumming and chanting during a hot night in Tafrout. Part ritual, part celebration, the accompanying dance begins a traditional ahwash ceremony; it continues on a later track, capturing a larger men's chorus singing, clapping and dancing to a gradually increasing tempo marked by drums and finger symbols. It's the sort of ego-dissolving experience Bowles lived for, and these recordings contain several examples. In "Aili Ya Mali," for example, seven men and women chant "Choufi Chni hiya"—"Look! What is it?"—over 10 time-warping minutes to the accompaniment of a large tea tray struck with teaspoons.
.
00:10 / 00:58
The project was complicated by the Moroccan government's position that the region's tribal culture was a hindrance to bigger dreams of development. And so Bowles found himself in the mountains and deserts, drinking "piping hot Pepsi-Cola" in lieu of fresh water, and hoping the authorities wouldn't shut down his attempt to capture "examples of every major musical genre to be found within Morocco" prematurely.
Bowles's collection omits Morocco's best-known musical export, the master musicians of Jajouka. That was his friend Brion Gysin's territory, Schuyler explains, so Bowles left it alone. "He was mistrustful of things that were too popular with other foreigners and expats," Schuyler says. "He preferred things that were more obscure." The relatively popular Gnawa trance music performed by Hassan Hakmoun in the United States is likewise relegated to a pair of guembri solos—one of which Bowles dared to insist upon recording without its traditional resonator, violating a prime directive of traditional ethnomusicology.
Every soloist on this collection sounds a little out of place due to the communal quality of most Moroccan music. Most striking, perhaps, are the female choruses Bowles recorded. You may be transfixed, just as Bowles was with "Ouakha dial Kheir," an all-too-brief two-minute sample of four Ait Ouraine women singing a single phrase in ascending unison with what Bowles considered "vehement" intensity. The 25 female singers and 19 male percussionists from Ait Ourir who perform the longer and louder "Albazaoua" almost match their intensity.
Bowles may have struck gold with the Sephardic Jewish singers he recorded in Meknes and Essaouira. The two a cappella tracks of secular material are "among the clearest and most beautiful of all the recordings," Schuyler says. "The communities that produced them have dispersed to Casablanca, Paris, Montreal, and Israel, but the recordings speak of a musical heritage in Morocco long shared by both Muslims and Jews." Bowles followed these stately performances with extended examples of Moroccan "classical" music of Andalusian origins, combining Arabic song, Berber rhythms, kamenchah fiddles, ouds, and percussion. A nine-piece group performs the longer of these, "El Hgaz El Mcharqi," which runs over a half hour. Whether you regard it as Moroccan folk or classical music, it sounds sophisticated and vibrant, but certainly out of another time.
These last examples don't necessarily reflect Bowles's preference for music that entrains and entrances musicians and listeners alike, but he was obviously aware of their value and eager to preserve them. And there's plenty of other music in this set whose chanting, stomping, ululations, and polyrhythmic repetitions fill that particular niche. Indeed, the collection's shortest musical track, "Sounds of General Rejoicing (Ait Ourir)," captures the spontaneity of a celebratory and ritualistic ahwash in less than two minutes. And while Bowles may not have included it on his original album, you can imagine him smiling at its ecstatic potential all the same.
— Richard Gehr